Vassilis Barkas has spoken to the newspapers about his early days at Celtic, and how he is coping with having played behind dozens of different defenders even as early as this in his Celtic career.
He also gave us a look at how things are changing down Celtic way….
"We're going to become better the more we find ourselves on the field and get used to each other.
"We need to have some time because we are 11 different people who started.
"Maybe some of the other players who were involved have played together in the past but not all of us at the same time.
"All of my team-mates are very good players and I am very happy for this because when you go into a big club, you like to see big players with big talent. 
At the same time, they all work so hard in training each day and you can then see that in the games. We are waiting to have
a lot of wins and to take the
championship again." 
On several occasions the Diary has pointed out that there is a wind of change blowing through the playing staff , and the mistakes made by two previous managers heading for ten in a row of remaining loyal to certain stalwarts will not be made by Neil Lennon.
Having had an assortment of defenders already in his back three, four or five Barkas has done remarkably well not to fall apart as he settles into the side.
"I always feel good when I do my job.
"My job is to keep clean sheets so when I manage to do that it makes me feel as though I am helping the team.
"It was not so easy for me because I was coming from another country and the football here is different.
"Game by game, I feel that it gets better but I'm sure I need more time to see what Scottish football wants from me.
"I tried to find what the coach and my team-mates want from me and with every game I start to feel better and better.
"There is more heart here amongst the players.
"Also things like a lot of the matches have rain, so the pitches are faster and that is something which you have to adjust to.
"These are things you start to find out, so that's why I say that game by game I can get better because I will get more used to the different situations."  
The worries about his ability were excerbated when it was announced last week that Fraser Forster has been told he can go on loan again, and with a section of the Celtic support always going to favour the big man under any circumstances, it's refreshing to know that the view is that he's had his chance and didn't take it.
Still, I suppose we could get him in to help the cleaners reach those tricky high corners, though tricky high corners were never his strong point.
Another player who seems to be getting a bit of stick , and it may be affecting his confidence , is Greg Taylor, with supporters still demanding a quality left back is added this month, especially with Bolingoli Boli going out to Roma on loan. Sure, we need cover, but we also need a little bit of encouragement for Taylor, who has all the qualities we need, but somehow doesn't seem to be a fans favourite.
There's a saying in the sales world, which encourages people to work and respect the potential customer in front of them, which is Love the one you're with….and it applies to football players as well.
Except for Leigh Griffiths, who makes it very difficult for anyone to love him.
Celtic face St Mirren this week in the re-arranged game from the beginning of the season. Celtic were forced to cancel two games after left back Bolingoli popped over to spain to do what young men do when they pop over to Spain, and St Mirren boss Jim Goodwin is aggrieved that even though through no fault of their own, he has no goalkeepers, the game has not been postponed.
Some of his players have contracted the covid virus, and have to isolate, and he's right to expect a little more sympathy… as a result they've had to borrow a goalkeeper from Hearts, and lets face it, if the lad can;t get a game for Hearts, he's unlikely to be Premier League standard.
As a result, St Mirren could find themselves losing games which may end up with them facing relegation at the end of the season, whenever that is, and there has to be something wrong with that, given the actions taken against Aberdeen and Celtic, as although they are following the rules they aren't allowing for a bit of common sense.
Goodwin said;
"I'm hoping to speak to the SPFL and find out why they thought this was okay.
"If this had been caused by our players doing
 something stupid we wouldn't have had any sympathy. As a club we've done everything to the letter and unfortunately the lads picked it up."  
It could happen to anyone, esepcially given the reluctance of the Scottish government to close the border to it's plague ridden neighbour as it battles vainly to prevent a second wave of the new virus.
The country now goes into a sort of ersatz lockdown, with gathering of up to six people permiited. This has caused consternation amongst the police as they will have to use both hands to ascertain the numbers at any event.
They like to have one hand free to hit people with sticks.
Meanwhile, the big talking point from the weekends game is the attempted murder of Alfredo Morelos by a Dundee Utd defender, which has upset Steven Gerrard, and given him a chance to moan about referees and protection for his only real asset, who has to be sold to keep the lights on at Ibrox.
No one will buy him if he picks up a serious injury, which has worried the Ibrox manager, although he still hasn't figured out that no one is buying him because he's a fat petulant pain in the arse who rips apaprt the morale in the dressing room.
Gerrard mumbled;
"I only got a good view of it after the game. There's obviously a follow through there, I don't want to stand here and say a kid should be sent off, of course I don't.
"What would be interesting is if it was the other way around what the decision would have been.  
Morelos, to me , looked as though he was about to foul the defender, who saw it coming and put a stop to it.
As for Gerrard commenting on what the decision would be if the roles were reversed….I think we know the answer to that…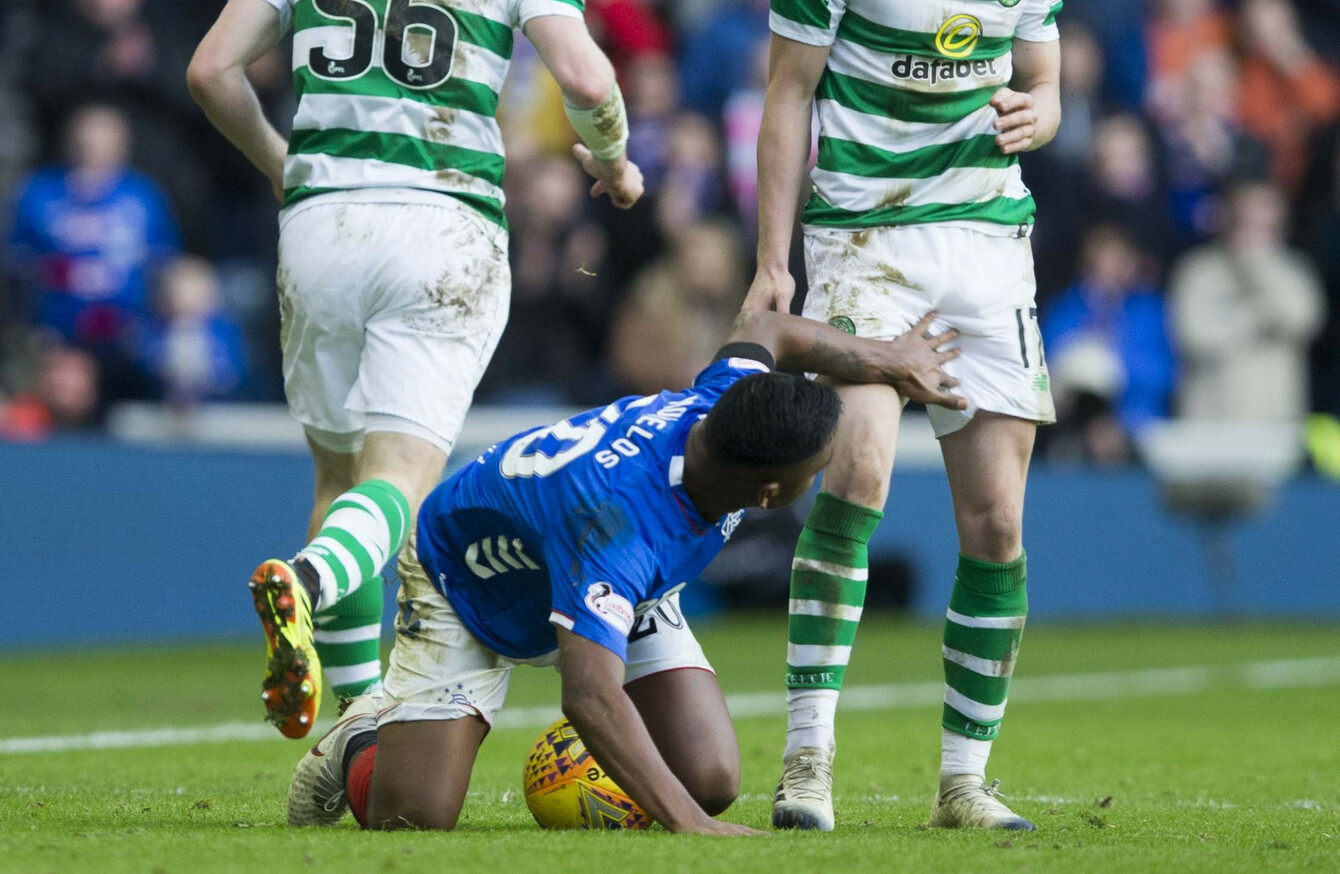 And thats without mentioning what happened in the tunnel afterwards, which we hear cannot be mentioned and thats apparently on police advice….
Though it does explain the cut throat gesture and the subsequent hospital stay for Christie, which may or may not have had a bearing on his words about playing in England…
Still, Gerrard moaning means the gullibillies  have something to moan about, and they showed yet again a level of consistency that can only be admired…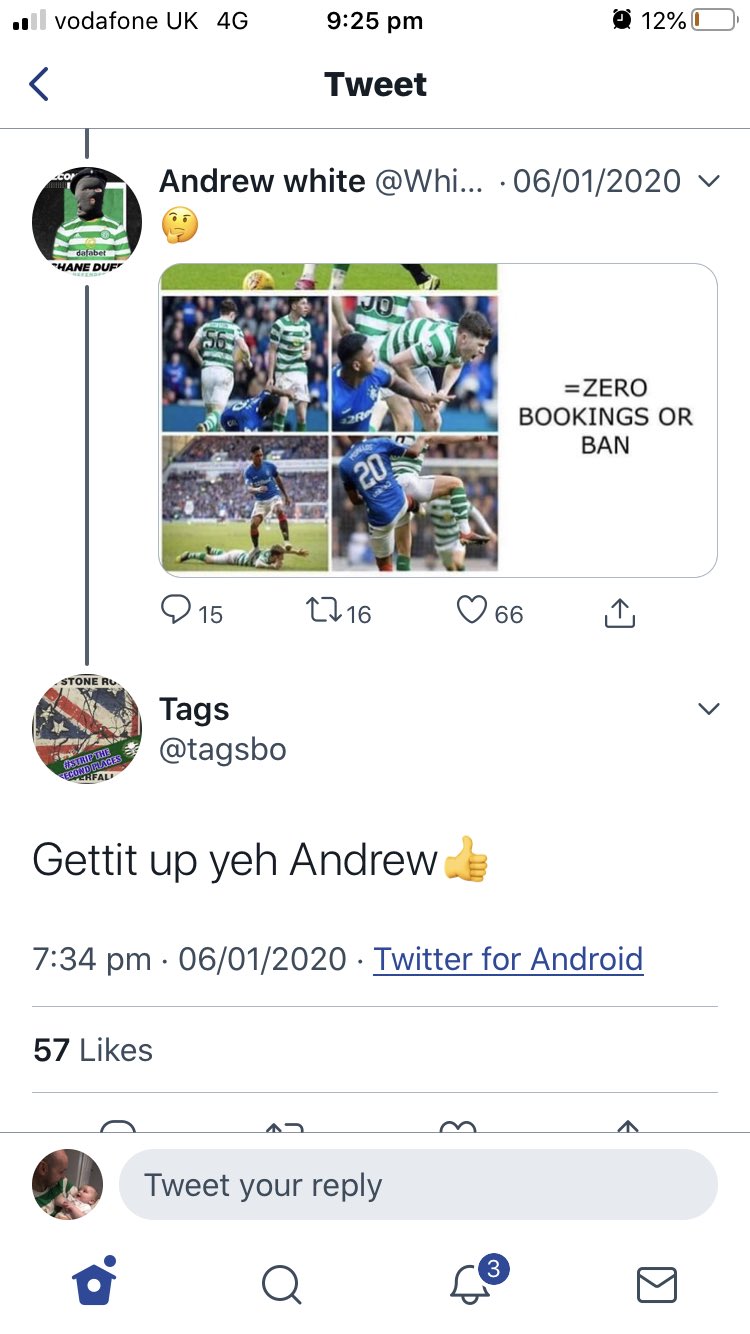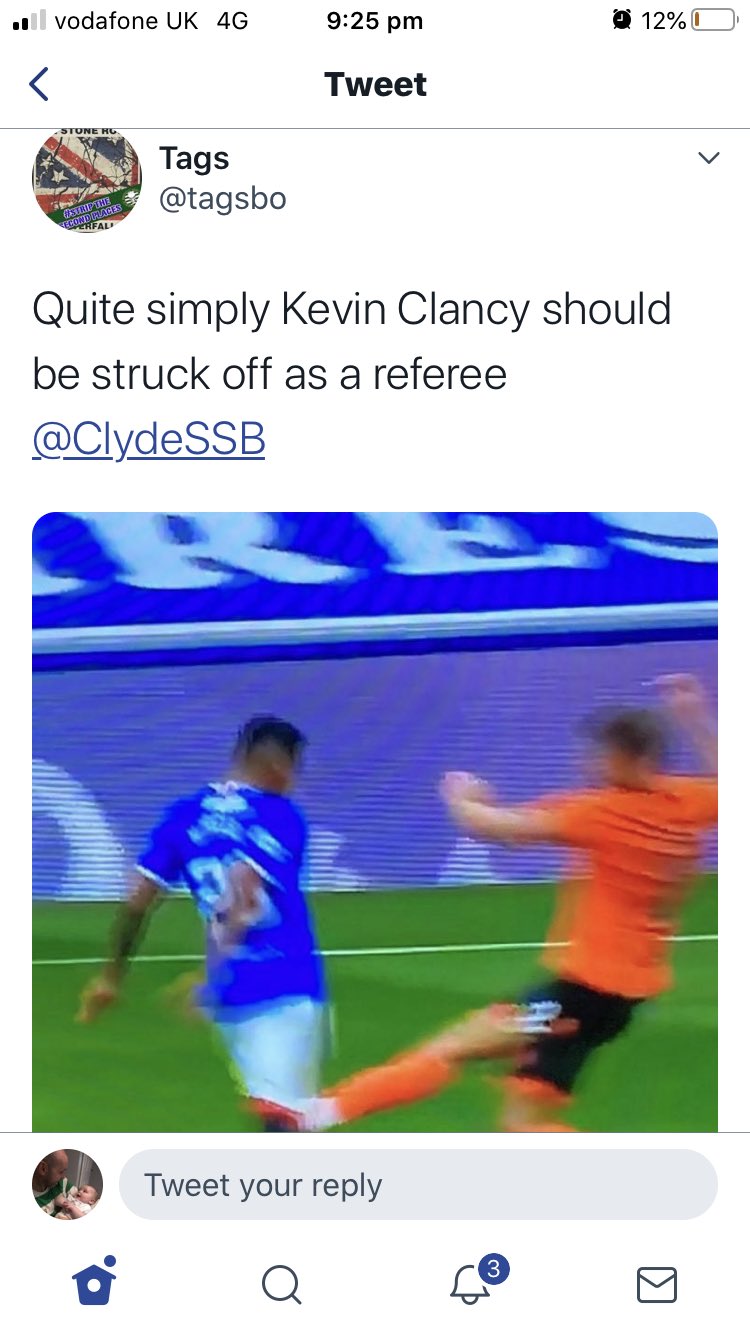 Looking at the bigger picture, by pointing the finger at Ibrox favourite Kevin Clancy, who presumably failed to renew his contract with the club/company, headlines are deflected away from Andrew Dallas, whom it appears has signed a significantly improved extension to his….
Mind you, things must be looking up over there, as they have torn away the rotting wood over the tunnel and replaced it with some sort of vulgar light show that highlights their achievements, as Castore Fan illuminated on twitter….
but they are rallying behind a cause…..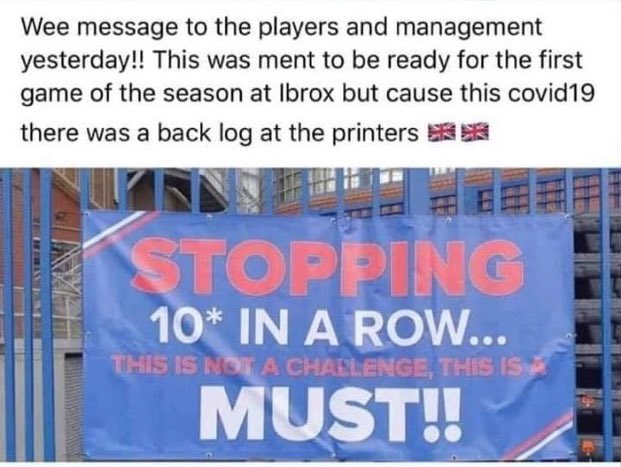 Even with an asterisk….daft sods. It's "ment " to imply our titles are tainted because their club died trying to win some.
Yesterday, we had this….
Today….