Celtic stormed back into action with a convincing win over Ross County in Dingwall yesterday, notable mainly for the fact that all three of the main strikers were on the scoresheet.
It was also notable that two of the three defenders scored the others, showing that the addition of Shane Duffy, one of two to make their debuts yesterday, means that the side are now a threat from set pieces from wide areas, and although Chris Jullien had a bit of a shock when Duffy scored, largely due to the Irishman doing a Mjallby and getting to the ball no matter who was in the way, their seems to be an immediate bond between the two.
So that's how it looks to see someone flying over you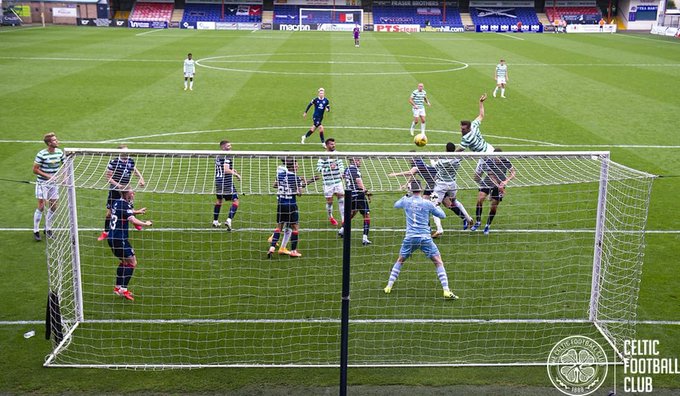 Congrats
Great win for the team! Humbled to have the chance to wear that armband, i know what it means in such a club   
Shane Duffy replied….
 That kind of determination has been missing.
 Suddenly the team looks stronger and appears tp have a streak of determined ruthlessness about them.
 When I say that I'm looking purely at the result , and also at the other denutant yetserday, David Turnbull, who may well have contributed unknowingly to a quite symbolic moment when he replaced Scott Brown for his first hooped appearance…
 Time waits for no man, and Brown, great servant as he is, may now find himself in more of a mentor role. Of course, he's not done yet, but whatever he does he does just that little bit more slowly than of previous years, and instead of a emulating a dog chasing a ball on a beach, he's more likely to opt for lying down in front of the fire as winter approaches….
   I don't know if all the changes that were made…five of them during the game….were a factor in the result, but what I can be certain of is that the strongest squad in the league will benefit from the fresher legs of five quality players that can change the shape of a game as well as the tempo.
 No other team in Scotland can do that.
 All six SPFL games started at 3pm yesterday, making for an old fashioned type of Saturday.
 I was working, in a town called Ironbridge , which has a big iron bridge and pretty much nothing else except for narrow streets that test the skills of anyone driving anything on four wheels.
 One thing it doesn't have is internet coverage, so despite a plethora of apps to choose from to listen to the game, or at least some updates, the only one that eventually worked was Radio Clyde just in time to hear the results, and the nasal drone of hugh Keevins, supplemented by Mark Wilson, once of Celtic, and Andy Halliday, who also delighted Celtic fans when he played for "rangers " was enough to make me find some thing else to listen to, like roadworks or two stroke motorcycle engines, which were less damaging to the ears, and put a stop to the bleeding.
 But the Radio Clyde show, Superscoreboard is that bad it's on the verge of becoming a cult classic.
 Maybe its because it's all new to me, and maybe those in the west of Scotland are used to it, it's truly a hidden gem of car crash radio. I say that because it is so bad I nearly crashed once or twice at the absolute nonsense spoken by the presenters which they declared in tones that implied they actually felt that what they were saying was important in some way, and they had some kind of authority and influence.
 You should give it a go…you'll turn off when it stops being funny, but there are a couple of golden moments in every show, not because of what they say, but how they say it.
 With a full programme of games, the league table now has "rangers " at the top, still to concede a goal or something like that, as James Tavernier tweted yesterday how happy he is with the defensive record they've set, which is going so many games with all the players managing to get all of their Castore kits through consecutve games without them falling apart.
 Hibernian are second, with Celtic third and Aberdeen hanging on their shoulders in fourth.
 "rangers " have started quite promisingly, it has to be said, and with each game their confidence grows.
 Alfredo Morelos though, was stretchered off after a vicious assault during their win over Dundee United, a game which had somehow become something of a grudge match as the media, led by luminaries such as Kris boyd, tried to imply that Dundee united and their chairman Stephen Thompson were to blame for most of the ills of Ibrox.
Boyd in particular needs to be taken to task for his article, which appeared in the Sun, guaranteeing it would be seen by those it would stir the most….
RANGERS v Dundee United was never one of Scottish football's great rivalries.
But events over the past decade have turned it into a fixture filled with bitterness.
There is no doubt who is responsible for the breakdown in relations — former Arabs chairman Stephen Thompson.
It all started in 2009, when a game between them at Tannadice was abandoned at half-time due to a waterlogged pitch.
I remember it well, as I was playing that day and we were leading 1-0 when the ref correctly called a halt to proceedings.
In the aftermath, a row over ticket arrangements proved the catalyst for a spectacular fall-out.  
Thompson refused to let Rangers fans use the same briefs for the rearranged game and he wouldn't give them a refund, either.
He was determined to make a quick buck by charging punters twice for the same match.
It caused a lot of ill-feeling and resentment.
Some fans took United to court in an attempt to be reimbursed — a case that they ultimately lost.
But while that was bad enough and left a nasty taste, the animosity would be cranked up a notch three years later.
Dislike became full-blown hatred in the wake of Rangers self- imploding and tumbling into liquidation.
And as United prepare for their first league trip to Ibrox in nine years, that ill-feeling is still very much alive and kicking.
When Rangers were on their knees, it was United who kicked them hardest. 
Thompson seemed to take a strange satisfaction in their demise, ignoring pleas for help and instead putting the boot in.
The former United supremo was one of the leading voices pushing for Rangers not to be admitted to the top flight before they ended up in the Third Division.
He played to the gallery — but at what cost to his own club?
Maybe he viewed it as a chance to capitalise on Rangers' absence.
Perhaps he believed United were good enough to finish best of the rest behind Celtic and claim a Champions League slot.
Maybe he thought they would get a bigger slice of the television money with the Ibrox men out of the equation.
Unfortunately, the viewing figures tell you interest wanes considerably unless the Old Firm are involved.
Like a lot of other club chiefs, Thompson voted against Rangers being admitted into the top flight following their financial collapse. He did it to appease the United support, when a smarter businessman would have seen the bigger picture.  
Michael Johnston, who was Kilmarnock chairman at the time, got a lot of stick from his own fans for voting the other way.
They criticised him for trying to help Rangers, but he did it for purely selfish financial reasons.
Two league visits per season from Rangers are worth an awful lot of money to provincial clubs.
Thompson let his ego get the better of him and then presided over a barren period, where attendances slid and United also went on the slide. He loved playing to the crowd and trying to appease punters.
He did it again in 2014, when any remote hope of patching up the feud went up in flames.
In a dispute during negotiations to buy Ibrox youngster Charlie Telfer, Thompson claimed Rangers only had "two years of history". 
Yet another cheap shot.
But if he thinks that is what United fans will remember him for, then he is sadly mistaken.
He will always be known as the man who took the club into the Championship, where it would take them four years to get back out. His sacking of Jackie McNamara and Simon Donnelly — and the breaking up of a talented young team — was another spectacular own goal.
The resulting fire sale of top players and the low-grade replacements are ultimately what led to their relegation.
And this was all on his watch. 
It is little wonder Rangers supporters have no time for United any more.
Yet despite their conduct, I was still delighted to see United back in the Premiership this season.
They are the seventh biggest club in the country and they don't belong in the Championship. I've also been really impressed by Micky Mellon in the games I have covered for Sky Sports so far this season.
I think he was a shrewd appointment by the new people running the club. 
Apart from the hammering at Kilmarnock two weeks ago, they have acquitted themselves well.
They are now slowly on the up after a decade of decline — ten years when Thompson was too busy taking pot-shots at Rangers to notice that his own club was drowning.
 I've reproduced it in full, as it's the sort of article that should be used to show students of journalism everything that is wrong about tabloid journalism in 2020…in that nearly evrything in the piece is wrong, and designed purely to inflame tensions between fans, and to re-ignite the flame of defiance among fans of what is a new club/company desperately trying to adopt the personality of a club in liquidation.
 Ceres Arabs, on twitter, put together a reply, whilst Stephen Thompson should be putting together a lawsuit….
This week, several articles have appeared using language such as "hostilities", "bad blood" and "grudge match" ahead of Newco Rangers v Dundee United. These articles have been awash with disingenuous nonsense about the "history" of the fixture. 
The first example of these "hostilities" was the match known simply as the 'McCurry game'. Never had anyone in Scotland witnessed a more blatant attempt by an official to force a favourable outcome for one side than in this farce back in May 2008. 
– A stonewall penalty for United was turned down. Had it been given, David Weir would've been sent off – A deflected Danny Swanson goal was ruled out for offside despite coming off David Weir – Daniel Cousin headbutted Lee Wilkie – Noel Hunt was punched by Kirk Broadfoot 
– Mark de Vries scored and was then yellowed for sarcasm – Neil Alexander jumped into the crowd celebrating a goal, no card Days later, McCurry admitted that he'd made mistakes. United lodged a formal complaint with SFA. McCurry would never referee in the top flight again. 
The next example of "bad blood" is the abandoned Tannadice game in 2009. BOTH sets of fans were charged HALF for the replay. A Rangers supporters' club took the matter to Dundee Sheriff Court, but lost. United didn't pursue them for costs as a goodwill gesture.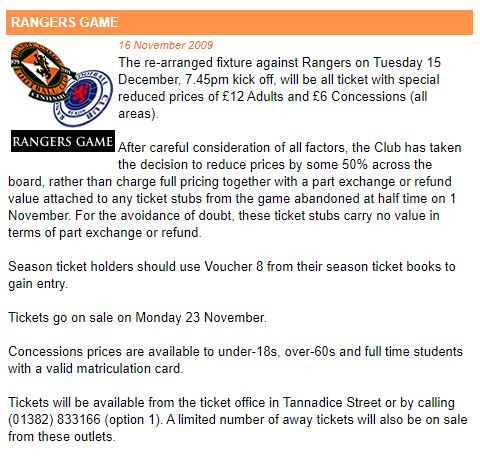 Bears attended subsequent Tannadice games in large numbers and didn't seem THAT fussed about the replay debacle until years after. Incidentally, a match between Partick Thistle and St Johnstone was abandoned in 2013, both sets of fans were charged half for the replay.  
Up next, the events of 2012. After years of fielding improperly registered players to avoid tax, Rangers folded. A man called Charles Green bought the liquidated assets and formed a new club and tried to get them admitted to the SPL. A vote took place and this was rejected.  
In the lead up to the vote, Hearts were first to publicly state their intention to vote against a new club being admitted to the top flight. United were second and several other clubs followed with similar statements.  
Kilmarnock abstained in the vote, the only ones to favour this new Rangers club being admitted to the SPL was old Rangers. During this time, United Chairman Stephen Thompson was remarkably quiet on the matter with very few quotes from him. Yet some claim that he was "vocal."
There are further tales that United were the most instrumental in the newco being denied top flight entry. This is nonsense with no evidence offered in support of this claim. United simply voted against a brand new club being allowed to walk into the SPL. 
In 2013, we were drawn in the Scottish Cup against the Newco at Tannadice. Bears boycotted the game with Charles Green and Walter Smith both endorsing this stance. The papers had portrayed the Newco as world beaters, but it was an easy 3-0 walkover. Green attended the game. ( Green and Smith knew they would get turned over and didn't fancy the crowd reaction, so they encouraged the crowd to stay away-Ralph  )
To 2014, the Scottish Cup semi-final was supposed to be at a neutral venue, yet took place against the Newco at Ibrox. United won 1-3 with a season's worst performance. Nadir Ciftci scored an unforgettable goal where he started celebrating before the ball had actually gone in!  
Later that year, a tribunal ordered Dundee United to pay Newco Rangers a development fee of £204,000 for Charlie Telfer, a 19-year-old who'd come off the bench once in the 3rd tier.  
After, the Newco published an arrogant statement claiming United had used the fact that they'd only existed since 2012 in their arguments – they hadn't. Nonetheless, divulging tribunal details is forbidden, so the Newco had to edit the statement. Here's the revised version: 
STV reported that the liquidators of old Rangers were investigating whether they are due a proportion of the Telfer money. The story has since been taken down, but here's the link:

news.stv.tv/sport/football
Incidentally, days after the Telfer tribunal, Neil Alexander won a tribunal of his own during which, Rangers argued that they're a newco and therefore didn't owe him the cash (which predated 2012) he was claiming.
 I've used this reply , first of all to illustrate how complete bollocks can appear in the media and become taken as the truth, when in fact, events took place exactly how Ceres Arabs describes them, and he's backed this up with evidence. 
 It also illustrates how far newspaper editors will go to ignore the facts surrounding the liquidation of "rangers " and the behaviour of all of those who deny the truth, instead choosing to attack those who would point out the simple fact that they are lying, lying in order to maintain a grip on the mythical blue pound, which has replaced sporting integrity as a priority in Scottish football. 
 And it serves as a contrast to illuminate exactly what lengths they will go to to avoid real stories, such as Resolution 12, away from the back pages. 
 Boyd may have written what could loosely be described as an opinion piece, but it is presented as fact.
 Both newspaper and author should be penalised.
 But this is Scotland, remember, and they are the people……
Back a few days for the last caption competition….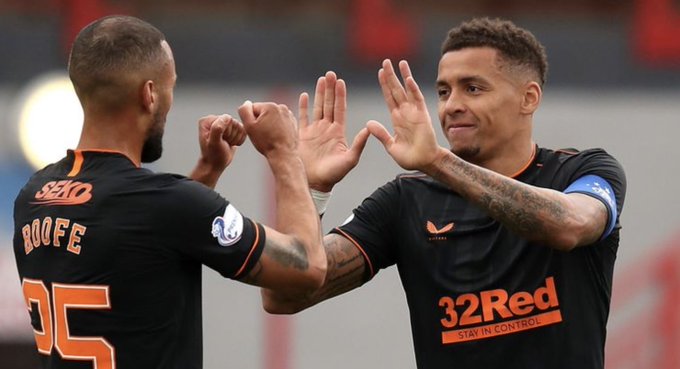 Ralph Malph. 
 "rangers" players undergo trophy lifting practice as euphoria grows over recent clean sheets
Today….