Peter Lawwell returned from his own period of self isolation…you've noticed Celtic haven't signed anyone for a couple of days…to ask serious questions of the SFA.
Scotland have taken four Celtic players and five members of the backroom staff to Czechia for the Nations League game which will probably go ahead, but only if Czech bosses can find a dozen men , with their own boots, a few hours off work and who haven;t tested positive for the plague.
Lawwell has demanded assurances of safety from the SFA, who have largely given this junket a miss on "health and safety grounds ", and for them to miss a chance of going out on the beer in Prague, those grounds must be pretty unstable.
Demanding assurances of safety could be seen as a precursor to legal action if the players or staff come back infected and/or infect other members of staff.
It could also be seen as genuine concern for the well being of those who earn their crust at Celtic, Lawwell being the paternal employer here, and given the concern the man once expressed during the bombs and bullets that were sent to Neil Lennon for all staff at Celtic Park who might handle such items, I'd say he was concerned.
But is he concerned enough to do the right thing and tell the SFa he is withdrawing all Celtic employees from the trip ?
That would be the right thing to do, and given the SFA response to the news that a couple of their high heid yins won't make the trip. then whats good for them must also be good for all of thise travelling.
Even if young fit athletes have a lower risk of serious repercussions from Covid infection, they will still expose the virus to those with a higher risk, and put simply, its not worth the risk.
Although until Sturgeon closes the border with plague ridden England , cases in Scotland will still rise and the shadow of death looms over the vunerable again.
Give it a month or so and we'll be right back where we started in February and March, and 2020 will feel lke it's playing on a permanent loop….
The rush to play international football, largely a plaything of the European and world bodies to line their pockets, is inexplicable in these strange times, and the whole lot should have been cancelled.
It doesn't depend on television money like domestic league, as all European nations get all of their international matches shown on free to air television, if you don't count Scotland and Northern Ireland, who, according to the UEFA website, are the only two exceptions to this rule.
Speaking of rules and exceptions to them, Andrew Dallas, as we noted in an earlier diary, will be in charge of the Ross County- Celtic game at the weekend, which poses a greater threat to ten in a row than anyone that Steven Gerrard could persuade to play for the basket of assets.
Not so much in the one game, but with the precedent being set that he's likely to get quite a few Celtic games this term, the dingwall encounter being his second is almost as many weeks.
Dallas needs no encouragement to hinder Celtic, as we have seen, and that makes him a perfect fot to eb the twelfth man for Ibrox this season, though it needn't necessarily be the team from Ibrox, it just doesn't have to be Celtic.
In fact, ever since he saw this tweet back in October 2012, we believe he's been waiting for a chance to even the scores…
This becomes a more intriguing and suspicious choice when you become aware that the game is not being televised, leaving Dallas to operate without scrutiny, which kind of suits those who like their meetings secret and their goats anonymous.
So, here's the plan.
As we know, bookmakers Ladbrokes no longer sponsor the Premiership, an insider told me…well, he was inside the bookies at the time…that they don't want to be associated with anything so rigged and blatantly self serving , and if that sounds paranoid, then you really haven't being paying attention over the years.
Dallas , for all his faults, is eminently predictable. Two or three Celtic players will be booked early, and this will be matched by County players entering the book when it doesn't matter anymore….Duffy and Brown are certs to have their name taken early, which will hinder their natural game afterwards.
There will be a higher than usual amount of free kicks, largely so that the flow of play can be broken up.
Now, if we were to pop down to the bookies and place a number of bets on these, bookmakers would be alerted by what they call unusual betting patterns, a warning light for match fixing, which in essence is exactly what the orange who didnlt fall far from the tree will be doing, only very subtly and in his mind far away from prying eyes.
You know what to do….
The long running saga over finances at Ibrox, and the great mystery as to how they are surviving when financial fair play rules should see them severely restricted in their spending took another twist when one of their own had a complaint to make….
This tells me that they weren't actually expecting anyone to ask for their money back, which may be the norm when they can't offer what they promised over there, playing callously on fan loyalty, and there may well be a lot more of this going on than we are being told, and certainly a lot more of it going on than they are being told, as the media will not take their side over the club in anything as they have been instructed to mention good news only.
Even if they have to make that news up, which they appear to be doing on an almost hourly basis.
The latest being that Alfredo Morelos is now wanted by Porto and Bayer Leverkusen, two sides who met "rangers " in the Europa League who it seems were impressed by what they saw.
As for the player, his head must be spinning and there is a real case for litigation from him on the grounds of abuse by his employer. Told regularly he was worth millions and would get the move he wanted, he's now finding that he isn't as good as he read and no one wants him.and that may well be down to neglect from the club, who have more or less kept him prisoner until they get a suitable ransom for him.
Which won't be any where near what they want.
Anywhere else in the world the media would be running "My Rangers Hell " stories by now, though this is Scotland and it isn't going to happen.
And it's not Rangers anyway.
Then again, there are a few things around the world that are not what they appear to be , as this ATM screen illustrates…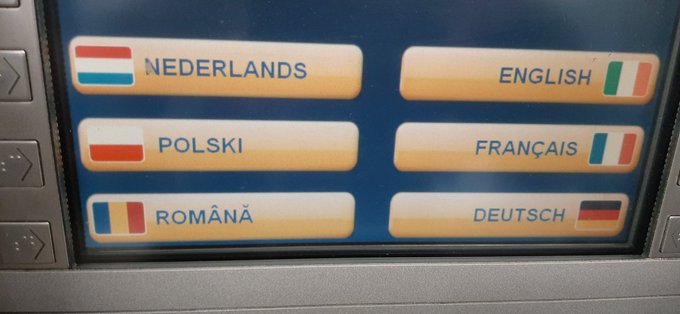 That has upset someone…
On saturday, we had this….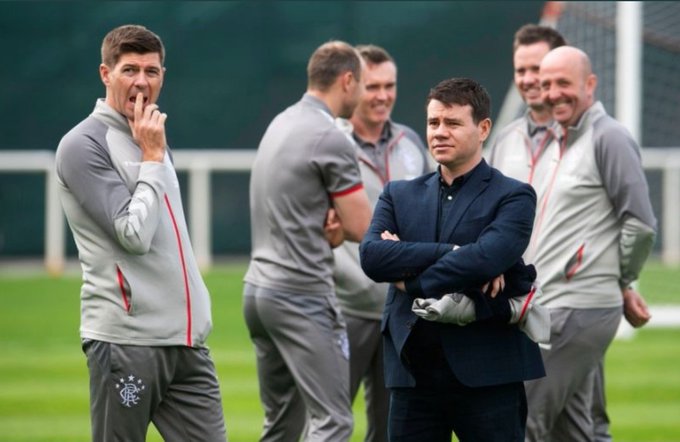 Morto 
 MacAllistair leads the schoolboy giggling after someone is told to report to the boss for forgetting his PE kit  
Today…