We'll get to them later, because everything about them is second placed.
Fraser Forster might yet end up back at Celtic as reports suggest-see what I did there ? – Southampton are about to offload him. If thats the case we'll get him for peanuts although the wages will have to be cash.
Thats not to sat Celtic won't still move for Vasiliss Barkas, but it might mean there's a little bit less urgency about bringing him in. Having apparently offered him £10,000 a week to join the hoops , it's hard to see how the club could be less urgent, although it's still not a crisis if Scott Bain were to hurt himself in training this week, the truth of the matter is Celtic would face Hamilton with a youth or reserve keeper with little or no experience.
That explains the anxiety that is coming across on social media, and maybe there is cause to worry, but it's not a serious concern yet for the club, for whatever reason, otherwise the Barkas would already be here.
Reports from Greece suggest he will sign, as this tweet suggests..

Γειααααα… Αρχικά 3.5+1, τώρα πάμε κοντά στα 5 μαθαίνω. Κ επίσης γνωρίζω για συμφωνία ήδη με τον παίκτη και την Celtic.
Hi … Initially 3.5 + 1, now we go close to 5 I am learning. I also know about an agreement already with the player and Celtic. 
Kapetanakos is a sports journalist, and he;s not Scottish, so he might well know what he's talking about,
Albien Ajeta, the forward who cant get a game at West Ham has been linked strongly with a move north, having failed to make his mark in London.
One interesting aspect of this possibility is that he played together with Mo Elyannoussi at Basel, and therefore has probably already been given a favourable review of Glasgow.
A loan deal, certainly at first, looks a likely option, with Bayo and probably Griffiths moving out. Shved we can already discount as he doesn't seem to like it here, and hasn't featured in any pre season action.
That leaves Edouard, and I'm not in the least bit worried that he hasn;t signed an extension yet, or been given the number seven shirt…
Then there's the emergence of stories that Ryan Christie may be looking at a move south. Those who watch that sort of thing may remember him referencing this in a BT interview, and, as with Keiran Tierney, having had a long term serious injury, he and his agent, who also happens to be hs dad, may well be casting envious eyes at Tierney's bank account, knowing that the hammer throwing could be career ending this season…
All of the above, however, could be down to the usual restlessness of the close season, maybe even a sign that things are getting back to normal, but just as you think they might be, guess who comes along to throw a spanner into the works…
Rangers face SFA probe as governing body demands answers over potential testing breach
It's feared up to nine players may have played without medical clearance.  
The report, by the Record's Keith Jackson-yeah, I know, but praise where it's due, as I imagine there were some tantrums when he submitted this one- says;
Rangers are facing a top level SFA probe over fears the club broke coronavirus testing protocol.
Record Sport understands Hampden top brass suspect as many as nine of Steven Gerrard's first team squad played in a bounce match against Dundee United without having been given the mandatory all clear by medics.
SFA stand in president Mike Mulraney was alerted to the developing situation on Wednesday night and it's believed he has demanded the Ibrox club are asked for a full explanation of the events.
The potential rule break was discussed as a matter of urgency on Thursday afternoon at a crisis meeting of the Covid-19 Joint Response Group which lasted almost two hours.
Motherwell will also be asked why their test results were not returned until just two hours before kick-off at Ibrox – while Hibs are facing similar questions from the beaks over Saturday's late cancellation of a friendly against Ross County.  
It's believed the Rangers anomaly came to the attention of the authorities after Gerrard's side had to delay a pre-season friendly against the Fir Park side by two hours – from the scheduled 6pm kick-off time to 8pm – while both clubs waited for their latest batch of test results to come through.
Anomaly ?
Yeah, like a previous Ibrox entity had an anomaly with their tax payments
But the re-arranged time was a full seven hours after a Rangers B team took on at United behind closed doors at their Auchenhowie training base.
Nine of the players who featured in that match had been part of Gerrard's squad for last week's mini-tournament in Lyon – Andy Firth, Calvin Bassey, Greg Stewart, Jordan Jones, Glenn Middleton, Ross McCrorie, Greg Docherty and youngsters Nathan Patterson and Lewis Mayo.
It's believed the entire travelling party did undergo testing On Tuesday after returning home following their 2-0 win over Nice on Saturday night. 
But a backlog at the laboratory meant the results did not arrive back at Ibrox until around 7pm on Wednesday night. Motherwell's squad was also affected by the same delay with their results coming back shortly before 6pm – more than 50 hours after Stephen Robinson and his players had been swabbed on Monday. 
It was only then that were finally allowed to make their way to Glasgow's south side to take part in the match which Rangers won 4-0. 
The strict testing protocol was put in place by the Joint Response Group in order to secure government approval for a safe return to training and playing for all 12 top flight clubs.
Interestingly, two linemen were turned away from the United game for not having the proper Covid tst certification, which Jackson doesn't mention, but to give him the benefit of the doubt, he might not have known.
The report mentions a letter to clubs from Ian Maxwell of the SFA, which points out the possible consequences…
"There will be enhanced media attention on squads as training gets underway and the behaviour of all of our players and staff will be under scrutiny.
"We have been able to negotiate a dispensation for Premiership first team squads to return however all involved should be under no illusions that breaches of the agreed parameters will lead to the Scottish Government removing our exemption, having a catastrophic impact on our game.
"Please ensure all staff and players are reminded of their responsibilities on an ongoing basis."
Which means the club/company can have no excuses…
We're not sure whether the anger from the SFA is because they weren't in on the rule breaking this time, and thus leaving them open to criticism and pressure to actually do something about it, or the simple fact that a rule breach like this, where the game really could mean life or death, may invoke the wrath of Nicola Sturgeon, who may even delay r postpone the start of the season, and no one wants that.
Or do they ?
Alfredo Morelos wants away….Jermaine Defoe and Nikola Katic are injured….Ryan Kent, Scott Arobo and that Hagi bloke are shite…
Am I off the mark when I wonder if a delay would suit "rangers ", and thus their actions-or inaction-regarding the coronavirus testing regulations were deliberate ?
If there is another ban on football being played at all, and remember this is a breach by a club, and not by a supporter, then that club-or company, could even delay paying bills, such as wages and running costs until fans are allowed back in to games, whilst still sitting on season book money.
With players out already it would certainly help them continue their splendid run of pre season form ….
Or perhaps they simply cant muster the cost of a pre-match overnight stay in aberdeen now that their opener has been moved to an early kick off.
You might think i'm joking, but with no retail money coming in because they've flouted another rule which has got Mike Ashley's lawyers looking at brochures for new cars, holidays and houses things musyt be pretty grim over there, and if they are allowing Keith Jackson to publish a story that is critical to the point where no amount of spin will fix it, then one is tempted to look behind the story, and ask what is really going on.
If the season is stopped , the next step could be null and void, perhaps starting up in 2021 with only half the games.
Anyone would think I'm paranoid, but they are not capable of stopping ten in a row on the pitch, and so will do their utmost off it.
I don't trust them, the SFA or the SPFL, even with Lawwell on the board, and if there are any suspicions about any of their motives, then it needs to be addressed.
They tried to destroy Scottish football once, so there's no reason to think they wouldn't have another go at it.
There's a lot of heartbreak around just now, none more so than in the tortured mind of this tortured soul….but praise has to go to a someone who doesn't even know him for trying to help….
some of them just ask for it….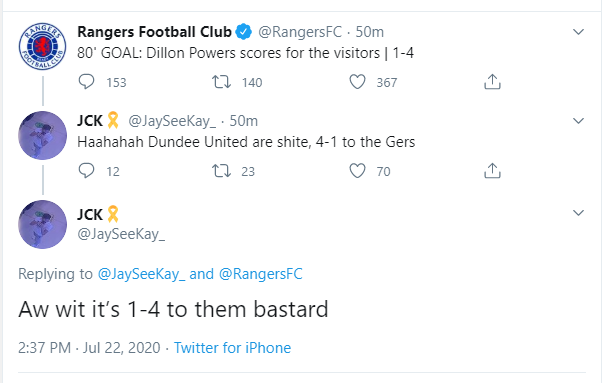 This week, yeah, i know it's not Friday, we have a guest Knob of the Week….
CLUB STATEMENT We can confirm the retirement of the number 17 shirt in honour of youngster Ioan Webb after we released him for being a knob on WhatsApp. Ioan had 1 goal and 1 assist for the reserve team and 0 goals or assists for the 1sts in his time at the club.
Will other clubs follow suit and remove players for being a knob on social media ?
Nah, can't see it….
Some stories you see out there on the web kind of defy belief, even more so than the same club myth, or the LNS enquiry result, such as this one…
And this one….
Police hunt sectarian thug carrying Celtic scarf and power tool after incident in Scots town
It's believed that the young man might have been carrying a power tool at the time of the incident.  
Cops in Argyll and Bute are hunting a man who hurled sectarian abuse.
Officers from Police Scotland stationed in Dunoon are looking for assistance in identifying a young wearing a Celtic scarf who uttered "comments considered to be of a Sectarian nature".
Believed to be in his late teens, he might have been carrying a power tool or something similar at the time of the incident.
He is described as five foot eight inches tall and of a slim build.
So, they don't know what he said, and they don't know what he was carrying….but there was definitely a Celtic scarf involved.
And it's Dunoon, where pretty much everyone knows everyone else, and this guy remains unidentified ?
Though one thing may have a ring of truth….
He was also wearing a beige jacket and dark trousers. 
They like fashion in Dunoon, thats why they've not changed it since I left.
On Thursday, we had this…
Caption "Right, before this all kicks off, are you sure that's him with your bike".  
Today….