The powers that be in Scottish football have sat down to discuss the unprecedented events of 2020 and come to a decision.
They're going to ask the clubs to make a decision.
The Evening Times reports, so some of it is probably true…
SPFL clubs are to vote on a resolution recommending the termination of the 2019/20 season in the Ladbrokes Championship, Ladbrokes League 1 and Ladbrokes League 2 – with final season placings determined by points per game in league matches played to date by each club.
But the resolution recommends that matches in the Ladbrokes Premiership remain postponed for the time being – to give the best possible opportunity for the remaining 2019/20 fixtures to be played.
However, if the SPFL board has determined that if the remaining Premiership matches cannot be played, the Ladbrokes Premiership would also be terminated, with final season placings determined on the same basis.
The Cabinet Secretary for Health announced on March 17 that NHS Scotland had been put on an emergency footing for at least 12 weeks until June 10.
In addition, the Scottish government also publicly advised that expectations are that restrictions could remain in place for at least 13 weeks.
That means the remaining fixtures in Ladbrokes League Season 2019/20 and the related play-off competitions cannot be scheduled without significantly damaging the SPFL's ability to start and complete, on time, League Season 2020/21 and next Season's Betfred Cup.
The SPFL has therefore today circulated a written resolution to its 42 Member Clubs recommending that SPFL clubs approve:
• The immediate termination of Season 2019/20 for the Ladbrokes Championship, League 1 and League 2, without the remaining fixtures in the League being played.
• All play-off competitions being cancelled.
• Final season placings to be determined by the number of points per game earned by each club in the matches they have played.
If approved, this would result in the promotion of Dundee United, Raith Rovers and Cove Rangers, and the relegation of Partick Thistle and Stranraer.
If the resolution is approved, the SPFL has also committed to consulting with clubs over the possibility of league restructuring ahead of Season 2020/21.
SPFL Chairman Murdoch MacLennan said: "These are extraordinarily difficult times for our entire country and, like every sports body worldwide, we have been wrestling with the enormous challenges caused by the outbreak.
"To their credit, every single club in the SPFL has been committed to completing the remaining fixtures for Season 2019/20, but they also all recognise we must prioritise the safety of players, officials and fans, and ensure our emergency services are given every possible assistance to focus on their vital work.
"Many football people have friends or family who are working with the emergency and health services or who have been affected by this awful virus and I have been struck by the strong sense of solidarity shown by everyone in our sport.
"The communication from the Scottish Government at least gives us a degree of clarity, meaning it will now be impossible to fulfil the remaining fixtures in the Ladbrokes Championship, League 1 and League 2 without causing huge financial damage and uncertainty for clubs in those divisions.
"We have recommended a way forward which we firmly believe enables the best possible outcome for Scottish football in these very demanding and unique circumstances."
SPFL chief executive Neil Doncaster added: "As a board, we have consulted extensively with clubs in all four divisions since football was suspended on March 13 and have taken expert legal and commercial advice.
"Now is the right time to act. Very regrettably, we must face the reality that it's simply not possible for the remaining Ladbrokes Championship, League 1 and League 2 fixtures to remain postponed without causing significant further financial harm to clubs in those divisions. Further, many of our clubs are experiencing very challenging organisational and financial circumstances.
"Everyone in our game, and in the country generally, is wrestling with the devastating impact of Covid- 19. We all know there are no easy answers or simple solutions, but the Board's recommended proposal will give us a far greater degree of certainty, minimise the harm to the game overall, and enable us make end-of-season fee payments now to Ladbrokes Championship, League 1 and League 2 clubs.
"The position for the Ladbrokes Premiership remains particularly complicated. Everyone is aware of UEFA's desire for the family of European football to work together to resolve the issues that confront us all. We are keen to work with UEFA and remain in discussion with them over the situation in Scotland.
"The quicker we reach a final position the better, but there is no doubt this is the most complicated and challenging situation our game has faced in living memory."
 Reading between the lines, the leagues that aren't affected by european places or significant domestic money can bring sweeties, games and toys to the next meeting if they want, as it will be the last day before the big holidays for them.
Expect Championship clubs to tell them where to stick it as well….
 At the top level , though, they're still trying to find a way to break it to the hordes that the league is over and nine in a row has been achieved.
 Sometimes, it's not what they say, it's what they do, as Keith Jackson of the Record duly reported yesterday…
Rangers rip up Ibrox pitch and end hope of quick fire restart to title finish
21:30, 7 APR 2020
UPDATED22:18, 7 APR 2020 
I've put the date and time in bold , by the way, to compliment Jackson on his twitter speed reading capability….you'll see why shortly.
Rangers have given up any hope of a quick fire re-start to this season's title fight – after tractors rolled into Ibrox to dig up the battered pitch.
Record Sport can exclusively reveal turf care specialists spent the day inside the club's stadium to begin a major repair job on the playing surface, with two months of the scheduled season still to run.
The work started on the same day as the SPFL board reached a deadlock in crisis discussions over what contingency plans ought to be put in place for the current campaign should the Covid-19 pandemic continue to wreak havoc over the summer.
Those talks will resume again on Wednesday morning along with the repair work at Ibrox.
Normally, summer pitch renovation would include the laying of a brand new surface and could take up to ten weeks to complete.
That would mean the renovation could leave Steven Gerrard's men unable to stage any home matches until the start of June at the earliest. 
But club sources insisted that the job could be rushed through in half that time if the top flight is somehow ready for a resumption before then, in spite of the ongoing coronavirus lock-down..
An Ibrox spokesman confirmed to Record Sport: "Rangers are carrying out essential works which will be completed within four weeks.
"There is no reasonable expectation that we will be playing football at Ibrox in the next four weeks. Clubs in England have been carrying out similar work in recent weeks." 
Of course, they haven;t ripped it up, they're just doing repair work, but that sort of thing never bothered the Record.
I've highlighted exclusively as well….
Ach, at least he got the story, if not quite exclusively.
Or accurately.
He must have forgotten that list of other clubs doing the same, but the point is that means behind closed doors, as we have already seen this season with the postponement of the game at Ibrox and the Euros, the decision has been made to end it.
They just have to find a way of breaking it gently.
In the meantime, they are raising money from private frms seeking somewhere to dump their rubbish as the council tips are all closed…new pitch my arse
Meanwhile, Coronavirus, the most effective opposition to a Conservative government in living memory continues to wreak havoc and heartbreak among the population.
I'm truly sorry to hear of losses already among regular readers, and I hope that you loved ones are at peace now.
One thing I've learned in the years of doing this diary is that we cannot rely on the media to tell the truth and that might be because they aren't getting the truth either.
As we nervously glance at the daily death toll and wonder why current figures in Britain aren;t described as apocalyptic , as similar figures in Italy were recorded by our media, the Office of National Statistics has revealed that they are actually far, far worse than we thought…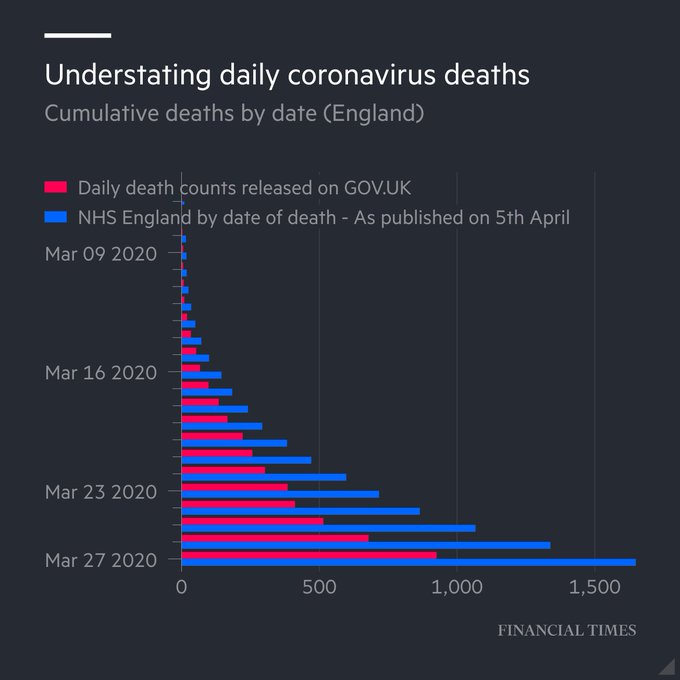 Naturally these are out of date now, but at least more accurate – and more alarming
The true figures will be higher still because these exclude deaths outside hospitals,
But ONS stats rely on deaths being registered (hard in a lockdown) so these comes with an bigger lag 
Cumulative under-reporting of daily deaths by date of figures Vs date of actual death in hospital is averaging a little over 80%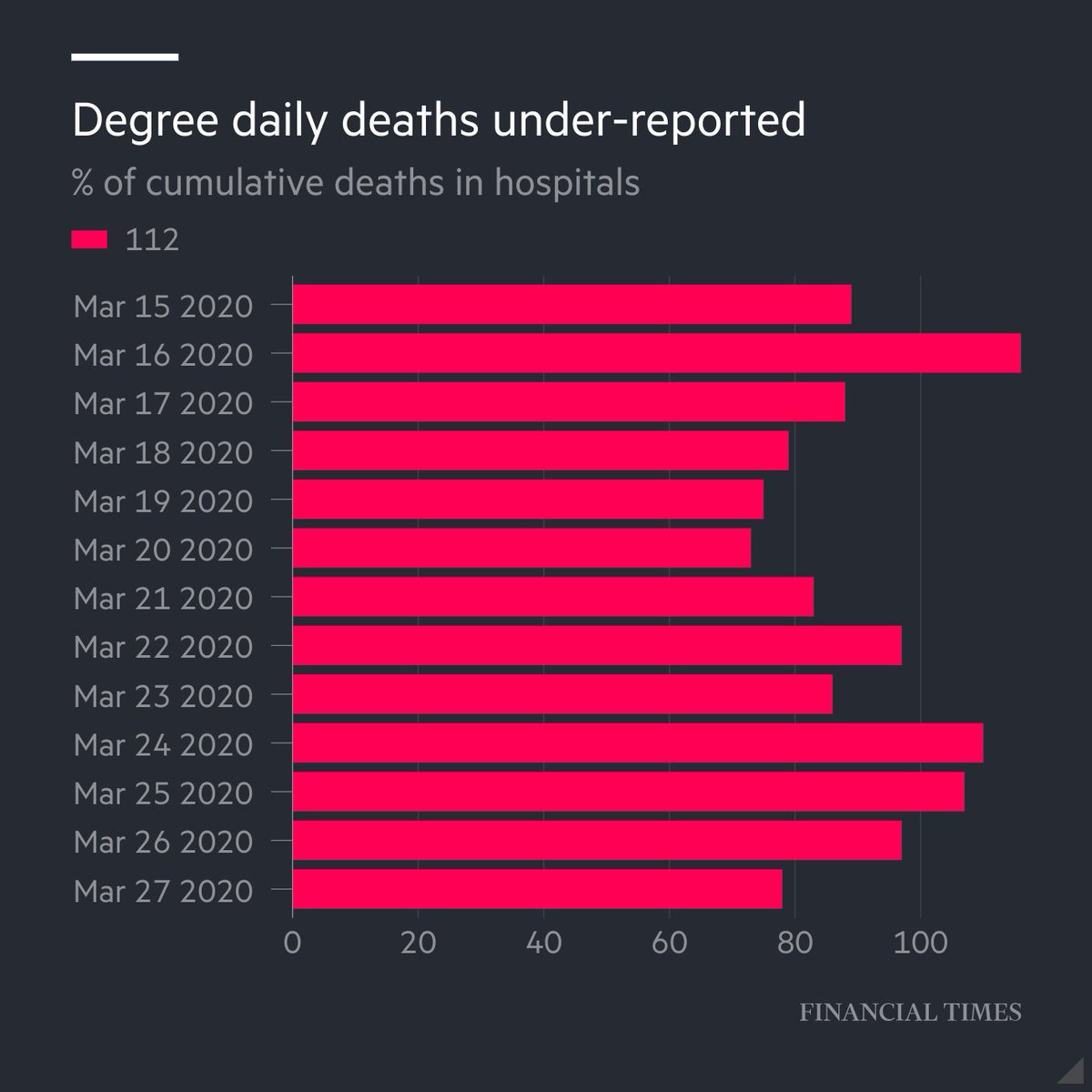 On a per day basis, there is a persistent under-reporting of deaths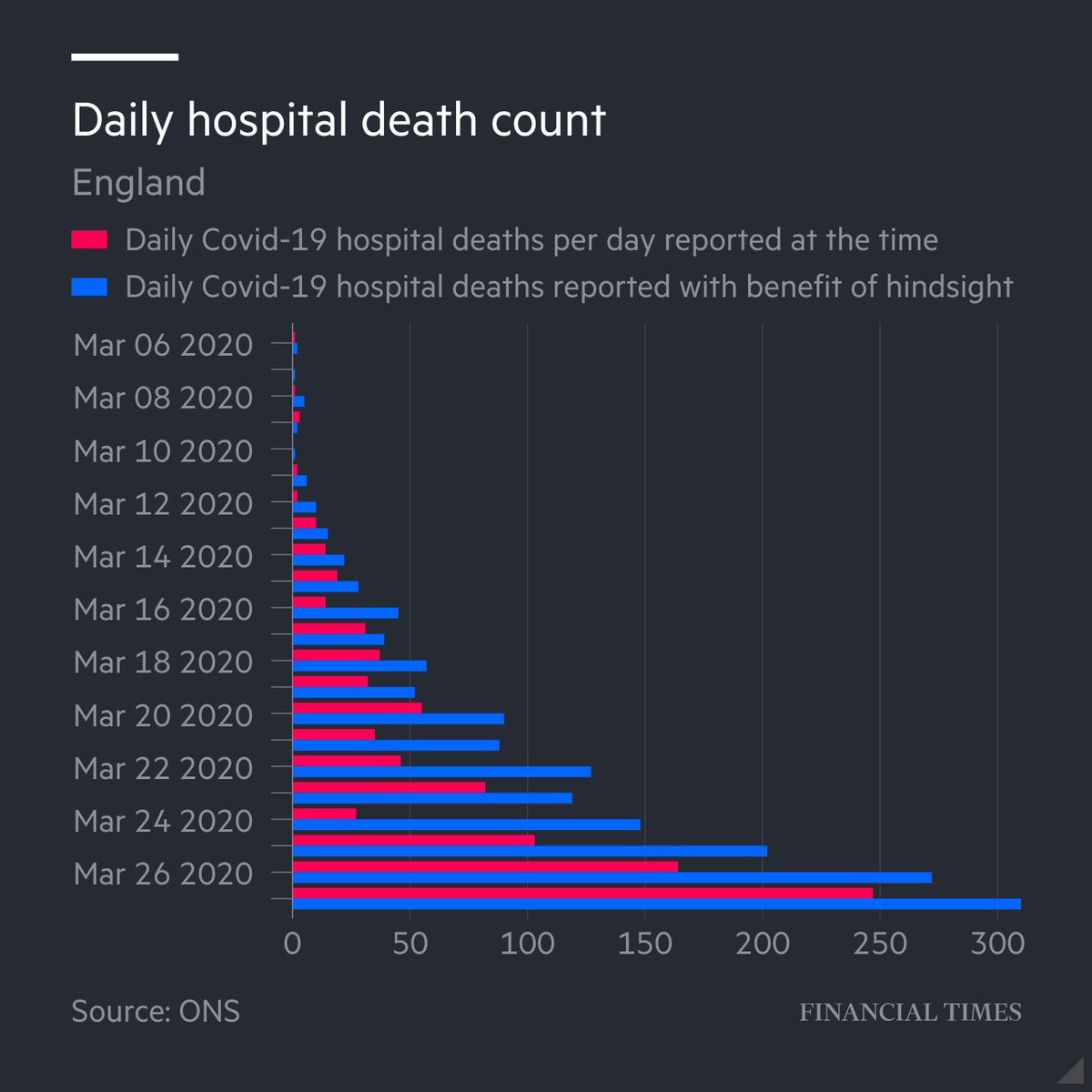 This is important.
In the end the numbers must match, so the daily counts we get at 14:00 will miss the peak, which will come earlier than it appears because we will go on recording many deaths in hospitals even when the rates are declining fast 
On a brighter note, the Star says we should enjoy the weather….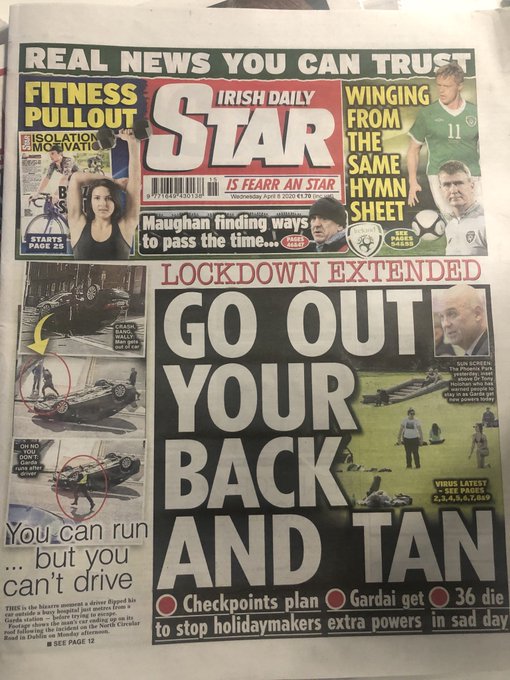 It's important to try to find something to take our mind off things, something to give us a wee smile, and we'd like to invite you for a stroll down memory lane with us, as we remember a few ditties that DSK found in an old songbook, and I'd like to hear any wee stories about any of the songs in the replies…. 
Here we go…anyone who remembers the tunes please let us know what they were…I  know some of these, but not all..
All from what may be the original fanzine/fans forum…
The comments today should be a shameless wallow in nostalgia…. away from the troubles of today.
apart from the caption competition, of course.
Yesterday….
Right pal, that's me ready I'm away to Asda  
 Today….
Oh, and then there's
Knob of the Day
caller, Keith from Norfolk, wants anyone flouting the lockdown to be shot by the Army. The offenders on Keith's hit list were people 'running around sunbathing', 'spitting in streets', 'disrespecting the Queen', or generally 'being outrageous'.
I think it's a different Keith….