The nation held it's breath last night as Prime Minister Johnson was rushed into intensive care having followed his own advice to the nation and contracted coronavirus.
Dominic "fuck me, Dover is a port ? " Raab has taken over the hot seat, though presumably he's disinfected it first.
Johnson has picked possibly the only politician less competent than himself just in case he ever gets his job back.
There is no truth in the tasteless rumour that the PM has asked doctors to place him in a ditch if the unthinkable happens to him, so that he could at least claim to have told the truth once.
Whilst no one wants to see anyone contract this virus and suffer the consequences, one cannot help but feel that he is paying perhaps too high a price for not listening to people who perhaps knew a little more about the virus than him, people who didn't go around shaking hands with those infected….
Maybe I'm being harsh and unfeeling, but I don't do hypocrisy… Piers Morgan, for instance, the cuddly tv presenter who is a legend in his own lunchtime, has fiercely criticised those who wish ill on the PM…and yet previously….
With Celtic deciding that they will hold out to see the season concluded, and no sign of any money coming in from eatern markets, "rangers " have announced that their playing staff and management will defer their wages for three months in a move reminiscent of the man who dropped them in the doodoo in the first place.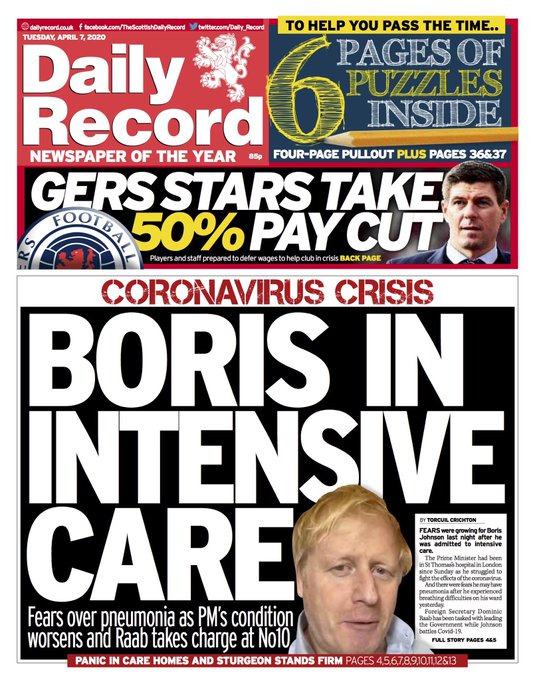 The front page of the Record says there are six puzzles inside, but the real puzzle is why they've called it a pay cut, as though it's some sort of noble geture to help the club during this current health crisis.
It isn't.
Dave King's cold shoulder meant that no one would go any where near Ibrox due to its toxicity, and now that he has gone people have found that money they would have allocated for , er, the big pit underneath govan can now be used elsewhere.
King was notable for placing his bills into a can and kicking it down the road, and it appears the Ibrox board have done the same.
However, there will be no forensic examination of the implications of this move in the mainstream media, as the unwritten law of ignoring bad news for the bears kicks in when anything like this happens, so the media move into their default mode and criticise Celtic instead.
This time, however, Celtic are not taking things lying down, and to the casual observer, they seem to be going for the jugular.
The desire to complete the season effectively detroys two possible income streams for "rangers ".
Prize money will not be paid in full until the league is finished, whether by completing the fixtures or the SPFL calling it over.
More importantly, season books cannot be sold until there is confirmation that there will not only be a season, but how many games it will consist of.
If the new season is delayed, then European competition is placed in doubt.
None of which suits "rangers ", and so even deferring wages is just moving the problem to another day.
Then there was Kevin McKenna in the Herald, spilling his soup all over an article which was headlined;
Why money-grabbing Celtic make me ashamed to be a fan
He continued;
….
Celtic has a few very rich employees who routinely earn more than £1m a year. At the other end of the wage structure they have many non-playing employees who are paid as little as the board think they can get away with. This week it chose to exploit the UK Government's coronavirus bail-out scheme which will pay grants covering up to 80% of the salary of workers if companies keep them on their payroll.
The scheme is primarily intended to help small and vulnerable firms survive without having to make their workers redundant. I doubt very much if it was intended to be used by cash-rich sporting giants like several in the English Premiership, the richest football franchise in the world. Like Celtic, they too feel they must dip their beaks in the state's largesse at a time of economic crisis.
It would be difficult for Celtic to impose arbitrarily a wage cut upon their highest paid players, but I'd like to think that some of the millionaires on their payroll might volunteer to accept a modest levy to guarantee the jobs and wages of the non-playing staff.
Celtic's last set of annual results showed they had nearly £40m to play with, excluding £25m from the sale of Kieran Tierney. They have just concluded the richest sponsorship deal in Scottish sports history which won't be far off £50m. Celtic can afford not to take advantage of the Government wages scheme and leave it for much more deserving causes.
I understand too that it might seem unfair to be singling out Celtic. I'd like to know, for instance, how many of those working in our richest financial institutions – those whom we bailed out in 2008 to save the economy – will forgo their massive bonuses in order to guarantee the wages of their most financially vulnerable employees.
And the decision by senior executives of the Scottish Rugby Union merely to 'defer' part of their ridiculously huge salaries is also astonishing. Rugby is a minority sport in Scotland and over the last decade or so, in a very small pool, Scotland have not been very good at it. But I'm a Celtic supporter and I'm simply examining the conduct of my own club.
In matters of finance Celtic always insist they must deliver their fiduciary duty to shareholders, a phrase that has become so synonymous with its directors that I expect it soon to be nailed above the entrance and translated into Latin.
Celtic is the richest, most successful and best-supported sporting organisation in the country. It exerts an influence on Scottish culture that goes well beyond football. The club itself ceaselessly proclaims it's 'more than just a football club'. It's meant to convey a sense that they really are bound by higher values than mere profit, but they really aren't.
Celtic borrowed the slogan from Barcelona who showed last week that they really are more than just a football club when their first team squad volunteered to make significant cuts in their salaries to protect the jobs and wages of non-playing staff.
The decisions Celtic and other rich sporting organisations make and the attitudes they adopt at times like this matter. People look to them seeking signs of humanity and good leadership. Coronavirus is asking us all to be the best versions of ourselves. This applies to the capricious, grasping world of football too.
 That angered Celtic, who received an apology from the paper… not for McKenna's article, which had merely alerted the club to the criticism, but for another column…
FOLLOWING the serious misrepresentation of Celtic FC, The Herald newspaper today made the following apology to the Club.
"On our front page promotion for a column on Saturday, we stated 'Celtic cutting non-playing staff's money shows how far football has lost its soul'.
"We are happy to clarify that Celtic have not cut any non-playing staff's money. All staff on the Government's job retention scheme are having their salaries paid in full by Celtic.  We apologise to Celtic for our error."
The Herald gets less readers than the Diary, and they've got a crossword.
No wonder they are in trouble.
Newspaper circulation in general has taken a hit as people no longer venture out for things that aren't necessary, and having got out of the habit of grabbing a paper to read during one's coffee break at work, many will not get back into that habit.
 The cost cutting that has lead to a dearth of serious reportage and a desire to merely publicise the antics of z list celebrities famous for being in the paper has finally caught up with them.
Unless they rethink their policies and invest in proper journalism, they will disappear, and although we have become used to an impotent print media, they still have a role to play in holding those who need to be held to account.
 But if they don't, they are finished.
It's easy to criticise the hacks , but harder to praise them when they do something noble, which may draw unwanted attention from the hordes, so when one of them does, it's worth amplifying…not to get him more abuse from the darkside, but to let others know that it might be his editors who prevent him telling it how it is…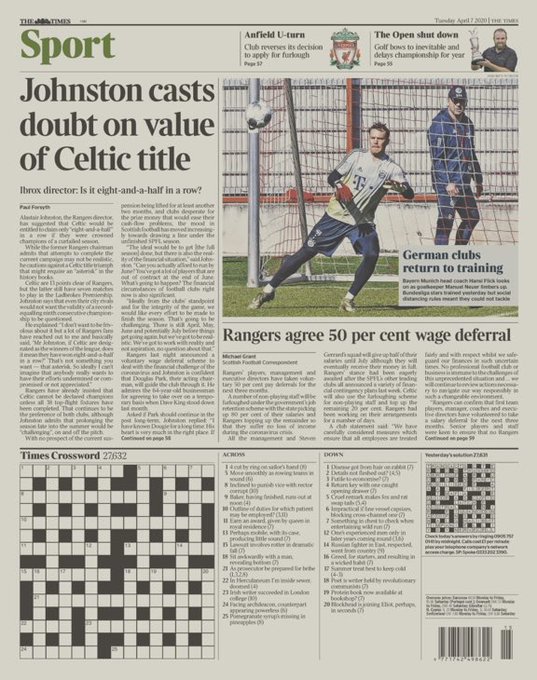 Tomorrow's back page in The Times. Alastair Johnston believes any Celtic 2020 title triumph might require "an asterisk". If I was a Rangers director I think I'd keep mum on titles that require "an asterisk"…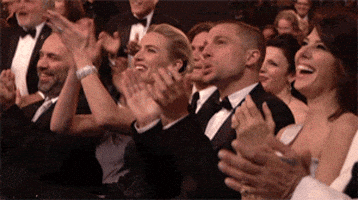 Where I live, the fair city of Stoke on Trent, has a former Celtic player, manager and all round good guy doing his bit for those who cannot do it for themselves, and not through any fault of their own.
Former Stoke City manager Lou Macari is donating another £25,000 to Stoke-on-Trent Foodbank – and urged other organisations to follow his lead.
He began his support of the Foodbank last year, handing them an initial £25,000 through his charity, The Macari Foundation.
And he's now committed the same level of funding for this year to help ensure no-one in his adopted city goes hungry during the Coronavirus outbreak.
Macari said: "These are unprecedented times and foodbanks all over the country are struggling to keep up with demand. It's no secret that Stoke-on-Trent has problems with poverty and we have to make sure no-one goes hungry.
"It looks like we won't be returning to normality for some time and we should all be in this together. If we can afford to do it then organisations similar to ourselves should also be willing to put their hands in their pockets. There has never been a more urgent time to make sure our foodbanks are overflowing."
Our CSC has been known to help out as well, because it's one of the few charities that you can actually see that makes a difference.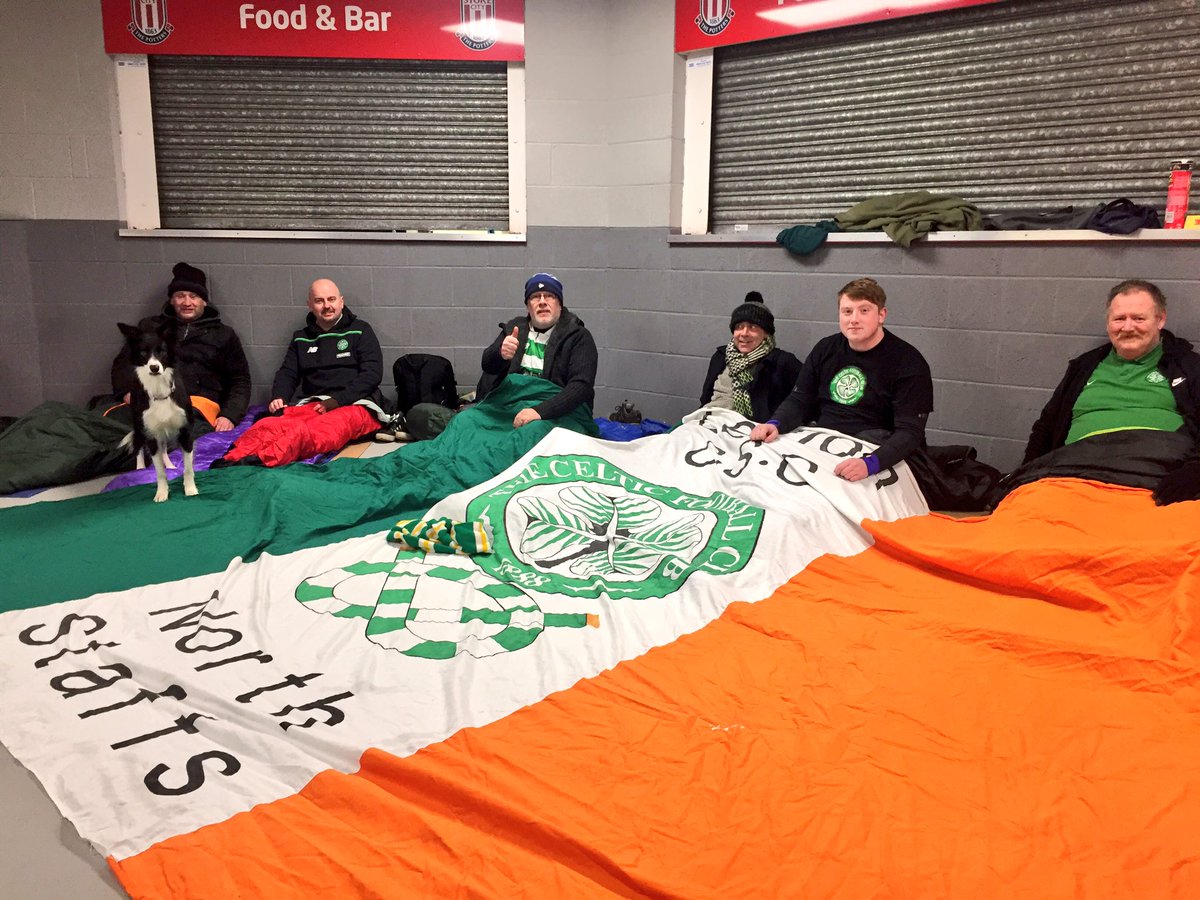 Podcast listeners can now put a face to the dog that barks whenever Lawwell's name is mentioned.
 The Diary likes to pay attention to the world's media, and personalities who maybe don't pay attention to accepted narratives and whilst Knob of the Week has been largely put to one side, 'HappyCelticLass on twitter reminded me that there are still some knobs out there, so to speak, and we've found one….
This guy… Pat Anderson…
 He's got it on good authority that coronavirus isn't a biological, weapon, a lab accident or even a new and adaptbale strain of an omnipresent RNA structure….
He knows what caused it…
 We hear he has not been nominated for the Nobel Prize for Medicine, but he's a clear and spontaneous winner of the Etims
Knob of the Week  
And trust me, these days, that is some achievement.
Yesterday, we had this….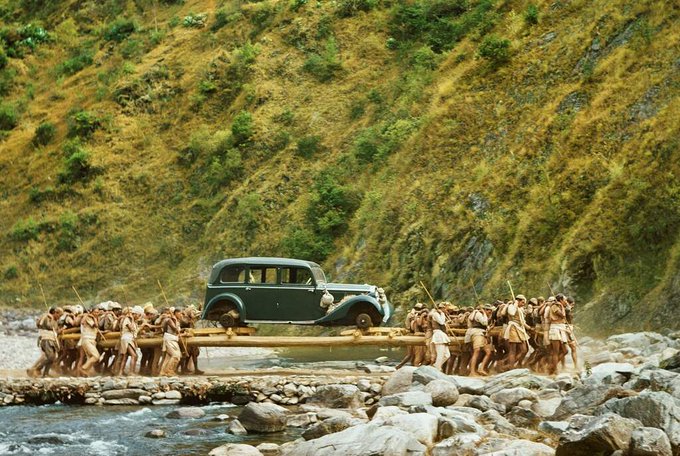 Caption : 'The Royal Family's "We're all in this together tour" circa 1950s'.
with an honourable mention to…
Prince Philip gets roadside assistance to complete 3 point turn.
and a solution to one of lifes great mysteries from…
thats wit used tae happen wen ye didny pay the wains tae get yer motor watched on nuneaton street  
Today…