What looks like a pitiful plea for help to UEFA for clarification on whether or not Celtic can be declared champions of Scotland appears to have fallen on deaf ears.
The Evening Times reported it as….
UEFA pass buck to SPFL on how to finish Premiership season
when surely it should have been  ….
UEFA pass buck back to SPFL on how to finish Premiership season, and tell them to grow a fucking pair.
The decision will now have to be made by the SPFL itself after Michele Uva, vice-president of European football's governing body, publicly ruled out any directives being issued from UEFA.
When asked by SportMediaset whether UEFA would provide guidance on matters of promotion, relegation, championship titles and final league standings, Uva insisted: "It's not a matter for us, it will be up to each league to decide.
"The only issue concerns those players who have contracts or loans expiring on June 30 but that isn't a matter for UEFA, which will only ask for the list of teams that will participate in the next European competitions by a certain date." 
In a nutshell, as we have seen , the SPFL rules, signed off by every participating club state clearly that;
Season means the period of the year commencing on the date of the first League
Match in a Season and ending on the date of the last League Match in the same
Season or otherwise as determined by the Board and which excludes the close season.
And at the end of that season, whenever it is determined to be…
c38
The Club occupying position one in the League at the end of a Season shall be
declared the Champion Club of the League and shall hold the "The Scottish
Professional Football League Championship Trophy" until the next Season's League
Competition is concluded. When the winner of The Scottish Professional Football
League Championship trophy has been ascertained, the Trophy shall be handed
over to the winner who shall return the same to the Company at the League Office
not later than 3 weeks prior to the end of the next following Season, in good order
and condition and in any event as soon as reasonably practicable following a
request from the Board. It shall be the responsibility of the winning Club to arrange
appropriate insurance cover for each trophy throughout the period when it is held by the club  
Quite why that is even a matter for debate remains a mystery, if you don;t count that this is Scotland, where the governing bodies are known to be morally flexible.
Although a ninth successive title is but a declaration away, there is little else to cheer the green hearts around the world, with the great Oddsone Edoaurd Auction filling far more pages than it really ought to.
All football clubs just now are undergoing a review of their finances,as will all television companies and sponsors before the season restarts, which in itself would cast doubt on the authenticity of any big money offers coming to Glasgow for the French forward.
When clubs such as Juventus and Barcelona are looking at cutting their bills, then it can only be a matter of time before Sky TV et al do the same, so I'd pay lttle attention to the so called bidding war between tv money dependants such as Leicester and Newcastle, and debt ridden giants such as Arsenal and Manchester United.
Coronavirus may just be the leveller that football needed, if not some of the clubs.
Ah, coronavirus.
Did anyone join in the round pof applause for Prime minister Johnson last night ?
I didn't think it would be a winner, despite some of the praise he seems to be getting from the public for the way he's, er , dealt with the crisis by pretending he's got it and finding another fridge to hide in.
Or perhaps his PR men got it wrong…

Another soundbite ?
 Boris-Not As Bad As Hitler.
Reassuring stuff.
Meanwhile, the deflection has begun, as the country begins to realise that johnson and his merry men are completely clueless, as with Brexit it must all be johnny foreigners fault…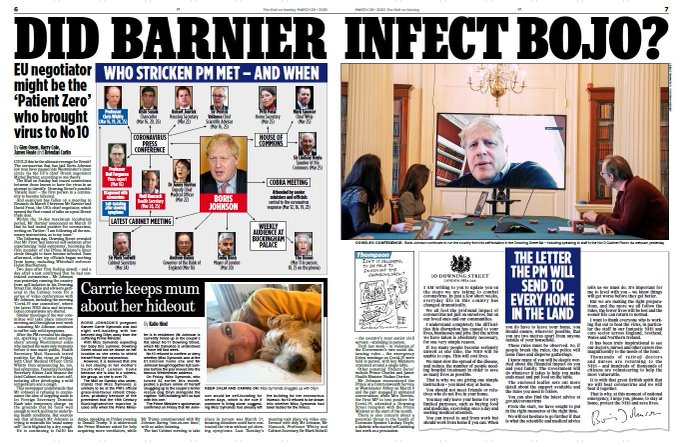 He's sent everyone a letter, but for fucks sake don't pick it up…he's clearly trying to infect the whole herd himself.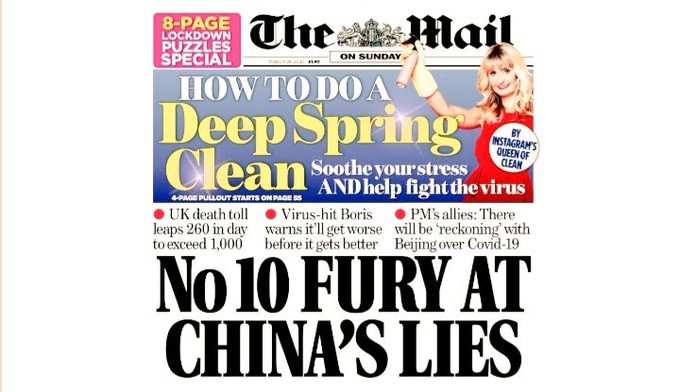 China, as we have seen, told everybody what was going on way back in January, allowing for the rest of the world to take whatever precautions it deemed necessary, and is now even at the stage where help is being given to other countries.
Britain and the USA, the old and the new Empires, have been found to be woefully neglect, although there may be a brighter side eventually when it becomes cheaper to buy a house and there are a lot fewer cars on the road.
Oh, and considerably fewer people as well.
One other aspect of the crisis that is commendable has seen local authorities and communities start to help each other…
"What I'm seeing now is us going back to our roots, going back to community life with people looking out for each other and maybe we'd gone away from that. What's happening is tragic but everybody is pulling together to try to get through it and that's brilliant." Neil Lennon
In Kent, they even list places where everyone can pull together.
Some people cannot help but snipe at each other, and they even do it in public, as a sort of way of gaining attention.
Like this spat between the ever popular duo of Gary Lineker and Peirs Morgan..
Then there was this puzzler….
Police Sergeant Colin Taylor
And finally. You are a police officer and have been stopping cars ALL day. The last car of your shift contains a driver who says that they are just on their way home from work taking a detour just to get a bottle of wine. They are an exhausted A&E nurse. What do YOU do?
Well, after initial checks…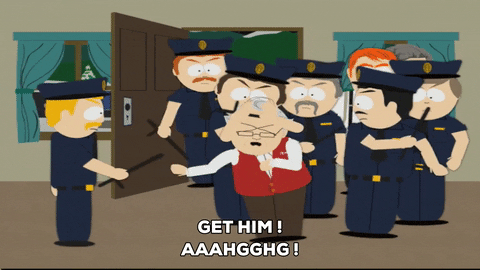 Of course, some police officers would behave differently, perhaps even fetching and paying for a bottle of wine, then waiting all night outside the nurses house so they can get him/her in the morning onto a breathalyser.
 Not all police are bad though, and Shropshire Police…though I'm fairly sure they aren't called that, i might be wrong, I usually only see the inside of their cars…deserve a round of applause for this response…
Called my local Mosque in Shrewsbury to see if it was closed as per the new law and government guidance. Horrified to discover that they are still open and allowing people in!! These idiots will be super spreaders of the Virus!
why are you not closing them down? 
Probably because there is no Mosque in Shrewsbury. There is a prayer centre & it has been checked and is fully compliant with the current government requirements.  
Yesterday, we had this….
Caption …
Airbnb .
check out our Indoor heated pool  
today…