After a week of quiet contemplation…which is what I used to say when I'd had a day or two on the beer…Neil Lennon has shared his thoughts with anyone who will listen about pretty much anything they want to ask him.
Leigh Griffiths and Oddsone Edouard, the new dynamic duo ?
"It's fair to say they've done all right together. 
"I was delighted when they both got on the scoresheet against St Mirren just before things were brought to a halt, 
especially with Leigh getting a hat-trick.
"I knew how much that meant to him. He's nearly there.
"You tend to find that clever players are on the same wavelength – it's something you can't coach.
"They're linking up by making 
split-second decisions on the pitch and it's not something I would take credit for.
"We do work on combinations occasionally but, ultimately, it's down to them. Griffiths is a bit of an enigma – but he's a goalscorer and always a threat.
"I like the 3-5-2 formation – I like it because it works. But you have to roll the dice sometimes and it wasn't simply a case of saying: 'We'll give 3-5-2 a go today'.
"We put a lot of work into it.
"It was in my mind as I felt we were starting to look a bit stale – plus I like playing with two strikers. 
There's perhaps something in that, and as we recall the previous manager, who steadfastly refused to alter his approach to any game, even the lower clubs were finding out how to play against Celtic, so one could argue that Lennon is learning from his mistakes as well, although it's probably fair to say there would have been input from the coaches who maybe weren't listened to as much before.
"We've just had to be patient with Leigh while he had to knuckle down and show the right desire.
"I believe there's more still to come from him in terms of fitness.
"But he's a natural-born scorer and 
you can't buy that – plus I thought the formation would suit us. 
"It's brought the best out of Odsonne as well. He's a top player and having Leigh beside him has taken off him a little bit of the workload.
"Once he fully matures physically, he'll be a proper No.9 in his own right.
"He's only just turned 22 and there's growth still to come from him but he'll be the main striker during his peak years.
"Plus our midfield is as good as anyone's with a combination of Scott Brown, 
Callum McGregor, Ryan Christie, Tom Rogic, Olivier Ntcham and Nir Bitton." 
There is a lot of quality middle to front, especially if you incude the wide players… we'll just have to hope that similar attention is paid to the back four this summer to bring it up to the same strength of depth.
One bit if tittle tattle doing the rounds, from Keith Jackson, so it might well be nothing, is that Lennon is keen to bring Gary Parker back into the fold. Parker was Lennons man in his first spell at the club, but was told he wasn;t to include him in his plans this time around.
It's unlikely that he'll be allowed to do it this time, but if he does, then perhaps there has been a shift in the balance of power at the club, although to get Parker he'll almost certainly have to forego something or someone else.
Worth keeping an eye on developments though…maybe Brendan is going to try to poach someone again.
Something else to watch out for, Celtic are still keeping tabs on Aaron Hickey, the Hearts defender, though there's nothing else but that to say, and they have also been watching this guy… ( from sportslens )
According to Ghanasoccernet.com, Celtic and Rangers are among the clubs interested in signing Caleb Ekuban from Trabzonspor in the summer transfer window.
It has been reported that Rangers manager Steven Gerrard is looking into the possibility of signing Ekuban this summer as a potential replacement for Alfredo Morelos.
The report has also credited Italian giants AC Milan with interest in the 26-year-old former Leeds United striker, who is valued at €10 million (£8.97 million). 
According to WhoScored, Ekuban has made eight starts and seven substitute appearances in the Turkish Super Lig so far this season, scoring three goals and providing three assists in the process.
The striker has also made three starts and two substitute appearances in the Turkish Cup this campaign, scoring one goal in the process, according to WhoScored.
Good signing for Rangers or Celtic?
Ekuban has had injury problems this season, but when the striker has played, he has done well.
The Ghana international did not have a good spell at Leeds United, but he would be a good option to have in the team at Rangers or Celtic.
It would be a risk for Rangers or Celtic to have the 26-year-old as their main striker, but as a back-up or as an option on the substitutes' bench, he would not be bad. 
Celtic won't spend £10m on a back up man, and frankly "rangers " won't spend £10m on their squad.
As for money for Morelos, it'll be a small sum up front with add ons in case the Colombian finally does sort his head out. Although, as his wife would tell you, it's not his head causing him problems..
UEFA have still to make up their minds as to how and when the season will finish, but they at least have a sort of plan…or three.
President Aleksandr Ceferin said:
"There is a plan A, B and C. We can start in May, in June or the end of June. If we can't do it on any of those then the season probably won't finish. 
There is the possibility to finish the season at the start of next season, with next season starting a little late. It would have to work with respect to the players and the signing periods.
"We will see what the best solutions for the different leagues and clubs are. It's difficult to imagine all the games behind closed doors, but now we don't even know if we will resume, with or without spectators.
"If there are no other alternatives, it would still be better to conclude the championships. I can say that I don't think about the European finals behind closed doors. We are in contact with the leagues, the clubs, there's a working group. We have to wait." 
In short, he hasn't got a clue whats going to happen. No one has.
Speaking of people who haven't got a clue, Prime Minister johnson has written to everyone today to tell us all to stay home.
If we don't, it'll be our fault if the NHS can't cope for not following the rules, and not his or his party's for underfunding and neglecting them for the last ten years.
As the week goes on, we will see exactly how much he has neglected them…
Meanwhile, the search for a saviour goes on among the ibrox support as their club/company nears it's Judgement Day..county court Judgement Day, that is, and the next in lne to be discussed with reverence is Jim Mccoll, who made his fortune by charging more for anything in his shops than anyone else does in theirs.
I'd hate to have to use his shops these days, with price hiking the norm due to the market being allowed to dictate prices…although I believe he offers monthly payment terms for necessities such as bread and milk.
(From Follow Follow )
Don't know if this has been posted, ignore or delete if it has.
A slim chance of Jim McColl coming to the clubs saviour, possibly there's been talks again. Go to an hour 4mins and 30 seconds in.
At that point in a video interview he lets slip that he has had talks about investing in or possibly even buying out "rangers " , having had talks with Liverpool firm FSG who are also investors at Ibrox, but then goes on to say that it's unlikel to happen.
What it does show is that they are frantically looking for extra money, but then again, thats not exactly a secret.
I'm beginning to think that we may well see new owners, and I'm also thinking that it could close the circle on whatever plans were hatched behind closed doors eight years ago.
Graeme Souness has already said he'd be open to an advisory role at the den of inequity, and no doubt his pal might see a chance to win back the dark hearts of the undead…
Stick Walter and his cardigan back at the helm as general manager, or at least as a figurehead, as there are doubts about his health, and either Baz Ferguson or some other staunch ex player as boss and you may well have the dream ticket to sell books this summer….
And they do need that money badly…
Then again,Souness coming back is nothing new…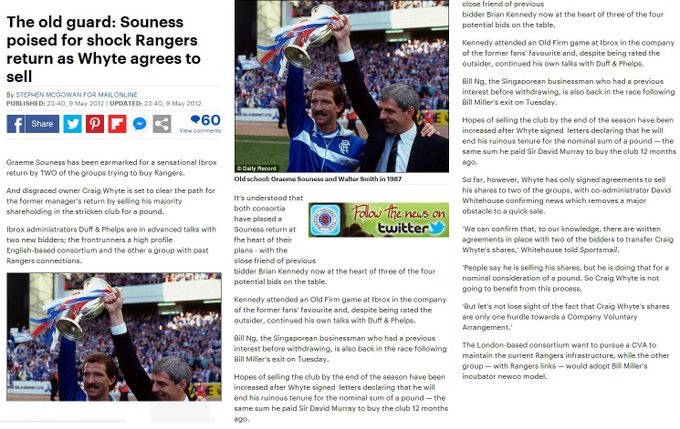 And Murray ?
He'd walk over broken glass to get his old gig back, although to be fair, not having any legs would make that much less of a sacrifice.
There has been talk of a monument to Dave King, touted by some as being right up there with the gallant pioneers…see " Tangled Up in Blue " for the real story behind that crew.
Today, the Greatest Ever Ranger stepped down as Chairman. Dave King is a Rangers Legend, he saved our club and will be immortalised in the club's history. Thank you Mr King. 
Well, to be fair, he was there fairly early on in their history….
One suggestion for the tribute could be this handy visual summary of his time there by James Doleman on twitter..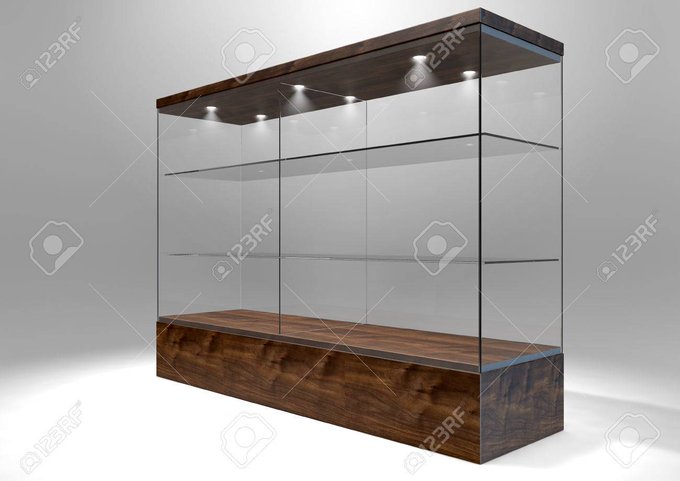 Meanwhile, there's been an astonishing lapse of judgement on the Record's twitter feed..
Quite how they felt the use of what can loosely be described as a term used mainly on certain websites for adult entertainment is fitting for a paper that claims to have family values is , well, surprising.

Still, I suppose how he got that nickname and what he does in his spare time is his own business.
There's no mention of it in his wikipedia profile…
Jason Steven Cummings (born 1 August 1995) is a Scottish professional footballer who plays as a striker for Shrewsbury Town, and the Scotland national team.
Cummings started his professional career with Hibernian, making 16 appearances and scoring twice as Hibernian were relegated in the 2013–14 season. He was their top goalscorer over each of the next three seasons, scoring more than 20 goals each season, making him the first player to achieve this feat for over 50 years. These goals helped Hibs win the Scottish Cup in 2016 and promotion in 2017.
He moved to Nottingham Forest in June 2017, but has not played regularly for their first team. Cummings was loaned to Rangers in January 2018, Peterborough United in July 2018 and Luton Town in January 2019. He made his first full international appearance for Scotland in November 2017.
Hang on…he played for Scotland ?
What at ?
However, there is a wee bit of good news for them, as a major US furniture firm could well be about to make a bid to be their shirt sponsors… if they get someone to make shirts for them, that is…
Yesterday, we had this…
"Sorry officer.It's all this self isolation, it had me climbing the walls."
With honourable mentions to;
"So, Peter, you're a web designer?"  
"Once you've checked the spelling, can you just put that up on the web for me Carol? Thanks."
Look Peter we are all very grateful for you volunteering to help Support the NHS but am no sure "Swinging at weekends" and "Using the web to trap your pray" is quite the skill set we were hoping for?
Some real quality in there.
So, today, excel yourselves with this…