Dave King has finally done something he said he would.
He's stood down as chairman of the Rangers International Football Club.
In a statement, he said:
"I thank all supporters, club management and the board for the magnificent support I received while guiding the club post regime change to put that specific crisis behind the club," 
"The deputy chairman Douglas Park will chair the board during the interim period and a new permanent chairman will be elected by the board at the next board meeting and will be announced immediately thereafter.
"I considered the possibility of extending my time as chairman until the coronavirus crisis is over but that is not practically possible. After I returned to South Africa last week from the board meeting, I was mandated by the South African authorities to go into self-isolation for 14 days – which I am presently undergoing." 
Self isolation ? Couldn't he just pay a fine ?
"At my final board meeting in Glasgow on March 14, the board was close to finalising a new round of funding," 
"However, this has been put on hold while the board considers the financial consequences of the rapidly evolving global impact of coronavirus.
"The subsequent severe developments within the sporting and general business environment – that have now resulted in global lockdowns – has necessitated that the careful financial planning assumptions presented on March 14 are revisited." 
Reading between the lines, that means that the supposed investment from the far east is now not happening, if it ever was, and King has stepped aside in a desperate attempt for some kind of staunch investment to save the new club from going the same way as the old one.
The interim accounts have no doubt been digested and it's time for the crisis committee to meet, new chairman Park will be desperate to get at least some of his money back.
We heard his car business was taking a pounding before the Coronavirus appeared, so one can only wonder if it will join the list of companies going to the wall during the current economic meltdown.
So, Douglas Park, who has shares in another Premiership side, now has the added responsibility of rescuing this short lived version of the Peoples Club of Scotland.
The club/company /basket of assets said:
" Rangers Football Club is delighted to announce that Douglas Park has been appointed as Interim Chairman of Rangers International Football Club PLC.
"Furthermore, we can confirm the appointment of John Bennett as Deputy Chairman of RIFC.
"Douglas Park has decades of experience as a successful businessman which is invaluable to Rangers, as we continue to work towards our 150th anniversary. We are indebted to Douglas' financial backing and support with fans fondly recalling his part in the "Three Bears" takeover of 2015.
"John Bennett joined the RIFC board in March 2015 as part of the regime change when he invested substantial funds in Rangers. His consistent investment in the club is set to continue, with further funding in the coming months.
It appears these two are the new saviours, although what they can feasibly afford to lose is open to question, and no doubt the fans will be asked to pony up for this latest round of pony and trap.
In the statement was a line that meant either King was lying, or the new crew are, when they stated;
RIFC is pleased to confirm that the funding plan announced at the recent AGM is well advanced, with significant investment already received and further commitments in place. 
I did have a wee chuckle when Park said;
"It is a privilege to take on this position at the world's most successful football club. We have experienced some difficult days but have emerged stronger than before.
In the paragraph before he called them Rangers International football club, presumably because thats its name…as opposed to the original one, which was simply Rangers.
Either he's as dumb as the hole in a cows arse, having fallen for the media spin, or he hopes the fans are…
The SFA haven't commented on the possible conflict of interest with Park having two clubs to deal with, presumably because they know that before long he'll only have the one…
The interims should be out early next week, and they are written in mostly red ink…they can't even launder money over there as there is simply no cash about.
We tried to ask insiders at Ibrox what they thought, but they made a break for it..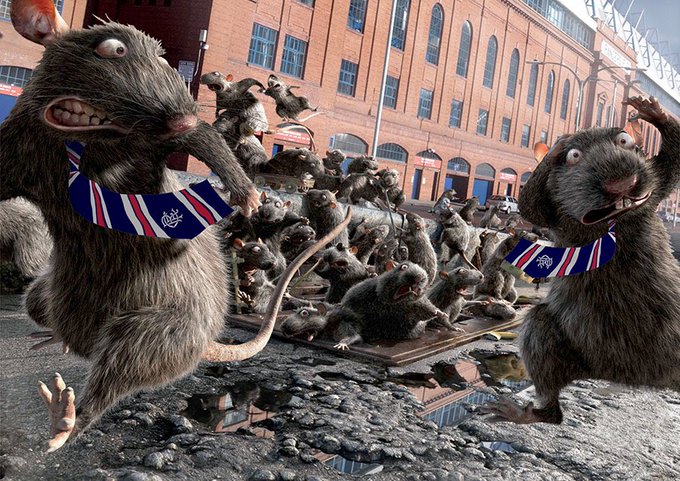 By the way, if anyone is now in any doubt that they are about to go under, consider this…
Nobody has asked why is it announced at 10.30pm on a friday night

during a pandemic?
I'd say thats because we know the answer….
Meanwhile…
Celtic planning at least six signings in next transfer window as Neil Lennon plan emerges
Celtic boss Neil Lennon is planning an overhaul of his squad in the summer transfer window.
Hang on, it's from the Daily Express….
Predictably, however, what starts as an attempt to lure in Celtic fans with some good news ends up pretty much saying that funds will come from the sale of Oddsone Edoaurd…
We should know better by now, and we do.
The cynicism we have garnered from watching sports stories in Scotland should also spill into the wider mainstream, and bearing in mind how the media works these days, take that into account when you read that Boris johnson and his health secretary Matt Hancock have both tested positive for the Coronavirus, meaning they can happily self isolate just as the crisis begins to peak and they would have had to face questions about their lack of adequate action to at least lessen the effects of the virus.
Then again, maybe I am too cynical, especially as I am beginning to feel that while a considerable number of us were genuinely applauding the NHS staff, and rightly so, how many wer eapplauding to allay their own guilt at having voted Conservative over the years and thus giving them a mandate to cut away at funding in the slide towards privatisation ?
Yeah, I know.
I'm starting to sound very bitter about of all this, but hopefully enough of us will afterwards to demand real changes in society.
Andy Ritchie, the former Celtic and Morton legend is the latest ex Celt to be infected, along with former defender Mick McCarthy.
We wish both of them well.
Neil Lennon summed it all up …
"The word I keep hearing on the news, from leaders of countries and leaders of sports associations, is unprecedented," 
"It's the word of the year. Everybody is saying it and they're right. Look, I don't want to be getting up on my high horse and preaching to anybody but we might look back on this as a time when our society changed.
"I'm really missing football, I'm missing the players, the staff, the games, the colour, the noise, but it's no bad thing to take a moment and appreciate what you've got.
"I think football will mean a lot more to a lot of people when it returns. What I'm seeing now is us going back to our roots, going back to community life with people looking out for each other and maybe we'd gone away from that. What's happening is tragic but everybody is pulling together to try to get through it and that's brilliant." 
Football, our own club that is, is the one constant in life. It was there when we were kids, it was there when we had kids, and it will be there when we leave this earth. Indeed, the last thing i did with my own father was to watch highlights of the game against Aberdeen, on Sunday 22 December last year. 
 Everything else comes and goes, wives, husbands and partners, friends, jobs, houses, even our own kids up sticks and move on. 
One thing, however, is always there. 
For me, and for you, that's Celtic. It's why we will always fight for it, why we never walk away.
And there may be another battle on the horizon….
Chris Williams, a FIFA and UEFA accredited journalist, has heard a whisper…
Source at UEFA: leagues who void seasons could find it difficult to nominate UCL and UEL reps, ESPECIALLY if other leagues complete their comps. Non-completion could lead to non-qualification, could be seen that teams did not qualify if voided, brings coefficient issues also.
History has proved we were not paranoid enough.
Will the SPFL go against their own rules and not only deny Celtic the title, but deny them a place in the UCL to cost them millions ?
For those who don't think they would, remember Resolution 12, which kind of proves they already did.
We can only hope that Lawwell is ready to fight this time, and as it affects his bonus, perhaps he just might.
Of course, it is in the rules that should the league campaign be halted, Celtic will win the title, but there has to be some way of placating the hordes, at least as far as the SFA/SPFL are concerned.
The last time they were short of a few quid, rules were overlooked to allow them entry into the cash laden premier European tournament, and one cannot help but be alarmed that they will try it again.
Yesterday, we had this…
Caption .(a few days ago)
Ok cabinet let's show the people that we fear no virus …crank up that conga song… Ah one an two an chewwwwww..  
Today…
Remember, stay safe…and