But then again, we'd all have taken a score draw before kick off if we were offered it, so there's not really anything to worry about .
Right ?
Their keeper will never play like that again.
Right ?
In Copenhagen last night Celtic roared out of the blocks and could have been ahead after just 12 seconds. A few minutes later it could have been two…Oddsone Edoaurd scorning the chances he normally puts away with ease.
It didn't matter, and it didn;t affect him. He finally scored-finally lol- after just 12 minutes, and after that Celtic could have gone on to put the game and the tie to bed.
At half time, the Danes were on the ropes, but a few doses of smelling salts and they came back out swinging.
And this is the bit that concerns me..well, some of what concerns me.
Celtic didn't seem to be expecting a quality side , on their own patch, to come out and make a fist of it.
When they did, the players couldn't handle it, Olivier Ntcham especially, who didn;t seem to be on clock when his error led to the equaliser.
Celtic somehow held out, even creating a chance or two themselves, but it was the old trouble.
Not putting the ball away, and not having a defence that was confident enough to spread confidence through the team.
Unless Lennon starts with three at the back, and he doesn't have three centre backs, the team looks shakey.
If only there had been an opportunity to sort this….
However, it's a results business, and history will record that Celtic got a draw away from home in a european knockout stage tie, with Edoaurd's goal the first away goal in such a tie scored since Henrik Larsson had us jumpjng about against Boavista…
I know…
Celtic should prove too strong for the Danes at a packed Celtic ark next week, but that little ngging doubt at the back of my mind refuses to go away.
At the risk of being labelled defeatist, negative and all sorts of similar things, i keep thinking that the return will end 2-2..
Partizan Belgrade anyone ?
However, the draw , when combined with an astonishing collapse by Sporting Braga at ibrox means that Scotland will have an easier run in later competitions, which of course, means Celtic will…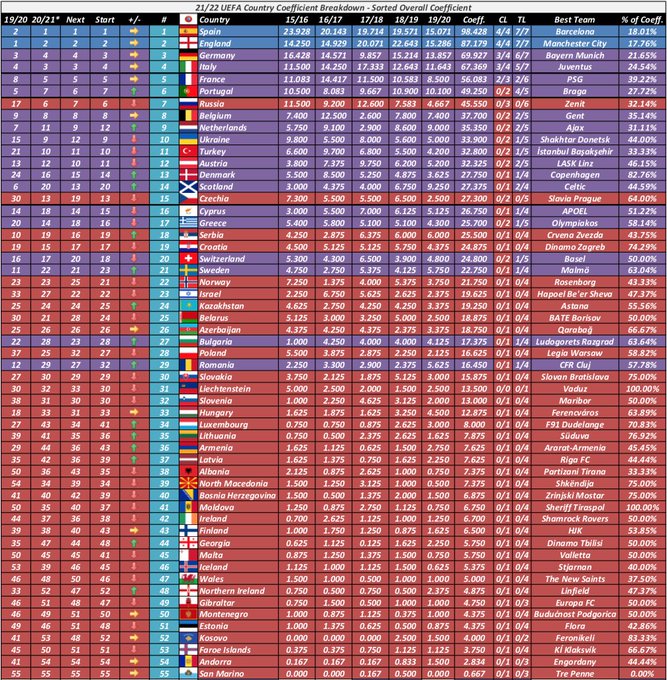 Which, as Moravcik 67 on twitter explains, is a good thing that might even get better..
Tonight's draw sees Celtic move up 2 places to 44th in the rankings, above both Dinamo Zagreb and Viktoria Plzen – which could be important for next year. A win next week would see us overtake Copenhagen, Krasnodar, Anderlecht and Athletic Bilbao as well. 
Combined with Rangers' result, Scotland has moved up 2 places to 14th. If both APOEL and Olympiakos go out next week – both lost at home tonight – a top 15 spot is almost certain. It would probably take Basel and Malmo to meet in the Europa final to prevent it at that point. 
A top 15 spot gives Scotland 1 extra team in Europe from 21/22, including 2 CL teams and another in the new 'best of the rest' EL. The other teams will skip at least 1 qualifying round as well. Up for debate whether this is good or bad from a Celtic point of view. 
4. Finally, if Celtic beat Copenhagen next week Scotland will move up to 13th place. That would see the Scottish champion guaranteed group stage football of some kind – as they would likely skip 3 CL qualifying rounds and start in the playoff. 
Finally, finally, Scotland are currently the 6th ranked nation this season. Keep up the results from this season and last and it won't be long before an automatic CL place is in the bag. If Celtic repeated this season's results for 5 years we'd be around the top 30 clubs. 
And all we need are a couple of defenders.
Last nights best players were Julien, Forster and Edoaurd. It shows that at this level, first team ready players make a difference. The projects are not ready for that.
If we are to keep up this pace for the next five years and get an automatic UCL spot, it's plain to see what needs to happen.
Now, an appeal.
Those of you who run, or are involved in the running of a junior or non league football side have been asked to help a team who have run into a bit of trouble..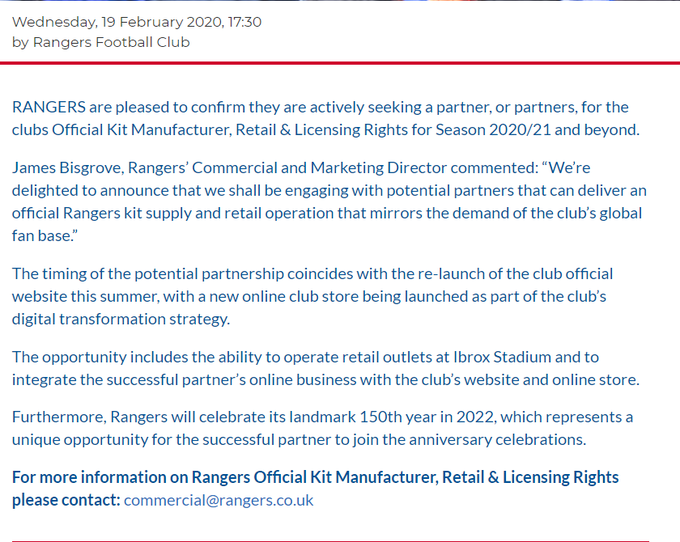 As a cash strapped new venture, the Ibrox club have now quite got the clout required for major kit companies to seek them out, so they've decided to grab the bull by the horns and pop themselves out there on the market.
One of their fans had a suggestion…
One head, just one head, yet displaying a measure of stupidity worthy of a dozen.
what's going on here ?