Scottish football has long been under the thumb of those connected with Ibrox and their friends over at the SFA. One could argue that they are tied together by their apron strings.
In our current fast moving media world, where news isn't really news and rumours are fed to an ever turning mill , it has become difficult to tell the difference between truth and lies.
But what we can ascertain is why some of those stories are out there, but only if we link them all together.
So, let's talk about Celtic, "rangers ", and the fat controller.
We'll start with the fairly obvious plan to rescue the current Ibrox economical crisis, and how a poor Colombian boy has been lauded far beyond his ability to raise the money, or try to raise the money, that would stave off another insolvency event at the home of insolvency events, Ibrox stadium.
In order to maximise what is probably their only realistic asset, any instances of misbehaviour that may affect his market value is played down.
It all started at Motherwell.
After receiving abuse from the home fans at Fir Park, like everyone else does, Morelos responded with a gesture to them which has yet to be translated into some kind of Colombian phrase…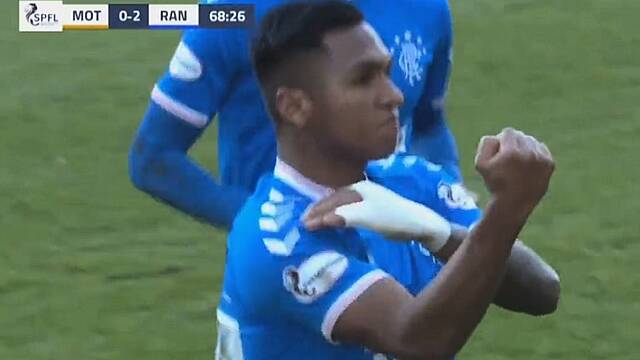 It earned him an early bath.
After the game, his manager reassured potential suitors that :
"It's the first setback Alfredo's had after huge improvements. He's a human being. He's young. He's doing everything he can to improve his discipline.
That was December 14, 2019…on the 29th, his improvement continued, but with the transfer window now about to open, serious intervention was required…
Another sending off, again for a second booking, saw him make the international gesture for murder towards the crowd at Celtic Park. his side won that game as well, but presumably that had been lost on the little fellow.
He seemed to be in a bit of a hurry to get to the dressing rooms, where Ryan Christie of Celtic had also been sent to shortly before. Christie had previously grabbed at Morelos's shirts and whatever is contained within.
One could be forgiven for thinking he had the Celtic midfielder in his sights.
What followed has not been made public, rumours have suggested anything from a free for all in the tunnel to a serious assualt, requiring surgery , on Christie.
In that context, the excuse made rapidly by the Ibrox PR team about this…
meaning the game is over lacks a little credibility.
Watch the video again, Morelos is very keen to get to the dressing room, which in itself is unusual not only for him, compare it to his other sendings off, but for anyone ordered from the field.
From South America and elsewhere, we were left in no doubt what the gesture meant, and tragically , further international damage was done to the brand. Debate raged in the mainstream and on social media, but really, the man had no defence.
His PR team were left with an enormous battle, and so out came the race card…though first a story about a player at another club, Fraser Aird, had to be quashed. Aird had been seen performing the vocal parts in a song banned by UEFA for it's racist overtones during the game.
And if the Fat controller was ordering his lapdogs to play the racist card, that could backfire.
This is, by the way, is similar to the reason the British and americans could not acknowledge publicly the atrocities of the Holocaust until after the war, as their Soviet allies were indulging in pretty much the same idea to maximise cheap labour output. thought I'd mention that as we are talking about the race issue.
The race card is the one in the pack that will always be wild…it just depends on how you want to play it, and what you expect to gain from it.
And they certainly played it.
Peter Adam Smith, the Scotland correspondent for ITN, which is anything but independent,  declared on twitter that he had , in his possession, proof that Morelos was responding to a racist attack from the crowd.
You'll remember him from his tweets after the Scottish Cup final of 2016…He was the one who tweeted pictures of the pitch invasion which was used in correlation with, but not causation of, the attacks on all the "rangers " players you read about..
I've seen the video of racist and sectarian insults being shouted at Alfredo Morelos yesterday. It has been sent to me but I am not sharing it because it doesn't deserve the platform. It is horrendous and it needs to be stamped out by all clubs and by all reasonable fans quickly.
But he was keeping that to himself for the moment, and indeed, still is.
But the narrative was now in full swing…alfredo was the victim of racism, and that could lead to him being forced out of Scotland for good !
After all, they wouldn't sell their top man unless they had to, and if they did, they would have to explain to their fans why they had to. Here was a golden opportunity to blame their mess on someone else, and also try to alleviate any damage done to the Morelos brand. They need all the money they can get.
Meanwhile, the bold Alfredo needed to make sure that no permanent damage had been done by Ryan Christie to his, er love of adventure…
A picture emerged on social media of him in a compromising postion with a local glasgow lass, which added to stories emerging from South america about his, er, adventures…
The brand was losing value almost by the hour, and there seemed little chance of maintaining the race angle as no one was producing any actual evidence.
but then, a man was caught messing around with the forwards car…and the PR men swung into action.
The narrative fed concerned a man having being caught underneath hos Lamborghini tampering with the brakes…which of course, could be construed as attempting to harm him and his young family.
And so it was.
Alfredo Morelos sabotage fears spark police probe on Rangers star's Lamborghini supercar
The Ibrox striker chased a man after spotting him tampering with the underside of his vehicle in Glasgow city centre with police taking the car away for examination as part of their investigation. 
A police probe is under way after Rangers' £20million-rated striker Alfredo Morelos chased a man he believed was trying to sabotage his £100,000-plus sports car.
The Columbian found him trying to access the underside of his Lamborghini near Glasgow city centre.
Police were called and now the motor has been taken away to be checked as part of their investigation.
The drama happened after Morelos, 23, returned to his apartment close to the River Clyde in the Finnieston area of Glasgow, with his pregnant wife Yesenia.
It is thought the couple went to their home but Morelos then went back alone to the car and found the man who fled the scene as the footballer gave chase.
Social media went even further, as it does , with accusations of attempted murder and all sorts of nonsense higging the internet.
It's how it works …the storm after the mainstream reports far, far outweighing the initial effect, and making it much more extreme, and all feeding the naraative of protecting the brand and justifying a possible exit.
But then… as sometimes happens, the truth came out..leaving a few red faces all round.
Rangers star Alfredo Morelos' car targeted by private detective hired by his wife
A private detective handed himself into police claiming he was asked to launch surveillance on the player's car by his wife Yesenia. 
This story, in turn has been rplaced by some happy family tales and pics, as the players wife is pregant and all the stories of infidelity pushed to one sode , for now at least.
Though it's too late. The transfer window is closed, and no one wanted him. clearly the baggage he carries does not justify the outlay.
The publci relations exercise had failed, and all it needed was for someone to finally point this out, and also to make people aware of how dangerous this kind of narrative was, not only to the game in Scotland, but to people in Scotland caught up in the fury of the campaign.
A classic sign of manipulating the masses into figthing amongst themselves for the benefit of themselves…the Ibrox entity that is, fed all the time by one man.
A man about to be told what kind of a man he really is…
Former..at the time of writing…BBC pundit Michael Stewart said what most of us were thinking, live on BBC Radio Scotland
"Alfredo Morelos has done his first interview today with Sky Sports. It was filmed on Friday. Last week there was a story in the newspaper about somebody tampering with the brakes of his sports car. Now, who fed that line? Because it certainly wasn't the police … and there was an interview set up and recorded on Friday which was released today that gets everyone distracted from talking about something else, which is a poor story, racism in Scotland. We don't want it. If there's evidence we condemn it.
"Last week somebody leaked a story about tampering with brakes, completely unfounded and what does it do? I get messages saying I'm complicit in attempted murder along with other people. Utter garbage. And that is what I find extremely disappointing, somebody stoking fires for their own personal gain."
He called James Traynor, the man who it appears is behind most of the news in Scotland, hence the term, " The Fat Controller ", after the fat controller from Thomas the Tank Engine stories, to whom he does bear more than a pasing physical remeblence as well, " A dangerous man "
Let's face it, the fury unleashed after the stories towards some in the media and others on the streets could have exploded into major civil unrest, as Stewart Regan once pointed out as he lay back to have his tummy tickled by those desperate to keep a club playing out of ibrox at the top level.
Stewart is still suspended, and the BBC are still doing the bidding of the Fat Controller..
But Sky sports are also in a bit of bother, having broadcast the interview with morelos, and added their own somewhat refreshing translation.
The narrative required Morelos to mention the racsit attacks from the crowd at Celtic.
He didn't, but the translator must have heard wrong, and included it.
That meant Celtic had to finally defend the brand, and with the club under pressure from the support to do so, they came out swinging, forcing an apology, which Lawwell slammed as not enough, or unacceptable, or insulting, and whatever else he could think of.
This could damage his bonus, so there was no way he'd let it go.
The club then said it would no onger co operate with Sky, and only relented in time for todays game.
They've been seen to have a moan, so in their own minds , they've done their bit.
And anyway, when the team are doing the business on the park, there is a feeling in the boardroom they can go back to their "splendid isolation " stance…
Yesterday, Traynor claimed to have been attacked/assaulted/shouted at /had two fingers stuck up at him by a couple of youths/ men/ ten year olds/ IRA volutneers, and the police are looking for witnesses.
They also asked anyone who may have reason to attack Traynor to pop down to the station this morning, and they were encourage by the response…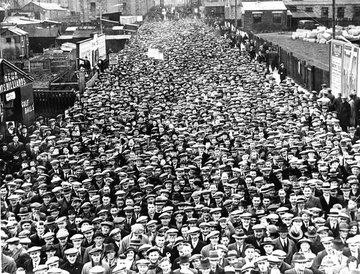 That's where we're up to…but in a further twist, there's a hint that Traynor was called into ibrox to be handed his jotters….which prompted him to point out he knew, perhaps even literally, where a number of bodies were buried.
Looks like he's not finished embarrassing the guys at ibrox, or anywhere else for that matter, just yet.
But someone does need to regin him in, he's graduating from the FAt controller to a sort of Dominic Cummings in a suit, and both of these manipulators are surrounded by idiots who do not know how to deal with them.
There's a game we all pay into that needs to be cleaned up.
The media, the authorities , even some club owners and directors.
But it keeps coming back to one club/company in particular. One cancer that could have been cut away eight years ago, that has come back more aggressively than anyone could have thought.
So as it stands, "rangers "  are £10m short of funds to last out the season according to the Auditors.
We are told they could owe £10m to Ashley.
They are also £2.8m short fro the non payment of the Elite money(which would have been calculated in to the £10m shortfall given by the auditors).
There is still Hummel who will want to sue them for breach of contract, say £5m.
They are also being declined a loan facility of £3m by Close Bros(allegedly) so that's got to be paid back.
Also GASL himself who is supposed to have left, but hasn't because he wants paid back for his loans to shares investment £9m, as far as I can tell.
That little lot comes to approx £40m.
which, by a remarkable coincidence, was the figure mentioned that they wanted for Alfredo Morelos.
Before he went doo lally.
Maybe the day of reckoning is getting a little closer, and maybe we are now seeing through the web of deceit they've spun for the last couple of decades.
And now, perhaps the greatest deflection of the lot…..
Craig whyte has got his book out, which contains little that is new, and provides a neat deflection for anything else that might harm the larger brand.
He's put himself forward a second time to play the fall guy…
Things are indeed getting interesting.