As the second half of the season takes shape, there comes the first opportunity to strike a blow at the dark hearts of the opposition.
Aberdeen's players responded to the abuse their manager received from their support by putting in a dogged performance at Ibrox yesterday, frustrating "rangers " who had star men Alfredo Morelos and Andrew Dallas available, but they both turned in below par performances and the dons earned a point.
That means that Celtic, now four clear with 23 games played can up their game today at Hamilton to put a bit of daylight between the two glasgow clubs…and daylight, of course, is the natural enemy of those who adore Ibrox.
They would still have a game in hand, but having now dropped five points in two games, confidence will be seeping from their pores, and now is the time to set down a marker.
Of course, all of that depends on which Celtic turns up in Lanarkshire today.
Do we get the free flowing football of the first half against St Johnstone, or the confused clowing around  of the second ?
The better and more emphatic the performance and result, the deeper the dagger of despair goes into our city neighbours. It's that simple.
Steven Gerrard, the current Ibrox manager , sounded defiant, but you could tell he was feeling the strain…
"We're missing a spark right now in the final third.
"Not just today, but in the four games since we came back in January.
"It's vital that we find that quickly because as it stands we're four points off, two draws away from Celtic. We need to try and get back to the level we were at before the break.
"That's key, that's the most important thing." 
The fans are revolting…
Which leads to all sorts of stories…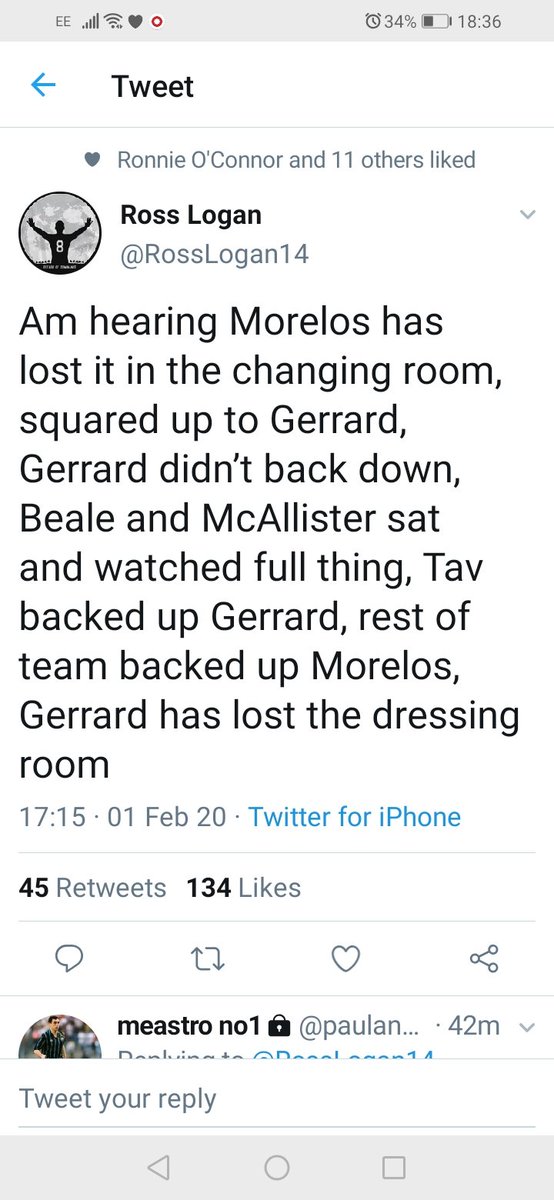 To be fair, if he has lost the dressing room, he could try looking under the bus for it, as thats where he usually chucks his players.
That spark in the final third, the lively and entertaining alfredo morelos may well be distracted these days.
The police have been looking into the incident where his car was allegedly tampered with, which the media turned into yet another example of how the poor soul has been on the end of racial, sectarian and all kinds of other abuse…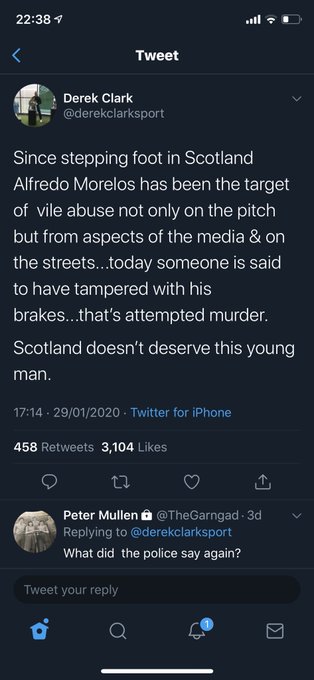 The Fat controller in overdrive there, and then, mysteriously, it all stopped….
Well, not that much of a mystery as it seems that there may be more to the strikers behaviour than meets the eye, and one can only hope it all ends happily.
One should never take any pleasure  from another's personal circumstances, but there seems to be an element about morelos that makes it impossible to like him, and also, it seems, impossible to sell him…
Gerrard continued…
"We need to keep going because there will be more twists and turns in the title race.
"So we keep going, we keep pushing.
"But I need the players to find that spark again. They're capable of it.
"Can we afford any more slip ups? If you look at Celtic's form, probably not.
"But I've been around the game long enough to know there will be more twists and turns – and remember, there are still six points to play for in Old Firm games." 
Seems to me he's trying to convince himself that it isn't all over until the fat lady sings, and to an extent he's right.
Although eye witnesses claim she is already approaching the stage, and will burst into voice at around 2.30 today.
Is there a chance that we may be counting our chickens before they have hatched ?
Of course there is, but the implosion at Ibrox can only be rendered insignifcant if similar events happen at Celtic, and with the exception of a fear that we can expect an injury crisis t some point that leaves our seriously undermanned central defence vulnerable, there is enough middle to front to at least score goals, even if we can;t be one hundred per cent sure of stopping them going in at our end.
There was talk yesterday that with Victor Wanyama about to be mutually terminated from Tottenham he would be available as a free agent to return to Glasgow, a move which would delight Neil Lennon and quite a few fans, but as the contract would be terminated outwith the window, I'm not entirely certain that such a move could be sanctioned, although there might be a way.
Wanyama can play centre back as well as midifield, and maybe that was the plan all along, and that obssession with the former Celt may well have distracted us from actually bringing in a real centre half, which as far as i can see , may yet be costly in the second half of the season.
Maybe not in the league, but in the Cup, or in Europe, where the prospect of a defence of Bauer, Biton Ajer and Hayes gives me a fear not heard of since an optimistic Brendan Rodgers tried to play Barcelona and PSG at their own game…
Elsewhere on the site is Yokerbhoy's match preview, and a central part of it is the plastic pitch at New Douglas Park.
Celtic haven't adapted to these artifical playing surfaces as well as perhaps we should hope, and considering the players train on them all the time, thats a bit of a worry.
Today might not be the time for a blood and thunder approach, which could lead to more injuries, and with planning permission for a bigger treatment room still in the early stages, the hoops cannot afford any more problems, so they need to take it easy.
Hamilton are the perennial strugglers, but it's never easy to get a result down there, and so a start like the one in Perth would be much appreciated.
Someone who needs to be on form for that to happen is forward James Forrest, who has come in for a bit of stick from supporters , presumably because it's his turn. His manager agrees that this is out of order..
"I'm sorry but it's really unfair on a player who's been unbelievably good for this club for such a long time. 
"People have short memories. James is entitled to a bad couple of days now and again but I don't think he gets cut the same slack sometimes as others do. 
"Look at his record in games against Rangers – it's pretty good, the amount of wins, the number of goals and assists he's had.
"James is a big-game player and, alright, he didn't have one of his better games in the 2-1 defeat by Rangers after Christmas but we make too big an issue of it at times, we really do.
"I always think home-grown players get criticised a little bit harder for some reason.
"Maybe it has something to do with the fact he's such a quiet kid.
"There's been no controversy surrounding him, no social media – he just comes in, does his training, plays his football and goes home again.
"He's a manager's dream. 
And I thought he was great against Saints on Wednesday. He was dynamic, his work rate was great, he scored a great goal and his assist for the first goal was magic.
"And I thought he played with real freedom – that's the James Forrest I love.
"He's such an important player for us. That's 15 goals he's got for the season, which is a great return, and I want him to get at least to 20 between now and the end of the season.
"He's been outstanding.
"If he doesn't play as well as that, people moan, but he sets such a high standard.
"And when he doesn't hit that high standard? He's played a lot of games, remember, and that has to take a toll." 
It's also worth mentioning that playing against some of the smaller clubs so many times over so many years will have an effect on a players attitude, it's impossible to motivate yourself for some of the games against some of the cloggers on some of the pitches that Forrest and Celtic have had to endure, and the fact that he's still here after all these years must say something about his afection for the club and the support, but he doesn;t seem to get the credit for that he deserves.
Lennon continued…
"I did enquire about James when I was at Bolton – but I had no chance. The club weren't interested in letting him go. And he's been here 10-11 years as well and hasn't left.
"Can he be that one-club man for his whole career? I don't know – but I do know I'm not going to sell him.
"I have no intention of letting him go – that would be James' decision.
"I just think he's a magnificent footballer and a magnificent kid. I've a great relationship with him and long may it continue." 
Forrest could well become the most decorated Celtic player of all time, he should also become only the third player to notch up one hundred goals and one hundred assists after Henrik Larsson and Jimmy Johnstone, which is good company to be in.
His contribution also includes several important match winning goals at the highest level, and perhaps Lennon is right when he hints that we kind of take him for granted…
Wingers always seem to get the most abuse, but it simply isn't possible to beat five men and dance inside for a spectacular goal every week, so perhaps it might be an idea to cheer instead of jeer every once in awhile…
As for today, if the real Celtic turn up, it could be another seven goal thriller…
Neil Lennon may be an old school manager, and perhaps there are times when we feel that we could have done better. However, there was an indication that controversy courted whilst he was in charge of hibernian, controversy that ultimately cost him his job there, may well have not been quite so controversial, and more straightforward.
As some Hibernian fans explain…
Dear Neil Lennon, we apologise for what led to you leaving Hibs. We now know what a prick Kamberi is. If you want to join us in punching fuck out him at Murry Park we'll see you there in 15. All Hibs Fans.
#FuckKamberi 
I can deal with him leaving cause lets face it, he's a huffy wee laddie who throws hissy fits, but what a kick in the teeth with that comment, especially when the club stood by him over Lenny. 
The comment referred to was by Florian Kamberi, who recently joined "rangers 2 on loan, and did the usual "I've always dreamed of playing for "rangers " " nonsense.
He's only on loan , mind…
Brexit and floxit in one day, the little rat forgets something, we are still his parent club, let the rat see out his contract with us in the reserves when back ruin him
Maybe we all ought to let the manager just get on with it…. the Kamberi incident illuminates that we don't see or hear everything that goes on behind closed doors…and that players can have a very selective turn of phrase when they move on…
I mention this because we have had a more depressing than not trnasfer window, where the manager went from this…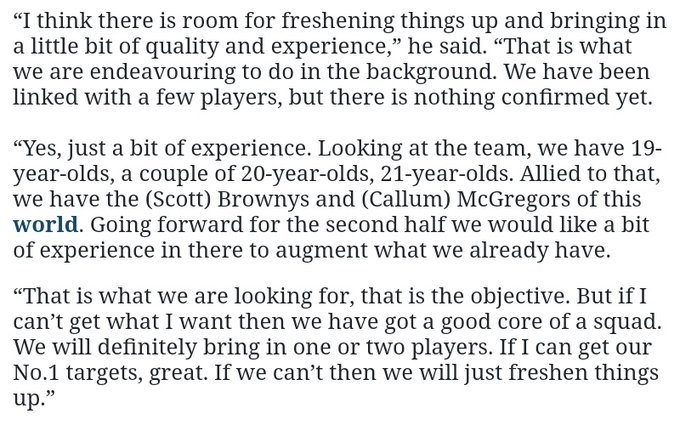 to his later statement about being happy with what he has.
Perhaps he is, and he is entitled to change his mind.
The time for moaning has stopped now, and we are where we are.
The players we have are the one's who will be used to try to secure tow more..and maybe even three…trophies.
On the first weekend of February, the facts are there is one trophy in the bag, one place secured in knockout European football and a clear lead at the top of the table at home.
We'd all have taken that at the start of the season if it was offered.
Sure, some of us feel a little bit uncomfortable about something we can't quite figure out, but thing's aren't that bad really, are they ?
On Friday , we had this…
Sevco Wags point out to Seethin' Gerrard that, unlike their husbands, they have plenty of bottle. 
Today.. a picture taken from a story in the Sun, about a Celtic player getting a parking ticket. I know, with all thats going on in the game at the highest levels, this apparently passes for news…