The SFA may have reshuffled the key positions in the organisation over the last year or so, but the standard of applicant seems to have remained pretty much the same.
In fact, with the Scottish cup kicking off in earnest this weekend, it might be an idea to ring the ground that you are heading to just to make sure someone has told them there's a game on.
Celtic are at Partick , by the way, for anyone who is interested in this particular tournament.
I'm not putting a single penny into the SFA coffers, and will be taking up serious gambling later on today so that I can boycott tournament sponsors William Hill.
So, after Iain Maxwell proved he's bloody useless, and new refereeing supremo Crawford Allan burst onto the scene in a spectacular burst of anonymity, what's Claire Whyte gone and done ?
The SFA are noted for their moral flexibility, especially when it concerns a particular cash strapped entity over at Ibrox.
There were a couple of breaking stories yesterday that seemed to be quite flexible when it comes to the rules, stories that raised doubt also about the suitability of Whyte to do her job.
The Sunday Post more or less covers both..
Rangers have been hit with two Scottish FA charges over the conduct of staff and players during matches in December.
One charge relates to December 29's Old Firm victory over Celtic, with the other for their 3-0 win over Hibs.
Both Rangers and Hibs have been cited under Rule 204 for a touchline incident between the two's coaching staff at Easter Road on December 20.
The flashpoint resulted in the Edinburgh side's assistant John Potter and Ibrox coach Tom Culshaw being dismissed to the stands.
Rule 204 states that clubs should ensure that officials, staff, employees and players "conduct themselves in an orderly fashion at all times during and/or after a match".
The clubs face a fine if the charges are proven, and the two individuals have each been charged with misconduct under Rule 203 and face suspension.
The Old Firm charge includes the dismissal of coach Michael Beale from the touchline.
Beale faces a touchline ban after being cited individually for misconduct under Rule 203.
The two charges for Rangers have a principle hearing date of February 6, as do the charges faced by Hibs, Potter, Culshaw and Beale.
The full wording of Rule 204 states: "All Clubs and recognised football bodies shall procure that its officials, Team Staff, employees and players conduct themselves in an orderly fashion at all times during and/or after a match.
"In particular, Clubs and recognised football bodies are responsible for ensuring that its officials, Team Staff, employees and players refrain from any one or a combination of the following: (a) becoming involved in a confrontation (b) conduct that is likely to lead to or to exacerbate or prolong a hostile or argumentative situation with players and/or team staff from the opposing team and/or match officials (c) conduct that may otherwise incite disorder."
Gestures made towards the crowd by Ryan Kent and Alfredo Morelos during the Old Firm game also caused controversy, with the SFA saying Morelos received a booking for the gesture he made towards Celtic fans as he walked off the pitch after being red-carded by referee Kevin Clancy.
Neither player has been cited in the round of charges issued today. 
The behaviour of those in the technical area is often under the spotlight, though with those at "rangers " , possibly down to the extreme pressure to produce results and therefore revenue, it's often more outrageous than most.
Manager Steven Gerrard, who may be under the impression that he is "rangers ", seems to feel it more than anyone, and is often at the forefront of any bad behavior.
Michael Beale, by all accounts the man who makes them tick on the field, also seems to be a little hot headed, and it's no surprise they've been called to account.
Although, of course, Gerrard himself is above the law because he's the big name who is doing us all a favour and saving our game from extinction.
Beale was cited individually for his behaviour, whilst players Kent and Morelos are included only as part of the club charge, which means they will escape punishment personally, as the club will take the rap.
The timing of this charge is interesting, as it allows the Ibrox club to yet again play the victim card, a popular deflection of late, to enable their support to circle the wagons against those who point out that they are sailing on thin ice when it comes to paying the bills.
Then there's the second story..the one where multiple sources claimed that Alfredo Morelos received a booking for his throat slitting gesture when he was sent off against Celtic.
This is the curious one, the one that suggests the the S in SFA stands not for Scottish, but for Shennanigans…
There are suspicions that whyte has backed down from citing Morelos for his gesture, largely to avoid an outcry of grunts and squeals from those who grunt and squeal where others speak.
From the BBC..
The Scottish FA has confirmed Rangers striker Alfredo Morelos was booked for his gesture to Celtic fans after being sent off last month.
Morelos, dismissed for a second yellow card in stoppage time of Rangers' 2-1 win at Celic Park, drew his hand across his throat as he walked off the pitch.
It was deemed unsporting behaviour and earned Morelos a third caution after the game from referee Kevin Clancy.
The extra punishment will not increase the striker's two-match ban.
Morelos will miss Scottish Premiership matches against Hearts and St Mirren, and also sits out Rangers' Scottish Cup opener against Stranraer after being booked twice in the competition last season. 
Lets look at what really happened, and then we can perhaps conclude why… you'll have to trust me on the research bit.
He was given a caution…a yellow card.
Until the referee leaves the tunnel area after a game everything is still under his jurisdiction.
Although the card was after the match it still counts as part of the match 
There is no notice of complaint for a yellow card or a red card. Although the game was finished it is still included in the document the referee fills in post match 
 This document is then given to the SFA, and all clubs can read it. It's not the same as the match summary given to broadcasters, such as this release…
Morelos has two bookings here, but in fact he got three. Something he did attracted the attention of the officials, who would then go into the dressing room and inform the player and club of their decision to act, and also how they have acted. Presumably referee Clancy did not deem it worth a second red, but could not allow the gesture to go unpunished.
 If he'd seen it, that is, which does add to those little doubts again. In fact, it kind of suggests some sort of, well, cheating.
 Clancy acted, so therefore the compliance officer didn't have to. He hasn't done anything wrong, and is not allowed to explain any of his decisions anyway. thats down to the Compliance Officer.
So why not inform the media that he had acted ?  Thats the strange bit.
how the Compliance officer dealt with it is what the issue. However match delegate on the day should have informed broadcaster regarding the caution. That hasnt happened 
Thats why we had to wait three weeks to learn what the clubs already knew. But why ?
An insider tells me..
 The Compliance Officer is the one who has cocked up with this she sat on the yellow card dithering. 
Do I cite Morelos ? After three weeks that would cause pandemonium, especially with the club being charged as well A decision to cite him should have been at same time Christie was cited, but she thinks she knows best….
One feels that Whyte is adopting the same stance to rules as the legendary Jim Farry, and we all know what happened to him.
 But thats kind of the issue here as well.
Peter Lawwell has not won himself any stars for quite some time now.
He may argue that the actions surrounding "rangers " are of no concern to Celtic, and he would be applauded for that.
 He may argue that their financial situation os nothing to do with Celtic either, and he would also be applauded for that.
But his lack of concern, publicly at least, that the new "rangers " have adopted the same relationship with the SFA that the old Rangers had, with the same consequences already happeneingor about to happen, should raise some concerns and prompt some sort of response.
 Even if he just has a quiet word with other chairman, either directly or through his puppet Neil Doncaster, and voices his concerns.
Or, of course, he could voice those concerns publicly to the SFA.
We're seeing the re run of a move from about ten years ago, and although it was a happy ending, we really don;t need to sit through it again.
Nothing is as funny the second time around, and with no money coming into the game except through bookmakers, it's consequences could be far more damaging second time around.
Someone needs to get their finger out, we're sleepwalking into another scandal, which is pretty much the same as the last one, yet it appears everyone is expecting a different outcome.
Elsewhere, Jack Hendry has gone on loan to Australia, and will spend a few months with Melbourne City. There's a player in there somewhere, it's just a surprise he's had to go so far away to look for him.
Neil Lennon has promised that there will be more signings…oh hang on, we have seen this film before.
An interesting artifact surfaced yesterday when the original Etims fanzine Diary surfaced, from back in the early twentieth century.
Written on a sheet of paper and handed out at home games, the hilarious extract reminds us that there is, and always will be, humour throughout the game…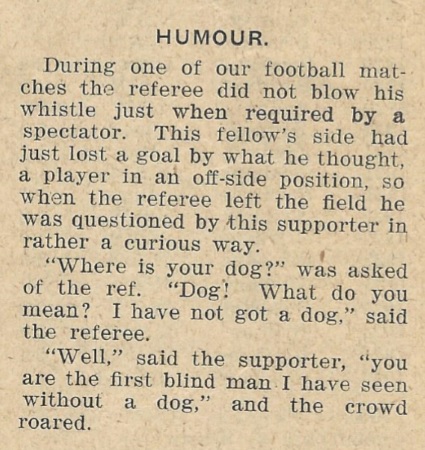 The great British comedy tradition continues today….
Now, a word of warning.
The government have a list of known terrorist and subversive organisations, one of which you may be familiar with.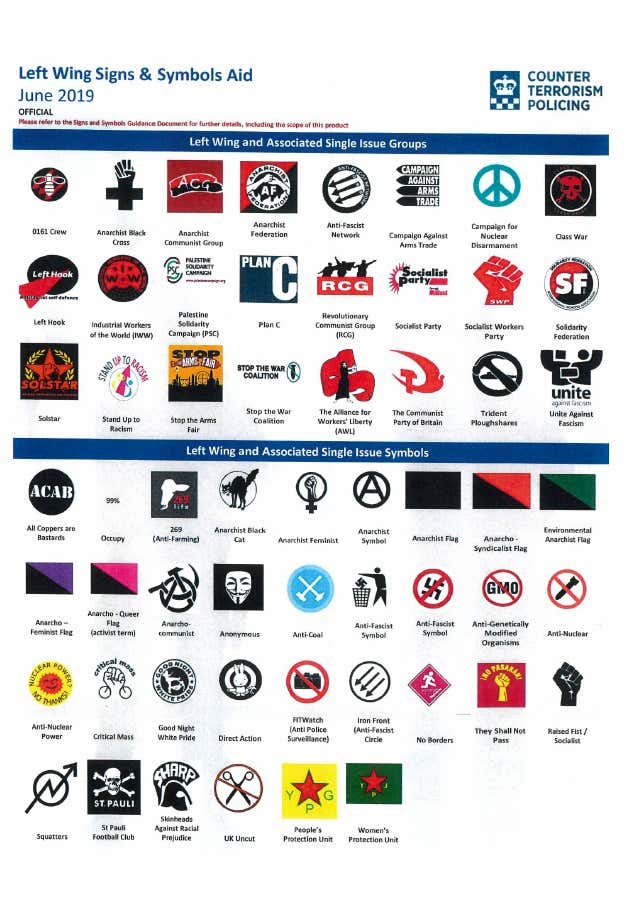 From now on, if you do have any St Pauli merchandise, please wear it in the house with the curtains drawn and the lights off.
 Yesterday, we had this…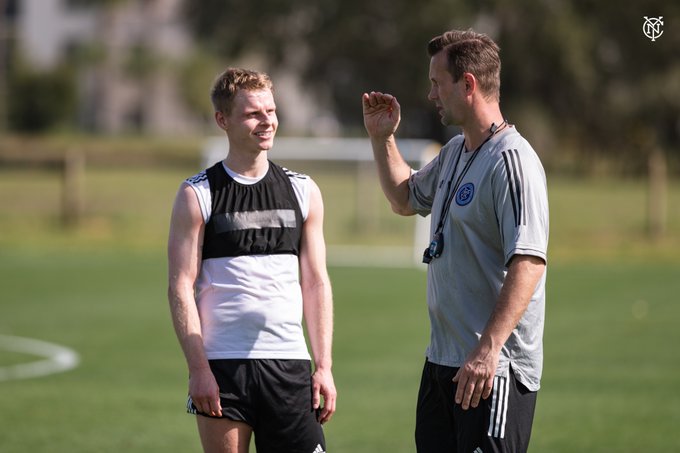 What was the rule on scurrilous rumours….?  
Today…