Lang may yer lum reek !
A very happy and prosperous new year to one and all. May your 2020 exceed all your hopes and expectations.
Though let's face it, it probably won't.
The fallout from sindays league defeat to "rangers " continued with the news that Ryan Christie could face a two game ban after the compliance officer cited him for grabbing the genitals of Alfredo Morelos..
sorry, my bad, that was in a previous game when the compliance officer wasn't watching, it's this one she managed to see…
Christie himself is in hospital, suffering from anything between a burst blood vessel (BBC ) , a groin injury ( Record ) , a ruptured testicle ( assorted social media posts ) and a ruptured and then removed testicle ( assorted social media sources )
The former two, the BBC and the Record, are not noted for their accuracy, and so one would tend to lean towards the usually more accurate social media posts purely from experience, and we can examine a couple of those.
John James, the only blogger out there who actively bans people from reading his stuff, as well as charging them for some of them, went with one of the more outlandish theories…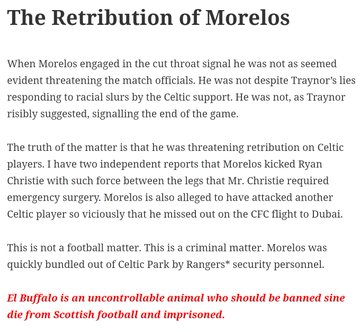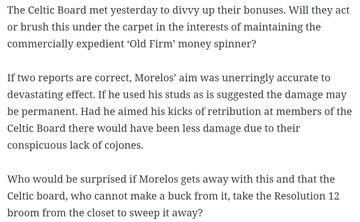 The bit he hasn;t mentioned, because he is loathe to, claims that Christie had called Morelos a black bastard, which is extremely unlikely, and Neil Lennon told Christie that he was finished at the club.
The players then sided with Christie, and have since demanded the removal of Lennon.
Yes, you're probably getting an idea of what its like to do a daily diary. Some of the stuff you get passed really is the kind of stuff you'd expect from those who have issues with reality.
Like those who publish it, I suppose.
Normally, I'd laugh this off, but I received something very similar from someone who in the past has been spot on with a couple of things, so it certainly shouldn't be discounted, although you'll notice i'm shifting credit over to someone else…
Other theories include Morelos and Christie colliding , which led to Christie being substituted and this is where the ruptured testicle theory-which is constant in both stories is explained away and is not malicious.
ExceptI can;t remember a collison that may have been responsible for this..
However, Morelos, when he was sent off , was informed of the damage to christie and is said to have laughed about it, prompting fury from the Celtic contingent and it's then that any altercation is said to have taken place.
Morelos was then on hios way to Colombia, and therefore unavailable for any sort of comment, and his club went swiftly on the attack, claiming that the loveable wee scamp was the victim of racist abuse, evidence of which has been difficult to source.
Jordan Campbell, who writes for the online pay as you go site The Athletic, surpassed any hack when he said that Morelos was the victim of racist abuse that has been unequalled in Scotland, proving that the Fat controller has been dangling titbits in front of him and his cronies, well, it's either that or he had completely forgotten that one man had previously had bombs and bulets in the pist, effigies of him being hanged outside his parents house, assorted graffiti in assorted towns, being assaulted live on TV and battered and left unconscious on a public highway, but presumably that had just slipped his mind.
Campbell then deleted those tweets and claims, but the idea of Morelos now being the victim had been planted, and as it seems no newspaper would have been daft enough to make those claims, the Fat Controller put his feelers out for a receptive weblog, and ot looks like he found one.
Keep an eye put for an exclusive over there in the near future.
So what really happened with christie and Morelos ?
I don't know, but i had several messages that pointed to the more believable story where there was a collision and then Morelos laughed about it, but the more trusted source goes with the theory thrown out by John James.
From sources closer to the action, so to speak, all I can ascertain is that Christie is in a bad way, but there are no further details.
It's perhaps time for the club to come clean, whether or not they have been told not to do so by police…another rumour…and to start standing up for themselves against those who clearly do not have the clubs best interests at heart.
No doubt someone out there knows what happened, and i'm surprised that our elite team of national sports reporters aren't all over it.
Actually , I'm not, and suspicions were further enhanced when the only story about Morelos highlights his charity work in his home town, where he went immediately after the game.
Morelos is the only real saleable asset the financially stricken club/company has, and they need at least £10m , ccording to their own accounts to see out the season.
And thats without anything Ashley and Sports Direct will be collecting from them after the court announces the damages due.
As morelos, who had escaped bookings and red cards thus far this season, now has two reds to his name in just over two weeks, its clear he hasn't altered and improved his temperament, and is even less likely to earn any substantial transfer fee, its likely that when he is sold, for an undisclosed fee, the "rangers " will blame his departure on the racism that he is apparently the brunt of on a week to week basis. You can almost write the statement for them…
"He didn't want to go, and we didn't want him to go, but he and his family felt threatened by the racist attacks and it's abhorrent in this day and age that such a mindset still exists. " 
We've already seen that narrative appear in the daily papers, and yet there is absolutely no evidence of it anywhere, with the possible odd shout where his colour is mentioned.
For real racism, of course, simply go to Ibrox when the home team are in action and have a listen to their supporters songbook.
speaking of their supporters, one of them has written to the Colombian embassy , demandng they stand up for their citizen…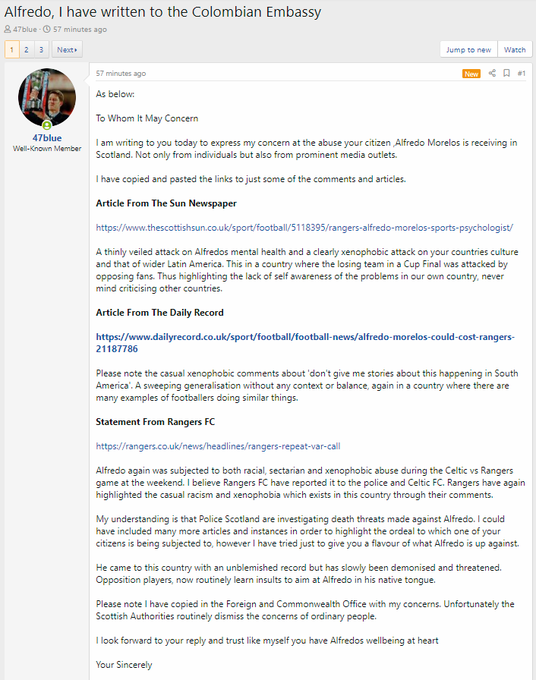 i
Maybe we should write t the Irish embassy, expressing our concerns for our safety given the songbook over at Ibrox
Celtic have stated that they will " defend vigorously " any charge against Ryan Christie, but once more they fallshort of calling out the charges of racism levelled at their supporters.
But we are kind of used to them being aloof to any thing that concerns us, and it's about time they got a short sharp shock as to just where their bread is buttered.
One suggestion is to call for Celtic players to be excluded from Scotland squads, which won;t affect Celtic on the field, but will draw attention from outwith Scotland as to why Celtic feel the need to protest against the SFA, who are currently allowing all sorts of shennanigans, including what looks like a rerun of the events that ed to Rangers entering liquidation, and a new club popping up, with the same history, the same colours, the same home ground and the same numbskulled support paying their money to keep them afloat, for a while at least.
2020 may yet surpass all our hopes and expectations both on and off the field, but although the support wants that, the board don't seem to be all that bothered…
If they don't get a grip, and start to deal with our concerns, they might find they need more than one of those sheets to cover unsold seats…
We need to fell that they are in this with us, from Res 12 to anti Celtic racism and malpractiuce amongst the powers that be.
Their repeated refusal to ignore us will lead to a serious rift in the relationship between club and support, a rift that will not be easy to heal, and will certainly not be covered up with a couple of signings and a few trophies.
The countdown to confrontation has begun, and they are the only ones who can prevent it.
Yesterday, we had this…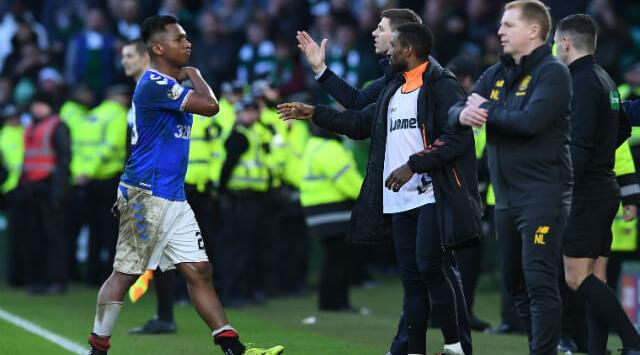 Today…