Yokerbhoy gives us the lowdown on a possible classic this afternoon in Glasgow
Fresh after our League Cup Final and Europa League exploits we come up against a happy Hibs side at home this Sunday.
What a difference a new manager can make!
Playing their trademark brand of attacking football, the Leith boys have suffered only one defeat in their last 5 matches. In a traditional sort of vein, they continue to be entertaining but also a tad erratic, they score a good few
goals but they leak goals as well. In keeping with their character, they generally don't like to sit in and defend unless they have to face a superior team but even in those cases the Edinburgh men can be very effective on the counter.
  There is an unpredictable element about them, a team capable of the best and the worst all in the space of a few minutes. Countless times this season they have taken the lead in games only to recklessly throw it away. The 'anything can happen' sensation always makes encounters against this type of team interesting and difficult to predict.
This tweet  explains..
Celtic all-time league v Hibs. Hibs have given Celtic more trouble than any Scottish club during the Treble Treble run, losing only 6 of 12 v Celtic in that time. By contrast, Rangers, Aberdeen, and Hearts have lost 41 of 49 v Celtic during the historic run.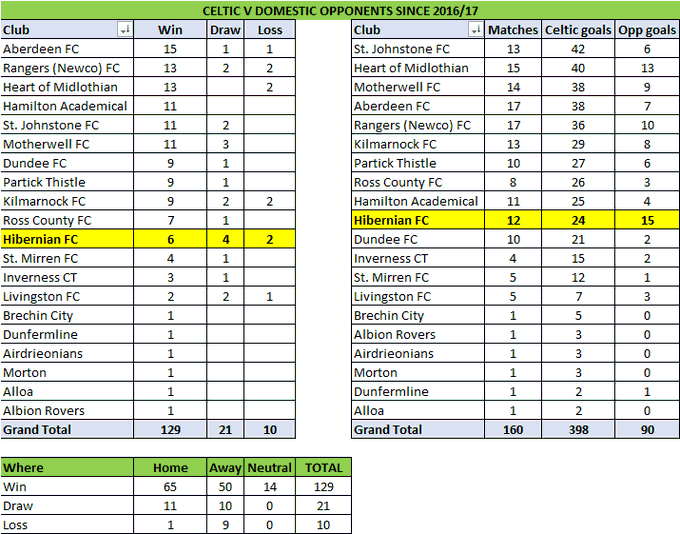 Lately they have been deploying two main strikers, a tactic which reaped its rewards last weekend against Aberdeen. Bustling nº9 Christian Doidge is their top scorer with 7 league goals so far and his speed coupled with his aggression and good positional sense are beginning to provide an ideal foil for Flo Kamberi, who can be a real class act when on song but has been playing through a troublesome ankle issue for several weeks now.
 That might explain his lack of consistency. A rejuvenated Martin Boyle, who had been sidelined for months through injury, is also starting to make a huge contribution to the cause with his two fine goals against the Dons being testament to that claim. 'Boyler' has blistering pace, good technical ability and an eye for goal. The Aussie
international is a wide player who likes to cut inside to provide tellng assists and/or to get himself into dangerous scoring positions. He's particularly dangerous when given plenty of space allowing him to go on surging runs with the ball at his feet. All their front runners were excellent last weekend and the pick of the bunch in their 3-0 triumph against the sheep was, of course, the last one where Flo superbly dribbled past three defenders before picking his spot and ramming an unsavable shot into the bottom left-hand corner.
 In recent games, Scott Allan is another one who seems to have found a new lease of life. He played very well against us at Easter Rd in our recent 1-1 draw there and he clearly has a point to prove. There is a marked competitive edge to his play while he possesses a tremendous knack of providing sublime through balls and killer passes into the danger zone.
  During the early part of the season the Hibernian midfield was a bit disjointed and lacking cohesion but in recent games the ex-Celt has begun to develop a special understanding with young prospect Stevie Mallan.
  This Allan/Mallan double act has been another key to Hibs' recent success as they are a quick-thinking and creative
duo that add a great deal to their engine room in the middle of the park while Swedish DM Melker Hallberg is a useful ballwinner who shields his defence well.
 In defence lifelong Hibee Lewis Stevenson and Peterborough loanee Jason Naismith are very industrious full-backs who are both keen to charge forward and give their front runners support while Ryan Porteous has been one of their top players of late. Having been awarded MOTM in a couple of recent games, the portly CB has been very solid with a physical no-nonsense approach to each game. The ungainly Hanlon, on the other hand, has been a bombscare for them in the other centre-back position this season and that is a weakness we would want to exploit.
What is likely to become another vital improvement to the side is the reincorporation of goalkeeper Rocky Marciano.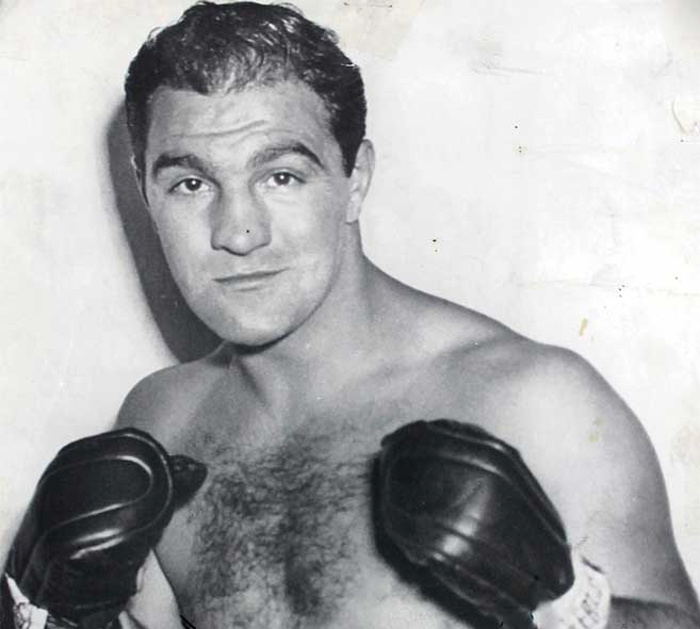 (Are you sure ? -Ed )
 Against Aberdeen it was Marciano defending the green corner while Joe Lewis defended the red one, and he  is a pretty handy shotstopper, unlike Maxwell who has shown himself to be in the Dorus de Vries mould, frequently being at fault with quite a number of goals leaked so far this season.
 Jack Ross has a reasonably good track record in his short managerial career. In the space of a season and a half he took a struggling and relegation-threatened St Mirren side from the lower reaches of the Scottish Championship to direct promotion to the Scottish Premiership by winning the league.
 That was the time when a youthful Lewis Morgan started to shine for the Buddies. High on confidence, he was the author of many spectacular goals, including a few long range efforts. The Ross success story took him to recently relegated English League 1 side Sunderland where, with Morgan on loan from us, he nearly won them promotion, taking the Geordies right through to the play-off final after finishing sixth in the league.
  Sadly for him, it wasn't to be and his failure to take the Black Cats straight back up to the Championship lost him his job.
  Perhaps a wee bit unfair but you can understand the demands of such a big club. Maybe Jack's style is more suited to Scottish football so it'll be interesting to see how far he can take Hibs although I'm sure their feet will be firmly on the ground as it'll be firmly embedded in the memories of players and fans alike what happened after Xmas last season when the unknown Heckingbottom took them on an unbelievably successful run only to run out of gas at the end of the season and perform miserably during the early stages of this one.
 The dilemma Jack will have as regards their team selection centres around the gifted front man Kamberi – will they have the balls to come at us with two main strikers at CP (very possible as Hibs don't do sitting back, they're very uncomfortable with that strategy) or will Horgan be selected  instead of Flo to provide more width to their midfield?
 I have a feeling Flo will be deployed in a slightly deeper role than usual. Doidge is pretty much certain to start as he provides a physical presence up front, is their top scorer and seems to start every game for them anyway.
 Here is my guess for their line-up on Sunday:
Marciano
Naismith Porteous Hanlon Stevenson
Hallberg
Mallan  Allan  Boyle
Kamberi
Doidge
Over at Paradise, what will be in most people's minds is that Lenny simply has to go with his strongest XI possible as Hibs cannot be taken lightly. Obviously he won't be reading too much into the events of Thursday evening in a match that didn't come to much more than a useful run out for fringe players who need game time and some valuable European experience for a couple of our youngsters.
I suspect that neither Bolingoli nor Elyounoussi are completely ready after their respective injury lay-offs but both could find themselves on the bench.
I know he won't be available for Sunday but I'm hopeful that Hatem Elhamed, unquestionably one of our best summer signings, will soon be making his comeback. The guy has hardly put a foot wrong since joining us and I strongly feel that he's hell of a lot more than just a back-up bit-part player. It's a difficult choice between him and Frimpong for the RB position although it's a nice headache to have as both players have performed extremely well there.
 I expect there to be a fair bit of 'job-sharing' going on between the two as the season progresses but there's perhaps an even more interesting debate as far as the big Israeli is concerned. Much as I like Ajer's aggression and ability to carry the ball forward to set up attacks, he still makes rash decisions and goes to ground too easily when challenging for the ball in dangerous areas. These lapses are becoming a concern so could a possible solution be to try out a CB pairing of Jullien and Elhamed for at least 2 or 3 games ?
  I'm not saying he would necessarily turn out to be an improvement on the big Norwegian in that position, I just feel that it'd be worth a serious look as his defensive qualities on show so far have been nothing short of excellent.
  I'd fully expect Mikey Johnston to play on the left wing (Elyounoussi doesn't appear to be fully fit yet but may feature in the second half) while Odsonne Edouard will surely start as our main striker (I suspect the unsuccessful Lewis Morgan experiment will be drawing to a close as Leigh Griffiths slowly but surely regains fitness) while all the other top players who were rested for the Cluj game will undoubtedly be involved against Hibs.
  Given the Easter Road side's propensity to come forward, pressing high, attempting to knock us off our stride and play on the front foot, the onus will be on us to close them down well and take a firm grip of the midfield. The on form Boyle must not be given space to charge forward on his dangerous marauding runs while the creative threat represented by Scott Allan must also be nulliefied. Broonie and Calmac will have their hands full. Both Hibs full backs are stronger going forward than defensively and are sometimes guilty of leaving considerable areas of space unguarded in the wide areas which is something our wide men would be looking to exploit. Hanlon has been a great club servant for Hibernian but lately he's been something of a bombscare for them so he should be put under a lot of pressure when in possession.
 Given our firepower, the wobbly defender could be in for a bad afternoon.
 I expect to see a strong reaction after the below par performance by several of our first team players in the recent hun final and we should be able to detect a hunger in all our players that wasn't visible last Sunday.
 Bar the recent Hamilton game, our performances at home have been hugely satisfying with several of our bhoys in scintillating form. We have hit a slight slump of late which could be due to both physical and mental fatigue but after this wee rest we ought to see a rejuvenated Celtic ready to take the bull by the horns and successfully negotiate this tough December fixture list.
 As very few teams in Scotland are prepared to go toe to toe with us at Celtic Park, Sunday's contest against the attack-minded Hibs could serve up a football treat. We have to be very wary of their speed and precision when breaking forward, however , and it could be a bit like entering a boxing ring when you are expected to win the fight due to your superior technical ability but you still have to be extremely cautious as your opponent packs a mean punch.
Forster
Frimpong  Ajer  Jullien  Taylor
Brown  McGregor
Forrest  Christie  Johnston
Edouard
Subs: Gordon, Bolingoli, Bitton, Ntcham, Rogic, Shved (if fit), Griffiths
Prediction: Celtic 3 Hibs 1 (Edouard, Christie, Johnston)