A relatively straightforward 4-1 win over Ross county in Dingwall yesterday was Celtic's tenth straight win in all competitions.
Quietly, and with little fuss, despite a few injuries, a few changes here and there and the usual speculation about unsettled players, the team just got on with it.
Ryan Christie opened the scoring, cleverly playing his penalty kick against the keeper to gain himself a wee bit of extra space for the shot, and it looked like it was going to be a case of how many, until Jeremie Frimpong bullied a defender at least twice his size , sending him crashing to the floor out on the wide right.
The resultant free kick evaded everyone except Ross Stewart who pushed Tom Rogic out of the way before heading past Fraser Forster who simply wasn't paying attention.
A quarter of an hour after that, Ryan Christie Again, to give him his full name, got on the end of an excellent through ball from Kris Ajer , and this time he fooled the keeper by not hitting it straight at him.
Into the second half it still looked like it could go either way until Tom Rogic scored a third , which reminded Neil Lennon that the Aussie was on the pitch, something that he rectified almost immediately.
Mikey Johnston showed why it was a good idea to make sure he was fully fit before bringing him back into the team, he scored his second goal in two games after some delightful play on the right, which meant all in all it was a good days work for the hoops.
Ross County thought they had pulled another one back, but the American football style block on Chris Jullien meant the player who did it from an offside position was deemed to have been interfering with play, which he was so it didn't count.
Well done to the referee, Nick Walsh , for spotting that.
The manager was certainly chuffed with the performance
It was an excellent performance," 
"I thought we started the game really well, we could have been one or two up before we got the breakthrough. And then we came off it a bit, I'm not sure if we slipped into cruise control, but we let Ross County back into the game.
"After that, our response again was very good – it was a great goal from Ryan, a great finish, and a great ball from Kris. At half-time, we wanted to get rid of the complacency, and just turn on the power a little bit more. We got that in the second-half, it was a great second-half display.
"Ryan is in a great vein of form. He had a little niggle with his knee a few weeks ago, but now he's back to full fitness and he's a joy to watch and work with. He's got a great appetite for the game, he's got great enthusiasm, but above all else, he's an outstanding footballer and we're seeing all of that at the minute.
"I thought Callum McGregor, again, was consistency personified. I thought he had a brilliant game. As did Broony, and I felt those three really set the template for the result today. In the second-half, we looked a powerful threat. Going forward at times, we could cut County open at will. We also hit the woodwork twice, so it could have been a lot more than four."  
"I'm thrilled with the quality of performances we've shown at the moment. We're on great goalscoring form, the goals are coming from a variety of positions. It's a utopian life, it can't last forever, but the way they're playing, we've just got to keep giving them a gentle cajoling along. We're in a great place." 
Lennon also had a word of praise for the travelling support, Dingwall is quite a jaunt, even for fans based in Scotland…
"I've got to pay tribute to the fans. I heard a story that there was a bus that left from Stranraer at half-past four in the morning. I said to the players before the game – these guys travel a long way, and it's up to you to entertain them. They're coming to watch you because you're creating a lot of good things at the minute, they're enjoying what they're seeing, and hopefully they've gone home happy today. 
Fair play to them,  the days on the road to and from games can be wearisome, but depending on the company you keep they can also be memorable days too.
I'm lucky to be a member of the Lennon CSC in Stoke-at least thats what they keep telling me-and the long days are made much shorter by the delightful and cheerful fellows who travek alongside me with a smile on their face and a song in their hearts.
It's good to see the manager recognise the effort that the support put in, and use it to motivate the players.
Perhaps there is hope for our game after all, perhaps we can give it back to the fans…
Speaking of taking back our game, over on Videocelts the first shot has been fired in the new battle against corruption , misgovernance and collusion on Scottish football.
Now that Celtic have clarified their position, which leads to the conclusion they are just as guilty as anyone else in this fiasco, the gloves can come off.
This is well worth a read, and is the first of many articles that will perhaps make Lawwell and Desmond and the others realise that whilst other fans can be fooled all of the time, we are a wee bit different.
One thing to note in there, the date that Lawwell received a copy of the 5 way agreement….the one he said he hadn't read as there was no point because he doesn't give a toss about the whole issue and wishes we would all just go away.
Scottish football is struggling for a number of reasons, one of which is outlined above in the Videocelts article.
Another is the piss poor tv coverage from satellite sports channels.
Kris Boyd, a journeyman striker with Kilmarnock and Rangers scored quite a few goals over a number of years in the game, and one would have thought part of his remit as summariser would be to talk the game up and promote it.
However that would mean saying nice things about all the teams and not just the plucky newcomers at Ibrox.
He pointed out the obvious when he said yesterday that Messi and Ronaldo were great players, but then added
"… we don't have anything near that playing in Scotland. I don't think there are great players playing in Scottish football"
Well, of course there is no one of that world class standard, but surely there are one or two he could praise enough to generate some interest in the game
Of course, the tv companies are interested only in getting as many Celtic -"rangers " games as they can, everything else is just a sideshow, and with the clubs contesting the first domestic final next Sunday, BT sport have decided to broadcast from 9am through to 6pm.
Thats maybe just a wee bit too much, unless they are planning on showing  a couple of fights between fans live from service stations.
The papers, keen as ever to promote the sale of Alfredo Morelos from "rangers " now have his value at somewhere around £40-50m , which could well save the new club from extinction should such an offer be made, and if they can get to the money before Dave king does.
Morelos has now smashed Henrik Larssons goals in Europe in one season record, with thirteen already, which is no mean feat.
But those bigots at the BBC and over at UEFA don't seem to realise this…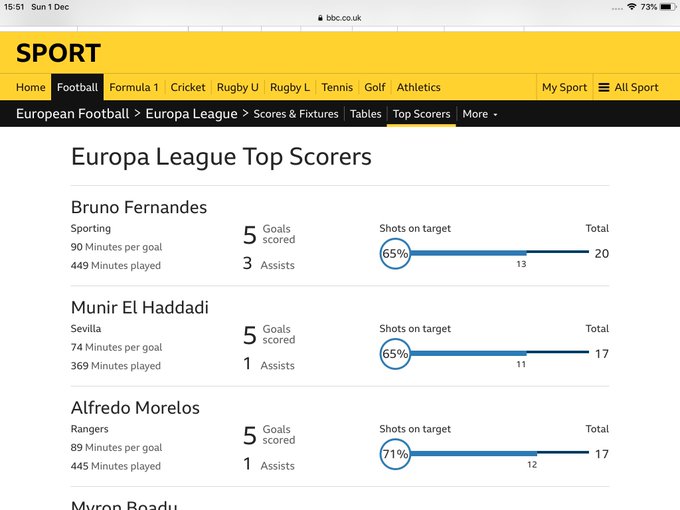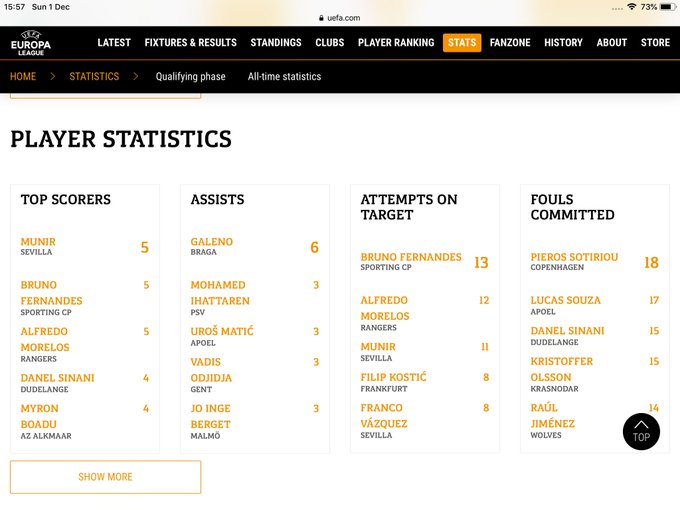 Eight of the players goals came in the qualifiers, and so not in the Europa League, so they don't count when it comes to awards for scoring in the competition.
Pity poor Alfie, he can never seem to catch a break.
Yesterday, we had this image…