International breaks can disrupt the momentum of a team. Injuries, fatigue and playing for Scotland can have a detrimental effect on both the physical and mental fitness required to perform consistently at a high level, and Celtic were playing Livingston yesterday, which has proved tricky in the past, as Livingston tend to adopt a style that is set out to frustrate and hospitalize opponents.
It didn't work, of course, as Celtic romped to a 4-0 victory, with Oddsone Edouard, Scott Brown-he's making a habit of this -and James Forrest getting on the scoresheet.
The double from Forrest, incidentally, puts him on 84 goals for the club, which with a few years on his contract still to go puts him in a position to claim the title of Celtic legend when he retires….
The direct style, when he chooses or is told to play that way, sends him into the penalty area and if he's not fouled he gets a shot in. Simple, but effective.
And it does help having the enthusiasm and ability of Jeremie Frimpong Frimpong Frimpong Frimpong Tiddle I Po ( thanks to St. Anthony on twitter for the lyrical genius of this song ) by his side. Or behind him. Or in front of him wherever he goes.
Frimpong won the man of the match at the ground again, which I think now means he gets to keep the award.
In one of todays papers, he paid tribute to Danny McGrain, who gave him some advice when he joined the club, and McGrain knew a thing or two about being a decent right back.
McGrain, of course, almost left the club until Brendan Rodgers assured him he was Danny McGrain, although McGrain knew that all along, it's now felt that multi faced Rodgers was merely projecting his own doubts about which personality he would adopt that day.
As we now know, of course, that particular conversation never took place, but Brendan thinks it does, and in his own little world, it probably did.
Mind you, Scott Brown , whilst praising the Frimpong, laughingly called his shooting "pathetic " in a post match interview, showing the unique bond between the players and also explaining why Brown found a jobby in his shoe.
It's this particular atmosphere among the players that has made the difference this year, and hats must be doffed to Lennon and his crew for doing just that.
With a busy December ahead, including a cup final, it was good to see everyone back in the saddle so quickly, and even better to see the spirit that seems to be the key to the rebirth of perhaps what was a stale squad under the previous manager into this new all dancing all singing unit that is sweeping all before it, piling on the agony and putting on the style, as one used to say.
It was good to see Leigh Griffiths make an appearance as well.
Whatever he's been through we hope he's over it now, and he's got a month or so to persuade the manager that he can find the form of a few years ago and get back to the player he was.
He will be needed next month, and let's be honest, he's risen to many challenges before, and one more effort would secure his name on any list of Celtic greats.
Manager Neil Lennon agreed it was good to get back into the groove so quickly…
"Psychologically, that's a good win for us. We can enjoy our Sunday, you get 24 hours to enjoy, see what the result brings then you move on to the next one.
"We put that to bed, that was a tough game under the circumstances.
"But we've dealt with it absolutely brilliantly so we look forward to Rennes on Thursday.
"I think you've got to relish the pressure – you either relish it or fear it. So relish it. It's great.
"Maybe it is something new for some of the players, but I feel they are taking on the challenge well and I think the fans are enjoying it, too.
"There will be anxious moments as we go along, dips and troughs, but we are in a strong position currently and playing brilliantly.
"I don't think about goal difference at the moment – it is way too early." 
Right now, though, it's one game at a time. Next up are Rennes , on Thursday, as Celtic bid to win the group and make things slightly easier in the next round of the Europa League.
Before that, of course, there is the AGM.
The serious stuff, as it were, where shareholders get to ask the board why they want to ignore the years of cheating and incompetence at the SFA, and simply move on.
The Scottish game now almost entirely relies on sponsorship from bookmakers, and even one of them has dropped it's association with the league, and there is still no sign of a replacement.
Interestingly, though, one Scottish paper is doing it's best to promote that company, with an advertisement for gambling masquerading as a news story…something which is beneath contempt..
It's the Record, presumably dropping a huge hint to Bookmakers McBookie, showing them the benefits of being associated with the game….
Celtic fan beats the bookies as he wins thousands of pounds with free bet
A Celtic fan cleaned out the bookies by claiming an incredible £4000 from a free bet.
Kieran Caw picked nine teams to win during the Saturday 3pm kick-offs and astonishingly all of them were winners.
It was a double celebration after watching his own team batter Livingston at Celtic Park.
Late goals were needed to seal the huge win with Rotherham even coming back from two goals down to win 3-2 in the final 20 minutes.
The incredible bet was made with McBookie and the Celtic season ticket holder admitted he didn't even realise the offer was in his account.
And now Kieran admits his daughter will have an even better Christmas than normal after his incredible win.
Good luck to the guy, but there's still something not right about the idea of bookmakers and sport being so closely linked, and thats probably why they cannot sponsor English football leagues…
Speaking of English football, Jose Mourinho is now the manager of tottenham, who played West Ham yesterday.
Here we see him autographing Tottenham shirts…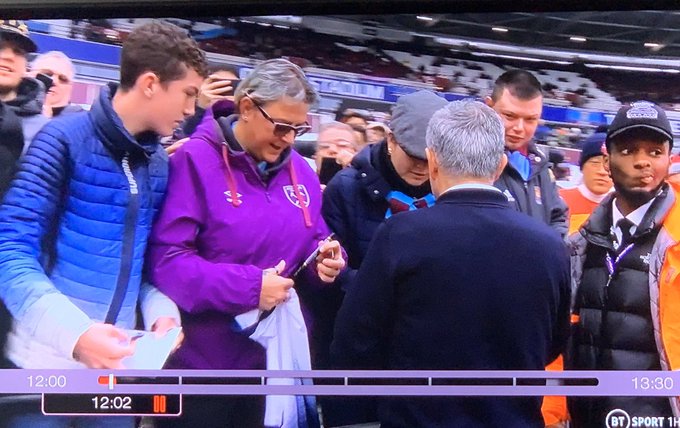 …for West Ham fans.
There are no words.
Our game is not perfect, but at least the fans still care, and that will be shown at the AGM this week.
We need to do whats right now, and save our game from the corporate vultures and self serving administrators who have killed the game as a sport down south, and have already done their best to make Scottish football go the same way.
Down there, it's the tv money.
Up here, it's the SFA desperate to get their hands on the tv money, and that requires a reborn and unaccountable Rangers, and a compliant Celtic.
That is unacceptable, and the AGM is the place to demand explanations, and those explanations must be frank and forthright, although that would be a first for this board…
All I can say is we have entered the endgame, and the issue of Resolution 12 has dragged on far too long with too many dirty hands being washed out of sight of the public.
This is the boards chance to explain why they appear to be on the side of cheating, and not on the side of its own shareholders and customers.
They had better get this one right….
Caption competition time….from Thursday…
For fuck's sake Prince Andrew we know it's you leave the wee lassie alone. 
There are similarities…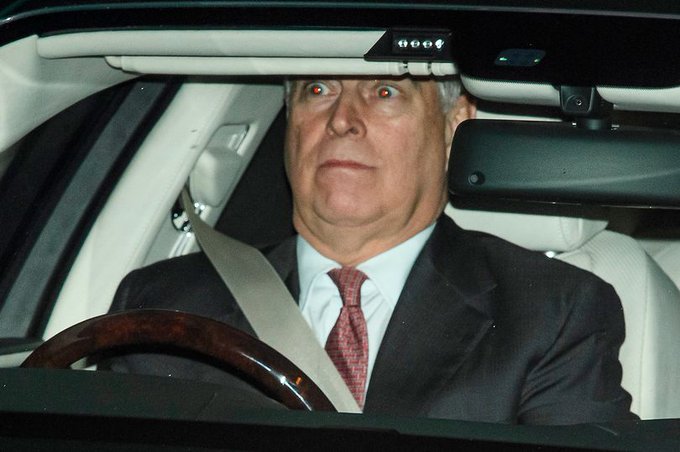 today, we have this one..