One of the things about international breaks one will notice is that because supporters in general have more or less given up on the Scottish national team after it became an on the park reflection of the competence off the park at the SFA is that the media will still talk about club football.
The west of Scotland media in particular seem to throw any number of players names into a hat, any number of clubs names into a hat and then draw one from each and call it a transfer story.
Things are very quiet at the ranch these days and there is an air of contentment among the players, the staff and the management.
As, indeed, there should be.
Things are going well, with prime position being held in two competitions and a final to look forward to in a third.
But then, for some reason, we are asked to consider the views of one Darren Bent, who offered his thoughts on a potential £20m bid for Oddsone Edouard from Crystal Palace, the delightfully named non-entity from London…
"Yeah if they can get him then brilliant".
"When people are scoring goals in Scotland it does grab people's attention but it's a different kettle of fish in the Premier League and obviously when you're playing Celtic, you're gonna have the lion's share of the ball but in the Premier League, it's going to be a lot tougher".
"If they believe he can succeed in the Premier League then I'm all for it as they certainly have enough players in the team who can create chances, it's just about him finishing them off".
"Celtic potentially will be interested (if £20m bid tabled) as they'd think oooo, as with Celtic and Rangers, they know if they sell a player for £20million they can then look around Scottish football, cherry-pick the centre-forward who is better than the rest, whatever team that may be, and know full well they could go in with £10million and get that centre-forward".
"So it's like a conveyor belt as there's no problem replacing them". 
He then went on to cite several examples of Scottish strikers stepping into the shoes of recently departed Celtic strikers…oh wait, he didn't.
The last one I can think of is Brian McClair, who replaced Charlie Nicholas.
It's unlikely Edouard will move to Crystal Palace, as he's said to want to move to a club he's heard of.
When he eventually does go, that is.
Apart from anything else, Oddsone Edouard is the only striker on the books at Celtic with a realistic chance of playing for the first team. Despite a wave of wishful thinking, whatever demons are haunting Leigh Griffiths appear to be hanging around longer than most people thought, and there is little chance of him featuring anytime soon.
Maryan Shved is capable of filling in, as is Scott Sinclair, but one is on his way out and the other hasn't fully settled yet.
Lewis Morgan may end up with his mentor Jack Ross at Easter road for a while, as the word is that Celtic want to extend the loan of Daniel Arzani, as the manager reckons he's got something.
And it's not brittle bone syndrome,
Eboue Kouassi, another shining example of Brendan Rodgers knack of finding players who can do a job for Celtic, is said to have asked his agent to find him another club, prompting his agent to furiously tap his name into google to find out who he is.
Over the next six months or so, there will be a gradual introduction to the first team squad of younger players who the manager feels have the hunger to add to the experience of the regulars to push Celtic to the ninth succesive title and even further honours this season.
Jeremie Frimpong has already surprised and delighted supporters and will almost certainly have made the right back slot his own by May.
He's ahead of schedule, whilst Luca Connell and Lee O'Connor are coming along just nicely, and the latter especially is another who will be introduced gradually before establishing himself in the back line.
O'Connor recently shone for Ireland in his debut against New Zealand, prompting praise from Mick McCarthy who had enough faith in the lad to play him despite him not yet starting for Celtic.
With the January window soon to open, it's perhaps not so much about spending money, David Turnbull apart,   as it is about letting one or two continue their careers elsewhere, with the notable exception of buying a striker.
This is harder than it may seem.
Celtic still favour playing one up front, which means whoever comes in will be understudy to Edouard, and anyone looking in may take into account the demise of Griffiths, and although there are reasons for that, it will be taken into consideration by those who are offered a deal.
The lack of opportunities afforded to Greg Taylor will discourage anyone from within Scotland, and perhaps we should bear that in mind when we end up with Lawrence Shankland, who in all fairness is probably the best option, especially as it will annoy the hordes south of the river who will be hoping at least some of the Morelas millions will be spent on the Dundee United man.
There will, however, be a couple of strikers we haven't yet heard of on the mamagers shopping list, who will be young and ambitious enough to bide their time as part of a development programme.
If they are of similar quality to Frimpong and O'Connor, then we will be fine.
Mohammed Daramy, for instance, is a name that springs to mind…
Daramy joined F.C. Copenhagen from Hvidovre IF as a U14 player.[1] He had the opportunity to join both Copenhagen and Brøndby IF, but ended up choosing Copenhagen.[1] At the age of 15, Daramy was already the topscorer of the U17 squad at F.C. Copenhagen, which earned him a contract extension in October 2017 until 2020.[3] He ended up scoring 18 goals in 26 games in the 2017/18 season, making him the fifth most scoring player in that season in the U17 league.[4]
At the age of 16 years and 263 days, Daramy became the youngest ever player to score for F.C. Copenhagen. The goal came in his official debut for the club in a Danish Cup game against Viby.[5] Afterwards, there where rumors about several clubs that was scouting on Daramy, but especially RB Leipzig was rumored to be interested in the player.[6] But Copenhagen didn't seem to want to let him go and put his price tag on 5 million euros. Daramy went out to the medias and said, that he yet didn't knew whether he would stay or not.[7]
However, he decided to stay at the club and in March 2019 it was rumored, that he was about to sign a contract extension with a much higher salary, although there was a bid ready from a unknown club on about 5 million euros.[8] He got his Danish Superliga debut on 12 February 2019 against AC Horsens. Daramy replaced Dame N'Doye in the 77th minute.[9] On 31 March 2019, Daramy scored his first goal in the Danish Superliga. Daramy got the chance from start in the absence of Robert Skov who was out with an injury, and scored the 1-0 goal for Copenhagen, which ended up being the winning goal.[10]
On 3 April 2019, Daramy officially signed his first professional contract with Copenhagen until the end of 2021.[11] Beside that, he was also permanently promoted to the first team squad.
He has caught the eye of several big clubs, but the progress enjoyed by Moussa Dembele and Oddsone Edoaurd at Celtic recently may well turn his head towards Glasgow…
Look, it's either that or Sam Cosgrove.
It'll soon be AGM time, and whilst I would never try to encourage people how to use their vote, I would like to propose reading the Fans Without Scarves articles on the shennanigans of Scottish football, as well as this one, from Two hundred per cent on the Saracens scandal in England, and how and why it relates to our own game with a rounder ball up here..
This should refresh your memory as to the seriousness of the events surrounding the attempts by the powers that be, and I'm yet to be convinced that Celtic weren't as guilty as anyone else back then, and hopefully you'll vite accordingly.
For now, it's about doing things the right way in the right place at the right time.
Though having said that, I've bought my pitchfork already.
And I believe I'm not the only one…
Due to all sorts of circumstances the Diary has been a little irregular of late, but things should now settle down a bit.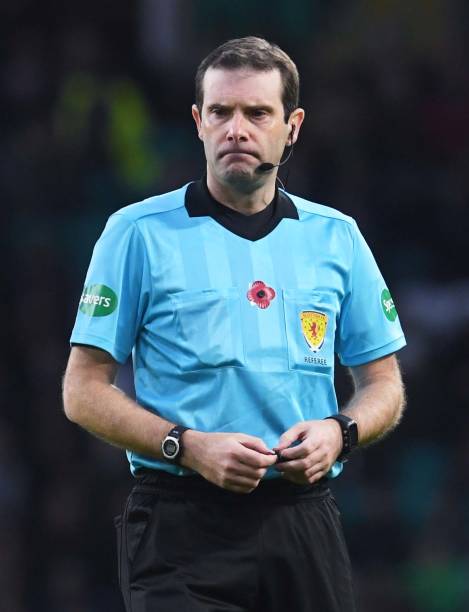 That's Alan Muir, by the way, who won't smile until he's been told he can play for "rangers " in the league cup final, as word is he wants to make a name for himself…
There is, however strong competition from several other ambitious referees, who want the glamour tie now that they have been deemed too incompetent to referee abroad.
You'll notice that since the passing of John Fleming , the head of refereeing in Scotland, no one has been appointed to succeed him.
That's because they don't know quite how to tell us…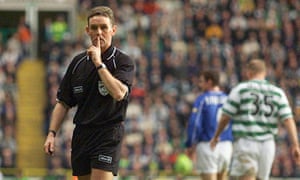 With the distinct possibility that David Murray may yet return for the second remake of Rangers, he'll no doubt be relieved to see an old friend around….
Make sure you vote the right way at the AGM.
Otherwise it'll be like 2012 never happened, and we'll be just as much to blame by our inaction as those at our club who let them get away with it.
Finally, a caption is required for this picture…