Celtic return to Europa League duty on Thursday when they have arguably the most difficult tie of the competition so far.
Lazio in Rome was the one that caught the eye when the groups were drawn, and unsurprisingly thousands of Celts have made the journey.
But, oh, are they in trouble. that's if you believe the media, that is.
A banner featuring wartime dictator Benito Mussolini in his last public appearance, where he was hung upside down alongside his mistress Clara Petacci was displayed by Celtic supporters. Which upset his granddaughter, who presumably didn't quite know what her pops was all about having not been born until 1962, who demanded that there should be prosecutions and jail time handed out.
Extremist politicians tend to get a lot of airtime, so the Scottish media, happy to find something to harp on about after Peter Lawwell asked them to try to ignore the fans furore over his alleged complicity in the cheating by Rangers and the subsequent cover up by the SFA , duly obliged.
So much so that we get the impression that Il Duce still has some sort of underground battalion ready and willing to extract vengeance on anyone who has the gall to point out what a fat little shit he really was.
We've even had Celtic SLO John Paul Taylor issue a "Roaming in Rome " list of do's and don'ts …mostly don'ts to be fair..
FOLLOWING the important travel information for Celtic fans heading to Rome shared by the club last week, additional guidance has been provided to Celtic by Lazio and the City of Rome police for the forthcoming UEFA Europa League match on Thursday,  November 7 in the Olympic Stadium (KO: 6.55pm local time).
After liaising with all the relevant authorities, we strongly advise that supporters making the trip to Rome read the guidance below before embarking upon their journey.
Alcohol
– No alcohol on sale in the city centre from 6pm on Wednesday, 6 November, until 7am on Friday, 8 November.
– Be aware that drinking alcohol on the streets will be prohibited and will incur an on the spot €100 fine.
Supporter Safety
– Stay in large groups where possible.
– Keep a low profile whilst in the city particularly in the evening.
– Avoid wearing club colours whilst walking around the city particularly in the evening.
Buses to the game
 – Buses will be provided for fans from 2pm on Thursday, 7 November, from Villa Borghese.
– Stay patient whilst waiting on buses, these will operate on a shuttle service.
– Do not to take or consume alcohol to the meeting point for the shuttle buses.
– Under no circumstances should supporters make their own way to the stadium.
– It is important to comply with Police instruction at all times.
– Before boarding the buses to the stadium all fans will have to show their match ticket and will be searched.
Arrival at the Stadium
– Once at the stadium fans will be searched.
– Fans will be asked to produce photo ID before entering the stadium, this must contain name and date of birth.
– Bags will not be permitted in the stadium and there is no storage facility.
– All banners coming in to the stadium will be checked, only Celtic FC banners will be allowed.
– Banners containing any political message or symbols will not be allowed.
– Phone chargers will not be permitted in the stadium and there is no storage facility.
Post-match
– After the match fans will be kept in the stadium, this could be up to an hour or more, Police will decide.
– On exiting the stadium there will be buses taking fans to Termini on a shuttle service.
– Fans may wish to arrange taxis for uplift after the match to avoid delays travelling back to the city centre.
More travel information is available HERE
Consular Advice for fans travelling to Italy is available HERE  
Whilst it appears to be a big deal, and the media are certainly making it sound like it is, much of that is common sense, given the Italian sides supporters reputation for engaging with opposition fans, but when you consider that Lazio have sold less than 20,000 for the game, and 9,000 have gone to Celtic, one wonders if they aren't going a little bit over the top.
No drink I can understand, but no phone chargers ?
Derek Clark, of Talkshite Radio hit out…
Let's hope every Celtic fan who travels to Rome comes back uninjured but you can't help but feel the football club should never have allowed a ridiculous antagonistic attention-seeking banner to be unfurled at the game at Parkhead which puts thousands of innocent fans in danger 
Ralph Malph of Etims replied..
Ah…the brings it on himself syndrome, used by the mainstream media to great effect to play down the violence amd intimidating racism shown towards Neil Lennon. Next week.. man hit by car found guilty of crossing the road.
Speaking of Mediterranean climes, how about this….?
Happy birthday to
's
!
Hail Hail!
Illr Meta is the President of Albania, and he's wishing Greg Taylor a happy birthday, which is not something I thought I'd be discussing in any Celtic Diary ever.
Perhaps the next time you think about a holiday, think about Albania instead of Spain, the USA , Turkey or anywhere else where the light of freedom is dimmed due to oppressive dictatorships..
Albania has changed a bit since the time Celtic played Partizan Tirana when Danny McGrains beard was a source of consternation, and from what I can see it offers everything that other destinations offer without the drawback of fellow tourists…
Whilst Celtic are away on European duty, there's bad news from the home front…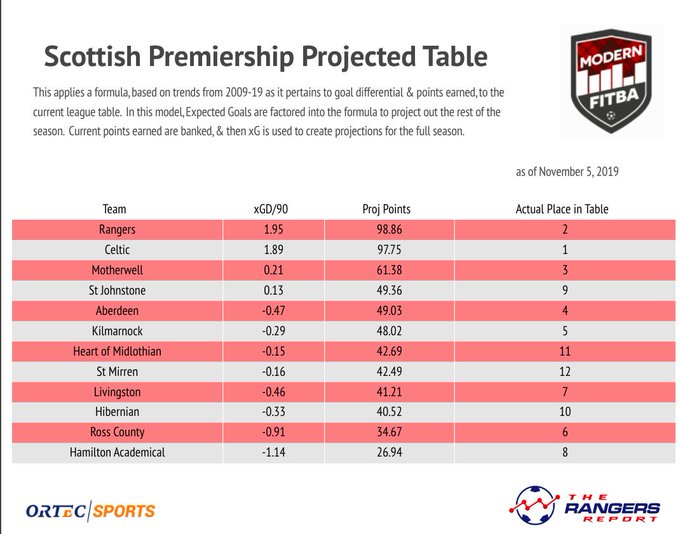 I have no idea what "expected goals " in this calculation are, and can only deduce the compiler meant "expected penalties " to help arrive at his conclusions.
So, thats that then. We might as well concentrate on the Europa…
Unfortunately for lovers of the beautiful game the League Cup final will feature Celtic take on their newest rivals, as NTV magazine called  them first, plucky little cash strapped "rangers " , who have bravely defied the odds and combined a promising start to the season by holdong on in second place in the league and making it to Hampden for their first ever cup final against Celtic.
Are they about to pick up their first senior trophy ?
They might, and there's no denying key figures such as Alredo Morelos, Ryan Kent and Andrew Dallas could all have a say in the outcome, and thats before we take into account the match winning influences of others such as Beaton, Madden and whoever else has no professional pride now that UEFA have ditched Scottish referees…
But we'll worry about that next month.
 Before that there is an AGM, and suspicions of collusion within the SFA, the media and both big Glasgow clubs deepened this week when not one single outlet picked up on the reactions of Celtic fans to the decision made by the Celtic board to ask shareholders to vote down the new Resolution demanding action on the scandal surroundiong Rangers and their european licence.
Not one.
A media that will happily put the boot into Celtic at a moments notice has said nothing about the groundswell of anti board feeling, which will manifest itself at the AGM and possibly even at City of London police headquarters , has yet to comment on the matter.
Thats odd, considering ahead of a previous AGM they picked up and published my own comments when Iain Bankier decided the support were all racist when his fellow board member Iain Livingstone opened his mouth to show he had nothng to say of any consequence.
Has Lawwell asked them not to mention it in case the train that is already picking up speed becomes unstoppable ?  
This whole issue is throwing up more questions than answers, and I've a feeling that getting those answers will require a little more than the occasional article and banner….
Which reminds me….
Celtic AGM Voting.
Note anyone wishing to vote at the Celtic AGM can do so remotely by following the instructions on this link. You can vote for or against any resolution you so choose.  
We ask every shareholder to vote for the new Resolution.
Tom English, the Irishman based in Scotland who works for the British state broadcasters was aghast yesterday, and truly flabbered everyone elses ghast as well…
Wow! England's 'model' club exposed. The Saracens success story has a giant asterisk beside it. Should some domestic titles be stripped?   
It appears the rugby club were quite creative with their accounts….
Premiership champions Saracens will appeal against a 35-point deduction and £5.36m fine for breaching salary cap regulations over three seasons. 
The punishment comes after an investigation into business partnerships between chairman Nigel Wray and some of the club's players. 
European champions Saracens described the sanctions as "heavy-handed". 
Both punishments have been suspended until the outcome of the appeal, leaving Sarries fourth in the table.  
Some detail… from Chris Jones of the BBC.. no point in asking English, he'll say trophies were won on the pitch and probably repeat the claims made by BBC buddy MacLeish about prising them from his cold dead fingers and so on…
This story revolves around Saracens' owner Nigel Wray's business co-investments with a handful of senior players, with the panel judging that the club have in essence been paying players outside the salary cap. 
Wray disputes this and insists these dealings are all above board and are helping set up his players for life after rugby. 
He says investment is not the same as salary. Either way, Saracens were found not to have disclosed the full details of the financial arrangements, which they have put down to an "administrative error".  
In 2015, Saracens were one of two clubs who reached confidential agreements with Premiership Rugby Limited – the league's governing body – over salary cap issues. 
The league was accused at the time of turning a blind eye to any misdemeanours, and wrote the slate clean to the dismay of some clubs. 
Therefore, while Saracens have been under scrutiny for a while over their management of the cap, the latest findings only apply to the last three seasons and do not take into account the investigation of 2015. 
But there certainly was a widespread determination amongst others clubs and players for Saracens not to get away with it twice.  
Interestingly, which may explain why English has asked about title stripping, Jones goes on to say that he doesn't expect that to happen, clearing the way for English and his chums in the media to use this as a precedent to dismiss any claims against the old Ibrox club.
Could the club lose their titles?
As it stands, no. The punishment only applies to this season and not retrospectively. Saracens are confident they will not be losing any of their eight major titles – five Premiership crowns and three European Champions Cups – won in the past decade.  
English, of course, stands accused of having form when it comes to trying to dictate opinion…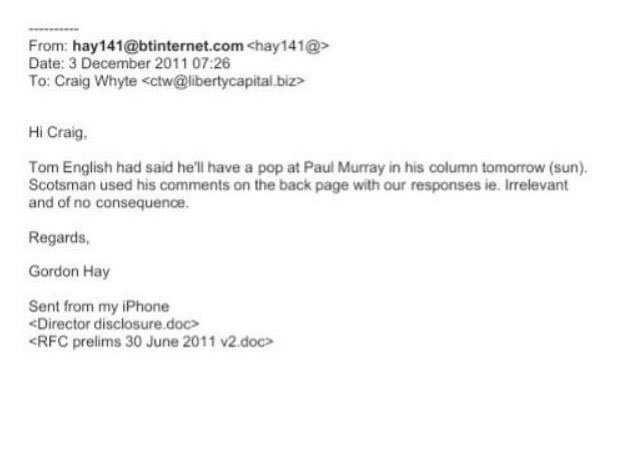 We haven't had a caption to comment on for a while, so let's do one today…