Ryan Christie is suspended for the visit of Ross County tomorrow as the hoops begin the fight to regain top spot in the league. He'll probably be replaced by Olivier Ntcham, who if he's up for it , should be an able replacement.
The return of domestic football, at least for a couple of weeks until the next pointless break, will allow Neil Lennon to instill a sense of urgency into his players, who looked a little jaded against Hibernian and Livingston.
Now that they've had their collective arses kicked, can we expect a return to the blistering form of some of the earlier games ?
A morale boosting win is needed, but not as much as a morale boosting performance. From here until the next break, total focus is required, from the players and the management.
If Lennon has to ask someone if they are one hundred per cent ready for a game, then he should trust that instinct and let them rest.
There are more than enough players in the squad who can cover, and starting with the best available eleven tomorrow is the way forward, but after that if he thinks there is evidence of mental or physical fatigue, then he has to be ruthless…
Current leaders "rangers " are at Hearts, who haven't had their troubles to seek this season, and the nedia have claimed that Aaron hickey, the former Celtic Academy player, is on their radar..with a £2m move in January mentioned, but only by media manipulator James Traynor.
Should the unlikely happen and Hickey tread the path to oblivion, Celtic would receive 30% of any fee, and there is a certain delight in anticipating that possibly being the bill that breaks the bears back…
However, in the real world, several proper clubs are also looking at Hickey, and he'll probably want to join one with at least a better than average chance of lasting longer than any contract he signs.
Nick Hammond has finally been given the nod to take up the director of football operations post and can now get to work on making recommendations that could help Celtic into the Champions League groups next season, especially if Lennon fails to win the Europa League.
However, concerns about his ability to spot someones ability to do a job competently were raised when he was left to hire the photographer to capture his first day at work.. presumably he was unaware there are no height restrictions on photographers at Celtic Park.
There should, however be restrictions on which newspapers are allowed to enter Celtic Park…
The Record have surpassed themselves this time…
Lazio Ultras rage over 'farcical' Celtic racism charge and detail UEFA act of defiance
Celtic racism charge ?
Or was it fascism ?
Lazio Ultras rage over 'farcical' Celtic fascism charge and promise UEFA act of defiance 
The story concerns a statement from Lazio Ultras that protests against the penalty imposed by UEFA to close part of their stand for next months game against Celtic.
Celtic play them next month, and had nothing to do with any charges levelled at Lazio, which is not what you get from the headlines.
The word farcical in this context applies only to the standard of reportage within the piss poor rag, and maybe it's time they were dropped from the reading lists of Celtic fans…just don't buy it.
Maybe the club should also make their views known on the casual way that the brands name has been linked to fascism and racism.
If we talk of it as a brand, the board might actually give a toss, which is something they don't usually do.
If we simply say club, they won't care. When it comes to anything that harms the club, they tend to stay out of the way…
Elsewhere, and the BBC#s Mark Daly has revealed that Gordon Neely, the former coach at Ibrox who was facing charges of child abuse before he died, wasn't sacked after all by the Ibrox club, or at least they didn't want it known that he was sacked, presumably to avoid anyone asking awkward questions about the reasons for his dismissal.
Instead of being handed over to the Police, Neely was wished every success for the future, an unusual way to part company with a paedophile that has just been dismissed..
Daly reported:
New evidence has emerged suggesting Rangers FC covered up the reasons why a former youth coach accused of child sex offences left the club.
Rangers have consistently said they sacked Gordon Neely in 1991 after a complaint from worried parents and then reported him to the police.
But the new evidence shows that is not what the club said publicly at the time – and Neely's alleged victim insists a police report was never made.
Rangers denied a cover-up.
Gordon Neely coached children at Hutcheson Vale, Hibernian and Rangers in the 1980 and 90s. A BBC Scotland investigation in 2017 revealed the extent of his abuse at those three clubs, including allegations that Hibs failed to pass on concerns about his behaviour when Neely moved to Rangers in 1986. 
You'll note here there is no mention of his time at Dundee United, where he would have worked with Walter Smith and Richard Gough, two men who I'm sure the media will be talking to about any suspicions they had.
Neely would carry on abusing at Rangers until a complaint was made in 1991 which led to his dismissal.
Rangers told the BBC in 2017 that Neely was sacked and reported to the police. Two months ago, the club told The Sun: "It was important Rangers took both steps without delay to address this matter."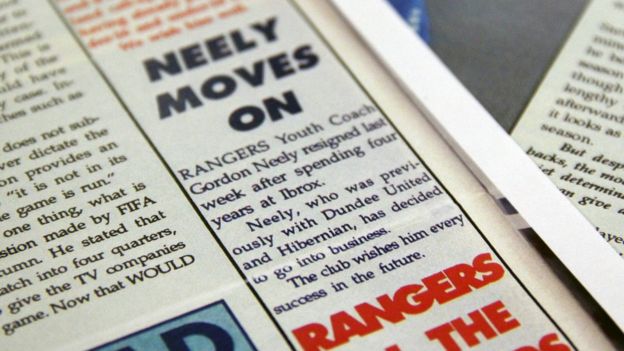 However, this has been called into question after the BBC obtained an article in the club's newspaper marking his departure, which made no mention of abuse concerns and wished him "every success in the future".
The Ibrox club immediately responded….
"BBC Scotland's reporting on these horrific incidents and, in particular, its sensationalist and unfair accusation of a cover up by Rangers is disgraceful.
 " Rangers based its prior description as to what occurred on trusted first-hand accounts from those with personal knowledge of what took place and the appropriate steps taken at that time.
"To suggest, as BBC Scotland's Mark Daly has done, that these are invalidated by a short, filler piece in the Rangers News written almost 30 years ago by someone who clearly had no knowledge of the events, or the reasons for Neely's sacking is nonsense. Indeed, it is shameful. 
On a matter of such gravity we do not think it is unreasonable to expect better than Mr Daly's report.
"The important people here are the victims of abuse and we owe it to them to deal sensitively and supportively with the issues they raise.
"Rangers will do all it can to assist in offering support and counselling to anyone affected. Their wellbeing should be at the centre of every right thinking person's concern." 
Not even a promise to look into the matter…just a flat out denial and a claim that the guy who write the piece didnlt know what he was on about…one wonders if he's still around to back up what he wrote, perhaps even naming his source,  or will no one ask him ?
There was an endemic problem in British football with child abuse at the time, and recent evidence has uncovered links between the perpetrators at different clubs, and those links are what need to be focused on of any closure or justice is to be attained.
With those in the media pointing fingers at clubs, it kind of moves the attention away rom the predators, who in reality used the clubs to get at their victims.
Firstly, all the victims must be encouraged to come forward, and they must receive all the care that they need to deal with what happened to them.
In confidence, and with the utmost sensitivity.
Then attention should be given to who worked with who, and where, and also to any connections between different clubs who may have had their youth coaches recommend players to other clubs, on a regular basis.
As indeed should any individuals who worked with abusers at different clubs.
It's Friday, and of course that means it's time for
Knob of the Week 
It's Cap'n Baz,
and his astonishing piece about racism…
Bulgaria racism shame could happen in Scotland if we're not vigilant – Barry Ferguson
Barry warns there's no room for complacency in the fight against hate after England players were subjected to vile abuse in Sofia.
I sat in the stand at Tynecastle as a nine-year-old on the day Mark Walters was subjected to disgraceful racist abuse just a couple of months into his Rangers career.
Back then I would go to most games with my dad to watch my brother, Derek, play and that fixture in January 1988 is one that is remembered for all the wrong reasons.
Walters had also suffered racism on his debut at Celtic Park earlier that same month in the Ne'erday Old Firm derby, but it really hit the headlines following the match with Hearts.
If you look back at the footage on YouTube from that day it's disgusting when you see the bananas raining down as he was preparing to take a corner. 
The guy came to Scotland to play football. I was probably too young at the time to actually realise what was going on, but looking back now it was shameful. Thankfully when Rangers travel along the M8 for Sunday's lunchtime clash in Gorgie the visiting players won't be subjected to what Walters had to face in January 1988.
I was just a month short of my 10th birthday when that game took place and at the time too young to really appreciate what was going on. 
It's almost 32 years since that game, and you have to say that thankfully racism in Scottish football isn't as much of an issue and we've moved on since those days. But England's Euro 2020 qualifier against Bulgaria in Sofia on Monday night shows that the same can't be said of all countries.
I watched the game in Sofia on Monday and, like any normal human being, I was absolutely disgusted at the racist abuse the England players were subjected to.
We have long since reached the stage that UEFA must take a tougher stance and simply boot any offending club or country out of the competition where the offence takes place. 
Stadium closures, partial stadium closures and fines are simply not working and points deduction and tournament expulsion is the only course of action that might eradicate this.
The punishment being handed out is simply not working, so the only way to get the message through to these morons is by hitting clubs and national associations, because that will hurt them. Monday should be a watershed moment. UEFA must take strong action and they can start by kicking Bulgaria out of the Euro 2020 qualifiers.
There needs to be a zero tolerance approach because it's sickening. We need to work to stamp it out throughout the world, both in football and society in general.
It was so sad watching players like Marcus Rashford and Raheem Sterling – guys who are just out to play the game – going through what they did.
Look at Tyrone Mings, who was making his England debut. 
That should have been the proudest moment of his career but he found himself reporting the racists.
It must have been so tough for the Aston Villa man but it shows how mentally strong they are, and I have so much admiration for him and his team-mates, because you can see the pain etched on their faces. You have to commend them for being able to play at a very good level through the suffering, but that doesn't make it right.
I must be honest and say that as a player I was never in a situation where racist abuse was directed at any black players I was playing alongside.
It's probably the only thing in my career I never really encountered in terms of racial abuse coming from fans or even opposition players, which also happens.
But it was always in my mind that, particularly when I was captain or even just as a more experienced player, if it did happen then I wouldn't have accepted it. 
I would have gone straight to the referee and I have to say that is the case now as a manager, because I have black players at Kelty Hearts and if I heard any abuse directed toward them I wouldn't stand for it.
My reaction would be to leave the pitch, but I suppose ultimately I would have to have a chat with the players and let them decide.
Is it a strength or a weakness to walk off? I honestly don't know the right answer.
You don't want the morons to win but there has to be a solution to stop it.
It's not just in football, if I heard that kind of thing just walking down the street then I would get involved – it's a societal issue.
I treat everyone the same way regardless of their race, colour or religion and it's a joke that in 2019 the England players had to go through what they did in Bulgaria.
In British football we have groups like Show Racism the Red Card who deserve a lot of praise for the fantastic work they do, and they don't get enough credit and backing.
A lot of former players are involved and they get into schools to help educate kids and do a great job, but they need more support.
They are trying to erase it from football and they do a brilliant job. We have to count ourselves lucky that there isn't a huge problem in Scottish football.
But you can never get complacent and we need to work to erase it everywhere as no player or person, anywhere in the world, on a football pitch or on the street, should be abused for having a different colour of skin.
I've reproduced the whole article, to give an idea of how many words Barry managed without mentioning this… a much more recent incident…
'Absolutely disgusted' Celtic star Scott Sinclair hits out after receiving racist abuse on Twitter
The English winger was the target of sickening abuse at Ibrox on Saturday and more followed on social media tonight.  
Or perhaps maybe highlighting the words of Neil Lennon… from November last year…
"I've thought about walking away when I was manager of Celtic, "
"Again, with all the furore and the empty vessels talking after Wednesday – people spouting opinions and totally getting the wrong end of things, I may reconsider my position again.
"I had a career in England unblemished by this sort of stuff. I had two years at Bolton [as manager] – again, no abuse, no attacks, no suspensions or anything like that. And as soon as I've come back to Scotland it's started to rear its ugly head again." 
"You call it sectarianism here in Scotland, I call it racism," 
"If a black man is abused, you're not just abusing the colour of his skin – you're abusing his culture, heritage, his background.
"It's the exact same when I get called a Fenian, a pauper, a beggar, a tarrier. These people have a sense of entitlement, or a superiority complex, and all I do is stand up for myself. 
Is Barry saying we have no need of racism against black players because we already have our own type of racism for those who like that sort of thing to enjoy ?
Yesterday, we had this…