We're still quite a few weeks away from the official transfer window, but the club aren't hanging around.
And it appears they've got her a part time job during the week in the shop as well.
Hailey the huddle hound is the latest addition to the marketing arm of Celtic, with Hoopy now losing the power of his back legs and having had one too many accident on the carpet.
He won't be getting a testimonial either.
International breaks.
Marvellous, aren't they ?
Scotland beat San Marino 6-0 yesterday, for those of you who pay attention to that sort of thing, Ryan Christie did score, but the goal was given to John McGinn.
Christie can console himself with the fact that he got Mcginn's Celtic contract, and doesn't have to live anywhere near Birmingham.
Other Celts have been involved around the continent as Euro 2020 qualifying begins to sort itself out, with Kris Ajer putting in a solid performance against Spain…
"Strong and uncompromising. Directed the others and has evolved to become a commander of the Norwegian defence. 
Although Norwegian rag Dagbladet just had to ask….
"But why did he turn his back on Saul Niguez for the goal to make it 1-0?" 
Maybe he thought that one of his teammates could help him out a bit.
Hatem Elhamed was also on international duty, but now he's got a cough, and will miss Israel's next game tomorrow..
"Hatem Abd Elhamed is sick and has been suffering from a virus,"
 "He's not trained and in fact hasn't even left the team hotel. He's not been able to eat with the rest of the group. Clearly, he's a major doubt for the game." 
He sounds like a bundle of laughs, does our Hatem…
Christophe Julien popped down to London to watch american football….
taking advantage of the fact that Neil Lennon has been away for a working holiday in New York…
Not to be outdone in the charity stakes, "rangers " had an event of their own , which consisted of a dinner and a "legends " match against Liverpool, whose legends were presumably aware that "rangers " firmly believe that charity begins at home-thats where the money usually ends up- could only muster fourteen players, and an equally suspicious former Ibrox contingent was narrowed down to the likes of Neil Alexander and several other nonentities.
Still, they raised a fair bit for an as yet unnamed charity with the dinner…
and fans had an opportunity to donate at the game as well….whereas the ticket money ?
Well, that'll go straight into the leccy meter….
Meanwhile, we hear of a scandal thats about to hit Celtic, and it could be a bad one.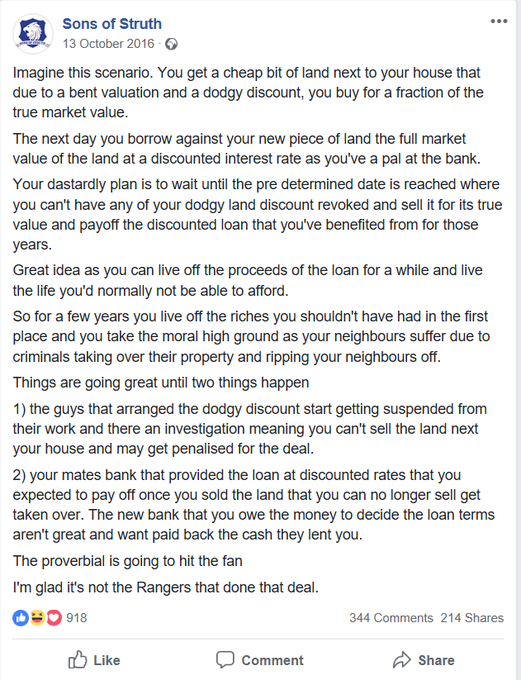 Of course, it's probably bollocks, given the source, but this revelation might well be explained by the cold shoulder that has been applied to Dave king, the loveable rogue that is de facto boss of the new Ibrox entity.
The mainstream media appear to be underplaying the seriousness of the Takeover Panel order, and have been reluctant to explain what it actually means.
One narrative is that King did what he had to do to save the club, which is an interesting take on matters, given, of course, that the club he claims to have saved is in liquidation.
Just to clarify, as we need to keep to the facts here, it is in liquidation. Apart from a shared address and a simlarly rancid customer base there is nothing else to link old and new.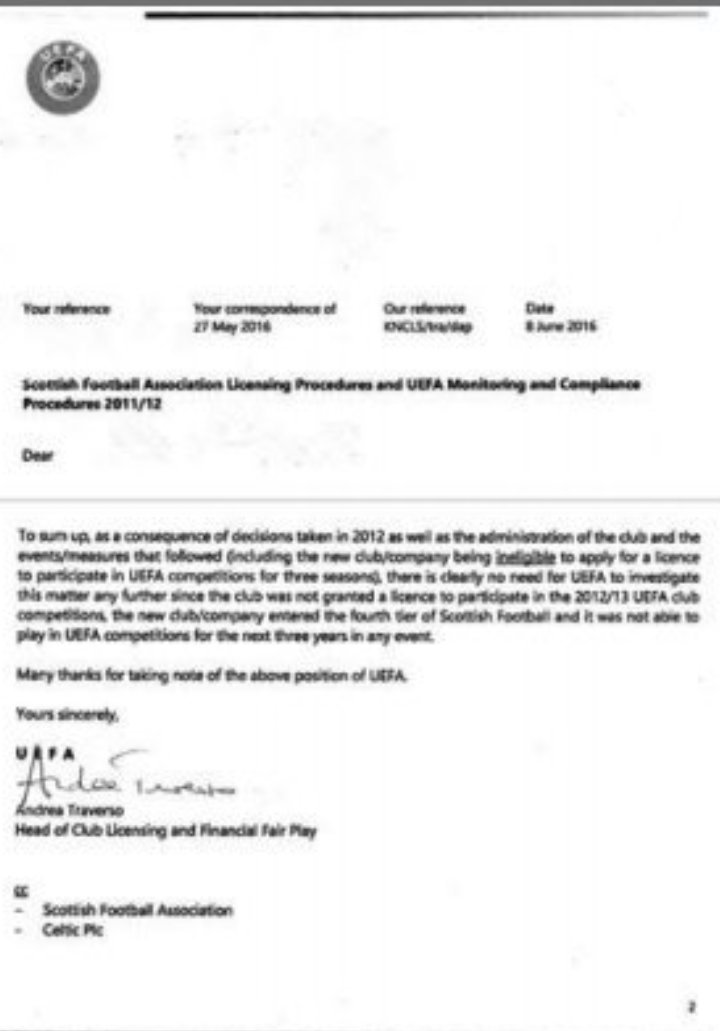 As I've said repeatedly, this is not a fake. It's the real deal from the real man who understands the real rules.
Although, as you can see, the other two that are named as having had this letter seem to have largely ignored that fact.
The Cold Shoulder is an extremely serious sanction in the world of banking, and one way to see what effect it can have is to look at how it has affected others.
It's also important to bear something else in mind.
The banking world did not cover itself in glory back in 2008, and the greed and dishonesty of those in the industry caused a worldwide recession, and led to most people in this country seeing little or no rise in their standard of living.
They were bailed out by the government which led to years of public service cuts, which resulted in the Brexit fiasco which has already worsened the economic climate and it has even happened yet..
The point is, how bad do you have to be for the bankers to refuse to deal with you, and threaten to refuse to deal with anyone who does ? 
We're talking off the scale bad to the bone here.
Like this guy….
From the Guardian, July 2010…
Takeover Panel gives Brian Myerson 'cold shoulder' over secret concert-party
Regulator hits Principle Capital's chair with harshest penalty for breach of takeover code 
Colourful City tycoon Brian Myerson and two of his associates have received three-year "cold-shoulder" penalties from the Takeover Panel – the harshest sanction, issued only once before – for acting in a secret investment concert-party, in breach of panel rules, and seeking to cover it up.
The City equivalent of an Asbo, the cold-shoulder order effectively bars the three from any takeover-related activity, including buying or selling shares during a live takeover period.
The panel said explanations given by Myerson, Brian Padgett and Daniel Posen had been "co-ordinated, disingenuous and dishonest". It added: "Mr Myerson is a sophisticated and experienced investor and knew well that his conduct had to be hidden from investigation." 
An initial ruling from the panel was upheld on appeal but Myerson continues to dispute the findings and is looking at taking his case to the European courts. "I did not break the takeover code in any way and I totally refute any suggestion that I did," he said in a statement.
Sounds familiar, doesn't it ?
So, how did it all pan out for Myerson ?
Fast forward eighteen months….
THE wife of a tycoon who led an extraordinary double life has had the last laugh in a Cape Town courtroom — to the tune of R7-million.
Brian Myerson — who met Ingrid, his wife of 26 years, when they were at university in Johannesburg — was ordered to pay her R188-million in the High Court of Justice in London in March 2008.
Ingrid, 55, sued for divorce after discovering Brian had kept a mistress around the corner from their R120-million Hampstead home for a decade and had a son by her.
Brian, 57, handed over all but R7-million and now the High Court in Cape Town has discounted his pleas of poverty and ordered him to come up with the cash.
Ingrid's new husband, Simon Sterling, with whom she shares a R21-million bungalow in Clifton, had several meetings with Brian in an attempt to extract the money.
When he failed, Ingrid went to court, and Judge Patrick Gamble ordered Brian to pay the outstanding amount, plus interest and Ingrid's legal costs.
Ingrid's lawyer, Rael Gootkin, told the Sunday Times this week: "Our client was left with no alternative but to institute action for the amounts owing."
Brian's double life began to unravel when Ingrid — with whom he had two sons and a daughter — discovered papers in his briefcase in 2004 that revealed that he had fathered a son with his mistress.
In an interview with the London Evening Standard in 2009, Brian was unrepentant, saying: "I look upon myself as having been a good husband to Ingrid. Like many men, I've had a number of extramarital affairs. I never told Ingrid about [my mistress], but I was an extremely good and caring husband, providing Ingrid with a wonderful lifestyle." "Mistress hour" was 5pm to 7pm. "I would leave my family home in Hampstead and visit [my mistress] on my way to work in the City, and again on my way home."
Holidays at Brian's R26-million Plettenberg Bay house were also taken in tandem, he told the Evening Standard from his Swiss office.
"Every year, for two weeks in April and six weeks in December and January, I would go with [my family] to our beach-house. [My mistress] would come too, and I would put her up nearby.
"I bought an estate with polo fields and stables. My wife had no interest in horses, but [my mistress] and I, we love them, so I would spend most of my time with her."
The UK court awarded Ingrid £11million of Brian's £25.8-million estate. Brian kept shares worth £14-million in his company, Principle Capital Holdings.
Ingrid married Sterling in 2010, and the high court heard that three years later he persuaded Brian to sign an acknowledgment of debt, undertaking to pay the money within two weeks. Ingrid took the matter to court when nothing came of it.
Brian, who lives in a rented home in the Atlantic Seaboard suburb of Fresnaye, told the court he signed the document under "enormous pressure".
A number of his fund management company's investments were due to mature only in five to 10 years.
In the meantime he was not receiving dividends, only a monthly salary — a far cry from his earlier lifestyle of private jets and helicopters.
"Given the volatile nature of my business activities over the past years, the understanding between [Ingrid] and me has always been that I would pay the sum owing when I was in a position to do so," he said in an affidavit. "I have been frank with [her] and her new husband, Mr Simon Sterling, with whom I met on various occasions . . . over the years."
Brian's lawyer, Ian Stoloff, said on Friday: "My client has today made an offer to meet with Mrs Sterling's attorney on a 'without-prejudice' basis in an endeavour to settle this matter amicably. Pending a response to our client's offer, our client is keeping his options open regarding an appeal."
I never told Ingrid about [my mistress], but I was an extremely caring husband  
After that, it's difficult to find anything about him, which cab be looked at a number of ways.
But there are similarities with King, which does point to a certain type of fellow who is giving the bankers a bad name.
More recently, in 2017, Fieldfisher reported this…
Takeover Panel gives the cold shoulder
In a very rare decision, the Takeover Panel has published a statement on its website requiring all firms and advisers regulated by the Financial Conduct Authority to "cold-shoulder" two individuals for systematically making dishonest and false representations to the Panel during its investigations into potential breaches of The City Code on Takeovers and Mergers (the Code).  Cold-shouldering is the most severe form of sanction available to the Panel and this is only the third time in its history that it has exercised this power. The effect of a cold-shoulder order is that no entity or professional adviser regulated by the Financial Conduct Authority may act for the individuals concerned on any transactions that are governed by the Code.
Background to the decision
Rule 9 of the Code requires a mandatory offer (Rule 9 Offer) to be made to the holders of shares carrying voting rights in a company which is subject to the Code (unless the Panel consents otherwise) by any person who acquires an interest in shares which, together with interests held by persons acting in concert with him, carry 30% or more of the voting rights of the company.
Mr Bob Morton and his close family (through a series of controlled companies) owned 28.32% of Hubco Investments PLC (Hubco) upon its admission to ISDX. A further 3.38% of Hubco was acquired by Groundlinks Limited, a company controlled by Mr Morton's family. The effect of this acquisition was that the aggregate interest held by Mr Morton's family in Hubco stood at 31.6%, thereby passing through the 30% threshold and requiring Mr Morton to make a Rule 9 Offer for the remaining shares in Hubco.
Mr Morton's broker identified and informed Mr Morton that the obligation to make a Rule 9 Offer had been triggered and advised him to consult the Panel. Mr Morton then informed his broker that Groundlinks had in fact purchased the 3.38% holding for a third party's benefit. The third party was a friend of Mr Morton's son, Mr John Garner. It later transpired that the agreement to document the arrangement between Mr Morton and Mr Garner was entered into after the acquisition of Hubco shares had been made and that the agreement had been back-dated.
Investigation and Panel ruling
The Executive of the Takeover Panel launched an investigation into the conduct of Mr Morton and Mr Garner.
The Panel expects any person dealing with it to do so in an open and co-operative way. It also expects prompt co-operation and assistance from persons dealing with it and those to whom enquiries and other requests are directed. In dealing with the Panel, a person must disclose to the Panel any information known to them and relevant to the matter being considered by the Panel (and correct or update that information if it changes). A person dealing with the Panel or to whom enquiries or requests are directed must take all reasonable care not to provide incorrect, incomplete or misleading information to the Panel.
The Executive found that Mr Morton and Mr Garner had systematically provided information to it which they knew to be false and that they intended to deceive the Executive into believing that the purchase of shares in Hubco had been made for Mr Garner pursuant to a prior agreement between Mr Morton and Mr Garner. In reality, the two individuals had invented the agreement in order to avert the perceived risk that the purchase had had the effect of triggering the requirement to make a Rule 9 Offer for Hubco.
The Executive found that the attempted deception in the course of its investigation was so serious and so prolonged as to merit the "cold-shouldering" of Mr Morton and Mr Garner for periods of six and four years, respectively.
Rather ironically, it transpired that the aggregate interest of Mr Moron's family in Hubco was actually in excess of 50% of Hubco's share capital at the time that Groundlinks acquired the 3.38% holding in Hubco, meaning that the acquisition did not trigger the need to make a mandatory Rule 9 Offer as Mr Morton's family already had effective control at that point.   However, the conduct of Mr Morton and Mr Garner during the course of the Executive's investigations into their potential breaches of the Code meant that the Panel could only conclude that they were persons that were not likely to comply with the provisions of the Code and it therefore issued the cold-shouldering decision.
Again, when the dodgiest industry in the world pushes you out, how bad exactly are you ?
Well, alright, second dodgiest industry in the world…(BBC sport, 19 May 2015 )
Rangers: Dave King passes SFA 'fit and proper' test
Dave King is free to take up the chairman's role after being passed "fit and proper" by the Scottish Football Association.
King, who owns 14.5% of Rangers' shares, led a successful bid to oust the previous board at Ibrox in March.
However, the governing body needed time to assess King's suitability, given his tax convictions in South Africa.
The fact he sat on the Rangers board prior to administration and liquidation was taken into consideration.
Acting chairman Paul Murray, who was also on the board prior to administration, had his position as a director ratified by the SFA on 1 May.
BBC Scotland has learned that the SFA consulted the relevant authorities in South Africa and Scotland, including the police, the South Africa Revenue Service and Her Majesty's Revenue and Customs, before allowing King to become chairman. 
Clearly, they fucking didn't.
Three days ago, the Scottish Sun noted;
BOARD MEETING 
Rangers chairman Dave King has 'no regrets' over boardroom battle despite panel 'cold shoulder' ruling.
RANGERS chairman Dave King insists he has "no regrets" about taking over the Ibrox club – despite a panel finding he broke rules during his takeover.
The South African-based businessman's "fit and proper" status will now be discussed by the SFA at their next boardroom meeting, according to the BBC. 
And then, no doubt, they will discuss it with the same sources in south Africa that they didn;t the last time….
Meanwhile, the game in Scotland still doesn't have a sponsor to replace the bookmaker Ladbrokes, who are from the third dodgiest industry in the world…
From all this , one must conclude that anyone dealing with King and his toxic club/company will be having second thoughts.
If his investors are , to use a word, dodgy, they will pull out , not wishing to have any attention drawn to their dealings. Of course, there is no evidence to suggest he has any dodgy dealings whatsoever, and such a thought would never cross his mind.
If you don't count the Takeover Panel decision, that is.
Those who should be concerned are the genuine Rangers men, who have invested in the ,er, fake Rangers.
The rest of the concert party, for instance, who acted in good faith.
Finance is a global issue these days, and some countries do not have the laissez faire approach favoured by London.
In Hong Kong, for instance, they have ICAC…the Independent Commission Against Corruption, which has had a profound effect over there
From the South China Morning Post, 15 February, 2014
Forty years since its creation, how the ICAC cleaned up corruption in Hong Kong
The graft-busting agency, 40 years old today, has helped transform the city beyond all recognition 
In the summer of 1973 decorated police chief superintendent Peter Fitzroy Godber could see the writing on the wall.
The London native had spent more than two decades living in Hong Kong, a city where institutionalised corruption penetrated every strata of society.
Bribes known as "tea money" were paid for basic services, from getting a home phone installed to making sure firefighters showed up when there was a blaze.
Police officers of all ranks had accepted payoffs for decades. In 1971, an internal police unit discovered an unusual remittance from Hong Kong to Canada; C$12,000 had been transferred to a Canadian bank account under the name "P. F. Gedber". 
Police launched an internal investigation, codenamed "Havana". But with limited powers, the anti-corruption unit made little progress. Godber applied for early retirement, asking to quit his post in July, 1973.
But three months shy of his departure, the police commissioner received a tip. Police contacted 480 banks and found millions of dollars in overseas and local bank accounts – all controlled by Godber.
The ICAC began work 40 years ago today. The commission has been credited with transforming Hong Kong and paving the way for the economic boom of the 1980s and 1990s, which helped a more honest city become an international financial hub. 
 In his 2004 book, A Modern History of Hong Kong, Steve Tsang , a Chinese studies professor at University of Nottingham, described the ICAC as "one of the best parting gifts from the colonial government", which "made the right psychological impact on the general public".
The commission continues to wield considerable influence and much of the public remain confident in its work. Yet, in recent years, the body has been vilified after former ICAC chief Timothy Tong Hin-ming was accused in 2012 of misusing public funds during his tenure. The case is still under investigation.
In 2012, the latest report by the ICAC Complaints Committee, an independent office, says it received 19 complaints containing 57 allegations against the corruption agency and its officers. More than half of the allegations related to misconduct, followed by neglect of duties and abuse of power.
However, despite criticism of the ICAC, the scale of the influence the institution has had on Hong Kong can be gauged by how unrecognisable the city is from the dark days of the 1960s and 1970s, when corruption ran through almost thread of society.
The ICAC began its work on February 15, 1974, in an aptly named location: the Sincere Building in Central. The agency later moved to its current headquarters in North Point, and today boasts a staff of 1,300.
In the early years, the focus lay with police corruption and disrupting complex networks of syndicated bribe-taking in many police stations. In the Yau Ma Tei fruit market case, a heroin racket in West Kowloon in 1976, the ICAC rounded up so many officers that the local police station was nearly empty.
Neil Maloney , a British expatriate who joined the Hong Kong police force in 1969 before becoming an ICAC investigator in 1974, recalled that each police station had a dedicated room for a "collector", whose sole job was to buy the bank drafts to send bribes to local and overseas accounts.
Leaving the ICAC in 2000, Maloney says his former employer was pivotal in creating modern Hong Kong.
"Forty years ago, people joined the police and government so they could be corrupt, but now you've got young people working in government who have lived in a corruption-free society," he says. "The younger generation take it for granted, but 35 years ago the way the government was run was like Bangkok or Manila."
In the summer of 1973, police rushed to collect evidence before Godber's scheduled retirement date.
After searching Godber's government accommodation, police found three logbooks and financial documents. The new evidence revealed that Godber controlled HK$4.3 million in assets, six times more than his total income since joining the police in 1952.
But police couldn't prove the money had been obtained illegally. On June 8, 1973, Godber did what any desperate man would have done: escape.
Using a special airport security permit issued to police officers, he bypassed customs, boarded a flight at the old Kai Tak airport to Singapore, and flew to his native England.
The public exploded. Residents stormed Victoria Park, demanding that Godber be hunted down.
The governor at the time, Sir Murray MacLehose, called a commission of inquiry, which recommended an all-powerful independent anti-graft agency. Its first job was to bring back Godber.
After eight months of legal battles, the once clean-cut Godber – by then sporting a bushy beard – was extradited to Hong Kong. He was charged with one count of conspiracy and one of bribery, after being accused of taking HK$25,000 from a Chinese police superintendent who had been desperate for a promotion.
Despite a mountain of evidence amassed over many years, just one witness testified against him. Yet Godber was found guilty in 1976 and sentenced to four years in prison.
During ICAC'S initial years, many citizens, civil servants and police officers hated the commission because they missed the extra money from pay-offs. In 1977, dozens of officers stormed the ICAC offices, punching staff.
The then-governor made a bold decision that shocked the ICAC staff: The city would pardon cases of corruption that had occurred before 1977 through a partial amnesty. It appeared to be a blow to the ICAC , but the decision – in hindsight – was a godsend, Maloney said.
"It was a brilliant move because police themselves said we've been given a second chance," he says.
Cases deemed to be very serious were still pursued. The reprieve meant that the young commission could continue its work, but with a shift in focus.
"We sat on the waterfront near the Star Ferry, eating ice lollipops wondering what we were going to do," said a former investigator, who wished to remain anonymous, who served with the ICAC from 1974 to the late 1980s. He, like Maloney, was among the very few officers hired in the first wave of recruitment – because so many local police were under investigation.
After the 1977 partial amnesty, the ICAC's attention turned towards illegal behaviour in the disciplined services, government departments and later, the private sector.
As cases mounted, the commission hired fresh graduates. Sociology graduate Raymond So Wing-keung was recruited in 1976.
"I wanted a meaningful job and at the time, the Chinese name of the ICAC was very different to what it is now," So said. "Literally, it meant 'Specially assigned by the Governor of Hong Kong, the Independent Commission Against Commission'." He moved up the ranks to become a chief investigator in 1985, and in 2011, became assistant director in the operations department. Now 60, he will retire this June.
Some experts say that Hong Kong became an international financial hub – receiving more than HK$82 billion in overseas investment since 2000 – because of the commission's work.
"The ICAC's mandate to find and investigate corruption in Hong Kong has made the archipelago one of the most corruption-free areas in the world," wrote Bryane Michael , a fellow with University of Hong Kong's law faculty, in a paper published last month, in which he considers how the ICAC might reduce graft on the mainland.
"The answer is very, very carefully," he wrote. "You can't say overnight that you want to be corruption-free; China would blow apart."
A recent survey by the ICAC, which has a current annual budget of HK$927 million, found that 95 per cent of respondents supported their work, but the figure was a four-year low.
Public confidence was key to its survival and success, said So.
"A majority of the community now supports the ICAC, but there are a lot of people who may not like us because we are stopping them from making more money," he said.
One of the highest-profile cases that ICAC is pursuing is that of the Kwok brothers – Sun Hung Kai Properties executives Thomas Kwok Ping-kwong and Raymond Kwok Ping-luen, along with former chief secretary Rafael Hui Si-yan. They have been charged with bribery and misconduct in public office.
With the mainland graft crackdown of President Xi Jinping with high-profile cases such as Bo Xilai , will the ICAC still be relevant in the next 40 years?
"Greed is a human instinct," So said. "When people are greedy, you have corruption."
To summarise, they don't fuck about over there…
In the last few days alone, their website www.icac.org.hk reports…
Police officers admitted that the fraudulent loan was 160,000 yuan and sentenced to eight months.
October 9, 2019
A police officer fraudulently defrauded a woman with a total of 20 loans of $95,500 and a valuable watch worth more than $62,000. She was previously charged by the ICAC. The defendant pleaded guilty in the West Kowloon Magistracy today (October 9) and was sentenced to eight months' imprisonment.
Zhang Yongting, aged 25, pleaded guilty to three counts of fraud and violated section 16A of the Theft Ordinance. His other offence of obstructing justice was not prosecuted by the prosecution for prosecution.
The judge, Wen Shaoming, said in his sentence that it is not appropriate to sentence the defendant to non-custodial punishment because the fraudulent activity has a long duration and involves a large amount of money and is not a single incident.
The ICAC has received complaints of corruption referred from the Hong Kong Police Force (Police) for investigation. The investigation revealed the above offences. 
The former Chief Executive robbed the school account of $310,000 and sentenced him to prison for 24 months.
October 10, 2019
A former secondary school executive, the misappropriation group and other miscellaneous expenses charged by the school to more than $310,000, was earlier sued by the ICAC. The defendant was convicted in the District Court today (October 10) and sentenced to imprisonment for 24 months.
Liu Saihua, aged 54 and a former middle school executive of the Manufacturers' Association, was convicted of 13 counts of theft and contravened section 9 of the Theft Ordinance.
Judge Lin Weiquan said in his sentence that the accused's misappropriation of school accounts has violated the integrity, and that she has never indicated to the school that she is willing to pay the money.
The ICAC received a complaint of corruption earlier and the crime was revealed after the investigation.
The court heard that the defendant served as the executive director of the middle school and the head of the school affairs department at the time of the incident. He was responsible for handling the money collected from the students and depositing the money into the bank account of the school and preparing relevant accounting records.
All payments to students must be deposited in a bank account at the Manufacturers' Association High School on the same day or in the safe room of the Principal's Office before being deposited in the bank account on the next working day.
The manufacturer's secondary school audited in November 2016 and found that between September 2015 and March 2016, 13 students or projects were charged and handed over to the defendant. A total of more than 300,000 yuan in cash is missing.
On February 11, 2017, the school found 11 signed cheques issued by the defendant's two bank accounts in a conference room on the school. The heads were the manufacturers' secondary schools, involving a total of more than 310,000. yuan.
As the case reveals, each cheque is accompanied by certain accounting documents related to the above-mentioned thirteen activities or projects, which involve exchange groups, miscellaneous items and air-conditioning expenses.
The Manufacturers Association Secondary School provides comprehensive assistance during the investigation of the ICAC case.  
The prosecution was represented today by the Barrister Wang Xiwei and assisted by ICAC officers Zeng Xianyi and Zhang Yulin.
Just as well that they're over there and we're over here, eh ?
On Friday, we had this…
Today…