See Bend it Like Brattbakk & Win a great Day\Night out with Graces!
---
This is your Chance to win a fabulous experience  at Graces Irish Sports Bar worth up to £100…an opportunity made possible by purchasing a ticket to view the brilliant  Celtic play written by Jim Orr about Celtic's quest to stop the 10.
The story is brilliant and a great twist during it also with a happy ending!.
Press Release
It was May 1997 and D:Ream were back in the charts telling us that "Things can only get better" which is what all Celtic fans were hoping as Rangers had made it 9 in a row and were hot favourites to make it 10 in a row the following season.
Celtic were in disarray on and off the field and their fans were dreading 'the 10', none more so than Hoops fanatic Maggie and her equally Celtic-daft dad, Tam who was totally obsessed by the fear of 'the 10'.
It was set up to be a tense, fraught twelve months with many twists and turns and that would just be in Maggie and Tam's personal lives!
Would Rangers do 'the 10', would Maggie find her soulmate and would Tam survive the season without having a nervous breakdown?
Experience the highs and lows of that nerve shredding season once again with Maggie and Tam in the hilarious comedy play "Bend it like Brattbakk".
James one of the actors from the play said. "I've actually been involved in a few of these types of shows over the years, and this one is really different and has a lot more depth to it than the others. It's not just a sing a long for the fans.  It has a real human story, that deals with many of the problems a family deals with when parents seperate. As well as the huge decision that one of the characters has to make. Is it worth selling ur soul to stop the ten. To right".
And now the lovely people at the excellent Graces Irish Sports Bar in Candleriggs have offered a fantastic prize open to one lucky ticket purchaser for the play.
All you have to do…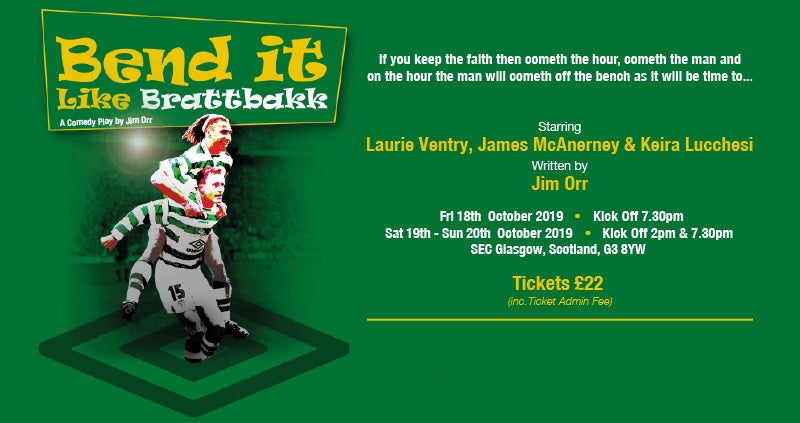 Everyone who buys a ticket for the play goes into a special Prize draw!.
The winner will win a booth at Graces Irish Sports Bar for any game of their choice with food and drink to the value of £100 included for the duration of the Match.
Just imagine how much fun  you and a few friends could enjoy!
Of course you have to be in it to win it…
Purchasing Tickets
Play Tickets are available from SEC and all usual outlets including Ticketmaster
Just get your ticket purchased and let us know via comments section or via Twitter :   #Bend It Like Brattbakkand copy in @BrattbakkJimOrr , @gracessportsbar and  @EtimsNet to ensure coverage.
We will ensure your names entered into the draw and the very best of luck to everyone who buys a ticket for this excellent piece of Celtic entertainment
A great night will be had for sure!
Best of Luck to everyone.