Celtic secured an away point in Rennes last night with another of those mature performances on foreign soil.
Thats right, another mature performance, epitomised with the tackle of the season from Johnny Hayes, who timed a strong challenge late in the second half to absolute perfection, thus guaranteeing that the hoops would take a result back to Glasgow.
However, there was no need for him to stand up, fist pump the air and shout "ils ne passeront pas ". Which is probably why he didn't.
Celtic fell behind when Kristoffer Ajer clumsily felled an opponent in the box, allowing the French side to convert a penalty which gave them a 1-0 lead going into the break, but unlike the rodgers era, the setback had no effect on the players, and they stuck to the plan and earned a penalty of their own, at the second attempt, and Ryan Christie stopped running for long enough to coolly slot home an equaliser.
Christie had been denied a penalty of his own when the referee failed to spot that he had been tripped a few minutes earlier, but even this injustice failed to break the Celtic rhythm.
L'Equipe magazine, a respected French sports magazine gave it's marks out of ten for the players…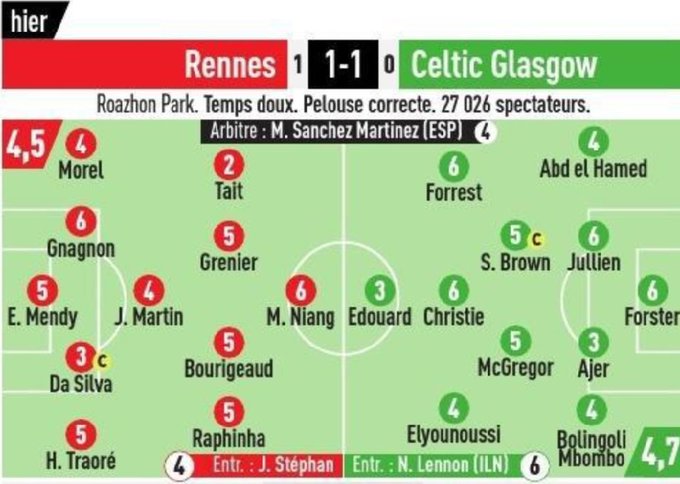 ..but seeing as how they couldn't even get the name of the visitors in the right order, and there's only two words, we can disregard them.
Or should we ?
Do they genuinely think Rennes did better than Celtic, and could that be why the French side seemed fairly happy with the draw ?
Then again, who cares ?
There was one moment of controversy towards the end when substitute Vakoun Bayo managed to collect a couple of yellow cards after he first elbowed one player and then booted the Rennes keeper in the face, but both challenges are open to interpretation.
With the second challenge, the one on the keeper, there was little or no contact, and certainly no intent, and with the referee waving play on on from a position where he could see what happened, it was strange to see him change his mind and issue the second caution.
I don;t remember a free kick being awarded, which makes it even more bizarre, but he did appear to be influenced by the crowd , who started to make all sorts of threatening noises.
Neil Lennon had this to say…
"It looks to me like the referee was waving play on. I don't know if he looked back at the goalkeeper as he was holding his head. There was no contact with his face at all. If anything, it was minimal across his midriff.
"The referee changed his mind. Bayo can feel very hard done by by that decision.
"We pride ourselves on our team discipline. Yes, we lost a player to a red card, but we feel harshly done by.
"The players acquitted themselves brilliantly in testing circumstances with the volume of crowd going up and their bench getting a little bit vociferous.
"We kept our composure very well. It's great start to the group." 
And so it is. An away point, added to three home wins, would be enough to see Celtic progress.
So, can we stop being nice to teams who come to Celtic Park ?
Elsewhere, and the Orange Order marches scheduled for this weekend have been given permission to go ahead by the Glasgow City Council and Police Scotland, who said in a statement that policing Scotland was all well and good, but if they were to do anything radical such as keep bigotry , racism and hatred off the streets, then the bigots and racists would have something to say about that, so they are going to give them a free, probably red, hand to do so.
A spokesman for the police said..
"It's all part of a new Liberal outlook on law enforcement, if it works, people will be allowed to carry knives, guns and loot shops owned by catholics in order to keep the peace. " 
Well, he said he was a spokesman for the police.
STV reported it as objectively as any one else…
Glasgow marches to go ahead in fear of flute band reprisal
The council stated it has been put in an 'impossible position' after advice from the police.
Glasgow City Council has given the go ahead for four public parades this weekend in fear that flute band marchers will react violently if they are not allowed.
The council stated it has been put in an "impossible position" after Police Scotland warned there could be "serious disorder" if the Pride of Govan Flute Band procession – which will have 800 marchers – is prevented to go ahead on Saturday.
The police stated they would be able to police it either way.
The flute band has invited supporters to join its parade, warning the marchers to conduct themselves in a "dignified manner".
Last week a number of parades were scrapped.
The Public Processions Committee's u-turn came in the wake of sectarian violence and disorder across the city during marches on August 30 and September 7.
On Thursday afternoon, the council confirmed it would not hold a committee hearing on the upcoming marches following advice from the force.
The council has asked the flute band to withdraw its notification, which so far it has refused to do.
The local authority is also asking other groups not to counter-protest. 
A council spokesman said: "The council has been placed in an impossible position in relation to the parade in Govan.
"Police Scotland has said that should the procession not go ahead, many of the 800 people due to take part will react angrily – which could lead to violence and a significant impact on the local community.
"We deeply regret that the wider community in Govan will be subject to this disruption. However, police have made it absolutely clear that this could be made worse if these people are not allowed to march.
"The council has asked the organisers to voluntarily withdraw this notification, which they have refused to do.
"Today, we are directly appealing to them to reconsider that decision and think about the impact of their actions on the community in Govan and on tensions across the city.
"We also call on other groups not to mount protests against the march." 
In other words, and this is remarkable, the police have effectively told the council that they will not do their job, which is to prevent disorder and protect the public, should the contentious parades take place.
Iain Livingston is the man responsible for Police Scotland, as he is currently chief constable…
Livingstone joined Lothian and Borders Police in 1992, rising swiftly through the ranks and eventually becoming head of that force's CID branch[5] and Assistant Chief Constable for Crime.[9] He graduated with a master's degree from the John Jay College of Criminal Justice at the City University of New York, where he studied from 1998 as a Fulbright scholar;[2][9] he also served secondments as a special investigator with the Police Ombudsman for Northern Ireland, was part of Lord Bonomy's review of corroboration for Her Majesty's Inspectorate of Constabulary in Scotland, and has sat on the Scottish Sentencing Council.[5]
He was suspended and demoted in 2003 after an allegation of sexual misconduct after an event at Tulliallan Policing College three years earlier,[10] but was cleared following an internal misconduct hearing[11][9] and later reinstated to his previous role as Superintendent (the youngest officer of that rank in Scotland at the time) following an appeal.[5]
When Lothian & Borders was amalgamated into the new Police Scotland force in 2013, Livingstone was named Deputy Chief Constable for Crime and operations.[9] After being overlooked for the Chief Constable job when Phil Gormley was appointed as the successor to Stephen House in late 2015, he initially remained part of the force executive but in summer 2017 announced his intention to retire in the coming months.[12] He then accepted a request to reconsider his decision after several allegations of misconduct were made against Chief Constable Gormley and the latter was placed on special leave;[13] by September 2017 Livingstone was leading the force on an interim basis. When Gormley resigned in February 2018 to contest the allegations, Livingstone became the frontrunner to succeed him formally.[9][14] The role as Chief Constable from 27 August 2018 carries a four-year term and an annual salary of £216,000.[8 
Lothain and Borders police ?
Hang on…
The Catholic Church has hit out at an ex-police chief who says Roman Catholic schools should have no place in modern Scotland if society is serious about tackling sectarianism.
Former Deputy Chief Constable Tom Wood says religious segregation in schools is no longer appropriate and that it lies at the root of the country's problem with sectarianism.
His comments followed two consecutive weekends of chaos in Glasgow that saw Republican marchers clash with Loyalist protesters.
Ugly scenes led to Glasgow City Council imposing a ban on parades, leading hundreds of Unionist groups – including the Orange Order and Apprentice Boys of Derry – to gather in George Square in protest on Saturday, September 14.
Wood went on to compare the scenes to that of Hong Kong or Paris, while branding the parade ban "stupid". 
Ah, it's probably just a coincidence.
Woods and Livingston did work together, and attended several functions representing the old Lothian and Borders force.
Google it. I did.
But perhaps more relevant is this, from the Clacton and Frinton Gazette, in June of this year..when it appears Livingston was quite keen on protecting the public..
Police Scotland's chief constable has argued protection of the public takes priority over data privacy.
The force is calling for a "fundamentally different approach" to data protection and confidentiality, with "consistent common sense" rules about sharing people's information.
Speaking at the Scottish Police Authority (SPA) board meeting, Chief Constable Iain Livingstone said the force faces challenges implementing general data protection regulations (GDPR) because of issues balancing privacy rights with fulfilling their duty to protect vulnerable people.
"My priority is, and will remain, protection of vulnerable people from risk or threat of harm," he said.
"I'm committed to supporting officers and staff who act in good faith when balancing protection with regulatory compliance."
But not if they live in Glasgow, it appears.
Meanwhile, at least "rangers ", a club often associated with those who will be marching on Saturday , are doing something about one of their players who spat at an opponent last night during the Tunnock Cup clash with Ballymena United..
RANGERS flop Eros Grezda faces a full-scale club probe after being accused of spitting on an opponent.
Ballymena players have claimed the winger spat on Andrew Burns, which led to several angry reactions, including Grezda squaring up to home skipper Jim Ervin.
A spokesman, well, he had a scarf on , said
"Players need to know that spitting at opponents is out of bounds . That's what priests are for. " 
Which brings me to this weeks Etims
Knob of the Week 
After an act of craven cowardice in the face of intimidation, and a dereliction of duty that should lead to calls for his resignation, or dismissal, there can only be one winner..
A disgrace to the law enforcement community, but a positive friend to those who seek to bring anarchy to the streets of Glasgow.
Yesterday, we had this…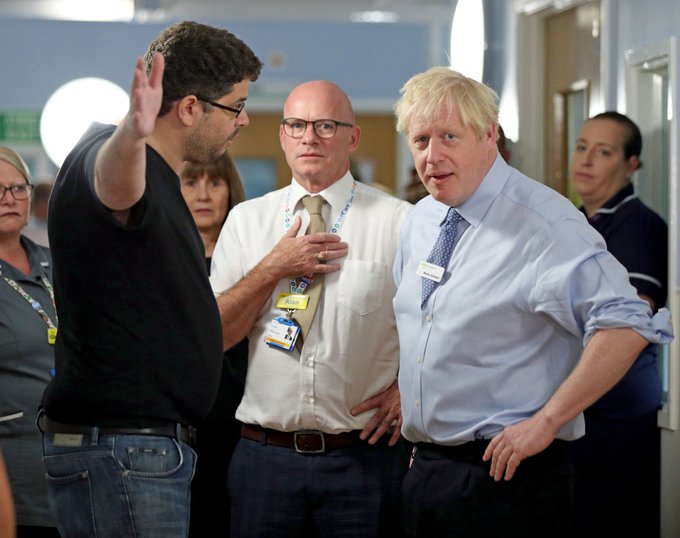 Today..