If we are to conclude that the first part of the season ended with the 2-0 win at Ibrox, then the next phase, which runs until the 30th of December.
One can also assume that there were certain targets for the first phase, Champions League qualification, League cup progression and of course to be top of the league going into the international break.
Two out of three ain't bad, when you take into account the amount of new players playing in a new style under a new manager.
Lennon may have been in charge since February, but the risks were too high for him to try to impose his own ideas on the team, and the transfer window too shut for him to make any changes.
So, going into the Hamilton game on Saturday, followed by four more games this month, what can we reallistically expect, or hope for, from the team ?
The defence, which is now entirely different from the one that secured eight in a row, will continue to learn and grow together as a unit. The introduction of Fraser Forster, a much better organiser than Gordon or Bain, will give the back line more shape, and he also instills confidence in thiose around him. Gone now is the idea of having a sweeper who is allowed to catch the ball, and in comes a man who will prioritise keeping the ball out of the net.
That will allow whichever four are fit enough to play a chance to get to know each other, and work as a unit rather than four players who aren't quite sure what the other three are doing.
After the lesson of Cluj, we might just stop giving away daft goals.
The shape is pretty much the same as it was last year, with two midfielders behind three forwards and one striker, with everyone being told to get the ball back as quickly as they can when they lose it.
What appears to be different is that Celtic will adapt to the game on a match to match basis, as the Edouard kick into touch from the start at Ibrox showed.
Lennon, despite what some would say, is a wily old fox, and has returned much calmer and much more mature than when he left the first time around. Gone are the influences of his old back room team, and perhaps the habits associated with them, and we're getting a much more cerebral manager in his place.
This is why I think he's divided the season up into three parts, with a plan for each. That way, he avoids the hype surrounding a second nine in a row for the club, and that means the players can focus on one game at a time.
Between now and the end of December, if we can remain in pole position domestically, with the League Cup retained on December 7, and round that off with qualification for the knock out stages of the Europa League, then I don't think too many of us will be disappointed.
And there are good reasons to expect the half time season report to look very good indeed.
Celtic now have the strength in depth to play two games a week without a significant drop in quality. That will be important, injuries and fatigue play their part, and it's clear that Lennon will rotate his squad, and so far there has been no noticeable drop in effort or results, which suggests that he is keeping a fairly large squad happy.
That must remain his priority throughout the season, and , of course, the more competitions the club are in, the more chance he has of keeping everyone on their toes.
Domestically, retention of the League Cup is just three victories away. We need this not only because it's a trophy, and part of a possible quadruple treble, but because of the message it sends out to the other teams.
It tells them that there is no intention of slacking off, that Celtic will continue to be ruthless and continue to dominate the domestic scene.
It will also be a proper kick on the goolies to those who lie awake at night dreaming of a first trophy for their favourite club /company.
With the money spent at Ibrox under Steven Gerrard, and the approach of financial disaster, they really need something to cheer, and they will have their eyes on this particular prize, as it will show the rest of us that they are serious contenders, and not the laughing stock we make them out to be.
If that trophy remains at Celtic Park, it will be a massive psychological blow to their season, one from which they might not recover.
If it ends up at ibrox, the boost they get will send morale over there through the roof, although it's probably fair to say it wouldn't take much of anything to get anything through that roof.
The financial infrastructure at Ibrox is in similar shape to the big hoose itself…
A few years ago, we celebrated an invincible season, and there are murmurings that Lennon wants to emulate that.
He's already faced the hardest fixture and come through with it with immense credit, but it's important to remember to treat every game with the same attitude, and if he manages to do that, the momentum of domestic performances will mean that the leap in quality presented by Rennes, Lazio and Cluj shouldn't be too great.
The eight European games so far have seen a couple of outstanding performances, especially away from home, culminating in the performance of the season so far in Stockholm.
When we look back on the season in May, it may well be that we point to that game as the turning point in Lennons second spell in charge, the night when all the plans came together.
We need to remember, this is a new team playing in a new way under a new manager, and Cluj apart, he's doing a tremendous job under an awful lot of pressure.
And he's hardly had any tantrums…
One of the most pleasing aspects of the season so far is the emergence of Oddsone Edoaurd as a genuine class act.
He has made a couple of appearances for the young French side this week, and has scored four goals. Which, in turn means that eyes will be upon him, and there is every possibility of a bid coming in during the winter, and if not, it's certain there will be in the summer.
After his two goals last night, Edouard appeared on the television and gave his thoughts, translated here by Celtic France on twitter..
It's a big pleasure and pride to score, his goals give him confidence for future. He wants to be a leader on and off the pitch for France U21. He thinks at the Olympics he wants to show his capabilities in each game. He also said he works hard with us and he's always a PSG fan
Ah.
The Olympics.
So we might want to start planning for next seasons UCL qualifiers now, as the Olympics run at the same time ( June 22-July 8 )as our qualifying campaign.
Unless we win the Europa,  that is.
Celtic may want to consider an improved contract, in that way his value will increase come the inevitable move to one of the big leagues… and buy him some flowers or something.
There's a video of Jordan Jones, the fellow who hurt himself trying to hurt Mauritz Bauer at Ibrox, doing the rounds.
In it, he sings the Celtic Symphony, clearly a bid to get himself out of his Ibrox contract, which was probably already on their agenda when he went and got himself injured pathetically trying to appease the crowd, who at that point weren't aware of his vocal talents.
They are now, and nothing short of riding a white horse across Celtic Park bearing the standard of King Billy himself will win him a place in their ever darkening hearts.
Still, they have plenty to cheer about having managed to get more viewers to their You Tube channel and more people interested looking at their strips to see if they match.
Some of those press puffs were ridiculous, which allowed for thise of a certain humour and talent to make it increasingly difficult to spot the real news stories from the, er,  fake ones.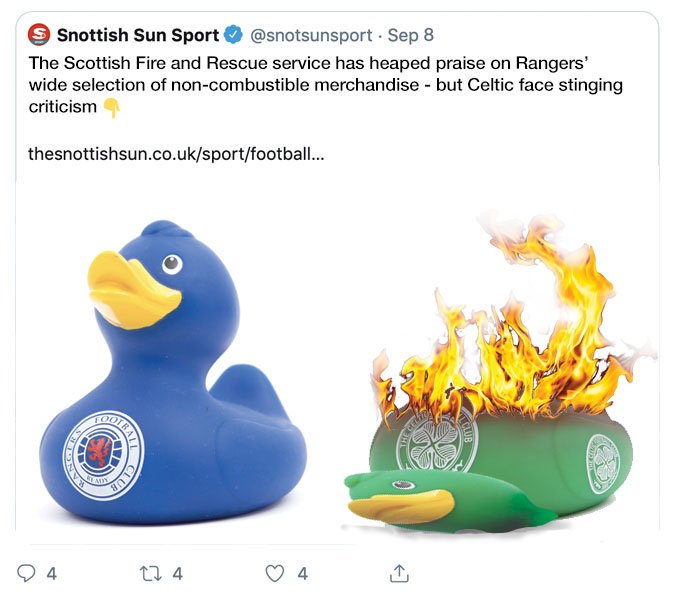 Or guff such as this, in the Record, form Ben Ramage…
Rangers star Steven Davis compared to Cristiano Ronaldo as he prepares to break cap record
It's clear they are worried, and if I'm correct in thinking that Lennon has a plan, and a desire for another invincible season, then the League Cup should be our next target, because I've a feeling that it's their target, and that a failure for them in that tournament could see significant problems for the new club, which is always good for a laugh.
On Sunday, we showed you this and asked for witty or thoughtful replies..