The Daily Star had theior own take on the abuse that Scott Brown received from a teenage boy outside Ibrox after Sundays game..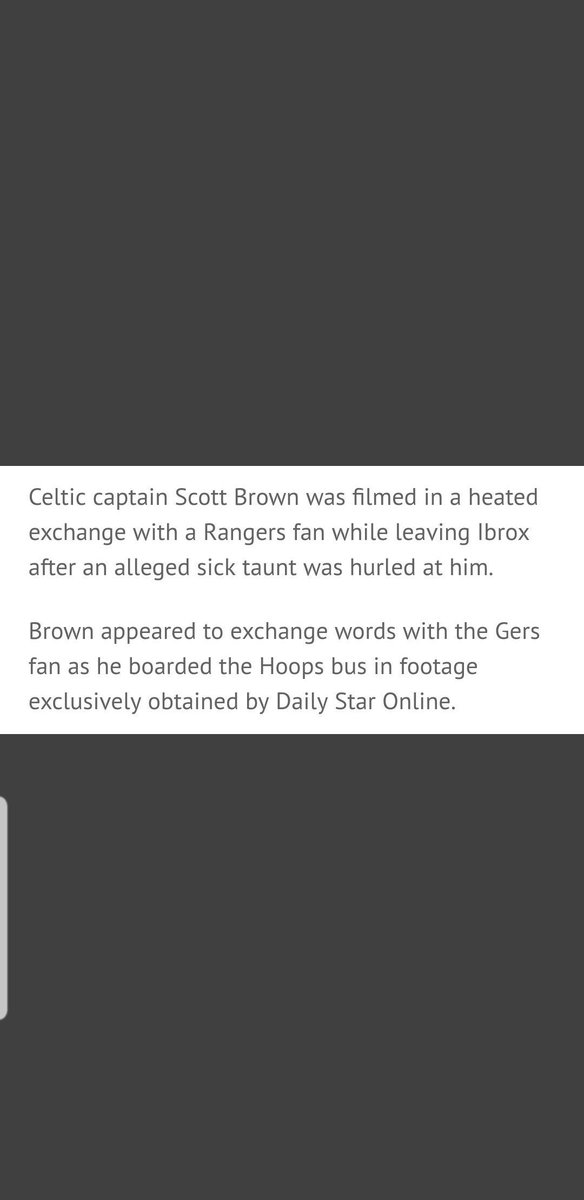 Their footage certainly seems to be exclusive, as any footage that I've seen does not feature a heated exchange, which suggests the writer either hasn;t seen it himself, or simply saw the words Scott Brown and figured he'd have a go at him anyway.
Then again, it's the Daily Star, a frighteningly absurd publication that panders to an audience that finds the Sun too upmarket.
However, it appears the Sun has either a new editor or the one they've got has gone on holiday.
In the wake of the atrocious comments made to Broan, they've gone back to being a newspaper-arguably "gone back" ,that is…and started a campaign to
I'm one of the first to criticise the media, but praise must also be handed out when it's earned.
SCOTTISH football is bursting at the seams with passion, skill, entertainment, humour, controversy and yes even a few cock-ups.
Unfortunately, it also has its share of mindless morons. 
I'm not entirely sure that this isn't the fourth estate having a little outburst of self deprecatory humour here..but i think the mindless morons referred to are supporters, and not journalists.. 
The shocking abuse aimed at Celtic captain Scott Brown after Sunday's Old Firm clash sickened every single right-thinking fan.
It left us shaking our heads in disgust. Or shaking them in disbelief at how people who claim to love the same game we do are willing to drag it into the gutter, seemingly without a second thought.
But the sad fact is that it's just the latest in a long list of shameful flashpoints.
Last season was scarred by incidents of sectarian and racist abuse, missiles chucked at players, abuse over mental health issues, sickening online insults aimed at individuals or their families and fans confronting – and even punching – players.
Ex-players, managers and referees have also come under attack.
We DON'T want a repeat this season.
It's time for every decent football supporter to make a stand and let the men who entertain us – or frustrate us – every week know that we won't stand for such behaviour.
It shouldn't even need said, but there is a difference between showing passion for your team and the kind of repulsive incidents that seem to be getting more common.
Everyone has screamed at an opposition player whether it be at the game or on the couch watching the telly.
Shouting at your rivals is the flip side of roaring with joy when your team scores and is every bit as much a part of the game.
For many of us, it's the part we are far more familiar with!
We never want healthy rivalry to end. 
But there is a minority of yobs who take it way, way too far.
And we've all had enough – fans, players, managers, backroom staff, club officials and referees.
It seems as if respect for our players has been lost somewhere along the line.
Don't forget, while some – but not all – of these players earn more money than most of us could count they are still young people finding their way in the world.
Yes, they are living their dream as professional footballers. But they have dedicated every single day since they were old enough to kick a ball to make sure they got there.
Yet, where once there was a kid with big hopes, they are now viewed as legitimate targets for abuse in the minds of too many.
These footballers are the people who stop for selfies with a countless stream of fans before and after every match and when they are out with their friends and families.
They also do so much work, mostly unseen, to raise money for charity and visit those down on their luck and in real need of a pick-me-up. 
We should also remember they fall into the age group most at risk from mental health issues.
Yeah, we know they're not all perfect, but no one is.
Let's not let the mindless minority ruin it for them – or for the rest of us.
Because make no mistake, the continual abuse of players threatens to ruin the game for everyone who lives and breathes it.
That's why we are demanding the idiots stop NOW and asking every real fan to back our campaign.
It's easy to feel powerless.
But we must never give up.
We know the good far outweighs the bad in Scottish football. 
I've copied that in full, and would like to suggest that if this campaign is taken up and supported, the effect could be far, far greater than anticipated.
Allow me, if you will, to consider something out loud, and try to look at the bigger picture here.
If something brings supporters together and stops them trying to score points off each other, it could lead to them coming together to try to sort out other issues in the game.
The media narrative, encouraged by those whom it suits to have us fighting amongst ourselves, has been to ignore corruption, collusion and incompetence, a combination of which has seen an industry which commands radio, television, print and online exposure, with thousands and thousands of active supporters paying money on a weekly basis to support their "brand " all over the country, actually not have a sponsor for it's main competition.
Think about that, and whilst I'm no fan of the Sun, at this point anything that tries to improve the image of our game, with a possibility of a snowball effect when it gets going, has my fullest support.
Consider their approach to football, as opposed to the guff that the Record continues to print, via the fat controller
Take Mark McDougall, who clearly has his sights on Keith Jacksons job…
Rangers star Ryan Kent named as one of Europe's top 10 value for money signings
The talented winger was a deadline day signing for Steven Gerrard and is already earning praise.
He's the second most expensive Rangers signing in history but Ryan Kent is already being tipped for big things.
The winger joined from Liverpool on transfer deadline day and he's been included alongside some quality players as bargain of the summer.
Given the money spent on him, he's expected to be Rangers key man this season and Steven Gerrard will be hoping he can continue where he left of.
And in a list compiled by the Guardian, Kent has been named as one of European football's top 10 value for money signings from this summer. 
McDougall, of course , is the man who predicted a 4-0 win for his team at Ibrox, so he clearly knows his stuff.
Yet his reaction on twitter suggests he's somewhat embarrassed by the article, which he presumably hasn't read since he sent it to the fat controller for clearance..
Did you read it? Nowhere did I say he was one of the top 10.
Kent did little of note last season, and there is nothing to suggest he will be a "key man ". However, there is every chance he will "continue where he left off " and achieve nothing.
It's difficult not to feel for Kent, who clearly thinks he's landed on his feet in Glasgow. Failure to perform will see him landing on his arse, and from a great height.
You'd think after having so many "messiahs " at Ibrox in the last seven years they'd be able to spot when they were being sold a pup…
It's Friday, and after a long absence, it's time to nominate this weeks Etims
Knob of the Week 
In fact, this guy could well go on and be a leading contender for Knob of the 21st Century.
And I'm enjoying every minute of it…
In fact, the longer this man is forced to hang on and make an arse of it because his ego won't allow him to resign , the better.
But thats me,. in victory, malice, in defeat, revenge..
Yesterday, we had this…