We'll come to that in a minute, and you'll see why the media have focused on tom Boyd for a week or so, and how his comments were lined up to make a case for the two sides of the same coin argument, but they have been forgotten now,and you'll see why…but first,  the news from the ranch…
Jack Hendry looks to be the next Celtic player to follow the first dozen out of the door as the austerity programme begins to bite even further.
The initial exodus, which was mostly players who were out of contract took place as soon as it could, after the season ended, and the second one, with only a week or so of the window to go, is more or less underway.
Several Scottish clubs are interested in taking the defender on loan, and its a loan because the lad does have a future at Celtic, he just needs a wee bit of time away from the pressure of Celtic Park to get back on track.
With Kilmarnock doing such sterling work on Kris Ajer a couple of years ago, and Greg Taylor telling everyone who'll listen that he thinks he would look great in the hoops, it doesn't take much to work out what will happen next.
Taylor didn't train yesterday, having decided to save his next training injury for the lush carpets at Lennoxtown.
Anyone else on the way out ?
Probably.
Anyone else on the way in ?
Probably.
Anything likely to get us all tingly ?
Nope, we don't do tingly any more.
Manager Neil Lennon talked of a significant change in the attitude of the support to new players, without actually criticising the support, he kind of asked them to be a little more patient with the new players, who have looked a little rabbity in the headlights at times…
"The expectation here does take your breath away – more so than ever.
"I have noticed a discernible change since I came back and I don't know how you can prepare a player for that. Especially when you come from a different country, a different tempo of play and a different climate, as well.
"But they showed a bit of character on Thursday night which pleased me. 
It pleased all of us.
"I have told them a few stories about my time as a player. It isn't exclusive to this group. It has been like this for aeons.
"It wasn't always a cakewalk for me, either, it wasn't always a cakewalk even for the great players here. Everybody got a touch of it now and again.
"I brought that pass back up for them. I wasn't too chuffed about the reaction to that one. I dealt with it by getting angry.
"Look, it happens. They don't mean it. It is an instinctive reaction at times because they want the team to do well.
"While it is not nice, you just have to accept it sometimes and deal with it." 
In fairness to Lennon, when our support are a little jumpy, as they are now, down largely due to an incessant Celts in Crisis campaign from the media, there can be little doubt that no other manager would be able to talk a player through what its like to play in front of the greatest fans in the world.
However, it can't be nice for a new guy to face the kind of vitriol that has been dished on Jullien and Boli after just a couple of weeks in the hoops.
What we need to remember is this squad, and there will be one or two more changes, have just net each other and are just getting to know how each other works.
For those who disagree, consider the case of Teemu Pukki. He wasn't given any sort of time to get used to things in Glasgow, and was bombed out after just a few games. Now he's this seasons leading goalscorer in the English Premier League, and whilst he'll probably be overtaken, he will still go from strength to strength.
Patience is the key, we are where we are.
Whilst we can rightly argue that it should not have been like this, and the squad should have been worked on from January, there are circumstances that have put us where we are.
The important thing is that so far, there has only really been one lapse that has been costly , granted a big one, but we'll survive, and as a team they do look as though they have come through it.
Thats despite all the changes, and all the internal problems that have been ongoing since around last Christmas.
Which leads us to the Hearts game tomorrow, which would have been today if not for Cluj…
Another three points and a scintillating performance ?
You'd like to think so, and there's no reason why it shouldn't be so.
A chance to try a few different things, such as formations and faces ?
Perhaps we'll see Shved and Griffiths, and it's almost certain Nir Biton will start, probably in place of Scott Brown, who seems to be toiling, even this early, but then again, that may be a combination of both mental and physical effort catching up with him.
It's been a fairly intense start to the season, and maybe now a little bit of the pressure can be released, and the team should be a little less afraid of making mistakes.
Unless you were on the moon yesterday, you'll have noticed that "rangers " were told by UEFA to close a section of their ground as a result of yet another instance of racist or sectarian behaviour.
There's a powerful piece on this from Auldheid that will be on here at 1pm, so I'll just limit myself to the reaction, rather than the serious points that this ban raises.
The reaction shows that their support, their club and their pals in the media have completely missed the point.
The club released a statement.
RANGERS has been ordered by UEFA to close a section of Ibrox Stadium for the return leg of the club's Europa League play-off tie against Legia Warsaw on Thursday, August 29.
UEFA has ruled that a group of Rangers supporters were guilty of racist behaviour – which includes sectarian singing – during the match against St Joseph's at Ibrox on July 18.
Our supporters have been asked repeatedly by the Club to refrain from indulging in this, and other forms of unacceptable behaviour. Sadly, the warnings have fallen on deaf ears and the actions of this minority will cause the Club and the majority of good and decent Rangers supporters to pay a heavy penalty.
UEFA has ruled that a section, or sections containing no fewer than 3000 seats must be shut off during the club's next European match, which is the home match against Legia Warsaw. The area, or areas to be closed will be announced in due course and the Club will do its best to restrict the impact to offending supporters. 
they probably could have worded this bit a little better…the offending supporters are the one's who got them into this mess, so why would they want to restrict the impact on them. One tends to think this statement was somewhat hastily put together.
Unfortunately a significant number of supporters, innocent of any wrong doing, will be unable to attend next week's match. This is deeply regrettable to all at the Club and we hope that the guilty parties, who attracted the attention of UEFA might reflect on the damage their unacceptable behaviour is causing Rangers and their fellow supporters.
If any individual supporter is unable to behave in a civilised manner then please stay away from Ibrox and our Club. You are harming Rangers and that is something a genuine supporter would never wish to do.
Rangers chairman Dave King stated: "Rangers is a club open to all and we will continue to convey this message at every opportunity through our Everyone Anyone initiative.
"Rangers has players and supporters from many religions, cultures and backgrounds but we are one and the same when we gather to support our club. If any supporter cannot accept that then Rangers is not the club for them".
The Anyone Everyone inititave now looks like it was brought in purely as a respnse to this charge, which they would have known about for some time, as indeed would the media, so one wonders why it wasn't reported on before, and why there seems to be an element of surprise at the punishment.
The media were quick to condemn the actions of the fans, and praise the statement from the club. Not because their songs of hatred are unacceptable in any civilised society, but because it harms the club, which itself should be unacceptable in any civilised society.
Tom English, who really is losing credibility by the hour, said;
Strict liability at work. Strong response from Rangers. A serious deterrent now in place with the possibility of full stadium closure if sectarianism continues. This is how it should be done.
Strong response ? All they did was say it harms the club. no condemnation of racist and sectarian behaviour. No words at all about the element of their support that resides in the seventeenth century.
Still, he does say it's how it should be done…though clearly not in Scotland , where the same offences are committed by the same people at the same place.. and his message, don't do it, because you'll get your stadium closed.
Not because its a symptom of a diseased mind, but because it'll get your stadium closed.
a sentiment echoed by chris MacLaughlin, also of the BBC..
#Rangers
message to fans: If any individual supporter is unable to behave in a civilised manner then please stay away from Ibrox and our Club. You are harming Rangers and that is something a genuine supporter would never wish to do. 
All about harming "rangers "…instead of calling them out for what they do.
Show Racism the Red Card, now you'd expect them to call them out, wouldn;t you ? After all, isn;t that why they were set up ?  On twitter, they describe themselves as an..
Anti-racism educational charity utilising the high profile status of football & football players to help tackle racism and sectarianism 
Okay, guys, go for it…
ShowRacismtheRedCard | Scotland
UEFA has found a group of Rangers supporters guilty of racist behaviour – which includes sectarian singing
"Rangers has players & supporters from many religions, cultures and backgrounds. If any supporter can not accept that then Rangers is not the club for them." –
Yeah, that'll teach them.
That charity is a disgrace. Full stop. They just quoted "rangers ", instead of condemning them…which cannot , by any stretch of the imagination, be described as..
 utilising the high profile status of football & football players to help tackle racism and sectarianism 
and then there's the fans…who kind of proved my point… from the downright stupid..
through the defiant… and, er, stupid…

to the revolutionary…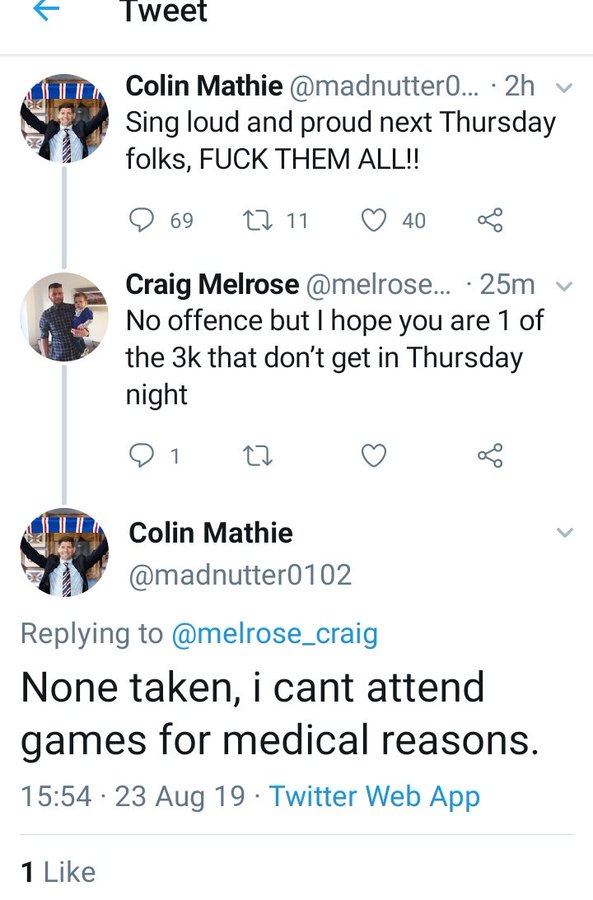 to the paranoid…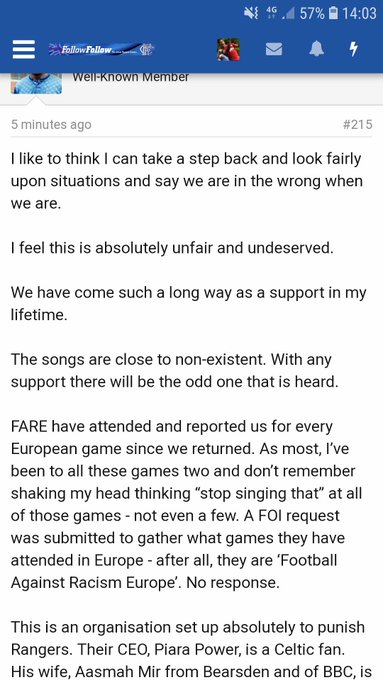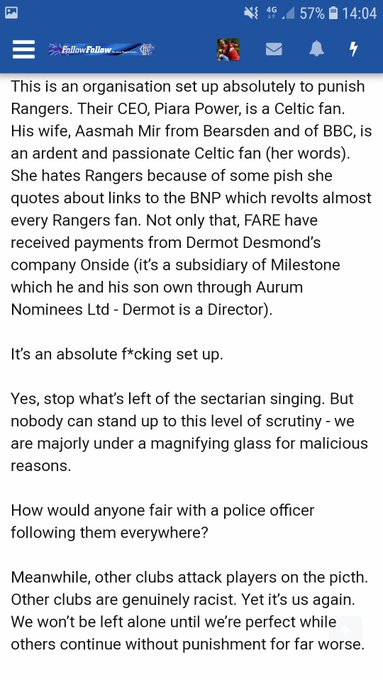 to the dangerous..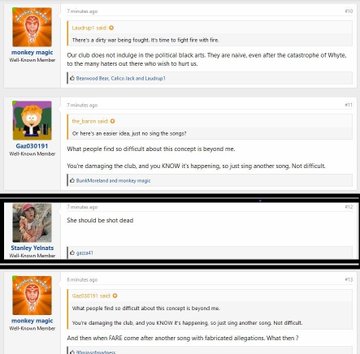 Banned from the ground ? They should be rounded up and banned from society.
I'm sure the media, the SFA and the governmnent will be releasing their statements soon to remiove any doubt about what the real problem is quite soon.
And no doubt the board of that club will condemn their fans for what they are.. and stop making excuses..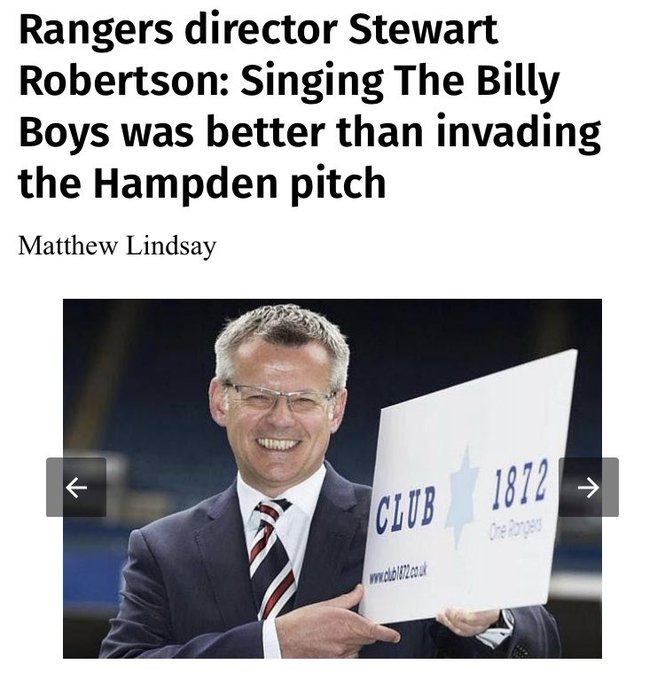 And the police, well, surely they'll be taking the suggestion that someone should be shot dead quite seriously… especially as the hordes have turned their attention to Gary O'Hagen, the UEFA man who reported the singing… he's on the board of Kilmarnock, and thy're trying toi attach the punishment to some sort of retribution for their behaviour at Rugby Park..
The snide undertone here is clear, obvious & dangerous, the UEFA delegate at the game wasn't acting Kilmarnock CEO until the following week & the game was 17 days before Rangers fans caused havoc at Rugby Park. Own it & condemn it, don't act like you've been unfairly targeted.
https://

twitter.com/4ladshadadream

/status/1164940370041540608
I'm sure the police will be all over this, before someone gets hurt. Like they did with  John Beaton, which whilst  a nonsense, shows they take this sort of thing seriously.
This is serious, someone could get hurt, or worse.
Of course, one of their fans, in his defence , did admit to it being an ongoing problem…
Both clubs are just as bad as one another let that be a lesson that UEFA will not put up with it hopefully this is a wake up call to all who call themselves fans
He meant both Ibrox clubs, right ?
Think about this, a summary from KDS forum.. because let's face it, the media won;t mention it..
Stolen from KDS So far this season
Nearly had a theatre closed down
Had an employee butting a Hibs Supporter.
Had a Uefa partial close down of their stadium.
Just 2 league games into the season
Still, they're fighting back, employing whats clearly one of the nations finest legal minds…
Lets take this to ridiculous levels of logic for a moment. Indulge me. How do they know it was Rangers supporters singing these allegedly racist songs? This exposes the stupidity of the sanction. A fine? Yeah that makes sense. But to close out 3000 innocent supporters?
The the police, Scottish government, and the SFa cannot ignore this incident and its possible consequences any longer.
But there's a feeling they will…because they have for several decades…
Back then, though, journalists were journalists, and not afraid to tell it like it is…
Caption comeptition from yesterday..
today..