Celtic gave themselves a better than average chance of securing Europa league group stage football last night with a 2-0 over an AIK Stockholm side who wouldn;t have looked out of place in the Scottish league.
Their plan seemed to be to do very little and try to make Celtic do very little. And if Celtic looked like doing anything , then one of theirs would fall over and force the referee to stop the game. Though to be fair, Christophe Jullien helped one of them to do just that by grabbing his throat as he ran pas him.In the penalty area.
Had the officials not been so bewilderingly poor, that could have been costly.
And they were poor, and we believe Celtic may be on a UEFA charge after it was discovered that Tom Boyd offered his assessment of them, which somehow found its way onto the team sheet…
Celtic had a number of players back in their natural positions, which allowed for a cohesion that wasn't there last week. Stockholm didn;t actually look that good, and weren;t overly adventurous, which helped, but there was still the job of putting the ball into the net to be done.
It took until the second half for a gap to appear and up stepped James Forrest to hit the ball so hard that the goalkeeper probably wished he'd moved out of the way of it. He got his hamds to it, but the ball kept going anyway and ended up over the line.
The relief was instantaneous, and from that point it was almost inevitable there would be more goals, and Mikey johnston, who was bundled off the ball every time he ran at defenders, finally got the free kick he deserved and Oddsone Edoaurd placed the ball beyond the keeper.
2-0, and there could have been more, but Celtic decided to bring on Lewis Morgan and Vakoun Bayo, which meant that a forward line that could get a game anywhere in Scotland wasn't used. Shved, Griffiths Sinclair.
So, the squad does have some depth, and when you factor in the arrival of Fraser Forster on loan for a year with an option to buy, perhaps the plan is starting to come together. Forster is an experienced international keeper who is still only 31. It's his second loan spell at Celtic, and if he performs like he did during his first one, under the eye of his mentor Stevie Woods, then we will buy him and he'll be around for a while.
Last nights result does put Celtic in the driving seat, and this team should score over there as well, and one goal for Celtic would mean Stockholm have to score four, and it's been well over a week since anyone breached our rearguard four times…
So it's maybe not time to start celebrating yet, but there's certainly an excuse for getting a few extra beers in.
Manager Lennon said after the game;
"It's an outstanding performance, a great team performance. We played particularly well in the first-half, but, in the second-half, we had real good control of the game. We could have scored more. 
Given the criticism that he has had over the last week, it was hard to tell whether he spoke with relief or just indifference. Whilst he is an experienced Celtic manager, and thus less likely to be affected by the criticism, it appears that the new , calmer Neil Lennon isn't anywhere near as much fun as the old firebrand one.
Though thats of considerably less importance than getting results.
The Green Brigade, those delightful young ruffians who are still young enough to stand up all the way through the game, had a banner on display that warned of the dangers of complacency, which may well be creeping in..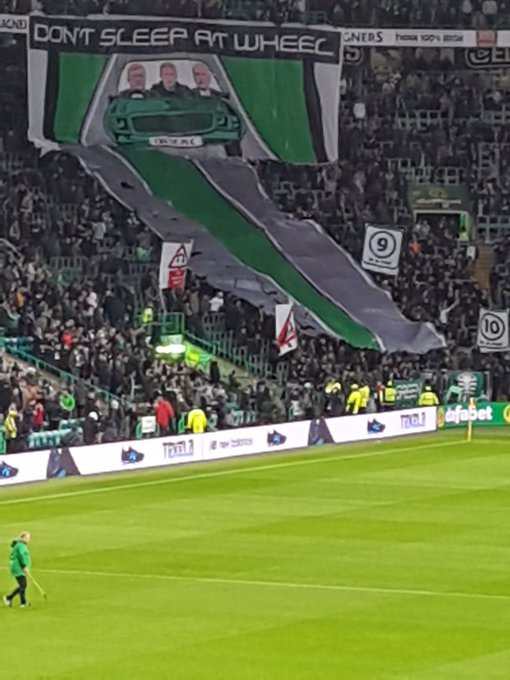 This mirrors the feelings of most Celtic fans, as in getting to eight in a row there's a sense that the mountain has been climbed, but to paraphrase Billy McNeill on the Feyenoord game in 1970, we could do wothout stumbling over the molehill at the top.
That means a higher level of focus is necessary, which may well be the case now after the Cluj debacle has gioven everyone a collective kick up the arse.
Scott Sinclair was absent last night, and it appears that his £35,000 a week is too much for Lawwell to stomach. Lennon wanted Sinclair to stay, telling him that he was a big part of his plans for this season, hence the extension, but that threw Peter into a pickle, and Sinclair is being frozen out.
Lennon is doing as he is told, which is another indicator of his new found maturity. You can't blame him, he doesn't have his own backroom staff to support him, as that , too, was forbidden, and may well feel a little isolated.
If the support continue to turn on him, then we could be in trouble.
Speaking of high wages, Marvin Comperr did alright out of his eighteen month tint on the treatment table.
£36,000 a week he was on, and whoever came up with that offer probably isn't at the club any more.
And we hear his wife has banned him from Ebay auctions as well.
Whilst it's difficult to condone the tightening of the purse strings, it's not hard to see why Lawwell, who guards each penny as though it were his own, is reluctant to let managers take control of the finances.
Don't forget, he also allowed rodgers to turn down £9m for Dedryck Boyata when it was clear the player wanted away,only to lose him after several forgettable performance last season as soon as the window opened this summer.
Supporters often mention the money banked from recent sales, but when you consider the money laid out in wages, signing on fees, contract extensions , bonuses and other miscellaneous outgoings, there is probably considerably less in the account than we think.
There's certainly less than we would like. And the Cluj fiasco hasn't helped.
Scotland national co-efficient received a boost last night…as Darren cooney in the Record trumpeted..
Celtic and Rangers boost Scotland's coefficient as extra Champions League place begins to look real possibility
He's way ahead of himself here, but progress has been made, and there is a more realistic chance that in a couple of years, the champions might not have to play in the first round qualifier.
"rangers 2 earned a draw in Warsaw last night, but for some reason there wan;t a lot of shirt swapping going on. Obviously, with the Glasgow club having to have their kits custom made due to certain legal restrictions, they would be loath to part with them anyway, but one wonders if there was another reason…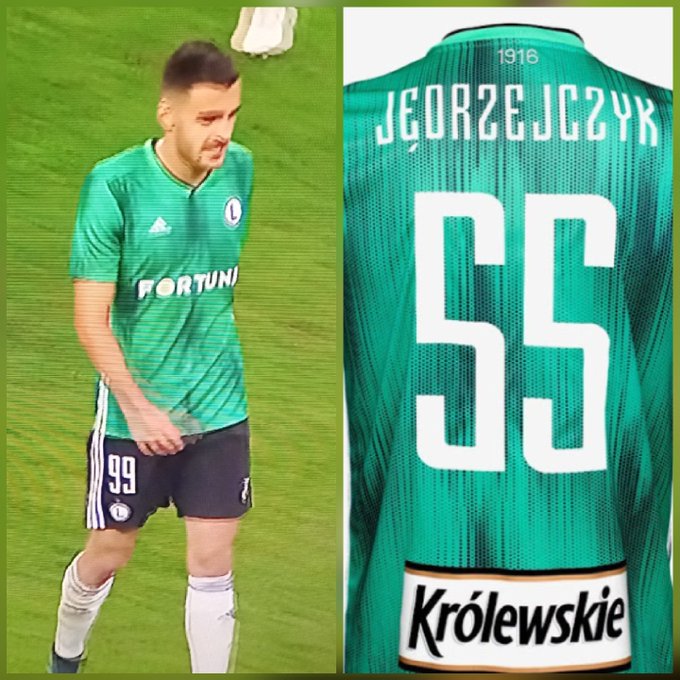 Despite that, they are definitely a club on the up.
Rangers FC and the Rangers Charity Foundation are delighted to have become the first football club and club charity in the UK to receive the Ministry of Defence's 'Employer Recognition Scheme Gold Award'. MORE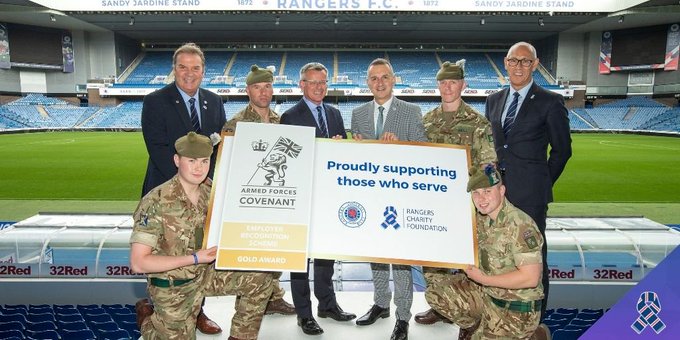 RFC Charity director Director, Connal Cochrane:
"Receiving this special award is terrific news. There are so many ways in which we've been proud to make a difference including raising over £180,000 for forces related charities."
Once, they raised about five grand from just fifty thousand fans at a match. Staunch.
Oh, and the poppy people told them to stop selling fake poppies .
Elsewhere, and we hear that £3m is the price to pay for Greg Taylor of Kilmarnock. but we'll trade in Jack Hendry and cut some sort of deal.
Reports from Poland suggest that Robert Gumny, the Lech Poznan right back is on his way for arounf £5m, but reports actually in Poland, a Poznan newspaper, to be more precise,  suggest otherwise..
Lech Poznań doesn't have an offer for Robert Gumny on the table. Will cup matches be decided?
Celtic Glasgow and no other club offered Lech Poznań big money for Robert Gumny. If they are considering such a transfer, they have not reached the offer submission stage yet.
Apart from Taylor, and maybe McKenna, I think we're done for the summer….my only concern is there may yet be offers we won't refuse for a couple of key players.
Real offers, that is.
Other than that, I reckon we are all breathing a little easier now last nights game is out of the way.
Yesterday, the caption competition featured this delicate little flower…