There seems to be an underlying panic about the recent lull in transfer activity.
Though not over the proposed loan move for Jack Hendry-remember him?-who is being eyed by Kilmarnock and Motherwell.
The word is Hendry will be used as a makeweight or bargaining chip in a deal to secure another player, be it Greg Taylor or Scott McKenna.
You'll note that McKenna is still at Aberdeen, despite handing in a transfer request, and the two Kilmarnock targets haven't moved yet either.
We expect three more signings, and you'll note that McKenna is still at Aberdeen, despite handing in a transfer request, and the two Kilmarnock targets haven't moved yet either.
Before you scream about shopping locally on the cheap, consider this…John McGinn.
He's gone on to do quite well, as did James McCarthy, another who slipped through the net. And one you can definitely blame on Lawwell, who more or less did the deal, and then promised to phone McCarthy to confirm.
Perhaps he'd ran out of credit..
If Brexit goes through, and this must be on the minds of those at Celtic, there's a real possibility that foreign players, who come over here and take all our jobs, will be deported, interned or even rounded up at night in black vans and thrown over the side of a cross channel ferry.
Where we, as supporters, demand signings, they, as businessmen, must consider all the possibilities when spending millions of pounds.
Personally, if Britain does withdraw from civilised society on October 31, I'll enjoy watching all the little Englanders finding out there's no doctors, no nurses, no medicine , no food and more inportantly, no EPL because they've sent most of the workers home.
Those in charge of scouting and recruitment at Celtic, if, indeed, anyone is, cannot win.
If they sign a Scot, they're accused of not spreading the net wide enough and downsizing. If they don't, and someone else buys him and he does well, they're accused of not paying the going rate for him, which, of course was the going rate before they went on to improve elsewhere.
It's a tough call that got considerably tougher with the exit from the Champions League. Football at that level was a major selling point for the club, with ambitious youngsters able to play on the biggest stage of all much sooner than they would ordinarily.
Then there's the fact that the Scottish league gets little exposure in itself, and is talked down by it's nearest neighbour in England. We've all heard the pub league jibes and the English mainstream media, intent on comparing their league-55 million potential customers, with ours, 5 million.
You don't see the Germans or Spanish comparing themselves with Austria or Portugal to make themselves feel more secure.
And thats before we start on the wage difference, which forces Celtic to pay more to players who simply aren't worth it.
We're stuck between a rock and a hard place, and until someone goes cap in hand to John Park and asks him to come back, it will remain thus.
Which is why the backroom staff does need a shake up. If only to allow Lennon a chance to truly make this team his own. At least then, if he blows it, he will be entirely responsible. As it stands now, the support is divided, Tom Boyd apart, over who is to blame for the way things appear to be at the club.
Although thats easy, because as we know, Lawwell controls the money, and in any organisation, the man with the money has the final say.
And it's not just the staff. There are a few pieces of tittle tattle , not confirmed, that suggest the players are disappointed with the new methods employed by Lennon and his team. Although he promised to keep the much improved set up that was instilled by Brendan Rodgers, it appears he hasn't.
Two key players are rumoured to want away, whilst another has had a chat with the manager about perhaps getting things back to the way they were.
So, thats the cheerful bit done.
Well, almost. Bjorn Tvore Kvarme is the agent for reputed Celtic target Birger Melling, who is on the radar of most fans having played quite well against Celtic for Rosenberg, and he put their gas at a peep by saying;
Birger will probably move on at some point. But they are still playing to get into the Champions League so that may influence things as well."
"In general, it is always interesting for players to go to bigger leagues to play for bigger clubs. You just have to find the right moment. But if Rosenborg get into the Champions League that is interesting for Birger as well.
On that basis, perhaps we should be a little more patient with the club. We can have a moan when the window shuts.
In the meantime, I'd suggest we take all of the media stories about us missing out on targets with a pinch of salt.. as we have seen, they love a chance to make Celtic fans miserable, and if they can;t find one, they'll concoct one.
On the subject of Scottish football, despite what everyone else says, it's hard not to love it..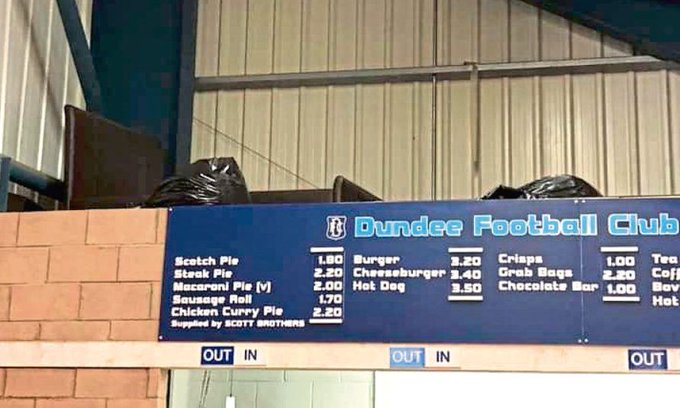 As Aberdeen fans queued for their half-time refreshments in the Bob Shankly Stand during the weekend Betfred Cup game against Dundee, they were surprised to see a large bed frame and a number of black rubbish bags on the roof of the pie stall.
The club launched an investigation into the bizarre incident and claimed it had been an error by stadium staff.
Where were they supposed to put it ?
And then there was this..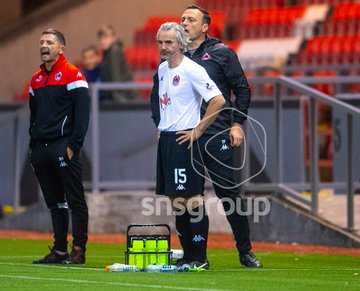 During their 3-1 win over Celtic Colts, Clyde brought on Danny Lennon, who is fifty years old. Steven Gerrard has enquired about his availability.
By the way, there's no sign that "rangers " have paid Mike Ashley the money the court said they had to. That could get messy.
Celtic will face AIK Stockholm in their seventh European game of the season, and their first in the Europa League tomorrow night at Celtic Park.
So far, ticket sales don't look good, with the ground expected to be only half full.
However, they are ranked 237 in the current UEFA rankings, level , coincidentally , with Nomme Kalju, who Celtic beat before the Cluj catastrophe. Grounds for optimism ?
Right now, I'll take anything.
There are far too many negative stories out there, and far too many of us willing to believe them.
Whats needed is a clear the air with the players, and the manager to listen to and respond positively to any criticism from within.
Lennon may be coasting onto the rocks, and he can't say the warning signs weren't there.
Of course, all of this will go away with a convincing win tomorrow night…which would be the best way toi silence the critics.
Get it right…and then one day we can look back and laugh.
Yesterday, we had this…
Today…
Finally, the last word for now on John "Cheatin " Beaton.. for now, at least…