Here we go again.
The fifth qualifier in five weeks and they certainly seem to come around fast.
but despite the travelling, despite the pressure and despite a mainstream media hell bent on throwing a spanner into the work being done by the new manager, Celtic can be reasonably confident of returning from Romania with at the very least a chance of progressing to the play offs.
Cluj are a side who demand respect, but it was nice to see among all the hullaballoo that their manager, former Chelsea man Dan Petrescu, has ignored all the Scottish papers..
"It is not going to be easy, but sometimes miracles could happen – even Leicester winning the league and even Unirea Urziceni winning the league and then beating Glasgow Rangers 4-1 away," 
"I'm sure we need a perfect game in both legs." 
Our spirit is good," 
"We have players of 34, 35, 36 years old who will start tomorrow and it is not easy for them to play three games in a week.
"They have experience, they know how to play and hopefully they can keep pace with the young players of Celtic." 
Ah, he's not falling for that long ball nonsense spouted by the former Rangers player the other day then..thats a blow.
Or is it all part of an elaborate double bluff by the Scottish media, who have really been right behind us all the time ?
"In official games, they have scored 19 goals," 
"That is not easy – it doesn't matter who is the opposition.
"Maybe Sarajevo and the team from Estonia are not good compared to Cluj, but still they are champions of their country and Celtic destroyed them in both games."
"They have something like the style of Ajax. They don't play long balls, play only short balls, pass all the time.
"They try to play good football and they have very good speed in midfield and attack – not only for goals but also to think.
"We have to make our best game ever and be fantastic in both games." 
From that, my guess is they will pack the midfield and try to stifle the game, whilst playing a long ball game of their own.
Incidentally, Petrescu has revealed that he was very close to becoming the manager of Celtic..according to the Evening Times…
"It was a friend of mine who invited me to Scotland," 
"I told this agent that I was really interested in being the coach of Celtic but I had a good contract and I didn't want to leave my club. I was at Dinamo Moscow. I know Celtic came with a good offer for me, but unfortunately for me it was the wrong time. 
"I don't know who called me, I don't remember. Somebody from the club, I don't remember who it was. Was I close to taking the job? Very close. Very close. That would been fantastic for me. It's a great club. I think everybody in the world would want to coach Celtic, all the coaches." 
Someone at a club " everybody in the world would want to coach "  at rang him, and asked him if he wanted the job, but he can't remember who ?
Excuse me if I don't feel I should take him entirely at his word on this one..
If I remember correctly he got his own tv show on channel 4 instead..
Pet Rescue was a British daytime TV series broadcast on Channel 4. Launched in January 1997, it chronicled various pets and animals being rescued, cared for, and then either rehoused or returned to the wild.
Produced by Bazal Productions/Endemol for Channel 4, and with a theme tune penned by Simon May, it ran to a set format, which developed little over time: 
( If fact checking like that doesn't get you a job in the mainstream media then it's time to give up-Ed )
Football Scotland have spoken to a Romanian journalist, and from reading that, I'd venture a guess we'll see a lot of Romanian players trying to win free kicks in the final third, which in turn means we'll finally get to see how the new look defence performs.
Celtic , however, are on form. Five games, five wins and nineteen goals.
We'd all have settled for that when this run started, and then there's the added bonus of a team that is not only playing well together, but seems to enjoy playing well together.
Key players, such as Oddsone Edouard and Ryan christie Again are on form, and the team looks settled, with everyone comfortable in their own skin.
Sure, there are a few bits that need to be tightened up on, but everyone is pulling in the same direction, and thats as much as we can realistically ask for at this stage of the season.
Neil Lennon, a vastly more experienced and capable manager at this level than the previous incumbent, isn't fooled by what he called "mind games ".. 
"Dan's trying to play down their chances, but I think it's going to be a tough tie," he said. "They are champions of Romania, in good form recently and came through a tough tie in the last round. We are not buying into that at all.
 "They have a good core squad and quality. They are a threat, they score goals and they don't give much away. 
Of his own charges, he added..
"We're as prepared as we can be, and since Saturday, we've watched a lot of footage, including both of their games against Maccabi Tel Aviv," 
"But it's all on the night in terms of how we approach the game to start with. We need to be mentally strong and have good concentration.
"I've been clear on what we want to do in this tie, particularly away from home. It'll be a competitive game, and both teams will want to win the tie. We've got a bit of momentum, we've got a good result at the weekend going into the tie, and that will give us a bit of impetus before tomorrow night."
There was a bit of an injury scare yesterday when Leigh Griffiths appeared to go over his ankle in training, but he seems to have recovered.
Other than that, it's just a matter of keeping things going.
There's a lot of talk about winning ugly, though frankly there's no such thing. you either win or you don't.
Lennon will have that in mond when he selects the team for the game, and given Cluj's fondness of the set piece, I'd hope to see a back three of Ajer, Jullien and Biton in front of Scott Bain. Mainly because it would be stupid to have them standing behind him.
With Bolingoli Boli and James Forrest operating as wing backs, that would allow for MacGregor, Brown and Ntcham to do the midfield graft, with Christie Again drawing off their markers and Edouard unsettling their defence.
Piece of piss this management lark.
I'd be looking for a win tonight, but would settle for anything that means we're still in the tie, and so would the players and management…but I like to think the bar has been set a wee bit higher.
Elsewhere, and there have been squirrels aplenty deflecting from a couple of issues south of the river. As its an important night for Celtic, we'll leave most of that out of this piece, and with any luck do something separate pieceon what is now becoming even more of a danger to public safety than it should be allowed to, and how the media are actively encouraging it.
One thing you might want to look at though, is this… which seems to have evaded the mainstream, and is part of a campaign that could seriously endanger the continuity of the squirrel as a species.
43 million shares…for approximately £8m…a dilution of value that more or less makes the shares worthless.
Or could they be deflecting from the fact that they will probably start the season without their three best outfield players from last season… Candelais has already gone, and now this heartbreaker..
Of course, we have already seen the deflection from their supporters behaviour at Rugby Park, and its not surprising that they have added a tale of terror from Celtic fans to sort of balance things out..
Rangers to bolster women's team security in wake of Green Brigade's alleged 'unacceptable sectarian abuse'
Rangers claim their players were subjected to sectarian and misogynistic insults throughout the game at East Kilbride which Celtic won 3-1. 
Gary Ralston here, lifting his head from between the cheeks of his master long enough to file this work of fiction…
A Rangers official even spoke to the referee at half-time to formally catalogue their concerns to the officials at K-Park, the home of the Hoops women's team.
A Rangers spokesperson said: "Our women were subjected to misogynistic and sectarian abuse, which is totally unacceptable.
"Perhaps security measures need to be introduced for Rangers women when they have a match away from home against Celtic."
The sides are next scheduled to meet in the league at the Hummel Centre in October, but Rangers will take steps to ensure spectators are strictly vetted.
Celtic have been approached for comment. 
If I may offer my services to the PR department at Celtic Park, because I think I have the perfect reposte…amd I'm fairly sure regular readers may have an idea what that could be.
Actually, there is a perfect reposte out there…
Absolute crap! I attended the game in question, may I add supporting Rangers, at no point did I feel anyone needed security. 2 sisters playing in opposing sides, best of friends off the pitch. Find a real story to report on 
Well, thats one squirrel firmly volleyed back into the press box. Which is exactly where Gary Ralston wasn't sitting during the game…
You know, and this will form the theme of the piece to come, because it genuinely worries me…
Are these stories at the behest of a PR company ?
Maybe so. Cartuja on twitter claims to have intercepted a memo, and if he says he has, thats good enough for me.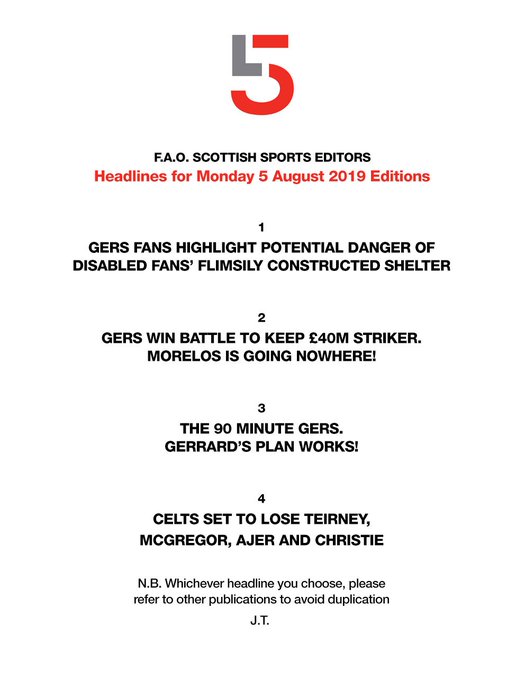 More worryingly, much more worryingly, are they out there to try to promote  the womens game, which is becoming more popular-by adding to it the sectarian element that has damaged the male game, but is thought by many to be a major selling point ? As an extension of an agenda which, as we suspect, is largely based around the Old firm myth ?
Alright, I've maybe spoken about them a little more than I intended to.
Yesterday, we had this…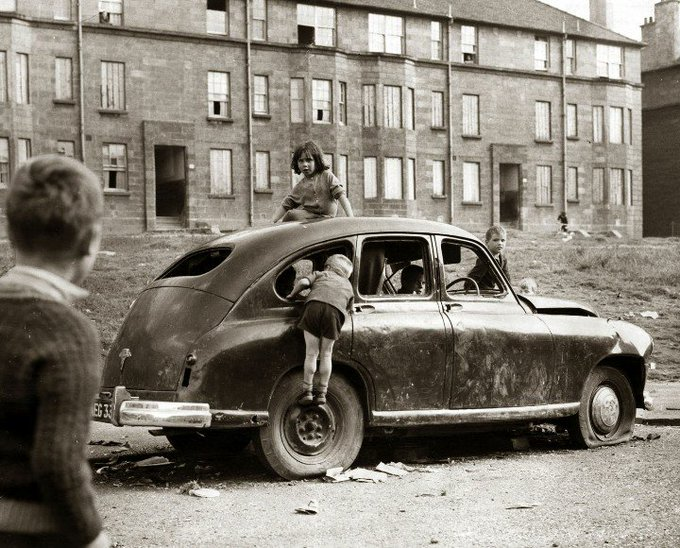 Although Monti comes a close second with the bitingly satirical…
Today…