Celtic duly began their domestic campaign with an uneventful 7-0 win over St Johnstone on Saturday, a routine performance during a routine trip north for the game.
Alright, if you don't count getting thrown off the train at Carlisle. Long story short, everyone remembers the reaction, not the provocation.
Still, pretending to be a doctor on the Sunday train to get two junkies out of the toilet was quite funny.
Anyhoo, its safe to say that trains will not be the preferred mode of transport any more.
And to anyone who does use them, make sure you have a paper ticket, and not a block booking on someones phone.
Better still, walk or drive.
But this Diary isn't about me, its about what I see…and what I saw on Saturday was a swashbuckling Celtic who made sidieways football a thing of the past.
The first 7-0 of the season was registered not only by some great football, but by some players clearly enjoying playing great football.
Ryan Christie Again, to give him his full name-at least thats what people in the ground were saying after each goal-was outstanding, Oddsone Edoaurd played a level above what he was last year, and the rest of them weren't bad either.
With Cluj now firmly in the sights for tomorrow night, however, perhaps the thing that brings me most comfort is that Neil Lennon won't try the same style over there.
Cluj, remember, don't fear Celtic's long ball game…which may well have given anyone from the club watching on Saturday something to think about… like who they may face in the Europa league..and it seems they aren't as confident as our own media would like to portray us, with the Sun reporting that they are trying to make as much money from this game as they possibly can, presumably to try to offset the money they'd make in the UCL…
CELTIC have called out European rivals Cluj over a ticket-price scandal.
It has emerged the Romanians were trying to fleece Celtic fans flocking to Transylvania for this week's Champions League qualifying clash. 
They have asked Celtic fans to pay £36 a ticket, while selling them to their own fans for under a fiver with kids getting in free!
That represents a whopping 700% hike in prices for Hoops fans compared to home supporters and the Scottish champions have contacted Cluj for answers and to demand refunds.
If the Hoops' plea falls on deaf ears they will take up the case with UEFA as Cluj are in clear breach of competition rules. 
One note of interest..should Celtic overcome Cluj, they will face Slavia Prague, which would be a great trip. (As long as you don't go on a train )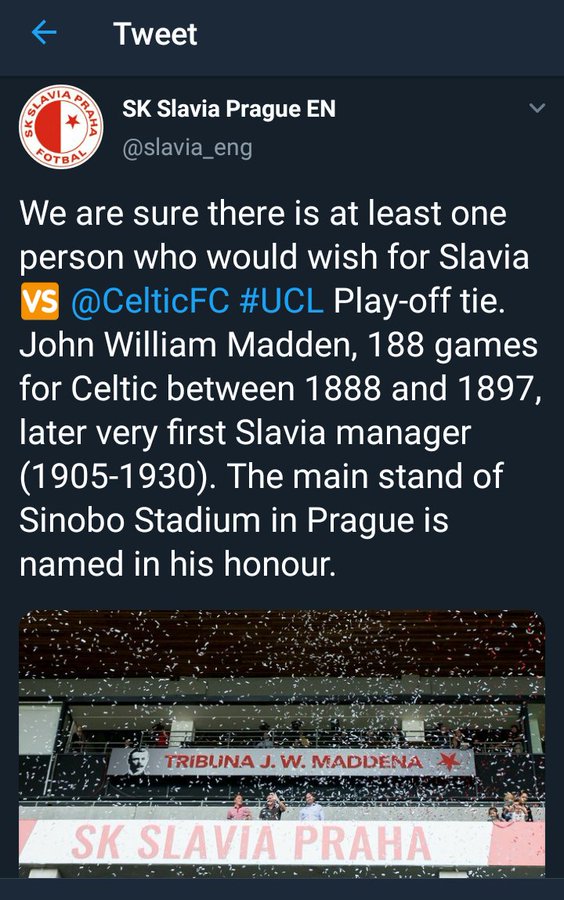 This was back in 2015, as the Czech club celebrated the 150th anniversary of his birth.
However, its Cluj first.
Who, it appears, play at Tynecastle.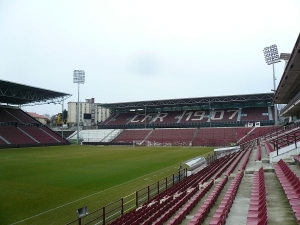 The game will be live on Premier sports, or at least thats what they are saying at the moment.
The Romanians are four games into their season, and have registered three wins and a draw. They'll be up to speed, and certainly no pushovers.
However, thats not worries me.
Celtic have only faced Romanian teams in european competition twice-Politechnica Timisoara ( lost on away goals ) and Astra Guirgu ( scraped through 3-2 0n aggregate, a win and a draw ).
It's not a great record, and I'm even more worried by this…
Fotbal Club CFR 1907 Cluj, commonly known as CFR Cluj (Romanian pronunciation: [t͡ʃefeˌre ˈkluʒ] or [ˌt͡ʃefere ˈkluʒ]), is a Romanian professional football club based in the city of Cluj-Napoca, Cluj County. It was founded in 1907, when Transylvaniawas part of Austria-Hungary, and the current name "CFR" is the acronym for Căile Ferate Române ("Romanian Railways").[3 
Railways ? Trains ?
I've had enough of trains to last me a lifetime, and it is now firmly in the back of my mind that the metal beasts are not finished with me yet…
Elsewhere in Scotland, there was delight for the "rangers " manager as his side scored a late winner down at Rugby Park…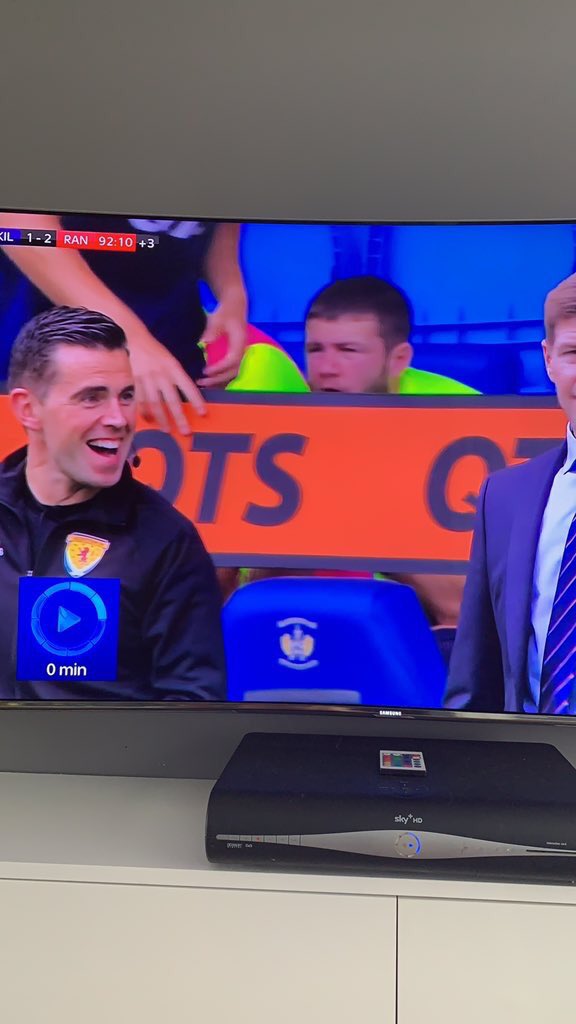 There was considerably more delight for fourth official Andrew Dallas, as we can see, and he'll be pleased that no one noticed.
But there weren't too many smiles anywhere as the media took stock of the scenes before , during and after that game…
Scottish football ?
Seriously ?
There was one club involved, and one club which must be held responsible for what happened.
It started before the game… as Club 1872 explain in their statement..
Well, when I say "explain "…
"Club 1872 has received multiple eye-witness reports from supporters trapped outside prior to and following kick-off in yesterday's match.
It looks terrifying…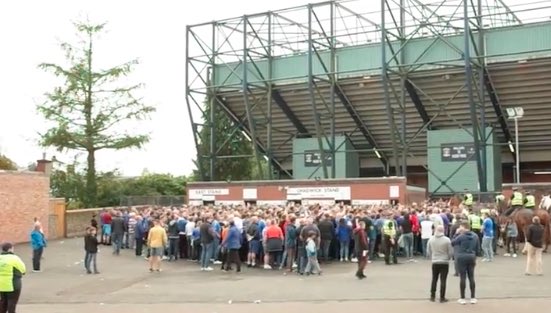 "We are aware of a video which appears to show Rangers supporters opening an access gate in response to pleas from supporters further back in the crowd.
"This has been characterised negatively by various media outlets including the Daily Record and BBC Scotland journalists. 
The video is out there somewhere. Find it, watch it, make your own mind up whether the media have characterised it negatively.
"Having watched and listened to the video in question, there is genuine concern from distressed supporters that there is a dangerous situation building up in the crowd and that this gate should be opened to relieve pressure.
"This concern matches the eye witness accounts, from those further back in the crowd, which we have described above.
"The situation would never have arisen if the ticketing entry system at Rugby Park had been working properly.
"As usual, there has been a rush from certain elements of the press to blame Rangers supporters for this incident.
"We would remind them, Ms McLeish and others that it is the responsibility of Kilmarnock FC and their directors to ensure that visiting supporters are safe. 
"It is quite clear that the ticketing entry arrangements were not fit for purpose and that this created an unnecessary situation at the turnstiles which placed Rangers supporters in danger.
"We will be submitting the reports we have received to Rangers and urging them to ensure that Kilmarnock FC and their directors make proper arrangements in future and that they are held to account for the shambolic and unsafe situation prior to kickoff.
"It was Kilmarnock FC's responsibility to make suitable safety and ticketing arrangements – it is absolutely clear they did not." 
Yeah, if only the Ayrshire club provided a great big open space where people could queue in an orderly fashion….
Quite simply, as a neutral observer, it seems that some supporters got in to a part of the ground where they shouldn;t have been, and ended up on the pitch ….which seems to happen quite a lot to that lot.
As for dancing on the disabled persons enclosure…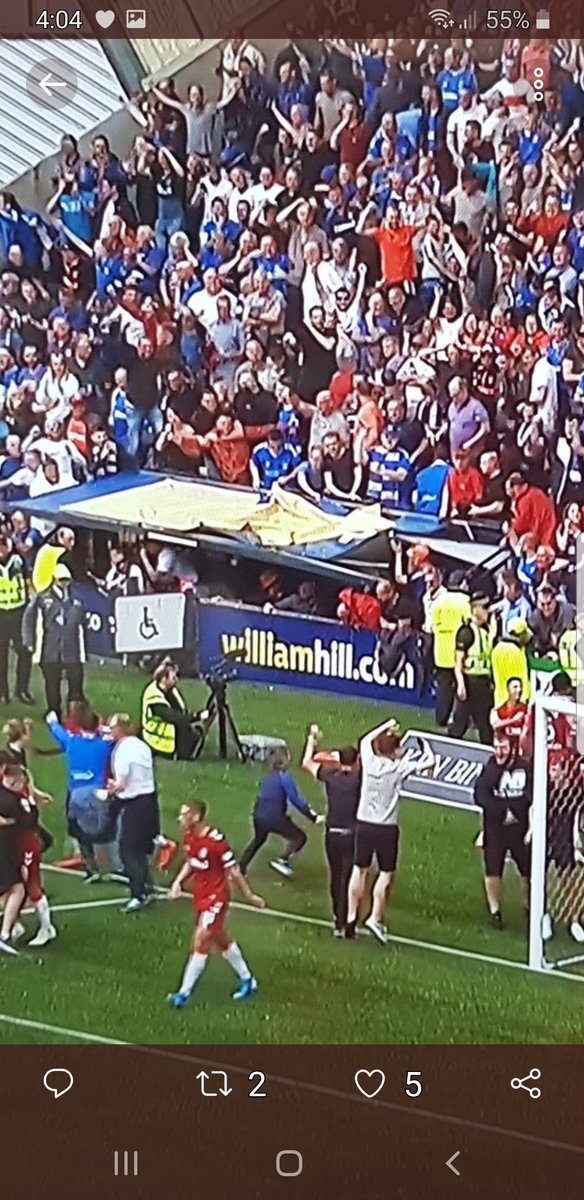 There are people in there, for fucks sake.
How can anyone, or everyone, possibly condone that behaviour ?
And how can the authorities not take action, before someone is killed or seriously injured ?
Oh, hang on, I might be on the point of spotting why…
The monster that should have been laid to rest in 2012 was given new life. The cowardice shown by the authorities back then is going to haunt us this season.
Someone, somewhere, will have blood on their hands.
Journalism such as this, from the once respected Times, sums it all up..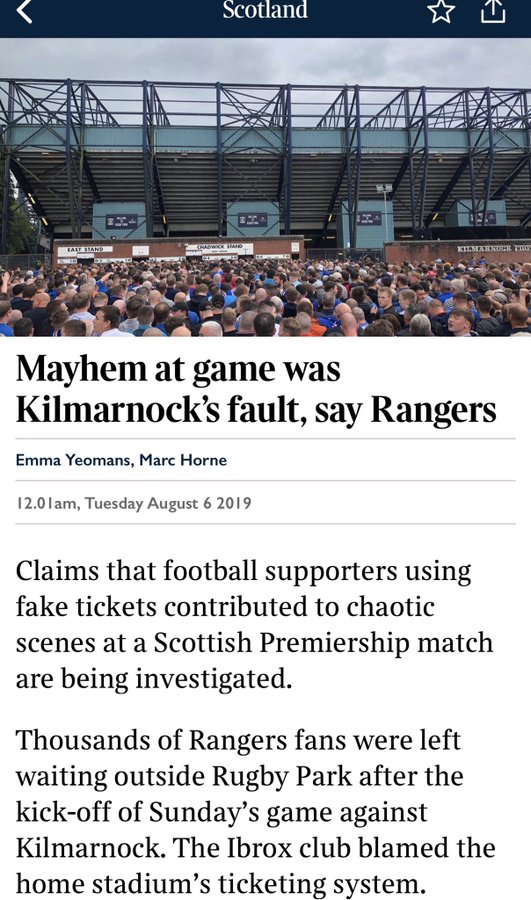 Marc Horne, you'll recall, has a thing about child abuse investigations, but only at one club…
According to Twitter, Former Rangers former player Alex Rae added his tuppence worth, which at that price is surely overvalued..
Alex Rae just put blame on
not having the disabled shelter properly fenced. A disgusting view 
Even more bizarrely, one angry bear felt severe sanctions should be put in place..
One of the more practical among them suggested a solution..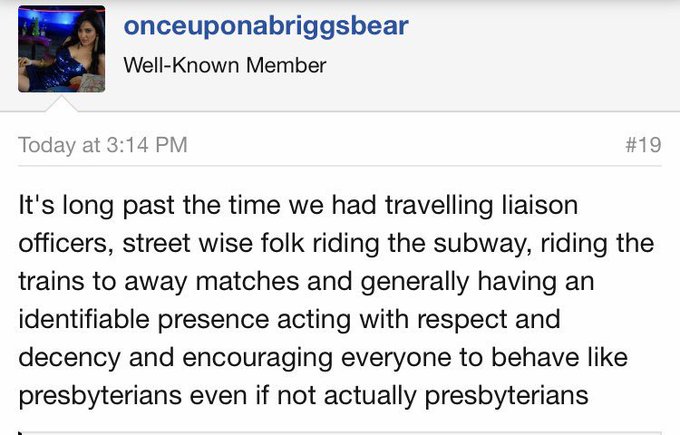 Away from all that, in fact as far away as we can get from all that, there's talk that Brendan Rodgers may make a move for Kris Ajer, that Lille have agreed terms with Jozo Simunovic, and that Arsenal haven't given up on Keiran Tierney.
The English window closes on Thursday. Hopefully someone will board the bloody thing up.
The last Diary was on Friday, and we had this to ponder..