With one or two personal issues to deal with, there just hasn't been time to keep up with the diary over the last week or so, but everything has sort of returned to normal this morning, so let's get on with it.
During our absence, Celtic pushed into the third round of the UCL qualifiers with a routine 2-0 win in Tallinn over Nomme Kalju, earning the right to face Romanian champions Cluj, who we will talk about in a moment.
Kalju were never going to overcome the five goal deficit needed to progress, so manager Neil Lennon made a few changes and threw down the gauntlet to those who perhaps were feeling a little left out.
There were enthusuastic performances from Craig Gordon, Mikey Johnstone and Bolingoli Boli, and Christophe Jullien made his mark at both ends of the pitch, Tony Ralston did little wrong, but his failure to score a hat trick may confirm in some closed minds that he's not up to the job.
Indeed Gordon played the ninety minutes whilst in the grip of a bout of severe stomach issues, and deserves praise for , er, keeping a clean sheet…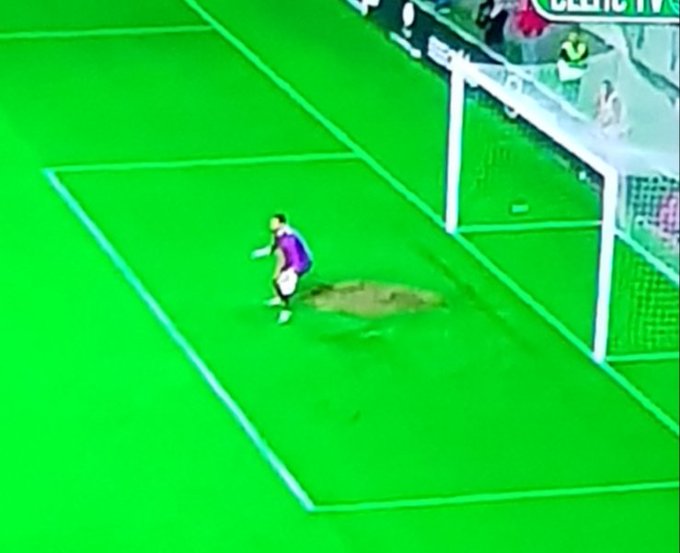 Special mention , though, to Maryan Shved, who became the first ever Celtic player to do on the pitch what he does in his agents videos, when he smashed the second goal after making a late appearance in the game.
Have a look at Leigh Griffiths face during the celebrations….
Onwards to romania next week, and the Cludgies…I think thats their nickname, they certainly have potty mouths…were lining up to have a pop at Celtic.
Cluj in focus as Celtic's unseeded Champions League foes ready to rip up the Euro script again
The Hoops will travel to Romania in the next round and Neil Lennon's side will be tested by the wily Romanians. 
This is from the Record, and presumably their Romanian football correspondent..
Managed by former Chelsea great Dan Petrescu, the Romanians are something of a hit or a miss in European competition. But just ask Manchester United fans what they're capable of – they embarrassed Sir Alex Ferguson's Red Devils at Old Trafford in the group stage of this competition 1-0 in 2012. They have twice appeared in the group stage before – in seasons 2010-11 and 2012-13. They also have a pretty decent pedigree in the Europa League.
Cluj lifted their fifth domestic championship last season beating FCSB, formerly Steua Bucharest, by five points in the regular season and two points in the play-off. Petrescu returned to take charge this year having previously led the club to the title two seasons ago.
The Constantin Radulescu Stadium is home to Cluj and can hold up to 23,500 supporters. Again it has a grass surface and underwent a €30million renovation in 2008. 
Cluj are a side that have a lot of experience in their team with a number of older players in their squad. This a team that's ready to win now.
The vast majority are over the age of 27 and that could go for or against them.
Of the three goalkeepers in the squad, the youngest is 31 while you also have the likes of Andrei Muresan in midfield at 33. 
Well, that's  saved me the bother of googling them.
But what we really need is an ex-Rangers player who can give us the lowdown.
Gareth Law of the Sun found one..
NO WORRIES 
Ex-Rangers ace Dorin Goian claims Cluj have nothing to fear from Celtic
You'll remember him. He played in the pre-liquidation season, said he'd never leave as they were liquidated, and then left. his last game was the current clubs first game, the win over Brechin.
Several years later, as manager of Bukovina Radauiti in the Romanian Third division, he offered reassurance to the Cludgies as to the ineffectiveness of Celtic, due to their "long ball game "..
"Celtic isn't a scary fixture for Cluj. Not at all.
"Cluj are capable of eliminating Celtic. Cluj have great players.
"Celtic might be a team with valuable players, a very big budget and impressive infrastructure. 
"But their game consists of long balls and they have big problems when they face a well-organised defence.
"The counter-attack might be the secret weapon for Cluj. Celtic attack a lot, but they often leave room in defence. 
"The experience Cluj show in each game gives me confidence they can qualify for the groups.
"It will not be easy as they will have very strong opponents. But they have a good chance to qualify." 
Now, you've seen the quote, have a look at how the Ibrox Evening times reporter Mark Hendry puts a little bit of spin on it…
Ex-Rangers star Dorin Goian reckons CFR Cluj should be confident of beating Celtic in their Champions League qualifier – as the Hoops rely too much on "long ball tactics".
Romanian defender Goian, 38, believes Celtic will struggle to break down Cluj's defence because they find it tough against teams who are well drilled.
He also insists that Dan Petrescu's team should not be scared of squaring-off against the Scottish champions – because they have players capable of winning. 
The media have, as usual, thrown their weight behind Celtic's campaign..

Add to that the ongoing transfer saga that is Keiran Tierney, who its fair to say wants to go but hasn't gone yet for reasons only he knows, there could be grounds for suspecting that the hacks are out to get us.
The Express, in an attempt to finally get something right, said;
Express Sport understands that Unai Emery's bosses are not giving up yet, and are about to submit a third offer with improved terms surrounding the initial fee.
The offer will include far less add-ons than the previous two proposed deals and included a small sell-on percentage, but if this deal is rejected then the club will give up and pursue other targets.
Tierney, 22, has so far stayed silent on his possible exit, but former England striker Darren Bent is certain that he wants to join Arsenal in the coming days.
"He's desperate to leave Celtic and join Arsenal in the Premier League, I'm sure of that," Bent told Football Insider.
 That's harsh. He isn't desperate.
Jozo Simunovic could be off to France, which is almost exactly what supporters say to him on several occasions during a game..
Celtic face Jozo Simunovic transfer fight as mega-rich Lille prepare improved bid
The Ligue 1 have already entered talks with Celtic but haven't been unable to agree a deal. 
Anything around £7m and he's on a boat to France.
Though I believe Lille would be asked to pay the money straight into Aberdeens account…
Olivier Ntcham had a good game on Tuesday night, and had people wondering if Lennons chat had persuaded him to stay and fight for his place..
It seemed obvious that he was merely putting himself in the window, and thats a shame. Nir Biton has now played four games in a row and it must be nearly time for his injury.
The interweb was alive with tales of a return to Celtic for Ollie Burke, who it has to be said had a rather up and down time of it during his loan spell earlier this year.
The player has deleted all the pictures on his instagram that do not feature Celtic or Scotland, and some are taking that as a cryptic message that he's heading back to Glasgow.
Others, however,  reckon the clumsy oaf was merely trying to order a pizza on his phone and pressed the wrong buttons.
Our troop of trained tittle tatterers reckon we will not sign anyone of note now until after the English window closes, and again after qualification for the group stages is achieved.
We've no reason to see it any different.
Tomorrow sees the start of the new domestic season, and the traditional unfurling of the flag. It's not on television, presumably because later in the season Sky want to have the option to show the title winning game if its at Celtic Park. Only four home games are permitted, usually flag day, title day and  the two against whatever incarnation is playing out of Ibrox.
By skipping this one, they could have one eye on covering the nine in a row game..
The BBC cruelly teased the captains of the eleven other top clubs by making them stand next to something they'll never get so close to again..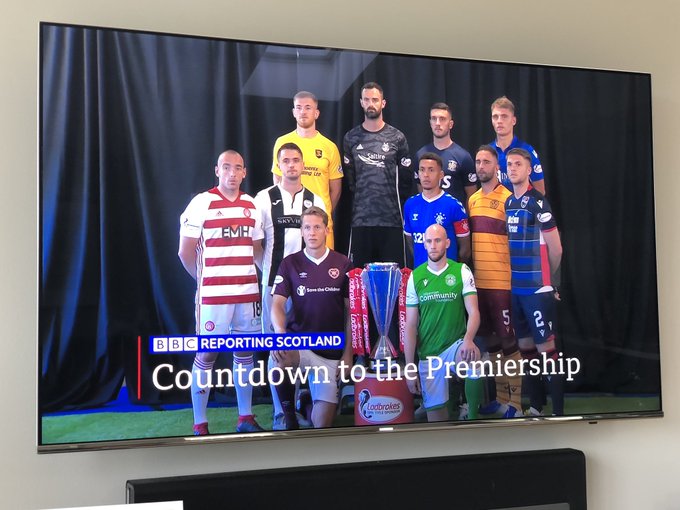 This picture was taken on the day Celtic flew out to Estonia, although Scott Brown has assured our support they can have as many pictures as they want of him with the trophy in May….
Celtic are not quite up to speed yet, but the four wins in Europe have shaken off the cobwebs and should be more than capable of hitting the ground running tomorrow.
Lennon knows the importance of a good start, and with Aberdeen storming to a five goal european win in midweek, there is no room for complacency.
"rangers " also had a notable result, securing overall victory in Luxembourg against Progres Neidercorn..one paper actually described it as a win on the night..delighting their support..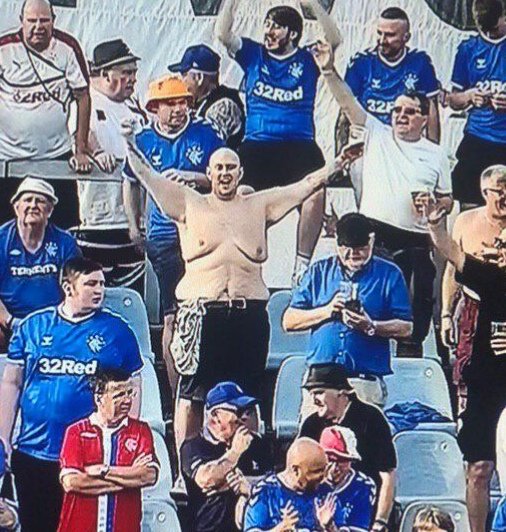 They've had their troubles again during the last week. £450,000 or so due to be paid to Mike Ashley to cover some of his legal fees, Liverpool refusing to sell Ryan Kent to them at market value, and of course, the dark cloud of liquidation swirling above the offices within Ibrox.
You could say they needed cheering up…and there is a man who knows just how to do that..
HMRC win £450m tax avoidance scheme as football stars and celebrities lose out
The scheme had received investments from the likes of Ant and Dec, David Beckham and Celtic duo Neil Lennon and Peter Lawwell.
The case centres on HMRC claims of tax liabilities related to film and game investment schemes promoted by the firm. Rich investors joined the scheme where tax liabilities could be offset against movie industry losses.
Other movies involved included Life of Pi and Die Hard 4, between 2000 and 2013.
Celtic chief Peter Lawwell, manager Neil Lennon and other former Parkhead stars were also members. 
In fact, several Celtic players are listed, and the implication is that this illegal tax wheeze is exactly the same as the EBT scandal, which kickstarted the demise of the original Ibrox club.
Of course, it isn't, most importantly because none of this was a secret , and none of it was made a condition of employment by the club.
It was what those involved did with their own money, and purely a personal thing.
Still, it's not like those at Ibrox to miss out on a tax adventure, as the paper implies.
Indeed, they didn't…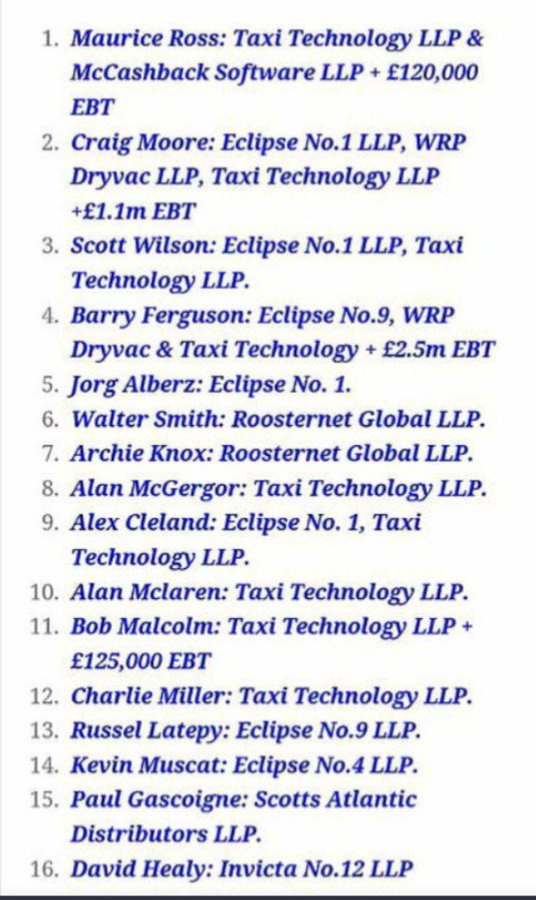 However, there's a transfer window open, and there's an Alfredo to push through it. Disheartened at a lack of interest in their Colombian superstar, they've decided to generate some themselves..
STAYING PUT 
Rangers ace Alfredo Morelos 'turns down £30m move' to Chinese side Hebei Fortune
Sky Sports claim the 23-year-old has turned down a multi-million pound move to Hebei Fortune.
Any move to the Far East looks highly unlikely however, not least with the transfer window in China closing at 5pm today.
Sky said: "Sky Sports News understands Rangers FC striker Alfredo Morelos has turned down a £30M move to Chinese Super League club Hebei Fortune – the Chinese transfer windows closes at 5PM today.
"SSN understands Hebei Fortune were prepared to meet the valuation of Morelos, believed to be in excess of £15M, but no bid was received by Rangers.
However, someone must have pointed out that they'd already tried this one, and a rather bizarre explanation followed…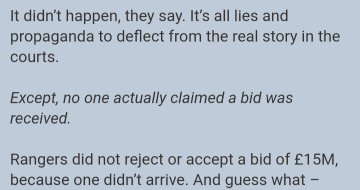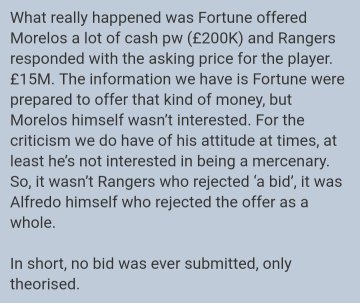 Oddly enough, they aren't going to make a complaint that one of their contracted players was tapped up by another club…
Elsewhere, and this doesn;t seem to have hit the back pages as much as you'd have thought, but you'll see why in the story…
Meanwhile, there may yet be hope for the hopeless, faith for the faithless though clearly not sense for the senseless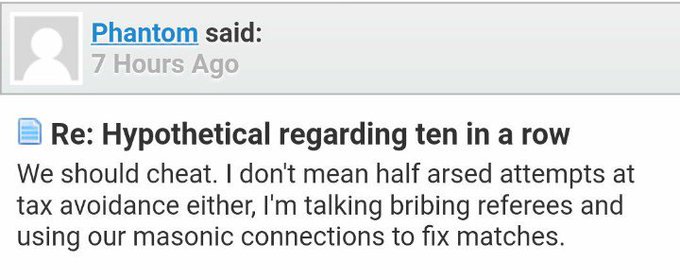 Think he's a little behind the curve on this one, if I may say so.
Anyway, back to last Thursday