Celtic face Estonian champions Nomme Kalju tonight in Glasgow in the second of four ties which , if successfully negotiated, will lead us to the promised land of Champions League group stage football.
The game will be live on Celtic TV, and all subscribers will be able to watch it, with no hidden charges.
So, what do we know about Nomme Kalju ? And is this going to be as easy as it looks on paper.
The Estonian season is twenty games in, with the side currently lying in fourth with forty points from those games, and over the last month they've struggled a bit, with only their win over Shkendija to put a smile on their faces.
From Celtic's point of view, this means that the Tallinn side will be ahead of us in terms of match fitness.
One thing that does stand out is that since January, they have only conceded three goals on two occasions, to Valengera and Molde , and that means quite simply they will be difficult to break down.
On a week to week basis in Scotland, thats something Celtic are familiar with, and hopefully the likes of Ryan christie and Mikey johnston will have a role to play.
What Celtic must do is , and this cannot be overstated, is keep their discipline at the back. difficult with an unfamiliar rearguard, but it might be worth asking Scott Brown to play a little deeper than usual.
Not what you would want in a home tie, of course, but Kalju won their first round match away from home, having lost the first game in Tallinn.
Scott Bain should keep his position, and Kris Ajer and Bolingoli Boli will be either side of Nir biton and Jozo Simunovic. It's a little bit of a risk to play christopher Jullien in this game, as Boli isn't quite sure where he's supposed to be, Ajer does know, but likes to go on his runs, and Simunovic doesn't understand tactics anyway.
biton has inherited the role of organiser from Mikael Lustig, and the experienced though sometimes a little too laid back Israeli should continue there for now.
Scott Brown slightly behind link men Ryan Christie and Calum MacGregor, with James Forrest and Mikey Johnston on the flanks supporting Oddsone Edoaurd would be how I'd do it, but Neil Lennon may favour the impresive Lewis Morgan, but perhaps it would be better to bring the youngster on later, along with Scott sonclair and possibly Leigh Griffiths to refresh the forward line.
Oh, and by later, I don;t mean after 85 minutes. Lennon needs to make changes when they need to be made, not when he feels like it.
See, piece of piss this management lark.
The Celtic Festival  has now sold out its  Saturday tickets. I still think the one proposed by Desi Mond elsewhere on the site had much more potential, but it appears the original one could be a success.
For those disappointed at missing out, there's always First Team Friday to look forward to..
WITH just days to go until we launch the Celtic FC Festival in association with Magners, Glasgow's green and white have been snapping up their tickets in huge numbers to celebrate all things Celtic this weekend!
Tickets for the Saturday have now SOLD OUT! But fear not – tickets are still available for First Team Friday and Sunday of the highly anticipated event.
Supporters can head to the SEC this Friday morning, as your manager, Neil Lennon, cuts the ribbon to kick-off the celebrations! Book your place for day one, and you'll be amongst the first to see the Treble Treble winning Celts in the new 2019/20 NB Third Kit, with TEN of your first-team favourites scheduled to appear!*
And we still have the Lion's share of fun planned for the Sunday, with not only our heroes from '67, the Lisbon Lions set to appear, but also our first-team stars taking part in the fun too:
– Super striker, Leigh Griffiths
– Treble Treble hero, Scott Bain
– New Bhoys Bayo and Boli,
– The young team of Mikey Johnson and Daniel Arzani
As if all that wasn't enough, throughout the weekend we have plenty more FREE fun for all the family with football challenges, interactive exhibits, the Eden Mill Gin Bar and the Magners Fanzonepacked with live musical acts to keep you entertained from start to finish!
Priced at £15 for adults, £12.50 for concessions, £7.50 for juniors (aged 6-16) and completely FREE OF CHARGE for kids aged under six, visit celticfcfestival.com to book your place and find out more.
We look forward to seeing you there as we celebrate Glasgow's green and white!
*Player availability may be subject to change. 
That last line should give the more paranoid amongst us something to fret about.
Or could it be that a new face will be revealed ?
Hatem Abn Elhamed is awaiting a work permit, and despite assurances he is a right back, it appears he has hardly ever played there. Hopefully he's just back up for whoever we've really got our eyes on.
Lennon told Celtic TV;
We're close to bringing in some more players so the squad is getting stronger all the time" 
The trial for Danny Simpson, the freebie from Leicester, didn't take place after all. Lennon says its because he's close to getting the player he really wants for that position, whilst we hear the player heard the word "trial ", panicked and ran off out of his back door, jumped the fence and is hiding in a disused shop somewhere.
The English transfer window closes on August 8. Thats significant because some of our targets may well be hanging on for that big money offer from Brighton, Bournemouth or some other non entity that they can put in a half arsed effort for a year or two.
Those who don't get that will be up for their own plan B…make a name for themselves so that they can get that.
And there's always Manchester city reserves…
Now, as one reply stated yesterday, this is indeed a Celtic Diary, and perhaps it should concern Celtic, and not that rich vein of comedy based at Ibrox.
But the key word is "Diary "…its not a news service, it's not a match report, it's a collection of whatever nonsense that flies through my head in the morning that i think may entertain, amuse, inform or merely annoy anyone who reads it.
Thats why "rangers " get a mention.
Serious, thought provoking  stuff, like Auldhieds comment on CQN..
Whilst I appreciate the sentiment of keeping a fool in charge of Rangers I cannot reconcile that with keeping fools and liars in positions to cause widespread damage to society.
 These are the people ok, People of the Lie (read M Scott Pecks book of that title).
 Plausible physcopaths who live in an unreal world that they think they can make real.
  At a Res12 meeting two Christmas's back I said Celtic were dealing with a criminal organisation and if that reality hasn't dawned on Celtic by now (and other clubs who have turned a blind eye) then the game, like the wider UK society under Boris and his gang, are heading for hell in the same hand cart as Trump.
 Where is domestic fair play? Where are the stiffer rules on independent licence policing? Res12 was intended to provide leverage to make that happen. A Dougie , Dougie moment writ large. Why wasnt the lever pulled?
  What if Rangers Ltd go bust again? Will it be rinse and repeat and will those responsible for protecting the name of Scottish football repeat the insanity of the 5 Way Agreement in the hope doing the same thing will produce a different result?
Bear in mind, this is a club/company that has cheated you, me and everyone else connected with Scottish football, and whilst they may feel they have got away with it, its important that the rest of us remind them that they haven't, and have a jolly good chuckle at their expense while we're doing it.
Like their statement yesterday, in defiance of the court decision that means Mike Ashley will have a few more quid in his pocket..
RANGERS would like to reassure supporters that matters concerning the litigation currently being brought against it by SDI Retail Services Limited are not as reported.
Rangers was disappointed by the terms of the recent court Judgment but respects the decision of the court and will meet any financial award made by the court.
No such award has yet been decided and at this stage Rangers does not even know how much will be sought. Contrary to some reports, the Judge has not determined that the contractual cap on damages will not apply.
Rangers would also like to reassure supporters that no steps have been taken to stop supporters being able to buy this Season's Replica Kits. 
In fairness, their support believe they are still the same club, so little wonder the club/company think they'll swallow that nonsense.
But are they ?
Well, on the whole,  yes.
But one or two naively demanded " answers "-without supplying the questions, of course, from a national newspaper "hotline "…
Angry and confused' Rangers fans demand answers after club lose Mike Ashley court case – Hotline
Tony Haggerty took your calls as punters made their voices heard to the Ibrox board. 
Mike Ashley's court victory over Rangers brought some angry Bears on to the Hotline.
A legal judgment deemed that the Light Blues could owe Ashley's millions of pounds because of a deal over merchandising rights also had some other fans from the East end of Glasgow cock-a-hoop. 
A national newspaper ..itself partly responsible for the anger and confusion as it previously reported that Ashley had been defeated…has just been given a story.
In fact, people are phoning them to ask what is happening at Ibrox.
Yet that paper shows little or no interest in doing a bit of legwork and finding out.
Only in Scotland.
Recently , the club/company announced a policy that is designed to remove sectarianism and racism from their CV, presumably to attract more sponsors and remove itself from the stench of toxicity since Dave king walked through the door. Though it may be a little late of thats the plan.
Penalties can be severe for those who flaunt the new rules, which are actually the laws of the land, but somehow thats been overlooked, including this..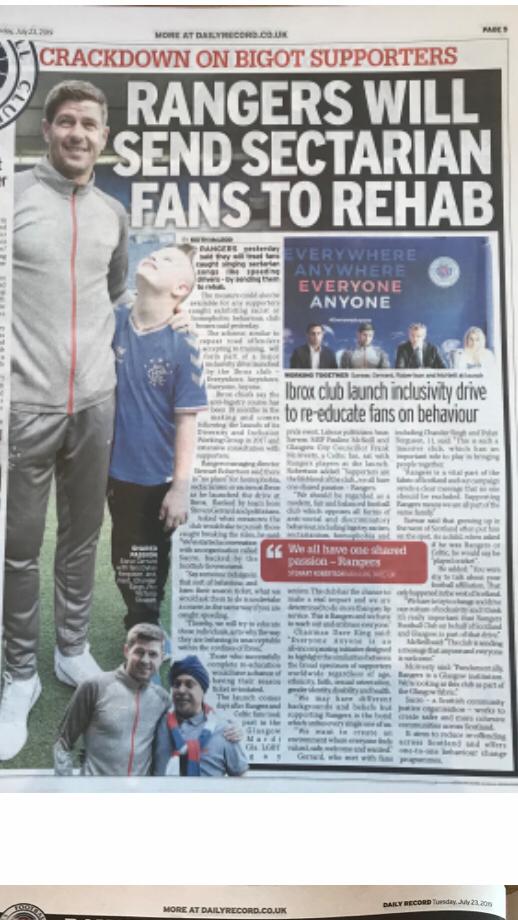 Which prompted a number of observations…

""Tried to make me go to rehab and i said no, no, no surrender ""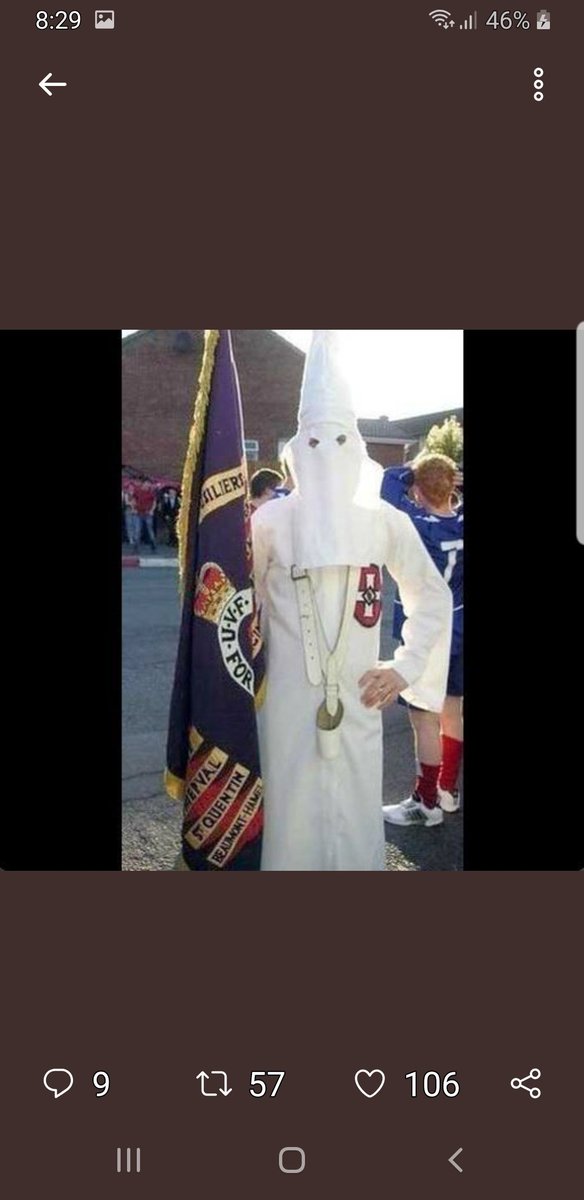 Isn't the NHS already creaking under the strain… ?
Or perhaps the club/company will pay the bill..
Or perhaps it's just more bullshit from a club/ company that specialises in it.
Yesterday, we had this..