Arsenal are about to make their third bid for Keiran Tierney.
Or it could be their fourth. Or even their first, depending on who you believe.
Apparently they've agreed that the fee will be £25m but they don;t want to pay it all up front, and will pay the rest according to certain conditions which they want to attach. Such as Champions League qualification, how many clean sheets they keep and whether or not they can manage that elusive win in the boat race.
Accordingly, Celtic have refused their offer.
Here's the thing, though. If the fee has been accepted, that would be a green light for other clubs to put in their offers, and thus far, there have been no other offers, which is odd for a player of Tierney's calibre.
This one is set to run and run…
Someone else attracting interest is Jozo Simunovic, who is the subject of £5m worth of interest from Lille, whose manager said of the Croatian;
He's a very good player with a knowledge of European football. 
Which is about as on -committal as you can get.
Liam Morrison, the sixteen year old linked with a move to Bayern Munich may yet be dissuaded from leaving, though it's hard to believe the lad sees more chance of breaking through in Bavaria than he does in Glasgow.
However, the experience would probably be useful for him.
Hatem Ebd Alhamed only needs to cross the t's and dot the i's to become a Celtic player, and Beram Kayal, who had a couple of years at Celtic, advised his compatriot to go for it..
"This is a big opportunity for Hatem. I'm so happy for him to get the chance to join a big club like Celtic. Obviously he asked me for advice because I would class him as a friend.
"What did I say to him? I told him that it will probably be the best day of his life when he signs for Celtic. 
"He's a really good player and, most importantly, he's ready to be a Celtic player.
When you are joining such a big club as Celtic then you need experience and he has that now, including making his debut for the international team.
"He was in Gent in Belgium but it didn't work out and he returned to Israel.
"This is now the time for him as I believe he has a stronger mentality and he is more 
experienced.
"He's really fast, knows how to defend and he's calm with the ball at his feet. He can play in two positions, right back and centre back, so that versatility is also an advantage.]
"I know him as a centre back. I know he has played right back a few times so I don't know what the club has planned for him. 
Well, thats made us all feel better.
Tyneside No.1 CSC have come up with and put in place an excellent idea, which other clubs may feel worth copying to some degree..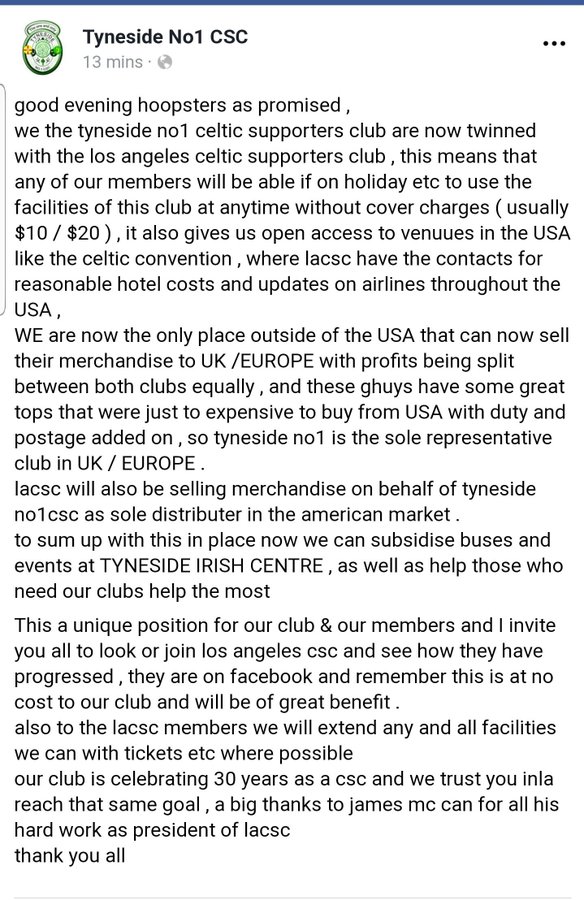 Co-operation between CSCs worldwide could be very helpful to all of us, for one reason or another. Help with tickets, accommodation and merchandising can never be turned down.
Hope it all works out for them.
That Italins fellow, Bertolacci ? Another mischievous internet rumour..
Whoever would dream of doing such a thing ?
Then again, who can really figure out why anyone does anything.
We've seen some golden comedy moments over the last seven years as a section of Scottish society refused to face reality as their favourite club died.
This, however, from Ibrox Noise, is surely the greatest of them all. If awards were awarded for bullshit, this would scoop the board..
If there's one thing we're saturated by on Ibrox Noise, it's the obsessed coming in telling us how terrible our team is and how we're no match for them. Oh, and we're dead. All that piffle.
Funny thing is over the past three weeks, the amount of nonsense from those of a green and white persuasion has notably reduced, and we couldn't imagine why (!)
Is it the 'goals for' column which has looked slightly absurd in its proliferation of stats? Or is it the fact the goals against one still remains completely empty?
Or could it be the focal point of today's piece of exquisite Ibrox Noise optimism, and the increasing 'asset management' issue Rangers now have?
If we go back 12 months, the only 'asset' Rangers really had was Alfredo Morelos and, at a pinch, James Tavernier. We didn't have many players worth much at all.
July 2019 that has changed to unrecognisable levels.
Rangers are now packed with experienced internationals, with winners, and with players of rising international stock and coveted names.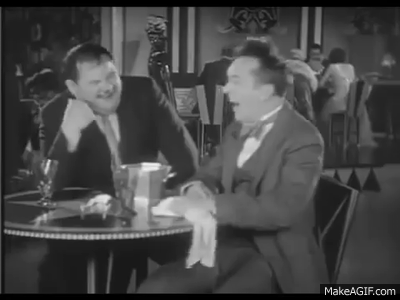 Let's go through one-by-one at the players who are starting to look like Rangers' crown jewels of genuine financial value: 
He may have misunderstood the meaning of "genuine " . Or even "value ".
James Tavernier:
The reality is this guy, signed for £250K in 2015, was without any doubt Mark Warburton's finest hour. He has grown into a genuine £15M+ player. Ok, he has no Champions League or international experience to his credit, but he's delivered frightening stats both domestically and in Europe, and even the majority of green and white fans have put him at RB in an 'ultimate OF XI'. He's worth a lot of cash now. 
Borna Barisic:
Yes, this one is more theoretical right now because Barisic has only delivered on the international stage for sure, and while his Rangers career is certainly improving he has a bit to go before he proves the Croatia Barisic is in the light blue for certain. BUT. If the Croatia man does consistently deliver for his club then we're talking top dollar value for a genuinely world class player. It's not absurd to suggest a value above £20M for a Croat international if a Scotland one with barely-working limbs is worth more than £25M.

Glen Kamara:
Yes, he needs to weed those lazy errors out of his game, but he's otherwise the complete midfielder and the £65K for him is looking absurd. A Fin international with 13+ caps and experience of the highest order at only 23, Kamara's value is almost stratospheric with colossal potential. He learned his trade at one of England's finest academies in Arsenal, and could only last a short spell at Dundee before a big club came for him. There is little doubt Glen Kamara, if he continues to develop like this, could be worth mammoth money in the future. We're talking that same £20M value for sure. Maybe more.
Joe Aribo:
Just 22, nearly 23, Aribo was spun to us as a £10M player for barely £250K. After his first couple of outings in our shirt we weren't convinced. After the last two, £10M would be a bargain for someone. An Aribo in first gear, half asleep, completely destroyed two sides in a row over the course of barely 30 minutes. Imagine what this kid can do in fifth gear in the serious business. The mind boggles and we can barely even guesstimate on this one, but definitely the £20M region again. 
Scott Arfield:
A coveted player down south with at least four or five excellent years left in him, he's been an inspirational signing and while his age counts a little against him, his experience is vital and Southampton at least have been credited with interest. He had a stunning split, a stunning season overall (a genuine disgrace he was overlooked for POTY nominations) and he produced again in America for the Gold Cup. His assist last night as a rusty sub for Defoe's hat trick just summed him up. If anyone wanted him they'd have to dig deep for his services. £10M-£15M.

Jordan Jones:
An NI international hitting his peak and assisting for fun? His stats at Killie were excellent and his performances for the Ulster Boys proved he could do it on a higher stage than the SPL. He's got to prove it of course over the course of the season but early signs are good for the winger. More dangerous than Ryan Kent who's supposed to be worth £12M, Jones has potential to reach £15M and beyond.

Alfredo Morelos:
Yes, this is a tricky one. His value goes up and down with his attitude, displays, and the wind really. At peak this Colombian international with a tonne of UEL experience at only 23 could be worth well over £20M, bordering into £30M. But when he goes testy or quiet or gets himself sent off he's down to £5M tops. He requires a club to take a bit of a risk on him, but then what signing isn't? 
So, potential numbers: 
Tav: £15M
Barisic: £20M
Kamara: £20M
Aribo: £20M
Arfield: £15M
Jones: £15M
Morelos: £25M
A grand theoretical total of £130M.
Of course, that's crazy numbers – we're not going to sell this lot for that money and suddenly have £130M. Nothing like it. It's just an illustration, individually, that Rangers now have valuable assets and there's no point pretending that we could only get £1.5M for a James Tavernier or similar. If Rangers are to sell any prize players, we'll expect big money for them. That's the way the market is now. 
Odd how he fails to list all the bids that they have received for their £130m worth of talent.
Oh, I know why….
Then again, can you blame them when the media puts out such guff as this…
Remember, they won nothing…and never really looked as though they would.
Moreles, incidentally , is now their leading all time top scorer…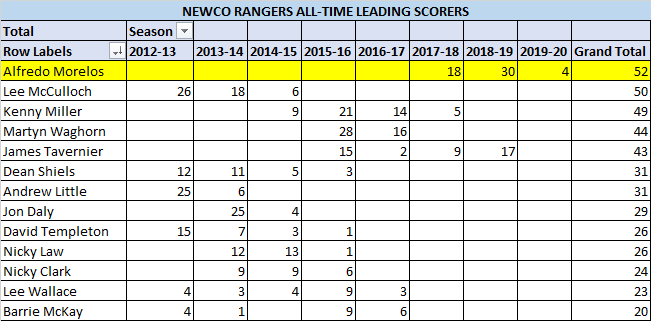 There's some illustrious names on that list..
The most illustrious name at Ibrox is that of Steven Gerrard, the new manager who has guided them on the latest stage of their journey.
And he reckons he's getting better, as are his club.
They drew with Blackburn at the weekend, a game where fans were charged £12 to watch on Rangers TV…
They didn't notice straight away, as the screen just continued to show arseholes..
Gerrard did notice something about his team though..
It was a really interesting game," he said. "We edged the first-half, I thought we were a lot better ourselves than we were second-half.
"We're pleased with a lot of the performance, although we were a bit loose at times.
"The players and the level was a step up, Blackburn are a good team. If you're sloppy and turn the ball over, you'll get punished." 
Turn the ball over ?
Going back to last season, the likes of where we played Hibs, our mistakes were costly for us in the league campaign," Gerrard added.
"We were loose, we turned the ball over and we paid for it. 
Turned the ball over ?
Pre-season games are, first and foremost, to get fit. But you try to rehearse how you want it to look in the upcoming season.
"So we'll definitely take the positives, for the majority of the game.
"The two lessons we'll take from the game are we need to kill teams off and we can't turn the ball over in dangerous areas because good teams and good players will punish you." 
Right, lads. Let's not turn the ball over.
We have to go back to Thursday for the last caption competition..
today..