Everybody seems to have something to smile about this morning.
The glass half full fans will be looking ahead to the second qualifying round, and next weeks clash with Nomme Kalju of Estonia.
Then there's the announcement that Israeli right back Hatem Abd Elhamed, who , of course, will slot straight into the team as he is clearly better than anyone we've ever had in that position.
All i can see about him of any interest is that
He made his Israel national football team debut on 10 June 2019 in an Euro 2020 qualifier against Poland, as an 82nd-minute substitute for Nir Bitton.[7] 
An astonishing example of history about to repeat itself.
I'll withhold judgement until we see if he's worth the two or three million pounds that Celtic are reportedly paying for him. The last player that came from that agent was Rami Gershon, who settled down in the treatment room.
But it does look like it's happening.
הפועל באר שבע וסלטיק סיכמו על מכירתו של חאתם עבד אלחמיד
על פי הסיכום באר שבע תקבל קרוב לשני מיליון יורו על הבלם, ובונוס של 300 אלף
יורו אם הסקוטים יעפילו לליגת האלופות. אלחמיד ישתף פעולה עם ניר ביטון. אוראל
דגני או איתן טיבי מועמדים להחליפו
(If it helps, read that from right to left )
We did hear a while back that we were signing someone on Thursday, we just didn't know which Thursday
And then there's Lewis Morgan…another outstanding contribution, and he could well turn out to be the star of the show this season.
And think of the money we'll get for Scott Sinclair, who having seen his new hair colour last night, I am more and more convinced I saw him in Stoke on Monday, or it might have been Tuesday.
Or I might have been wrong. I usually am.
I was going past the police station and the court so I wasn't hanging around to check.
The glass half empty fans have found their latest scapegoat. Bolingoli Boli, just two games into his serious Celtic career looks strong, fast, enthusiastic and importantly demands to be involved in the game.
However, he's finding out what its like to play in front of the greatest fans in the world, with criticism heading his way after he didn't score a couple last night, and forgot that he was supposed to be a left back for pretty much most of the game.
Then again, he was only doing what he was told..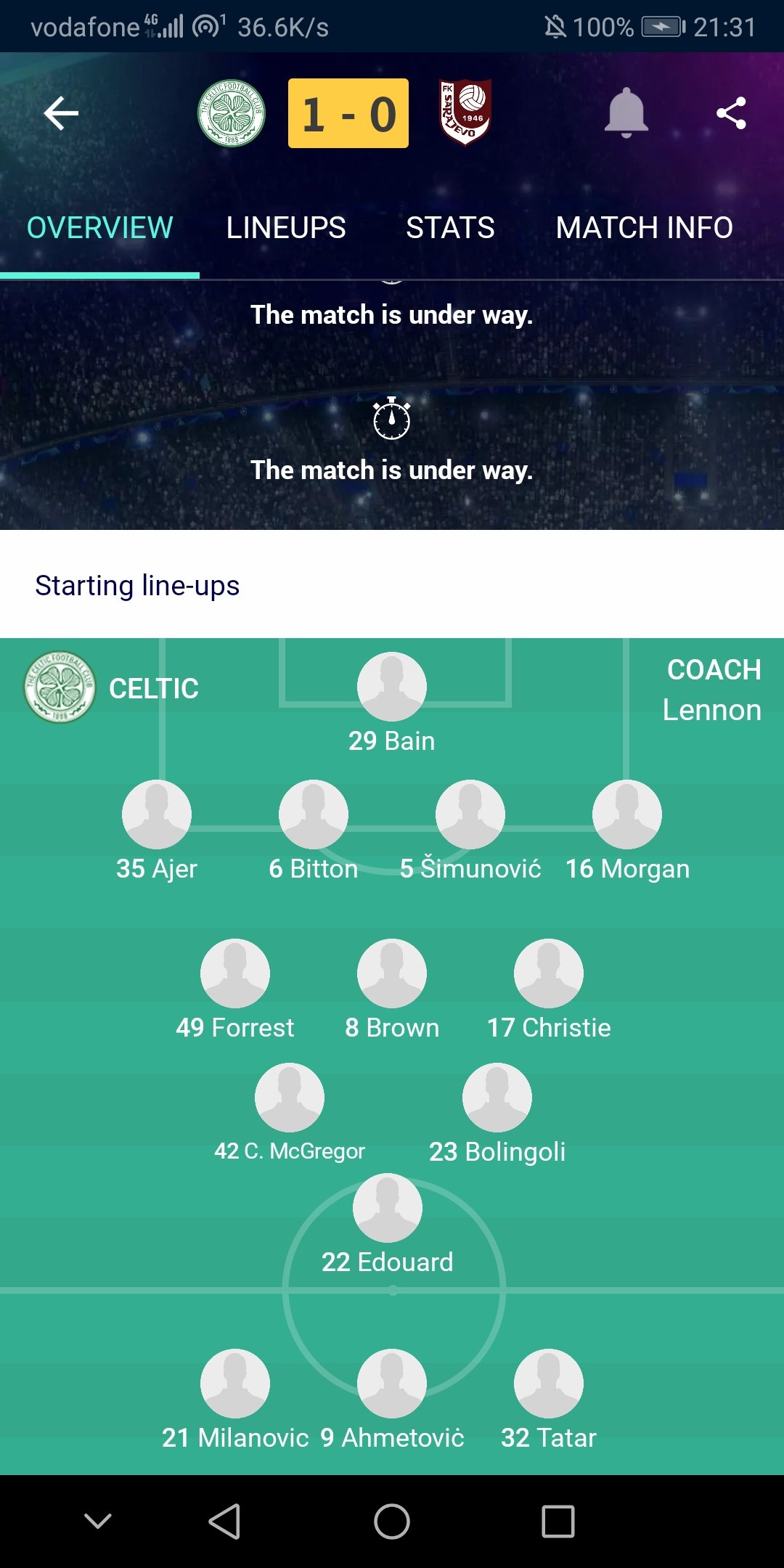 This UEFA match app looks like providing considerable entertainment as the season goes on.
They weren't the only ones to get it a bit mixed up..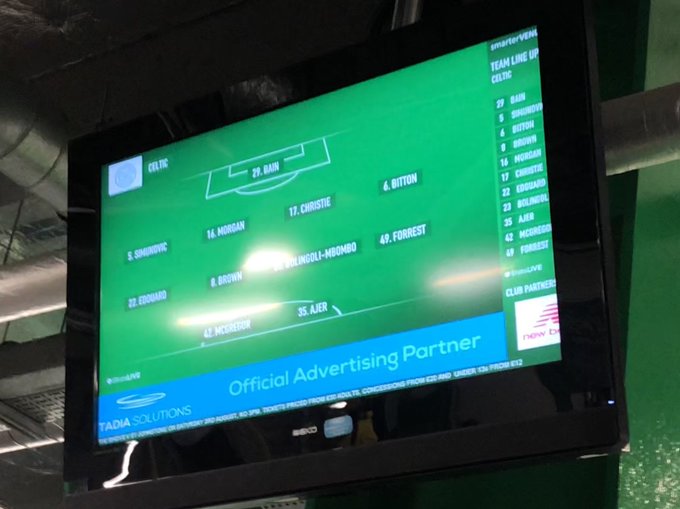 Though the SMSM are refusing to be outdone..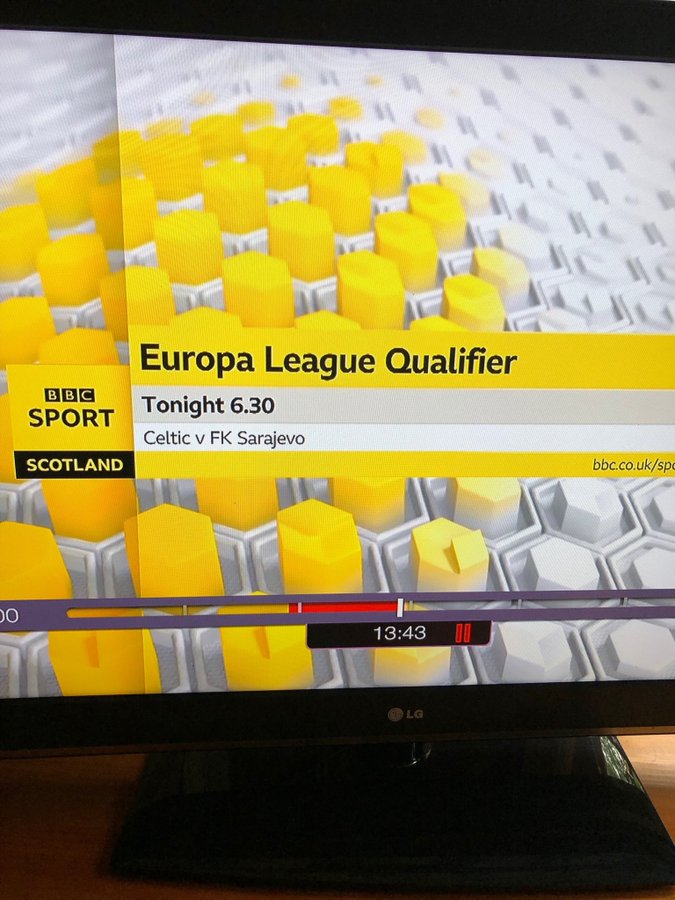 They probably think the Celtic support is as dumb as the support of a local rival..
As for the game itself, there was never any doubt about the outcome, despite the Bosnians drawing level after the energetic Ryan Christie had given Celtic the lead.
Calum MacGregor sealed the match on the night to give Celtic a 5-2 aggregate win.
It's off to Estonia next, but before we get all carried away, it's worth looking at the potential opponents for Round 3, the draw for which will be made next week…
There's only one guy to ask..
Results tonight mean Celtic will play one of the following in QR3.
Red Star Belgrade / HJK Helsinki
Anyone but Dundalk. My hair loss started in 1979…during the second leg against them ..
Success at that stage , and we're on to the play off..
If the remaining seeded teams progress in QR2 and QR3 we would be facing one of
Could be worse, I suppose.
Back to potential incomings, and Danny Simpson, a 32 year old defender and a free agent now that his contract at Leicester is up, could be set to join the club and be given a two year £30,000 a week deal…
I'd like to gauge supporter opinion on this one, so lets do a wee poll..I'll go first
On 20 May 2015, Simpson was found guilty of assaulting his then-girlfriend and mother of his child Stephanie Ward on 28 December 2014.[32] He was sentenced to 300 hours of community service.[33] On 12 May 2016, his sentence was reviewed in light of press-intrusion into his community service, and replaced with a 22:00 to 06:00 curfew for 21 days.[ 
Leicester City ace Danny Simpson sparked bitter rivalry between two women he chatted up during his 30th birthday night out – taking one to bed before the other found him naked with her 'rival'
A pal said: "The first woman had spent the night flirting with Danny and hit the roof when she found him in bed with another girl.
"She opened the door to find Danny naked and blotto and in a compromising position with her rival, who was in her undies.
"The jilted girl had the shock of her life and stormed out."
Simpson is embroiled in a row with ex Stephanie Ward, 29 — who he was convicted of throttling 18 months ago — over access to their daughter Skye, five. 
Not the sort of guy who should be wearing the hoops.
Elsewhere, and it looks like Ruth Davidson has found something else to secure Unionist votes..
Celtic Boys Club abuse: Ruth Davidson joins calls for inquiry
This is from todays Times, and it's written by Marc Horne, a persistent campaigner for an enquiry into abuse, but curiously only at Celtic, when there's a considerable amount of evidence that those cromes were endemic during the period in question.
Horne has written several pieces for the paper on the subject , all of which condemn Celtic, and one feels that the former Scotland on Sunday man could perhaps gain a little more credibilty and perhaps even increase his chances of attaining justice for all victims, of all clubs and institutions by perhaps doing a wee boit more research on the subject, such as who employed who at several different clubs, and perhaps even join up the connections to recently convicted paedophiles south of the border.
As for Ruth Davidson…now that she's a parent, I'm surprised that she, too, isn't calling for a wider investigation.
Just yesterday, we noted that the Times had become the first newspaper to refer to the new club at Ibrox as a new club, and it appears that some of the fans are being told this as well…by the new club.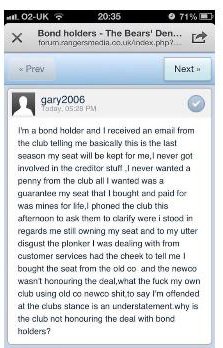 I'm sure he'll work it out…
Meanwhile, one wonders if they have started something..
First match back in competitive football will be on Saturday 10th August 2pm ko Belfast Celtic v DC 
Er, oops.. we had a message from someone who knows..
Just in case you aren't aware, this crowd aren't 'Belfast Celtic' they're a team called Sport and Leisure Swifts – they have no connection to Belfast Celtic whatsoever and the Belfast Celtic Society have refused to back them. They are basically Belfast's Sevco – trying to steal another team's history. They've just stolen the name and rebranded.
Yesterday, we had this..