Yesterday was a strange day.
First one hears that it is unlikely that Keiran Tierney will be going anywhere, largely based on Neil Lennon publicly talking about his dodgy hip, only to be followed late at night by Sky sports claiming Arsenal were ignoring the obvious pitfall of signing someone just out of surgery who has further problems and had bid £25m for the left back.
Oh, and in between the players had a jolly good run around which kept them on the road to full fitness in time for next weeks qualifier against Sarajevo.
Where shall we start ?
Oh, lets get the Tierney tittle tattle out of the way.
With all sorts of stories flying around, including some from our own pish stained army of informants, it's difficult to ascertain what is really going on.
First, his fitness…Neil Lennon said on Friday..
"He's still injured and he's rehabbing.
"He had a double hernia and he still has the Osteitis pubis problem so it's a slow burner that one." 
The diary has mentioned this probelm in the past, but it's important maybe to refresh ourselves on what it is, what the prognosis is, and what treatment is available.
This is from Washington Orthopaedics and Sports Medicine website…
Osteitis pubis is an overuse injury affecting the front of the pelvis at the symphysis pubis joint. The symphysis pubis joint joins two of the main bones of the pelvis and is made up of the pubic bones (portion of the pelvis), cartilage, a joint capsule and joint fluid. The ends of the pubic bones reabsorb, or slowly dissolve. The cause is unclear, but it may be a reaction to stress or a stress fracture of the end of the pelvic bones (the pubis symphysis). 
The cause of osteitis pubis is not fully understood, but it is believed to be due in part to excessive or repeated stress to the pubic symphysis with vigorous activities or from repeated tension of muscles that attach to the area. 
Does anything increase the risks ?
Sports that require repetitive kicking, such as soccer or football kicking 
Symptons ?
Pain, discomfort or ache, tenderness and swelling at the front of the pelvis at the pubic symphysis
Pain possibly extending to the groin, inner thigh or lower abdomen
Symptoms that start slowly and gradually following activity and progress to constant pain
Pain worsened with pivoting on one leg, kicking a ball, sprinting, jumping, climbing stairs or suddenly changing direction while running
Pain worsened with stretching, particularly separating the legs and thighs or with bringing the thighs and legs together against resistance
Weakness when bending the hip or kicking
Occasionally, clicking in the front of the pelvis
In some cases, the condition may be present on a x-ray, but is asymptomatic 
Treatment ?
Initial treatment consists of medications and ice to relieve pain and reduce inflammation. Modify the activities that initially caused the problem by eliminating those activities or substituting them with other activities that do not cause symptoms. Stretching and strengthening exercises of the hip muscles are important. These can be carried out at home, although referral to an athletic trainer or physical therapist for further evaluation and treatment may be helpful. Cortisone, by injection or orally, may be used to relieve the symptoms and inflammation.
Surgery is rarely indicated. If symptoms persist despite at least 6 months of conservative treatment and the patient is unwilling or unable to give up provocative activities, surgery may be necessary. Surgical options include fusing the joint (removing all motion at the joint) or cleaning out the joint and removing inflamed or scarred tissue. 
The all important question, though this does depend on what treatment the player has had, or is receiving, and how long he's been having it, is when will he be all better ?
Often, this condition resolves with rest and avoidance of the exacerbating activity. It may take 3 to 8 months or more to return to sports. 
Would you send £25m on someone with this condition, and pay him around £80,000 a week ?
That, of course, hasn't stopped the specualtion, which hurled itself into a frenzy last night..
It all started with Sky sports, who tweeted and broadcast..
BREAKING Sky sources understand Arsenal have made a bid in the region of £25 million for Celtic left back Kieran Tierney. 
Around 9.45 last night, which was dutifully followed up by a mainstream media more concerned with not missing the story than actually checking it.
Such as the Record..
Celtic are mulling over a second Arsenal bid for Kieran Tierney which will take the deal up to their £25million asking price.
The Gunners had their first move for the Scotland full-back rejected three weeks ago. 
Now they've come back and upped the ante from their £15m opening salvo – and Peter Lawwell and the Hoops board are contemplating their next step over the weekend.
MailSport understands that while the deal doesn't give them the up-front figure they wanted, it does reach the trigger figure on appearance-based add-ons. 
The BBC…Chris MacLaughlin…
Arsenal have approached Celtic with an improved bid in the region of £25m for Scotland defender Kieran Tierney.
The Scottish champions rejected an initial offer of £15m from the English club last month.
If the deal goes through, Tierney, 22, would become the most expensive player in Scottish football history.
The left-back, also linked with Napoli, is recovering from a double hernia operation after being restricted to nine appearances in 2019.
A £25m move would top the £19.7m Celtic received when Moussa Dembele joined Lyon in summer 2018.
Tierney has won four league titles, two Scottish Cups and two League Cups after coming through the Celtic youth system. 
Remember the "story " that concerned John Beaton ?
How a Press Association tweet about abusive text messages morphed into a story about death threats, leading to all sorts of opinion pieces  about referee safety and so on ?
See if you can see a pattern here…this from the Record again.. published at 12.01 today…
Where Kieran Tierney will rank among world's most expensive ever left-backs if Arsenal seal £25m deal
In the absence of clear, cold facts surrounding the story, we have moved to discussing it as if it were a fact, thus deflecting from the point that there have been no statements from either of the clubs concerned, and nothing from the player.
There has also been nothing from our own pish stained fellows, who I'd certainly trust way, way ahead of any of the hacks who have destroyed any credibility within our own media.
In comparison, when the offer for Tierney was accepted last year, there was nothing short of rage on various apps on my phone, all of which indicated several footsoldiers had heard the same thing.
This time, nothing.
So pardon me if i refuse to get all excited.
Another example of hpow the media works came from Chris "Union "Jack, who was found to have told a fibber or two in one of his puff pieces for the Evening times, which was pulled, but not before his credibilty was confirmed as what we always figured it was.
A big fat zilch.
This is the piece..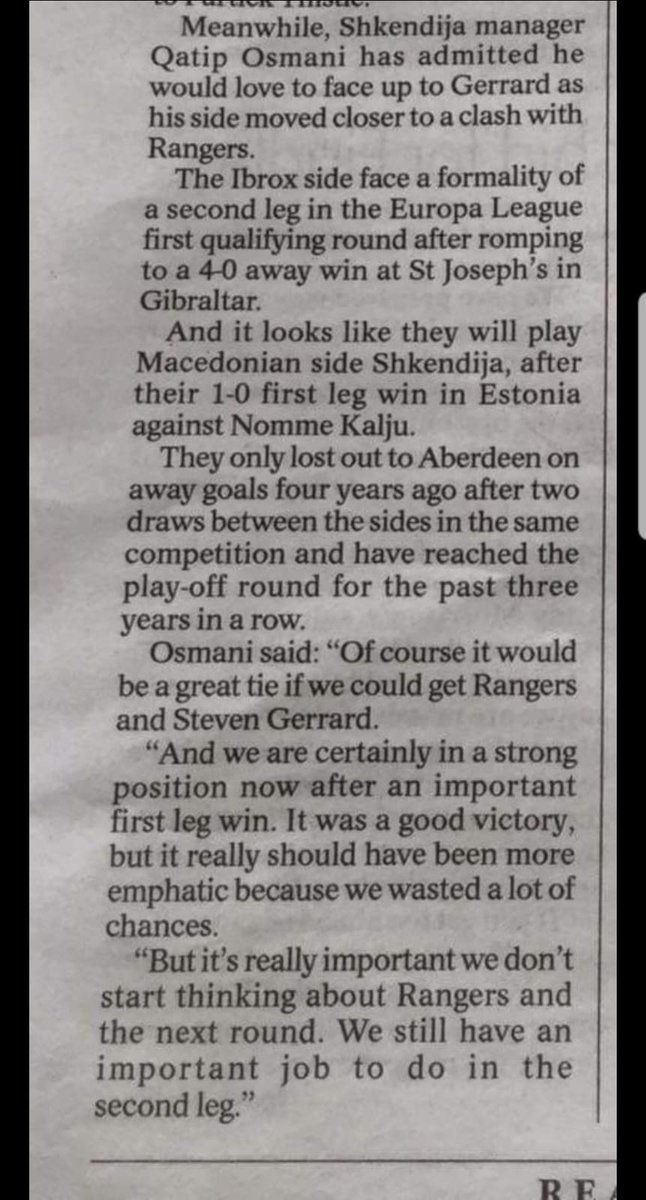 this is his piss poor explanation..
Chris Jack Retweeted Scratch the Upsetter
These quotes/pars had nothing to do with me and were not my error. It was filed by a freelance and wrongly picked up by the desk. It shouldn't have been used but I didn't file it. Thanks to those that piled in with abuse, questioned my professionalism and want me sacked though.
Presumably the same freelancer who perpetuates the same club myth throughout the Scottish media where "rangers " are concerned.
He is a rascal, whoever he is, but he certainly would qualify as one of the highest paid journalists in the world given the amount of , er, news, he appears to be responsible for.
So where exactly are we with Tierney ?
As far as I am aware, he needs rest and recuperation, and Neil Lennon has promised him that.
Thats not to say thats he's staying, far from it, but I wouldn't bet against it.
Thats also not to say there hasn't  been a £25m bid…there might have been, but when Sky "sources " and piss poor Scottish hacks follow it up, then there is always going to be a grain of  doubt in any right thinking mans mind.
And mine as well.
Yesterday, we had this…