Admit it.
You, I, and thousands of other Celtic fans saw the team sheet and said "Nir fucking Biton ? " at almost the same time last night.
So did the rest of the team.
A couple of weekends away with Virgil van Dijk does not a centre half make.
Throw a new left back and Kris Ajer at right back into the mix and little wonder the next time Celtic fans shouted it was " bloody hell, who didn't see that coming? "
That was on 29 minutes when Sarajevo took the lead, which was after an earlier scare when Scott Bain stood tall enough to prevent an even earlier opener.
Sarajevo didn't look like the double winning side we were led to fear, but it seemed Celtic were doing their best to help them.
But there were signs.
Forward passing gradually became the norm..Ryan Christie especially seemed to want to shoot on sight, a tactic picked up on by Mikey Johnston, who scored a goal that probably won't be remembered for its quality, but certainly should be.
In the second half, the largely anonymous Oddsone Edouard put Celtic in front, and a classic finish from Scott Sinclair put the tie beyond doubt. Although there really shouldn't have been any issues whatsoever.
We just made it more difficult than it ought to have been.
There'll be tougher tests than this on the way to the UCL group stages, but hopefully Celtic will also get better.
3-1 it finished, and on the face of it, it's an away win in europe, and Sarajevo are not going to win by three clear goals at Celtic Park, unless Lennon springs another selection surprise, and puts Karamoke Dembele in goal.
Actually, I wish I'd never mentioned that.
To be fair to Sarajevo, and their support, they did try a bit. The fans unveiled a banner which could well have put the players off..
To be fair though, the defence especially were more focused on trying to work out who was supposed to be doing what.
Given what the UEFA  champions league app published at half time, there may well have been some confusion throughout the team…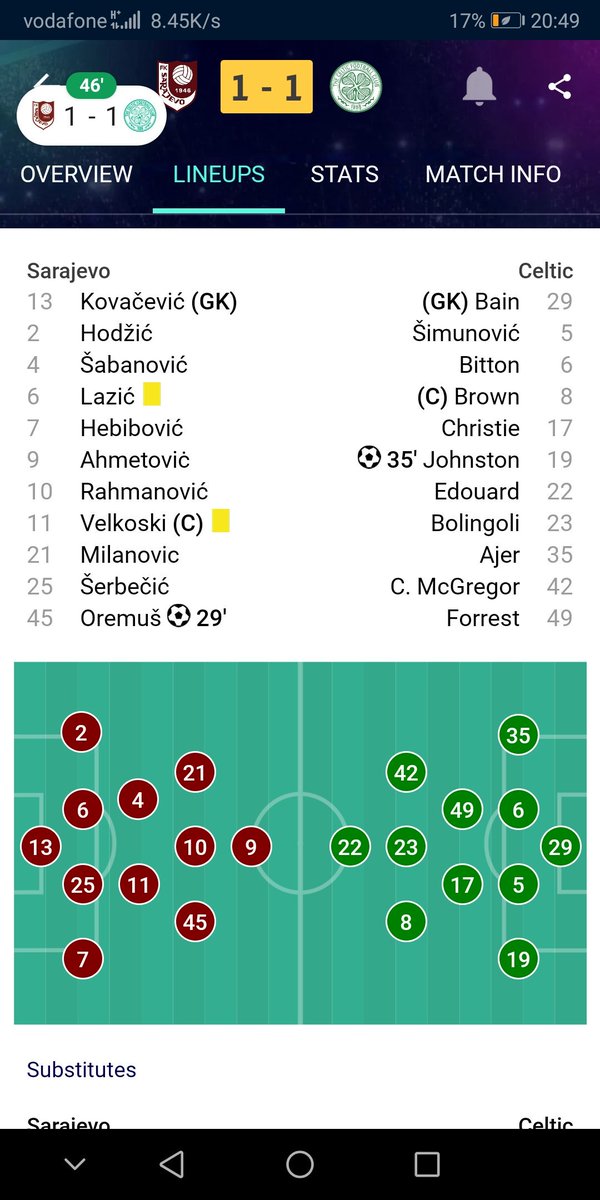 Bolingoli just behind Edouard, and Forrest and Christie as holding midfielders ?  Johnston at left back ?
Is that how it looked to independent observers ?
In the end, though, it was the result that mattered, and it was a good result. We'd all have taken that before kick off, and so we must accept it after the game.
The media, however, or at least one paper, gave us an idea of what we can expect from them this season…
Celtic fans call for Neil Lennon to be sacked after conceding against minnows Sarajevo
CELTIC fans have called for Neil Lennon to be sacked after they conceded in their Champions League first-round qualifier against FK Sarajevo.
…and yet after the match there will genuinely still be folk thinking Neil Lennon is the man to take Celtic to the next level," said on Celtic fan. "Absolutely shocking appointment."
"#LennonOut," said another fan.
"Quick, sack Lennon at half time, it's not too late!" claimed another.
A fourth responded simply stated: "Lennon out", while another said "Lennon's not got a clue."
Another Celtic fan said: "Fire Lennon before it's too late." 
Here…calm down mr Writer Feller..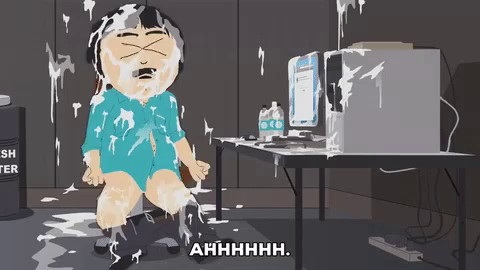 Michael Johnson responded in quick fashion for the Glaswegians, after scoring a stunning goal from outside the box.
Celtic took the lead in the 51st minute, after a goal from Odsonne Edouard.
Former Manchester City forward Scott Sinclair sealed the victory in the 85th minute, to take the score to 3-1.
The second leg of the tie will take place on Wednesday next week (July 17).
Lennon knows how crucial it is for Celtic to qualify for the group stage of Europe's elite competition. 
Michael Johnson ?
They kept that quiet. …big name like that.
Those of us watching on Premier Sports would have been agitated at having to watch "rangers " embark on only their second European campaign, against St Josephs of Gibraltar.
Of course, the mighty Gers overwhelmed the part timers, but they may well have fielded an incorrectly registered player…
How so ?
Alan MacGregor is listed as their only player to have been at the club for three years between the ages of 15-21.
Er, hang on…
Allan James McGregor (born 31 January 1982) is a Scottish professional footballer who plays as a goalkeeper for Scottish Premiership club Rangers. McGregor has also previously played for St Johnstone, Dunfermline Athletic, Turkish team Beşiktaş, English club Hull City, Welsh side Cardiff City and the Scotland national team.
"rangers " claim he played for them between the ages of 15 and 21, and yet "rangers " did not exist pre 2012.
Oops…lets hope that no one emails St Josephs to point out that they have been cheated…
Or tweets them…
@StJosephsFCGibYou might want to check the legitimacy of the "rangers " goalkeeper having played for the club between the ages of 15 and 21, as has been declared in the squad list, as "rangers " did not exist as a club pre 2012. 
Fuck 'em.
They cheated us for years, it's not fair that they should be allowed to cheat everyone else.
which brings me to my next point..
Auldheid thanks each and everyone of you who emailed him to offer support for the new line of attack on the SFA.
Resolution 12 will move forward, and thats because we have a fanbase who will not have their tummy tickled by liars, cheats and charlatans, no matter who they are.
The overwhelming response means it might take a while for him to get back to you, but he will, and there is now a list of shareholders who are demanding that Peter and the Parasites do something about the issue.
And so far, that list is at least three times as long as we'd dared hope for.
Thanks again.
As for the AGM, does anyone know a wholesale supplier of pitchforks ?
Yesterday, we had this..