Celtic Diary Monday July 1: Looking Forward
Keiran Tierney has left the training camp in Austria, in the words of Neil Lennon, to continue his rehab after his recent double hernia operation.
Still, I guess looking at the terms of the contract on offer from an as yet unidentified club, but probably Arsenal, will put a spring back in his step.
For the avoidance of doubt, we hear he has formally said his goodbyes to his team mates.
Now we must sit back and watch the offers flood in.
Ah, well, we got an extra year out of him.
Also on the way out is Yusseff Mulumbu, probably the only player we have had since Stephane Mahe who was prepared to kick someone back on the pitch.
He's been released, from the club that is. Presumably before someone had to raise the bail money to get him released from one of her majesty's houses.
There's little point in harping on about those who have left or who want to leave, we should only look forward.
Luca Connell, the Irish scouser from Bolton has joined the Lennon Revolution.
CELTIC are delighted to announce the signing of highly-rated Republic of Ireland youngster, Luca Connell, who joins the club on a four-year deal.
The versatile 18-year-old midfielder joins the Scottish Champions after progressing through Bolton Wanderers' youth ranks before breaking into the senior side during the second half of last season.
Connell, who was born in Liverpool but is eligible to play for Ireland through his grandparents, put pen to paper at Celtic Park before flying out to join his new team-mates at their pre-season training camp in Austria.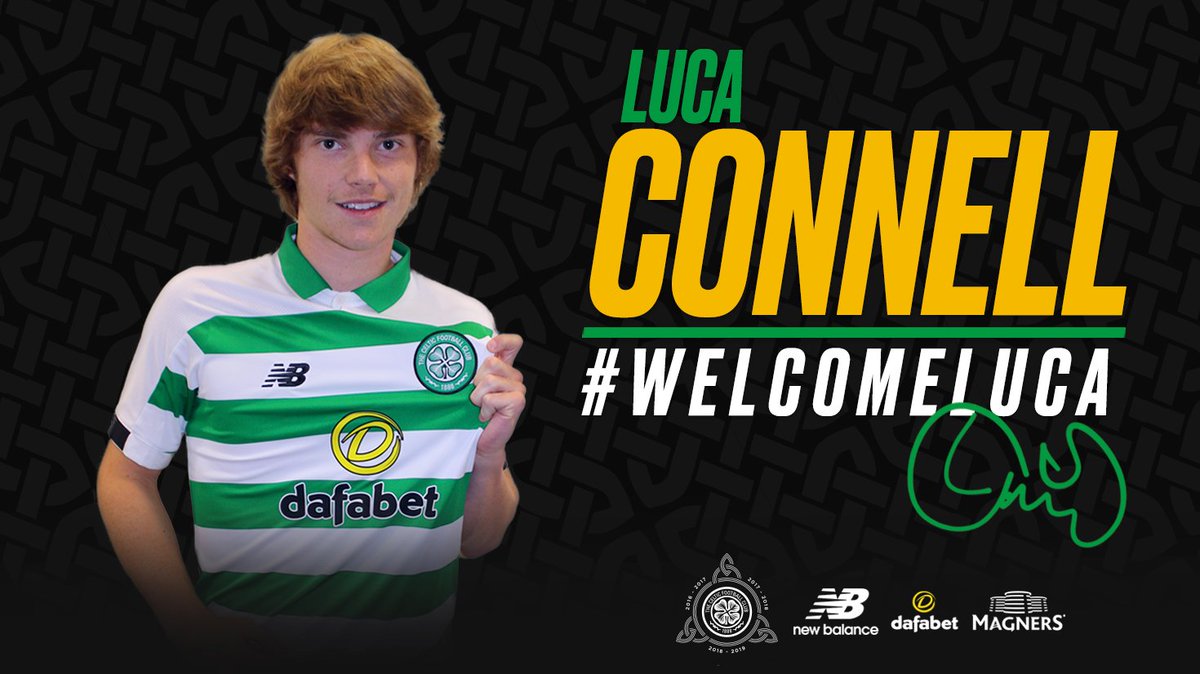 Interviewed on Celtic TV, the young fellow seemed a little bewildered at ending up at Celtic, but pleased nevertheless.
"I'm looking forward to all the league games and especially the Champions League," 
"It's unbelievable to sign for such a massive club known all around the world. It's a dream come true, something I've dreamed of since I was a little boy.
"It's crazy and hasn't really sunk in. I'm signing for such a big club with so much history. Hopefully, I can help us make more history and I can't wait to get started.
"You can't turn your head away from all the trophies and success Celtic have won and being involved in the Champions League. There are a lot of good players here so it's a challenge to break through. It's something new and fresh. With the ethics of this club, all the youngsters will be pushing through.
"The stadium is unbelievable. Just looking round and seeing the size of it is unreal. I can't imagine what it's like when it's full and, hopefully, I'll experience playing out in front of the amazing fans with us winning.
"I had a look at videos of Celtic Park and the background of the club so it's made me really excited to play. If you're not excited to be involved in games here, then you need to hang your boots up." 
"I did not know it was getting announced, then all of a sudden it was going everywhere."
What do we know about him ?
Lets take the word of someone who has worked with him for a few years..
Over a decade in Player Recruitment & 1st Team Match Reports at Bolton, Wigan & Tranmere. Uefa B licence Coach Views are my own.
Brian Morris Retweeted Celtic Football Club
Absolutely Gutted to see this man go. Been a pleasure knowing @lucaconnell and his family for over a decade. Keep playing with a smile

on your face Luca.



Luca has the desire and attitude complemented by the skill and ability. 
Read the articles on Luca from last season. But I never like a player to another especially as Luca has only just turned 18yrs old. He is a top prospect with a great leadership attitude. 
With the deal for David Turnbull falling through, Celtic wasted no time in moving on, and connell seems like he can play a bit.
Celtic also gained considerable respect with how they went about securing the services of the midfielder..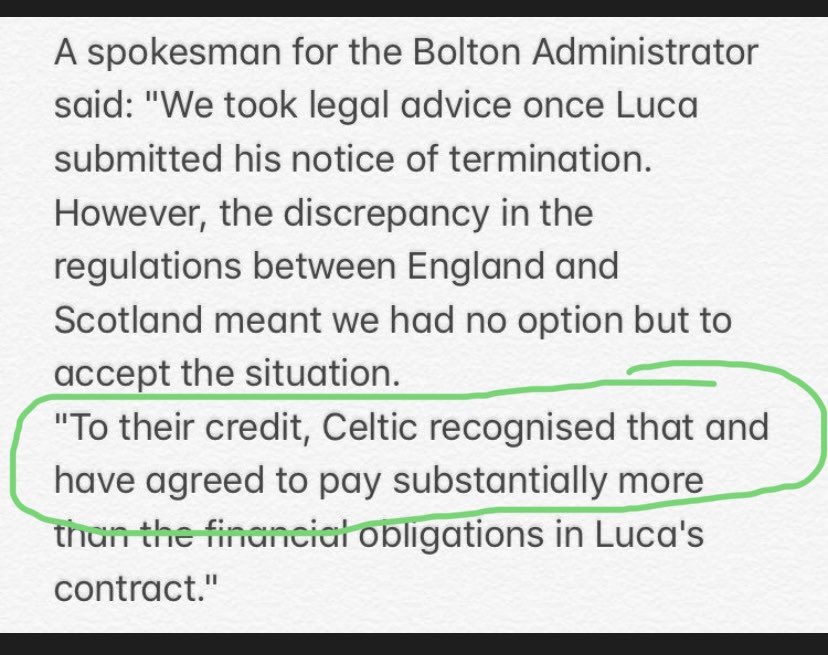 With money flying out of Celtic Park with reckless abandon, the bank have taken steps to freeze the account. A spokesman said that this was due to a high level of unusual activity for this time of year.
Police Scotland are concerned for the whereabouts and wellbeing of a Mr Peter Lawwell, after a concerned friend rang them up and pointed out that
"I'm fucking telling you, this is not like him "
However, the second signing this summer has upset fans of at least one rival club..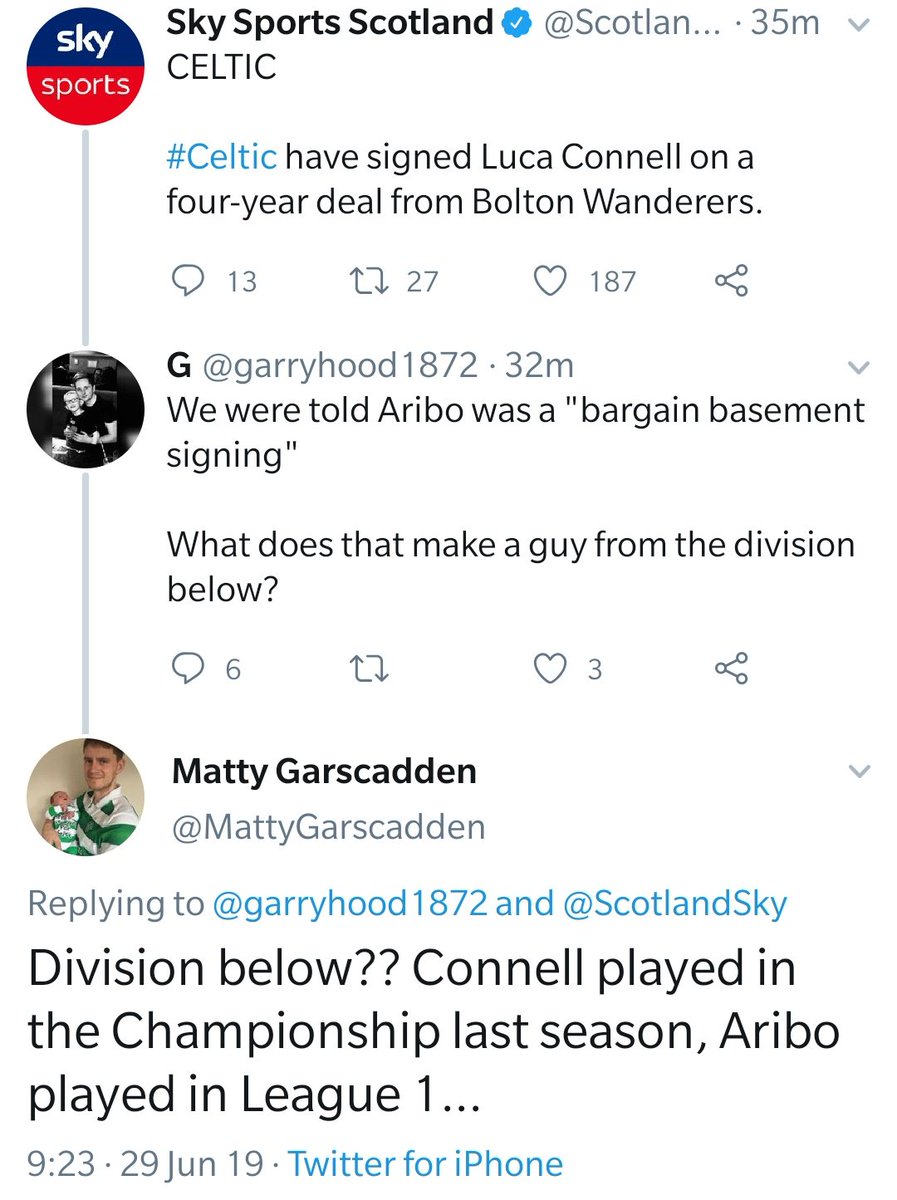 Celtic played their second tour game on Saturday afternoon, winning 2-1 against a plucky Wiener SC side.
Celtic played two sets of eleven players , one in each half, so the result can;t be taken too seriously.
What was interesting was the way the teams played, with attempts to try new things , new shapes and even new players.
Well, new to the first eleven, that is.
Leigh Griffiths showed sharpness when he closed down the keeper to score the first Celtic goal, after the hosts were granted their now customary opener, and to be fair, after his battle with his demons, it's like a new signing.
Vakoun Bayo added the second , showing that he has indeed improved considerably and it could be said that he, too, is like a new signing.
The other new siging, who actually is a new siging, Mayran Shved showed that he's not afraid to take people on and shoot when in sight of goal, but to be fair, he played like a new signing and will probably take a couple of months to adjust.
Lewis Morgan also looked lively, and between these two there is little need now to bring in Paddy McNair, freeing up a few quid to strengthen where we need to strengthen.
All very promising, and with the qualifying games against Sarajevo drawing nearer, it's maybe now time to pick the best eleven and get them out there.
The away leg is a week tomorrow….tomorrows friendly with St Gallen is the last match before the real stuff starts..
If you watch a recent interview with Neil Lennon, the manager appears to get his dates mixed up, saying twice that the Sarajevo game is two and a half weeks away.
Perhaps someone told him when it really was, and this prompted his rant..
"The eight games in eight weeks schedule is ridiculous.
"That's almost a quarter of a season before a ball has hardly been kicked in the Premiership. 
"We have touched on this for years and there is no benefit for any team involved. There is no respite at all for the players, it's very difficult.
"But I can't think of the European qualifiers as being arduous. We have to take it on. We have to plan as best we can for them.
"The rewards are great if we get there – for everyone, not just Celtic. 
"It's great for the Scottish game and I would really love to do it again.
"It would be special but it is tinged with the fact you have to go through four qualifying rounds.
"That's a big ask being the first games of the new season but we just need to get our head around it.
"Everything we are doing in Austria and Switzerland will be geared towards the qualifiers." 
Such as sending Keiran Tierney home…which means we could really use a left back.
Scott Allan, who you may remember has been at Celtic for a few years but struggled to put in any effort, has had a pop at the club in the Sun newspaper…
"Do I think I was treated professionally? I'd have to say not 100 per cent of the time, no. I definitely wasn't.
"In football, when you are playing, you are part of the squad.
"When you aren't part of that, it is all too easy to be cast aside and forgotten about. That's just how it is.
"And at times there it was the luck of the draw.
"Ten minutes before training started, you'd find out who you were training with.
"There were five or six of us in that situation — players like Cristian Gamboa and Marvin Compper.
"There was a period after January where five or six of us would have to come in and ask, 'Who are we training with?'. 
Presumably they meant which players or coaches, and not which club…
"We didn't know. Nobody had told us. So we would need to go and find out which group we were to join.
"It's difficult to accept that situation. You are 27 years old. It should be structured.
"If the club want you to train with one particular group, you should be told, 'Right, you're training with them. Every day.'.
"You at least could get that through your head.
"But it changed from day to day and it became a guessing game where you were going to train half the time.
"It ended up me and Gamboa just being told, 'You guys are in the gym'. There are so many players at Celtic.
"We talked about it amongst ourselves, just told each other to stay professional.
"We were hoping we would get a change of scenery, get out and get ourselves back up and running again. 
In Allan's case, both Deila and Rodgers decided something wasn't right.
"I'm not angry. I ended up expecting it. I felt I dealt with it well, kept my head and didn't chuck my toys out of the pram.
"Other players like Cristian and Marvin did the same.
"We could hold our heads high because we acted professionally, regardless of what happened.
"My relationship with Brendan was fine, respectful. It was hard for me to argue about not playing because the boys there had done such a good job over the previous three years.
"It was more about having a clear idea of what I was going to be doing for the season — that was the frustrating thing.
"When Neil Lennon arrived, he said he would get me game time. But it wasn't to be.
"He did feel sorry for me and a few others. There was Cristian, a great professional who never got a sniff of a game after November, I think.
"But you can't complain too much when the team has won nine trophies in three years." 
He added, whilst complaining far too much.
Rumours of a new kit deal continue to abound…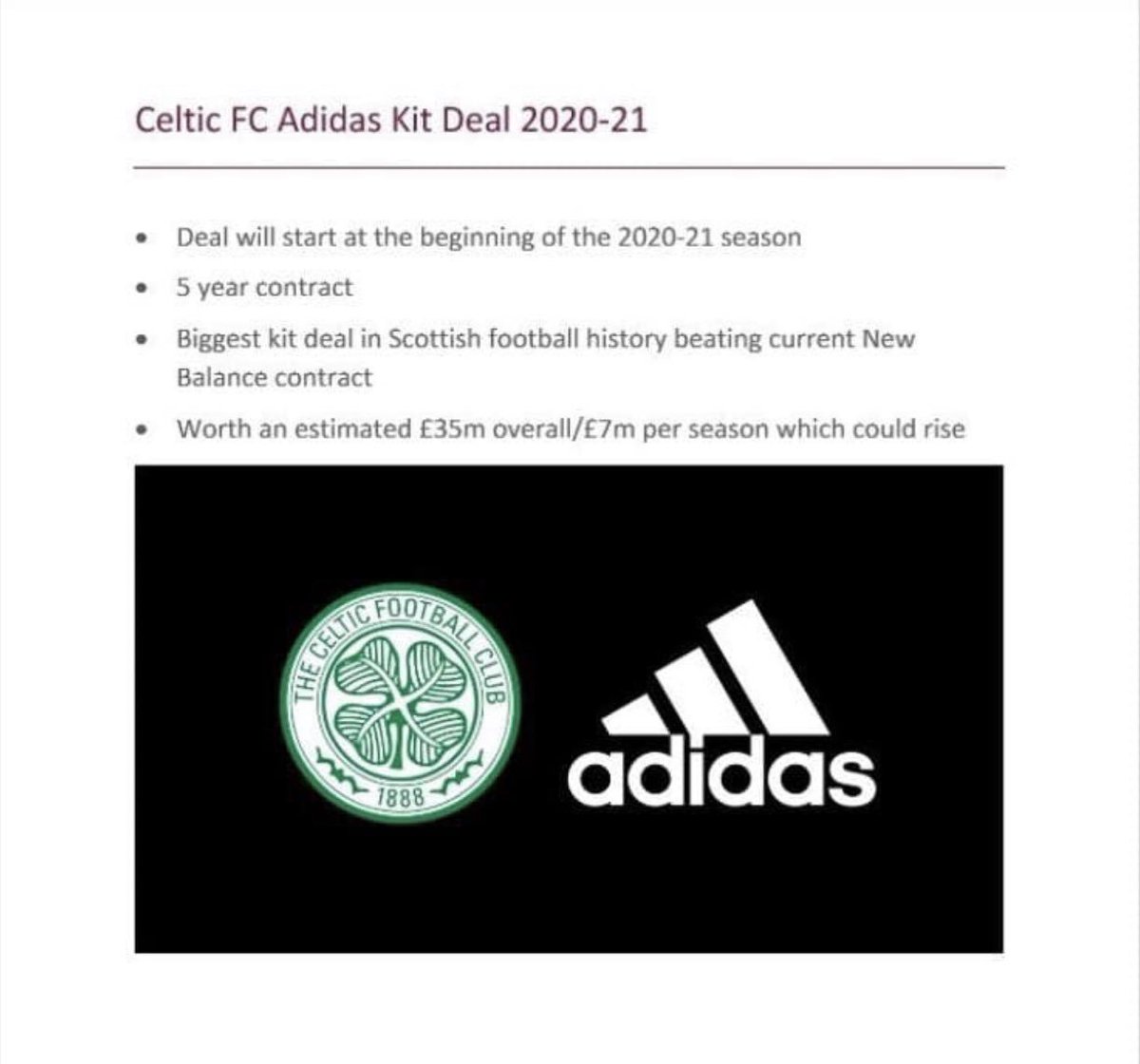 As yet, there has been nothing from anyone who would know, but frankly anyone but New Balance would suit me.
Oh wait, the new club suits leave a little to be desired..
Meanwhile, at a training camp in Portugal, a tribute act pays tribute to another group of legends..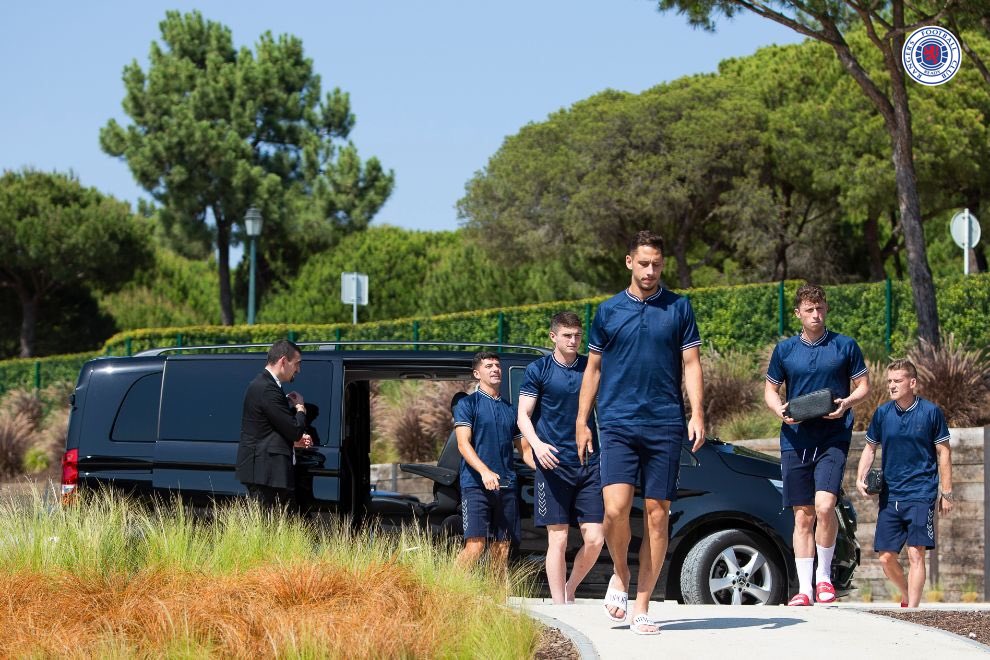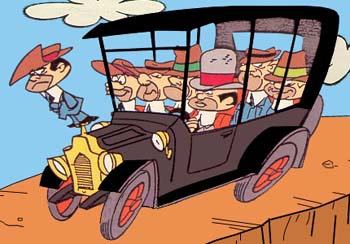 And this made me chuckle…
not likely, to be fair..
On Saturday we had this…