Celtic Diary Saturday June 29: Anti Celtic Media Cranked Up
Perhaps the signing of Christopher Julien has made them a little more afraid than they already were.
Perhaps the signal of intent sent out, which oddly enough , none of the SMSM have picked up on, has caused a meltdown…because this story shows just how much fear is trickling down their collective leg.
Oh alright, it wasn't in the SMSM, and it wasn't published recently, but I'm sure the cream of their investigative hacks will be on it now.
I hope Neil Lennon has an alibi.
Had James Traynor been directing the media in 1888, then Celtic would never have got off the ground…
Anyhoo, back in the real world, and Oddsone Edouard seemed chuffed with the arrival of a pal..
"Christopher is a very good player. I liked playing with him at Toulouse and he's a good friend of mine. We kept in contact and I'm very happy that he's signed for Celtic. I'm excited to play alongside him again, he can help the team a lot!"
for those of us who were a little comcerned that Eddy might be missing his pal Moussa, and possibly Olivier Ntcham later on, this is good, if not great news.
Julien ?
Well, he's here for trophies..
"When you start playing football, you are playing to win trophies and have a legacy.
"When I won the World Cup with France it was an excitement and good vibes and every footballer needs to have that.
"Since that time, it's true I haven't won trophies or been to finals and my experience in Germany with Freiburg was not good.
"I achieved a promotion in France, but didn't win a trophy. It is really good now to be part of a team that wants to compete at the top of the league and not the low part." 
World cup ? What World Cup ?
The defender was a member of the team that won the Under-20 World Cup in 2013 and joins the Bhoys on a four-year deal 
Well, there's something the media forgot to tell us. Although he didn't play in the final he was in the squad, which beat Uruguay on penalties in the final.
Neil Lennon gave up celebrating his birthday to meet up with the player, which made him feel wanted..
"I appreciated that gesture from the manager. It told me a lot about his ambitions for the club and, of course, I want to be part of that." 
Lennon seemed pleased with the result of his efforts..
"We are absolutely delighted to bring Christopher to Celtic. He is a quality player with great attributes and we are very much looking forward to him joining the squad and working with him.
"We've got a squad of great quality already here at the club, who have achieved incredible success over the past few seasons, but it's always good to add further quality to the group and that's what we've got with Christopher.
"I know the players will be delighted to welcome him into the squad, and I know he will be keen to play his part in the seasons ahead." 
One thing about Jullien that I  noticed was that as well as his height he is rather broad shouldered…which he'll need to be to carry that defence…and fair play to Tam Sellics Son who has secured the rights to supply him with coathangers..
Celtic face Wiener SC today as part of their pre season piss up, and Jullien will join up with the squad at some point.
Four players will be heading home, which is surprising, Jack Aitchison,  Calvin Miller, Scott Robertson and Grant Savoury , but thats probably because there are around thirty already out there and Lawwell has probably been moaning about the bar bill. 
Vakoun Bayo, who has put his head down and grafted since signing for Celtic , is expected to be given a run out.
He said;
"I'm really happy to be here on my first pre-season tour with Celtic," 
"It's very warm here in Austria, but that's nothing new for me because I'm from Africa. Our training programmes have been challenging, but I feel good for it and I've enjoyed everything so far.
"I picked up an injury not long after singing for Celtic back in January, but now it's better and I'm fully fit and ready to go. It's great to be back on the training pitch, and now I can't wait to get playing.
"The manager has said to me on a few occasions that I've performed well at training. He told me that I've did very well, and that, of course, makes me very, very happy. It's great for my confidence and I hope to repay him with good performances when it comes to matchday." 
"I don't know when my first game will be here on the summer training camp, it might be Saturday or Tuesday. I also don't know if I'll start, but no matter what, I'm really looking forward to it. I can't wait to get out there and get myself off the mark on the goal front.
"Christopher Jullien coming in, from a personal perspective, is great for me in that it's another French player in the dressing room. I love the Glasgow accent, but it's so fast. Sometimes I'm not sure what Scott Brown, for example, is saying, but I try my best. But Scott is a great, great player and is so good with everyone away from the pitch too."
Brown is getting a lot of plaudits from the newer players, and its good to see there are no cliques at the ground, and the French speaking contingent are not being left out.
People who don't have English as their first language can struggle at a new club, and its important to help them out immediately.
Brown will identify with that, as he's from Edinburgh.
Wiener SC , todays opponents are a step up from Pinkafeld, well, Division three, but are a more established club..
The Wiener Sport-Club, sometimes abbreviated as WSC, was established in 1883 in Vienna, Austria and is one of the country's oldest athletics clubs. Their traditional home is in the Dornbach quarter of the city (17th district).
At various times throughout its history the club has had departments for fencing, boxing, wrestling, cycling, handball, track and field, field hockey, tennis, squash, football and water polo. The football team enjoyed success in Austria National Championship in 1922, 1958 and 1959. Their 1958 season included an impressive 7-0 victory over Juventus in European Champions Cup. Two bankruptcies in the 1990s eventually led the team to slip into the lower leagues.
In 2001 the football section split off as Wiener Sportklub due to financial troubles and was re-integrated back into WSC in 2017. The first squad currently plays in the Austrian Regional League East (3rd Division). The club's home ground Wiener Sport-Club Stadium (or Wiener Sport-Club Platz in German) dates back to 1904 and is considered as Austria's oldest actively used football field. Player and coach Erich Hof is known as the club's legend. 
Their strips are not the most imaginative, it has to be said.
Home is all black, and away is all white. Then again, there's something to be said for keeping it simple.
Look at the mess New Balance have made of the hoops this year.
There are rumours that Celtic will ditch NB in favour of Adidas when the current deal expires next year, which would be an improvement, but personally I'd prefer to go back to Umbro, as their gear lasted much longer.
And their designers have been paid the highest tribute of imitation by those at New Balance.
Meanwhile, there's been much gnashing of teeth and tears of pain from the other side of the city.
Radio Clydes superscoreboard, a retirement home for Radio presenters, is also where supporters of "rangers " go to offer their invaluable insights to the rest of us.
Insight such as this.. when comparing Celtic's new signings to those of Steven Gerrard
'The steak in Aldi tastes just as good as Marks and Spencer's but it's half the price,' 
A strange analogy, considering the Ibrox club deal mainly in mince.
and then this..
Does it really matter how much you spend on a player? Celtic can have the bragging rights by spending 7m, but it's who turns up next season. Rangers spent 50k on Glen Kamara and we could argue he's worth millions. Spend big or spend wise. @ClydeSSB 
They never spent £7m £2m with add ons 
Perhaps they were just trying to console himself after looking at the relative squad lists.
The forwards now available to Celtic must be haunting him and his fellow bears…Sinclair, Forrest, Griffiths, Edoaurd, Shved , Bayo, Johnston and Hayes far outweight Morelas , Defoe and whoever else they've got.
Panic is setting in, so the Record duly obliged with a comforting article…
Steven Gerrard details his Rangers Champions League masterplan after Liverpool inspiration
Well, the headline is comforting..the article itself isn't a masterplan at all, its more a chuck tuppence into a well and hope for the best kind of thing..
This is best read with Rule Brittannia on in the background… or the Queens christmas speech.
Steven Gerrard celebrated in the stands at the Wanda Metropolitano as Liverpool lifted their sixth Champions League title in Madrid.
Amidst the jubilation, he took a moment to watch the thousands of Reds fans behind the goal go crazy as Jordan Henderson lifted the European Cup aloft.
Then he saw Anfield boss Jurgen Klopp in tears, as he embraced every one of his players and staff on the pitch after the 2-0 victory over Spurs.
And suddenly, the Liverpool legend's mind was back at Ibrox.
Gerrard was used to that winning feeling as a player. Apart from the Premier League, he lifted every club trophy available to him.
And despite savouring it again as a supporter last month in Spain, he wants to feel it for real as a manager. 
Seeing the Liverpool fans in a state of ecstasy made him even more determined to give Rangerssupporters those same emotions.
He knows how important winning silverware is to the Light Blues, who have now gone eight years without a major trophy.
Liverpool's big night in Madrid was the highlight of Gerrard's summer.
But now he's back at it with Gers, trying to produce a squad capable of ensuring there are similar celebrations in Govan next May.
As he reflected on Liverpool's Champions League victory, he said: "I loved the night in Madrid for the final. 
"It was the first time I've had the opportunity to do it as a fan. I got the invite from Liverpool and it was brilliant.
"It was deserved after the season that Liverpool had and going so close in the Premier League. It was fantastic for everyone and I've still got mates in that team.
"I have built a bit of a relationship with Jurgen as well and after going so close to the sixth the time before, I was delighted for him. It was a great experience.
"Being there and seeing it, I looked at the Liverpool fans.
"Emotionally it brought back a lot of memories of my own from being a Liverpool player.
"I was thinking 'OK, I would love that to be us at Rangers'. 
And , er, thats it. Thats the "plan".
Fair play to Scott MacDermott who wrote that, as it would have been difficult to do with his view of his keyboard obscured by Gerrards arse.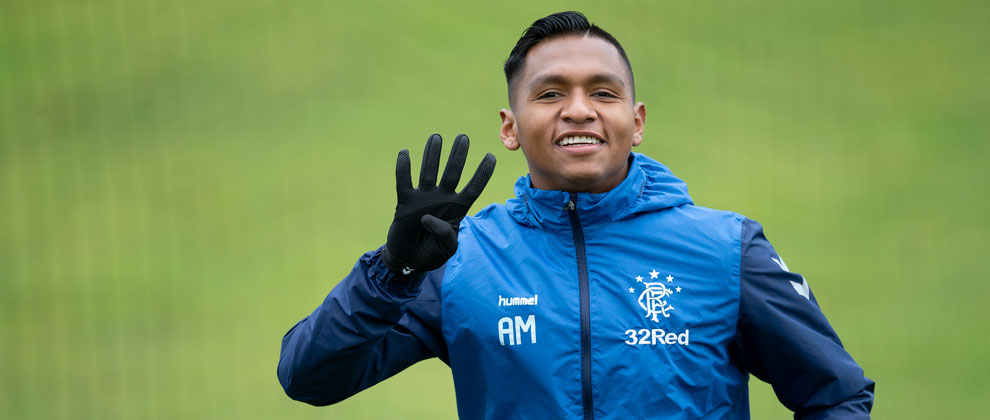 No, not that one.
New boy Joe Aribo could be a superstar…
'I'm a mix of Arsenal legend Patrick Vieira and Spurs star Dele Alli' says Joe Aribo
New Rangers signing reveals comparisons to EPL legends
Er, except that as it was the player himself who made the comaprisons, they don;t really count.
The whole charade was beautifully summed up by David Low on Twitter..
David Low Retweeted Football Scotland
This whole bigging up of everything Rangers is now in bellyaching laughs territory. Everyone they sign is the greatest ever and everyone else wants their players at huge valuations and, guess what? The squad and its cost gets bigger and no one buys any of their players.



 Of course, it could all just be deflection, but what from ?
Ah, here it is…
Dave King's SA company Sebata has issued an earnings warning in advance of today's release of their annual earnings report. https://www.sharenet.co.za/jsepdf/SENS_20190624_S416585.pdf … Sebata's stock, of which King holds 63%, has fallen 61% since April 2018. It took a 12.5% tumble on Wednesday after announcement.

I'd be hiding that season book money if I was on the "rangers " board…
Yesterday, we had this picture…
Today, we have a guest judge…in the interests of fairness, of course..
As usual, there was a tiny bit of dissent..
Fair enough, i'll go back to picking the winner from now on.
Try this…