Celtic Diary Wednesday June 19: Maybe It Ain't So Bad
David Turnbull has decided that he doesn't want to play for Celtic after all. The club will now move on and get someone in who does.
At one stage it looked like he would, but then his boyhood heroes Norwich city matched Celtic's bid and he's been seduced by the bright lights of Norfolk.
He'll get the chance to play alongside two other ex Celts, Patrick Roberts and Teemu Pukki, and will ply his trade in the English Premier League for the next twelve months.
And that, as they say, is that.
But at least one member of the press has seized on this saga, and hints it could be the beginning of the end for Celtic.
Tom English, the Irishman who writes for the Scotsman, said;
Dramatic end to the David Turnbull saga. Motherwell have done really well, the player has done really well. Celtic? They've now bid for and failed to get McGinn, McKenna and Turnbull. Not a good look 
Yeah. The current squad have won everything in Scotland for the last three years. That's a good enough look for me.
Celtic have failed to bring in, for good money that would have stayed in Scotland, three players who would have been merely additions to the squad.
With hindsight, some claim that McGinn would have improved the team, having helped his side secure promotion to the EPL, and Turnbull starts at the same level with Norwich, and McKenna , although still at Aberdeen for now, is not where he'll remain.
Turnbull has done well for himself, if it's all about money for him, and like McGinn, he has more chance of regular football at a lowly English side.
So what ? We'll move on, and I'm not quite sure what point English is trying to make, but then again, he probably isn't either.
The transfer window is open for a while yet. Players and agents, especially the better ones, will continue to weigh up their options, and will take their time over making their minds up.
Anyone who is good enough and confident enough to walk straight into a successful side such as Celtic will not take as much persuading, and to be perfectly frank, Turnbull didn;t sound confident enough to do that, hence his request for guarantees of a first team place.
 Yesterday saw the start of business for the 2019-20 season when Celtic were drawn against Sarajevo of Bosnia/Herzegovina, although it's still not certain which games will be played when.
Celtic were drawn to play the first leg at home, but Sarajevo have asked for the ties to be switched to allow them more time to sort out their visas for the trip to Scotland.
So don't book any flights yet. You'll only regret it.
Sarajevo…what do we know about them ?
I like them already…
Sarajevo Football club in cooperation with partners Svjetlostkomerc d.d. Sarajevo and Pomozi.ba, organizes a humanitarian campaign "BE FRIEND ", with the aim of collecting school supplies for children with a serious financial situation.
With this campaign, Sarajevo FC, as a socially responsible club, wants to help socially vulnerable children, send a message on the importance of education and to make possible that all children, in the same conditions, can start a new school year.
The collecting campaign will take place from September 3 to 10, and all donations of school supplies can be handed over to special boxes that will be placed at the premises of the Membership Department in Maršhal Tito Street 38b as well as at Svjetlostkomerc d.d. Sarajevo.
On this occasion, Sarajevo FC invites all citizens to be friends and participate in this humanitarian campaign, and with their donations, brightens the beginning of the school year to the youngest ones.
Giving a little, for someone means a lot, so join the campaign and be a FRIEND! 
They're just like us.
Those of us heading over there might want to extend the hand of friendship in this way..
More information on the club, and perhaps another link to our own values can be found on Wikipedia..
Fudbalski klub Sarajevo (English: Sarajevo Football Club) is a Bosnian professional football club based in Sarajevo, the capital city of Bosnia and Herzegovina and is one of the most successful clubs in the country. Founded on 24 October 1946, FK Sarajevo was the most successful club from SR Bosnia in former SFR Yugoslavia, winning two Yugoslav First Leaguetitles, being runners-up on two other occasions and finishing 6th in that competition's all-time table.[2] The club's official colours are maroon and white. FK Sarajevo was the only major football club founded by the post-war Yugoslav authorities in the city of Sarajevo. The club entered the Yugoslav First League in the 1948–49 season, and eventually competed in all but two seasons in the top tier. After Bosnia and Herzegovina gained independence from Yugoslavia, FK Sarajevo became one the country's biggest ambassadors, departing on a large world tour during the Bosnian War with the goal of gaining international support for the country's cause.[3]
Today, FK Sarajevo is one of the most prominent members of the Premier League of Bosnia and Herzegovina, where it has won four Bosnian championships, six Bosnian Cups and one Bosnian Supercup. Furthermore, the club was runners-up in the national championship another six times. It is ranked first in the Premier League of Bosnia and Herzegovina all-time table and is the country's most prominent representative in European competitions. FK Sarajevo is the most popular football club in the country, together with FK Željezničar, with whom it shares a strong rivalry that manifests itself in the Sarajevo derby.
The club plays its home matches at the Asim Ferhatović Hase Stadium, named after legendary club striker Asim Ferhatović. The stadium has a capacity of 34.500.[1]
Since March 2019, FK Sarajevo is run by Vietnamese businessman Nguyễn Hoài Nam and the PVF Investment and Trading, JSC (Promotion Fund of Vietnamese Football Talents F.C.).[4][5][6] 
Asim Ferhatovic sounds like our kind of guy..
Mate, I can't play for cash while having others tell me how to play the game. I'm grateful to them, they were fair and didn't make an issue out of it. I told them I can only play for Sarajevo
Asim Ferhatović, in an interview, after returning from a short stint with Fenerbahçe[13] 
One thing we can be certain of, these guys are no Lincoln Red imps..
Despite all the doom and gloom around signings-or the lack of them -this week, there are still a couple of fresh faces to look forward to.
Myran Shved certainly looks the part, and he'll provide a bit of pace up front.
Then there's Daniel Arzani , who looked the part until he was injured against Dundee last season.
"I was clapping the fans as I was coming off. That was because I didn't actually believe I had done my knee. I was buzzing.
"I was really happy. I was thinking, 'It's OK, in another couple of days I will be alright'. 
"I was in great pain but I had heard that when you do your ACL sometimes you don't get any pain.
"So I thought it was something else. It was gut-wrenching when I found out.
"It just shows how precarious football can be. One minute you are on a high after the World Cup, signing for Man City and going to Celtic then, boom, an ACL injury. 
"It was a huge setback. But I had my head in the right space afterwards and I'm feeling good now."
Arzani and Shved will be significant additions to the squad.
We just need to sort out a bit more cover in defence, and we'll be fine.
Oh, and a goalscorer. Unless we have indeed got a new lean mean machine in Leigh Griffiths.
We do appear to be looking for a goalkeeper, as Sky have apparently picked up on the vimto drinking chip guzzling namesake over at Maryhill FC… mentioned yesterday..
Do yourself a favour, ditch that channel if you still have it.
First team training has started again, not quite running up and down mountains, more a sort of gentle jogging and the occasional stretch…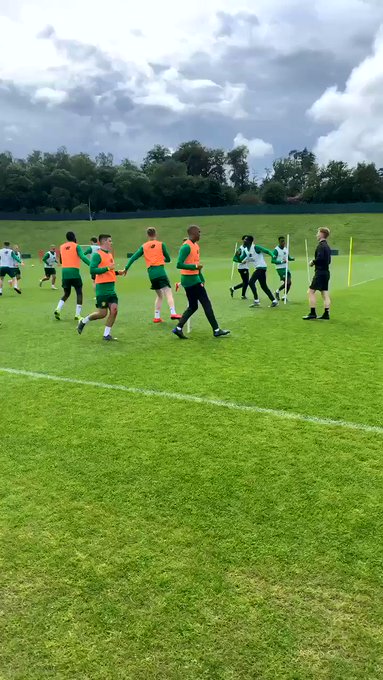 You can't see him in that picture, he's only wee, but Karamoke Dembele is training with the big boys.
So thats new player number three…
Will this do , Peter ?
It'd better, because later today there's a piece about the refereeing scandal that broke this week in the Mail, and Lawwell will be one of a number of people asked some difficult questions…
Speaking of rows, it's all kicking off in Phoenix….
Yesterday, we had this picture..