We've seen the tittle tattle around the bid for Motherwell youngster David Turnbull, and how the agent has allegedly decided to hang on and see what else is out there for his client.
As far as we know, the deal isn't dead in the water as yet, but it is flapping around a bit hoping the coastguard are on their way.
A boat has been spotted on the horizon, but it's difficult to see just what it is yet….
The abundance of websites dealing with football gossip-we don't do gossip on Etims, we just make stuff up, which is why we get exclusives-means that there are plenty of opportunities for agents to plant stories to attract interest in their players.
Of course, there's one club that doesn't need these websites, as they have an entire national media to do their bidding, but for Celtic players there has to be a bit more work done.
Which is why this story caught the eye. From Football Insider..
Bayern Munich are closing in on the signing of highly-rated Celtic youngster Liam Morrison, Football Insiderunderstands.
The Scottish champions have been trying to tie down the defender, 16, to a professional deal, but he could now be headed for a glamorous move to one of Europe's biggest clubs.
A source with knowledge of Morrison's situation has told Football Insider that Bundesliga giants Bayern are in pole position to sign Morrison this summer. 
Could that source be his agent, a man who it appears has a particularly well developed imagination ?
Of course, the player may well be in the sights of Bayern Munich, and if so it would be a tragedy if such a talent were allowed to leave.
Especially given our shortage of top class centre backs.
But I've a feeling if there was anything in this story, it would have found an outlet with more of a reach than Football Insider.
Adam Matthews.
There's a blast from the past. He was part of the side who beat Barcelona 2-1 all those years ago, and is now available on a free transfer. He's still only 27, and has the experience required to be at the very least a back up right back, and as he showed against Barcelona , he can play on the left as well.
Available on a free, he falls just within our budget, and would certainly be worth talking to at least.
He's had bad luck with injuries, and even worse,  had to suffer David Moyes as his manager. Yet he still wants to play football.
We know he could play, the question is can he be coaxed into getting his career back on track.
As for those who say "you should never go back " to a club, we asked Celtic legend Bertie Auld for his thoughts on that one, but we couldn't possibly print the reply.
Olivier Ntcham has more or less publicly said he wants to leave Glasgow and move to France.
During a press conference with the French under 21s, he said
" I more or less  want to say publicly that I want to leave Glasgow and move to France "
Hardly a secret, I suppose.
The players report back for training today, and the hard work starts now with a sudden sharp reminder to them as the draw for the UCL qualifiers is tomorrow…
The draw for the second round of the Europa League qualifiers is on Wednesday, and Celtic will be in that one as well. Just in case we get beat by whoever we get in the UCL draw.
but you know what, I'm optimistic. Should Celtic qualify, and all the seeded teams qualify according to plan…this will be the line up for the group stage draw…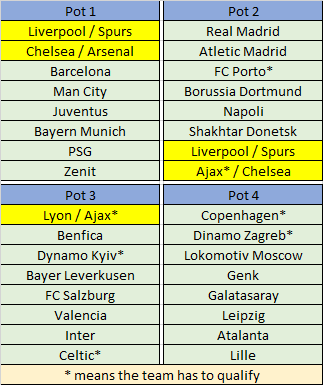 We'll be in pot 3.
Anyway..one game at a time..
It'll be one of this lot first..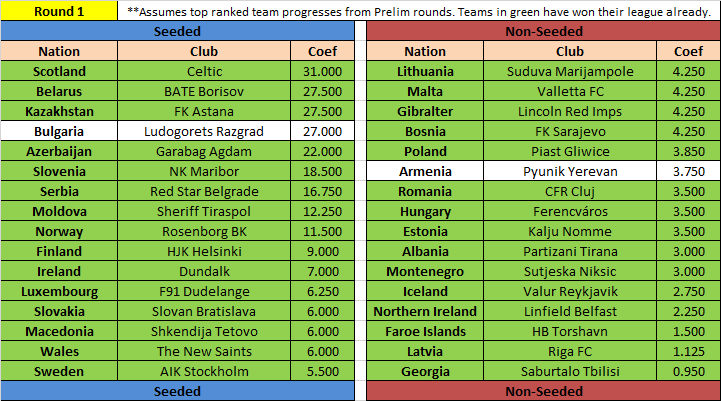 Interestingly, there has been no formal goodbye from Mikael Lustig yet, prompting speculation that he might be around for a while…
Anyway, time for a musical interlude before we move on to the biggest story of the week, which hasn;t actually been in the papers yet.
Mike Ashley has won his court case with "rangers ". The one over the merchandising.
All that remains is for the court to decide how much Dave King will have to pay the Newcastle owner in lost revenue and damages.
It's a bit like when HMRC sent the previous entity a bill. As in they didn't have the money to pay it, as appears to be the case with King and co. regarding the Ashley bill.
As ever, though, a section of the support still seem to think it's all down to what used to be called the Unseen Fenian Hand..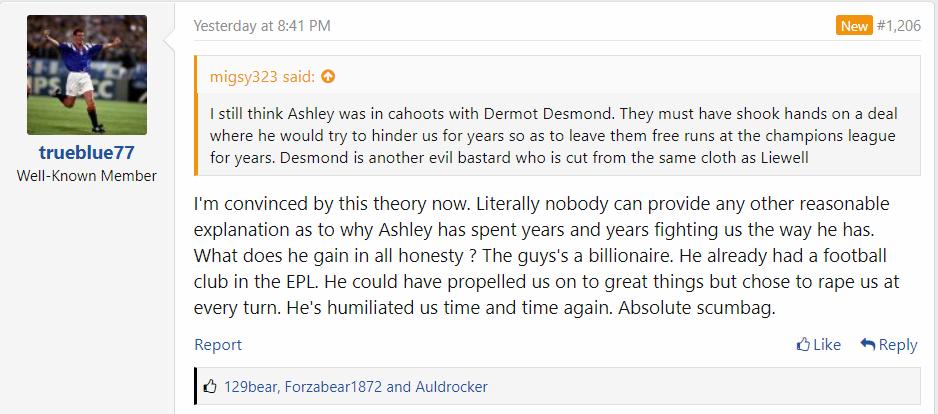 Until they wake up and realise that they are being shafted by one of their "own ", they will continue to follow follow the convicted fraudster all the way to the gates of hell…
It does defy belief that such an enlightened and intelligent support can be taken for so many rides by so many people.
Have a read of Stephen O'Donnells "Tangled Up In Blue " -reviewed on the site – to see how this isn't an entirely new thing…
Then again, that in itself is hardly surprising given the financial acumen of their support…
Speaking of merchandise, the Ibrox Summer catalogue is out, with the ladies beachwear looking environmentally unfriendly…
For King, his customer base is a dream come true, as they are completely oblivious to what he's doing, choosing instead to focus entirely on the perception of wrongdoing at Celtic..


Financially astute…aye, they could get the guy who clarified the five per cent share above…
One other story caught the eye this weekend, which concerned a referee, Stephen Brown, stepping down and resigning due to historical emails which featured bigotry, which most of us thought was standard in refereeing circles anyway.
A few weeks back we were told that he was up for promotion, and decided to wait until he was promoted before asking about his emails.
It seems that we weren't the only ones that knew-( are we ever ?-Ed ) and the referee has nobly decided to fall on his sword.
Yet this referee was earmarked for promotion, which tells us exactly how little the SFA refereeing circuit has changed since the days of Dallas and his crew.
Whilst the incompetent Rod Petrie now heads the SFA, the equally bloody useless John Fleming is still in charge of the referees..
Well, I'm certain it's incompetence.
Surely they can't be corrupt ?
On Saturday we had this picture for your perusal..