Celtic Diary Friday June 14: And…We're Off
Celtic have more or less tied up their first signing of the summer. Hopefully, he'll be untied so that he can sign a contract in case anyone from Aston villa is looking on.
David Turnbull, who burst on the scene earlier this year at Motherwell, is an attacking midfielder who scores goals. At 19, some might argue that the £3m fee is a little steep-me, for instance-for someone with so little experience.
However, if you factor in that Celtic have probably been watching his development at youth level for a number of years, then it starts to make sense.
And it keeps the money in Scottish football.
More importantly, he tends to shoot when he's anywhere near the opposition goal, and can take corners and free kicks. Which would make him unique in a Celtic team, and also help remove the sidieways football that is becoming a genuine fear amongst the support.
If I have one tiny worry it's that the move for Turnbull confirms that Celtic are shopping local and only moving for players they know. This will prevent signing any more additions to the treatment room, such as comperr, and players such as Bayo who were a standard or two below the fitness and skill levels the club expected after watching him on telly.
Although it's good to see they are actually beginning to listen to people who know there stuff.
From the diary, August 21 last year..
Back in December and January the diary expressed doubts about Marvin Comperr, based purely on information that was readily available and seemingly ignored by everyone at Celtic.
Lets not make the same mistake again.
This is, in fact, the fifth transfer window under the present management and scouting  team. If they cannot find a decent, healthy and  affordable centre half then maybe we should look for  someone who can.
I'll offer my thoughts, as its unfair to criticise without offering an alternative.
Christopher Jullien . Toulouse. He'll cost about the same as Edouard, but he'll make a much bigger difference to our side.
Right, I've done my bit.
Now its up to the club. 
August 23…
Still no sign of Christopher Jullien, though, despite all the hints I've been dropping. 
Then, from Sport FR website..yesterday…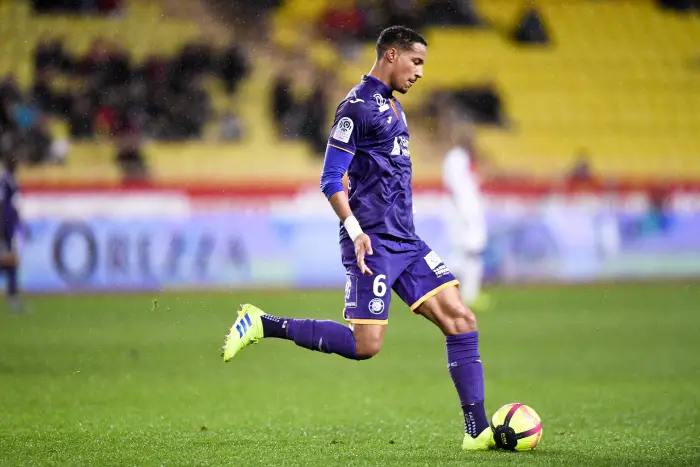 Central defender Toulouse football club and leader of the Toulouse rearguard, Christopher Jullien would be in the sights of Celtic Glasgow, current champion of Scotland.
According to the daily L'Equipe, the 26-year-old footballer is on the shelves of Celtic Glasgow. The native of Lagny-sur-Marne recently visited the facilities of the Scottish club.
The Haute-Garonne side will claim between 8 and 10 million euros for the former Auxerre player, under contract until June 2021. Present at the Stadium since 2016, Christopher Jullien played 34 Ligue 1 matches during the season 2018-2019. 
I'll be sending a bill for my 10% later today.
Lyon are apparently the latest club to join the "race " to acquire Olivier Ntcham, joining Marseille and eventually any other French clubs that the media can remember the names of.
The fact that only French clubs have been linked hints at an agent telling people he wants to go home. If this is true it explains the haste with which Turnbull was snapped up.
Reports also indicate that Rakheem Harper of West Brom is now no longer of interest to Celtic, as indeed is Liam Moore of Reading, with Reading Chronicle reporter Courtney Friday claiming..
Bit of good news. I understand Celtic have been priced out of a move for Liam Moore. #readingfc
— Courtney Friday (@ChronCourtney) June 12, 2019 
Here's a strange story, told by Daniel Arzani-remeber him ?-about Armstrong Oko Flex and Scott Brown..
Armstrong Okoflex – he came up for one session, I think he's 16 (now 17)." 
He called nutmeg as well and he tried to nutmeg Broony, and Broony absolutely crunched him – it was bad.
"They kind of stopped the session as well, 'you can't do that', and the coach got involved and stuff and was like, 'if you do that, Broony's going to break your leg'.
"He said: 'If you do that I can't stop Broony, he's going to break your leg – it's your choice if you want to do that'.
"I've not tried it and I'm glad I haven't as well." 
This appeared in One Football, and doesn't paint Brown or the coaching staff in a particularly good light.
One will try to check it's veracity..
Elsewhere, and although the new Rangers entity are coming for their fifty fifth title in just eight years, it seems they aren't still quite as well loved as they would want to be..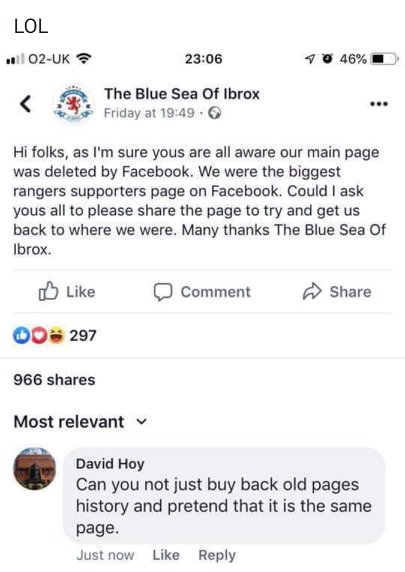 Good to see a helping hand offered…
Ian Maxwell, the latest face of the SFA, has shaken us all awake with his desire to put an end to the ongoing issue of Rangers cheating their way into a Champions League place, and in doing so, has given the Resolution 12 issue a page or two in the papers..
Bravely covered by "Record Sport Online " , the story goes..
SFA set to make Rangers UEFA licence decision as Ian Maxwell issues update
The governing body could pursue the Ibrox club over alleged irregularities in their application to play in Europe in 2011. 
Ian Maxwell has revealed a decision over whether to pursue Rangers over "alleged irregularities" in the club's application for a UEFA licence in 2011 could be made soon.
The SFA tasked its compliance officer with instigating a probe into the matter two years ago, which involves the Ibrox club's unpaid tax liability at the time they submitted the application.
Had they disclosed the liability, Celtic would have been entered into the Champions League qualifiers the following season. 
Hang on, this narrative accepts that the tax bill had indeed crystallised, which we knew, and that the Ibrox club are guilty …a slip of the tongue, or are they about to launch a massive media campaign demanding fairness and transparency ?
Rangers maintain the Five Way Agreement signed off by the SFA, SPL, SFL, the old Rangers and the Newco formed by Charles Green ensured the governing body had no jurisdiction in the case. 
How about making this public, so we can all see it and decide ?
The SFA's judicial panel ruled the matter must be heard by the Court of Abitration for Sport if there was intent to dole out punishment 
Nope…there go ther balls again, along with their spine.
And now chief executive Maxwell insists the issue could be looked at again in the near future. 
He said: "I would expect that to come back to the board in the not-too-distant future.
"It (going to CAS) is still under consideration.
"We'll come back on that in due course. I wouldn't want to put a timescale on it.
"But I don't think we would let it go for ever." 
The SFA could be about to hand it all over to CAS, which means they won't have to tell the hordes the truth. Or, of course, they could just be telling us what we want to hear, with the sound of a can being kicked down the road perfectly audible amongst the noise…
Mind you, as Arsene Parcelie spotted, the Ibrox fans might not take too kindly to any more bad news, as this season they have raised their expectations…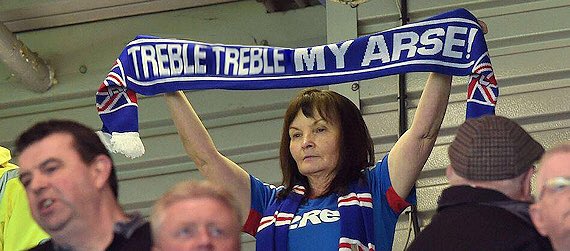 Mind you, she might not be talking about the football.
Meanwhile, Thompsons solicitors have responded to claims that they have given up the fight for compensation for historical abuse victims..
You have been misinformed we continue to fight for financial justice for dozens of survivors of abuse at Celtic FC and Celtic BC. 
Celtic FC ?
Having considerable courtroom experience myself, this tweet indicates that perhaps Thompsons are not among the elite of the legal profession.
It's Friday again, so we need to find ourselves a
Knob of the Week 
In the world of politics, theresa May is set to be replaced as Prime minister by one from a number of people who weren't considered good enough to beat her, the worst PM in living memory, to the top job in the first place.
The front runner, which in itself refelcts the quality of candidates, is Boris Johnson, a man who furthered his own career by lying through his teeth about Brexit, a policy he believes in only so much as to give him a shot at being Prime minister.
Ordinarily, johnson ( no capital letters, captial punishment maybe, but undeserving of a capital letter ) would win any knob of any week, but this week, Scottish Secretary David Mundell, a man who flip flops so often he doesn;t need a fan in his office, scoops the award after another about turn so spectacularly self centred that it must surely be career ending..
In a BBC interview last year, the Dumfriesshire MP said: "Mr Johnson seems to behave in a way that suggests he's only focussed on his own self-interest and not in the interests of our country." 
So, he won't be serving in any johnson government then ?
After accusing him of the very tactic Mundell has perfected himself ?
Whitehall sources have made clear Mr Mundell could serve in a future Johnson Cabinet. 
Kindred spirits..
David Mundell…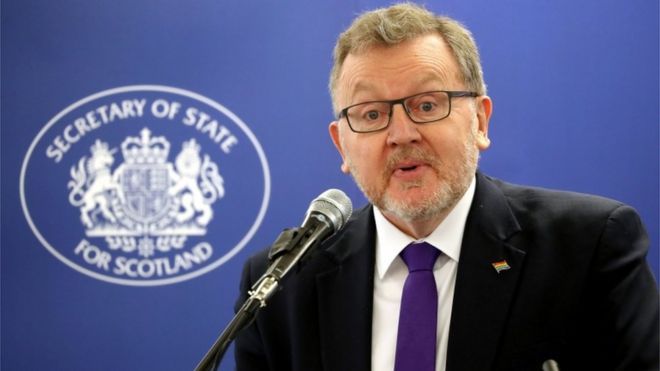 This week's
Knob of the Week 
No Diary yesterday, so we go back to Wednesday for this tantalising teaser..