Celtic Diary Tuesday June 11: Be Careful What You Wish For
I was going to use the headline "Celts first Signing Unveiled " , to fall in line with everyone else searching for "clicks ", but decided against it, largely because it wouldn't be true, but also because I couldn;t think of anyone who would be the first signing.
It really is that difficult to get decent information, and so one must conclude there's nothing to tell.
That doesn't stop the wires from humming, however, but just because they're making a noise doesn;t mean it's worth bending your ear towards them.
The UCL qualifiers draw ever closer, and what the manager will be aware of is making too many changes to an established squad that has, after all, won nine trophies on the bounce in Scotland.
Thats not to say that a few fresh faces are not needed.
A right back, preferably a project, who can learn his trade from Mikael Lustig and preferably with a bit of pace. Ralston might yet cut it, but only with the right attitude.
A left back, again a project, to allow Keiran Tierney to rest and fully recuperate from his "hernia ".
Central defence is fine. Simunovic and Ajer look like they can work together, and Jack Hendry , despite making a mistake or two, showed he isn't afraid to step up when asked. One more top class addition perhaps, but not really any need to panic.
Midfield is a little crowded, Biton, Brown, Ntcham, MacGregor, Christie and Rogic combined with Kouassi, Mulumbu, Henderson and Dembele means that one or two may have to leave. Ntcham being the favourite as he will raise a few quid, and he seems to have lost his mojo a bit since Brendan and Moussa upped sticks.
On the wings we have a surplus as well, Sinclair, Forrest , Arzani, Shved Hayes and Johnston can all play a bit, and we'll do well to keep all of them.
Up front is where we need to blow the budget. Edouard prefers to float behind a striker, and needs someone up there with him. Despite assurances from the man himself, Griffiths has a long way to go to get back to the lethal weapon he once was, but in fairness deserves an opportunity to do just that.
If we are to spend, it would be on an established forward. Thats all we need.
And I'll explain why.
The trophies aren't handed out in the summer, but the season is defined by those eight weeks before the kids go back.
Celtic cannot afford to take risks on new faces in the white hot atmosphere of the third and fourth round qualifiers. We need men who have been over the course before.
If Celtic fail, by the way, there is absolutely no guarantee of Europa League football.
Moravcik 67 explains …..
As you know, Celtic will have to play 4 qualifying rounds to reach the group stage of the CL. But what happens if we're knocked out along the way? 
First thing to know is that all teams eliminated from CL qualifying get a 2nd chance in the EL. I've attached an image showing how that works. The EL has two qualifying paths – one for national champions, and one for everyone else.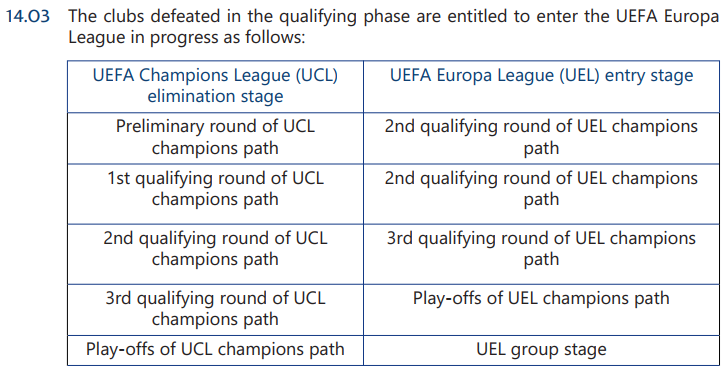 Teams knocked out of the champions path of CL qualifying enter the champions path of EL qualifying. If we're knocked out before the CL Playoff we would start in the next round of EL qualifying. If we're knocked out in the CL Playoff, we go straight to the EL group stage. 
In short, this means that throughout our qualifying campaign, we can only ever play other national champions – whether it be in the CL or the EL. If it's in the EL, it means the other team will also have been eliminated from the champions route of CL qualifying. 
This is where things get a bit weird. I've talked many times in the past about how Celtic will be seeded throughout CL qualifying. However, that would not necessarily be the case if we're knocked out of CL qualifying and enter EL qualifying. Here's why. 
UEFA have decided that for the champions route of EL qualifying the club coefficients will not be used to determine seedings in the draw. Instead, each club will only be seeded for the first round of EL qualifying it plays. 
So, for example, if Celtic are knocked out of CL QR1, we will then be entered into QR2 of the EL. We would be seeded in that round, but unseeded for QR3 and the Playoff. If knocked out in CL QR2, we would be seeded in EL QR3, but unseeded for the EL playoff. 
This is a consequence of draws being made before the previous round has finished. It's a messy system that could throw up difficult ties for teams knocked of the CL qualifying too early. APOEL lost in CL QR1 last season and had to play Be'er Sheva and Astana in EL qualifying. 
The way the draws are done in the champions route of EL qualifying is also strange. Again, this comes from seedings being given to teams knocked out of the previous round of CL qualifying. The champions route in the EL doesn't start until QR2. Here's what happens. 
QR2 of the champions route of EL qualifying will have 19 teams – 3 teams eliminated from the CL Prelim round, and the 16 losers from CL QR1. The draw is made on the same day as the draw for CL QR1, and the pairings from that CL QR1 draw are used in the EL QR2 draw. 
For example, last season Celtic were drawn against Alashkert in the CL QR1 draw. Later that day the tie "Celtic/Alashkert" was entered into the EL QR2 draw. We were drawn against "Astana/Sutjeska". The losing teams from those CL QR1 ties played each other in EL QR2. 
So back to those 19 teams. The way the EL QR2 champions path draw works is this. – 1 of the 16 ties from CL QR1 is given a bye to EL QR3. So whoever loses that CL QR1 tie gets the bye. Last season "Legia/Cork City" were chosen. Cork lost, and received a bye to EL QR3. 
It then gets stranger for the remaining 18 teams. – The other 15 ties from the CL QR1 draw are given seeded status. – The 3 teams who lost in the CL Prelim are unseeded. – 3 seeds are drawn against 3 non-seeds. – The other 12 teams then enter an open draw. 
The draw for the champions route of EL QR3 is much the same. The 10 winners from EL QR2 (including the team who got the bye) are joined by the 10 teams eliminated in CL QR2. – 10 losers from CL QR2 round are seeded. – 10 winners from EL QR2 round are unseeded. 
Again, the draw is made before the previous round completes, so it's not individual teams in the draw, but a pairing of teams from the previous round. In last seasons draw, 'Celtic/Rosenborg' were entered as a pair and were drawn again Cork City, who received the bye. 
Finally, the Playoff is along the same lines. The 10 winners from EL QR3 are joined by the 6 losers from CL QR3. – 6 losers from CL QR3 are seeded – 10 winners from EL QR3 are unseeded 6 seeds are drawn against 6 non-seeeds, with the remaining 4 non-seeds facing each other. 
Again the draw is made before QR3 finishes. Last season the 'Celtic/AEK' CL QR3 tie was drawn against the "Suduva/Spartaks Jurmala' tie from EL QR3. We were pumped by AEK and fell into the EL Playoff, where we faced Suduva. 
What does this mean for Celtic next season? Well, nothing yet. We're capable of qualifying for the CL, so hopefully none of this will be needed. If we do what we need to do in the next month or so then it'll take either bad luck, or a decent team to knock us out. 
But if it does go wrong it's better to go wrong later in qualifying. Apart from cutting down the number of EL qualifiers we have to play, it also limits the number of rounds where we could be unseeded. That's the danger with the EL champions route of qualifying. 
Being unseeded for the EL playoff could see us face anyone from Ajax, Copenhagen, Zagreb, BATE, Astana, APOEL, Ludogorets or PAOK – to name a few. Not all of those teams will be able to make it to the CL Playoff. This, of course, is the worst case scenario. 
Anyway, that's how qualifying will work in the EL, should it all go pear shaped and we're dumped out the CL. Hopefully it's just for information purposes, and I won't have to link back to it in the next few months. If we do what we need to that shouldn't happen 
thanks to moravcik for ruining my summer and giving me yet another reason not to quit drinking.
If it's not bad enough that we might have Borsi Johnson as Prime minister, we've got this to worry about as well.
Oh, and I got into trouble by pronouncing that other guys name wrong as well yesterday, I called him Jeremy hunt by mistake.
But can Celtic afford to take a chance on upsetting the squad ? Recent acquisitions have shown, Edoaurd apart, that whoever was doing the scouting wasn't very good at it.
We are aware of the policy of signing players we know, which is why MacKenna , O'Donnell and Turnbull are supposedly on the list, and none of these would improve the team, but would strengthen the squad.
Don't be too disappointed if this is what we get, and don't be too surprised if we get a goalscorer to replace the prospect that was Bayo, who has failed to live up to expectations thus far.
Maybe it will be Morelas after all….
Yesterday, we had this picture, taken from the Visit Scotland tourist brochure, Dunoon summer games section..