With the Scottish media hell bent on blaming Celtic for the historical abuse of minors in football, it's interesting to note how a more balanced newspaper views the issue.
The guardian spoke to Andy Woodward, a victim of Barry Bennell, the predator who was recently jailed for his offences whilst at Crewe, in Cheshire.
It's a harrowing read, but essential as it shows how widespread the problem was, and also how agenda driven the media are in Scotland.
The full article can be found in the link below, and within there are a few details that seem to have escaped the Scottish media, who continue to approach the issue as though it started and ended at Celtic Boys club.
Summed up in this tweet, by Bruce Auld Git..
The Guardian
Operation Hydrant.
300 suspects identified
849 victims
340 clubs named
and only one set of fans gleefully laughing about it, all because they've had nothing to attack Celtic with for eight years. Pathetic, especially when that fans ' club is on the list. 
Whats more pathetic is that the spineless media are promoting this angle…
The other major story this week, TransferTargetGate, has grown wings and is now being described as some sort of industrial espionage. Where millions of pounds are concerned, and the possibility of the club losing revenue, it's nice to see energy and enthusiasm being utilised to solve the problem.
Could this set a precedent ?
Will the club show the same energy and enthusiasm in their approach to the potential millions lost when Rangers were granted a licence to play in Europe when they shouldn't have ?
I don't think you need me to answer that one, but it's worth reminding them that we are not giving up.
One of the things that annoys me is the way kids are treated by football clubs, bith at amateur and professional level. There is little sign of responsibility, and in any other industry we would be seeing claims of exploitation.
This, a text message from a coach at Hutchison Vale FC, where the likes of Leigh Griffiths are held up as examples of someone who started there and made a career in the game, is perhaps the most shameful example of how kids, through perhaps no fault of their own, are discarded without a moments thought for their feelings, something can can have a traumatic effect on them for the rest of their lives..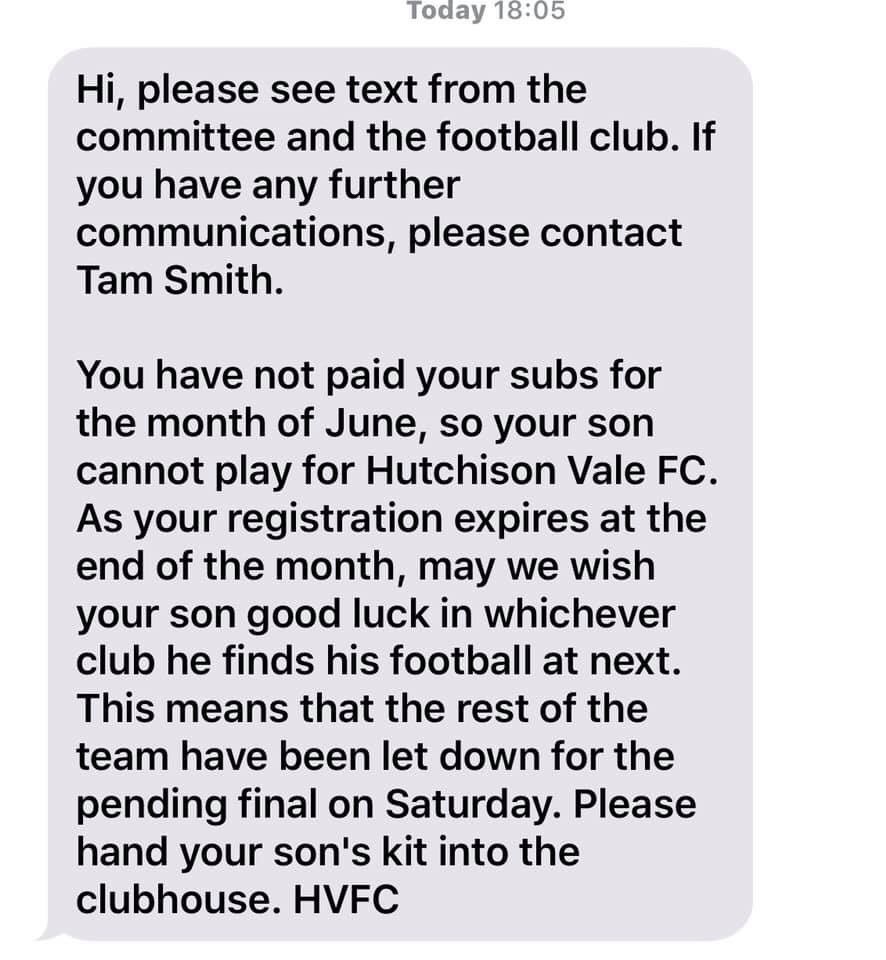 I've leave you to think about that. My thoughts are unprintable.
It's time to say a final goodbye to Dedryck Boyata, who has now departed for Hertha Berlin, after a somewhat controversial final year with Celtic.
"It has been an honour to wear the jersey and help the club win titles" 
The last season has been shrouded in claims and counter claims regarding the player and his attitude. He said, after the cup final, that he wished people knew the truth.
Well, he knows where we are if he wants to talk.
In the meantime, we wish him well.
Players like Boyata, well paid but in a career blind alley, maybe at chelsea, Man city, PSG and so on will look to see how the Belgian kickstarted his career in Glasgow, and that particular market is one that Lawwell and Lennon favour.
When someone wants to kickstart their career, an opportunity to come to Celtic will be one of serious consideration for them.
Emilio Izaguirre has gone (again ) and one or two others will slip away into the night.
As for signings , there will continue to be specualtion in the papers, as piss poor hacks try to fill their pages with guesswork and downright fiction, you can rely on Etims to outdo them in creativity and imagination.
Thing is though, we might even get one right.
We could do worse than ask old boy Liam Henderson if he fancies ditching a career in Serie A with Hellas Verona to join his brother, the latest  emerging and exciting talent from the conveyer belt Academy which has laready given us the core of our side.
From the BBC..
Former Celtic and Hibernian midfielder Liam Henderson has helped Hellas Verona win promotion to Italy's top flight after a dramatic play-off comeback.
The 23-year-old was in the side that recovered from a 2-0 first-leg defeat by Cittadella to win 3-0 at home on Sunday.
"Serie A baby! What a day, what a team," the Scot posted on social media.
Henderson, who is contracted to Verona until 2022, helped his side finish fifth in Serie B this season.
He had joined the club from Bari, now playing in Serie D after financial difficulties, in August after leaving Celtic.
This lad is still only 23, yet has gathered a lifetimes experience on his travels.
If we are going to bring anyone "home ", this would be where I'd start.
Meanwhile, anyone fancy going undercover..
Calling all Rangers fans, here's your chance to work for your favourite club.
The Ibox side are hiring new staff for the 2019/20 season to work within the stadium on matchdays.
Elior UK on behalf of the club are holding a number of drop-in recruitment days for any prospective employees.
They're looking to hire matchday staff to work as concourse supervisors, kiosk supervisors, kiosk assistants, cooks and stock room assistants.
All applicants must be 16 or over and should bring their National Insurance Number, bank details (sort code and account number) and a valid passport or birth certificate.
The recruitment events take place between 4pm-6.30pm in the Ibrox Suite at Ibrox Stadium on June 5, June 25 and July 1.
There is no need to register your attendance, but if you are interested but unable to attend the event then email deniseprimrose@rangers.co.uk for more info.
If anyone wants to email her and ask how much it pays…we may get an indication of the standard of employee they are expecting.
Caption competition now, yesterday we had..