Of course, if you nail a leak, what normally happens is you make another hole and get another leak.
A few "stolen documents " found their way onto the interweb last night, which appeared to contain a summary of a meeting concerning player purchases and retentions for this summer.
A Scouting report ?
There were shockwaves throughout the land of Timdom.
Celtic have scouts ?
And a scouting policy ?
First of all, let's have a look at what we're talking about..
The first thing to take note of is the date.
April 2.
Which renders most of the contents irrrelevant.
And LC, presumably Lee Congerton, is no longer at the club. So his input can be disregarded. Like it should have been while he was here, to be honest.
Secondly, there's not actually anything in it that is "news"
Is it real ?
Mebbes aye, mebbes naw.
Personally, any scouting meeting that does not include someone asking "have we not found a way of getting rid of fucking Comperr yet " would not be a real scouting meeting.
However, Celtic are furious that someone has leaked these documents, and are threatening police action.
Well, so the Sun's David Friel reckons..
MOLE HUNT 
Celtic launch top-level probe over bombshell transfer dossier leak
CELTIC have launched a top-level probe after an explosive summer transfer dossier was leaked online. 
Explosive ?
The stolen document was circulated on fan forums and social media and appears to list key targets for the Parkhead side. 
It also suggests Celtic would consider selling certain first-team players for the right price. 
Celtic would consider selling all of their first team players for the right price. Hardly something that's a secret.
SunSport cannot name anyone named in the document for legal reasons, with Celts expected to treat the leak as a criminal matter. 
Raging Hoops chiefs were last night probing its release ahead of a hectic period of transfer activity.
Boss Neil Lennon, who is on holiday, and Parkhead supremo Peter Lawwell were both made aware of the breach last night.
The Hoops manager has already slammed leaks coming from inside Lennoxtown and will be seething at this latest embarrassing episode.
The document is thought to be from a recruitment meeting in April and includes  initials of Celtic staff members in attendance.
It contains details of potential arrivals and departures ahead of Celtic's busiest transfer window in years.
Lennon has already  led a series of transfer meetings as he looks to rebuild his Hoops squad this summer. 
Over the course of the season, there have been several scoops from online fans who have somehow got hold of the team sheet ahead of games, and put it into the public domain.
For obvious reasons , this is a cause for concern, and so by leaving something of little importance lying around, genuine or not, Celtic could well have caught the offender.
For my part, I reckon it's probably real. Or probably isn't.
The content has kind of upset people, as it confirms, or appears to confirm a period of austerity about to set in at the club.
Sure there's money in the bank, and many are wondering why there is a marked reluctance to spend it.
Have they all forgotten about this ?
Celtic Football Club has confirmed that planning permission 'in principle' has been granted by Glasgow City Council in relation to recent development proposals to create hotel, museum, retail and ticket office facilities at the the club's Celtic Park home ground.
The application is part of Celtic's long-standing masterplan for the area, a vision which aims to deliver benefits to the club and their supporters and allow further regeneration of the East End of the city, something to which the Club is totally committed.
A statement on the project on Celtic FC's website reads:
It is important to emphasise that considerable work and investment over a number of years would be required to bring this project to fruition.

Celtic aims to be a world-class football club in everything it does. We are pleased to have made significant investment in recent years to develop the stadium and public realm area for the benefit of our supporters.

Any further development of this kind would be a hugely positive step for the club, for our supporters and for the local community, but we understand there would be a number of challenges to overcome to complete a development of this scale.
A spokesperson for Celtic FC added:
We are very pleased that initial planning permission has been granted. Clearly, there is still considerable work to be done in bringing such an ambitious project to fruition. However, we will now engage with other relevant parties to assess this potential development.
The club's plans to regenerate the area around Celtic Park, which were unveiled earlier this year, have now been approved 'in principal' by council officials, with the terms meaning the project must be delivered within a 3-year timeframe. Celtic released images of the proposed GBP£18m development earlier this year, created by the architecture firm behind the project, Holmes Miller, who said they "are looking forward to developing this opportunity with Celtic FC".
The hotel will be based on London Road, outside the main stand of Celtic Park and across from the Emirates Arena. Plans for the hotel building suggest it will be around five-storeys high and will include a restaurant, cafe and bar.
The plans follow on from the earlier regeneration of the East End of Glasgow for the 2014 Commonwealth Games and the development of the nearby Sir Chris Hoy Velodrome and Emirates Arena.
In a statement to Glasgow City Council by the club, Celtic FC confirmed the project would create up to 120 jobs, provide an economic boost to the area and reduce congestion around the stadium:
The history of the football club and its worldwide support mean that Celtic Park regularly attracts visitors outwith match days with stadium tours, the club shop and ticket office. Provision of a club museum and improved shop/ticketing facilities as proposed will greatly enhance the visitor experience and will help to sustain jobs and economic activity throughout the year. The provision of a hotel along with the club facilities will increase the attractiveness of the location as a tourist destination with spin off benefits to the entire area.

The proposed development will result in the creation of much-needed new employment opportunities associated with the hotel and museum. The current lack of hotel accommodation in the vicinity means that everyone attending events at the football stadium or the arena requires to travel on the day of the event adding to traffic volumes in the surrounding area. By locating the proposed hotel immediately beside the stadium and arena pressure on the local transport network will be reduced, particularly at times of peak movement.
Thats from SportsVenueBusiness,  probably about a year ago.
Thats where the money is going, or certainly the bulk of it.
Hotels, lights….thats what being a football club is all about.
Then again, try to have the money in the bank before you hire the builders. Otherwise things can go a bit awry.
Anyway, as far as I'm concerned the club is in good hands..
but..not as good as the hands encompassing another club in Glasgow..
5 Liverpool players Rangers could sign as Steven Gerrard plans raids on European champions
With Mike Ashley about to sell Newcastle United and plough the takings into "rangers ", Steven Gerrard is about to break up the European champions squad and bring at least five players to Ibrox, including Virgil van Dijk , Andrew Robertson and, er, three others.
Van Dijk and Robertson haven't sold their houses up north yet, and are homesick. Living in Liverpool is okay, but they're kind of fed up of being arrested every time they put on their tracksuits for work and charged with impersonating the gasman.
Which, according to most old people in Liverpool is what the gas man wears when he pops round to check your meter.
And thats just the start of it…
Which is why Radio Clyde's newest talk show pundit Ewen Cameron felt he could confidently predict..
"Celtic won't win a treble again. That's it, it's gone.
"The treble Treble is done. It's not going to happen. They might win a cup but they won't win the league.
"Rangers will stop them winning nine-in-a-row. I'm making that bold prediction tonight here on Clyde 1 Superscoreboard.
We've an exclusive picture of him saying it..
Tell you what, that beard suits Hugh Keevins.
For Celtic fans, however, there is some comfort.
When the going gets tough, we can always send for help. Real help.
Someone we can rely on.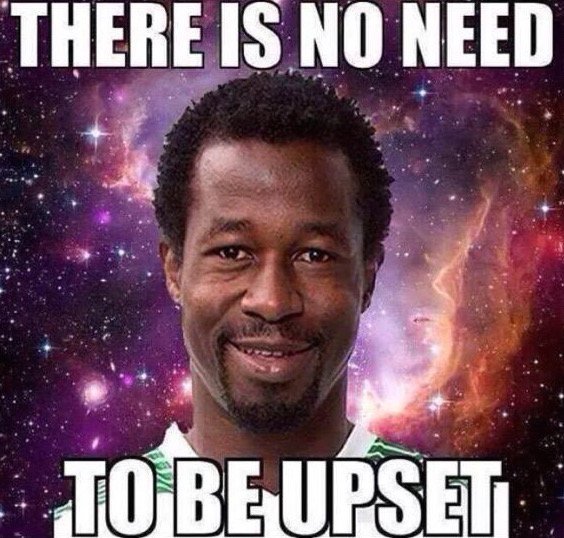 Efe has been released by Derby, according to reports.
We can reveal that's complete bollocks.
He quit, just minutes after he realised who sponsored the east midland club…
So don't worry.
hotel's, disco lights..and Efe Ambrose.
If a man can be cannot be excited by that, then he's already dead.
On a serious note, however, read this, a wonderfully emotional piece from the SentinelCelts site..
We haven't done a caption competition in a while, so let's have something to ponder…