Celtic duly secured an eighth successive title at Pittodrie, the home of their most consistent rivals, yesterday.
In the end, it was a lot more comfortable than the media and a section of the support feared.
When Mikael Lustig dived to head home the opener shortly before half time, the outcome was never in doubt, and after goals from the much improved Jozo Simunovic and Oddsone Edoaurd put the game beyond doubt, the celebrations could begin.
Neil Lennon, brought in to steady the ship and now finish off the run to ten, was visibly relieved that it didn't all fall apart when Brendan Rodgers rocked the boat when his boyhood heroes Leicester came in for him.
I'm very proud," 
"This is my second spell managing this club, and it is a privilege.
"I'm so proud of the players, the way they handled the occasion.
"It's been the toughest piece of management I've had in my ten years of management.
"That's just with the scrutiny and agitation and the discontent surrounding the club. We had to keep calm.
"I feel you need the hide of a rhinoceros but luckily I've got that!
"OK, some of the performance weren't great, but they are unbeaten in eleven games so the standard is very high and the expectation is very, very high.
"We need – even the supporters – to take stock. This is eight titles. This hasn't been done for a very, very long time."
It's eight in a row twice…something that someone should point out to Sky Sports, who claimed that Celtic were now in a position to equal the original rangers run of nine in a row back when David Murray had lamb on the menu.
Should Celtic win the league again next season, they'll be setting the pace again with a second nine in a row.
As for "rangers ", they'll be trying to get to 55 again, when the reality is my children will get to 55 before they do.
And probably my grandchildren.
This season was tough. It was apparent as far back as last summer that the previous manager couldn't wait to get out of here, and he played on the fans admiration to try to upset the way things are done at Celtic, as his own ego caused confrontation and disagreement with those who ran the club.
This became evident as Celtic crashed out of the champions League to a below par AEK Athens side, and that set the tone for what turned out to be a less than inspiring season, and perhaps allowed opponents, especially those back by the fat controller and his media lackeys, to proclaim that the Celts were about to fall apart.
But then the League cup was won, which seemed to settle the side down for a while, but as injuries and suspensions took hold, a 1-0 defeat at Ibrox in December has the media proclaiming that the "rangers " were back.
Even at the time, the realists aiming us knew that a badly weakened and apparently less than 100% fit Celtic side would struggle in that game, but for those who want the old days back it was the turning point…
Except, of course, it wasn't, and despite Rodgers hurtling down the M74 in February without even telling the players, the side went on an unbeaten domestic run that now has them sitting on the edge of an unprecendented treble treble..
It might not have been pretty, and there is certainly room for improvement, but the board found the right man to take the helm at the right time.
Don;t kid yourself, no one else would have touched the job with so much pressure around it.
Lennon isn;t getting anywhere near the credit he deserves for taking us over the line, so imagine of another manager, who didn't bleed green had taken over.
Stevie Clarke ?
Great coach, but lacking in the mental strength to take on a such a job.
Rafael Benitez..Slaven Bilic or any of the other names mentioned ?
Lacking in committment, they'd do a Brendan as soon as their reputation was restored as well.
Davie Moyes ?
Just lacking…
Lennon will be handed the reins to guide us to ten. He'll be given the funds that Lawwell refused to give Rodgers, not only because he wasn't very good in the transfer market, but because he was rather reckless in his purchases and valuations.
Lennon won't desert Celtic in the way that Rodgers did.
Whilst the PLC perhaps don't get how important the ten is, he does.
In a week when we remembered our last great side who wrote their name in history, the present squad have a chance to do the same.
Which seems to have caused a great deal of bitterness in the media, not least from Davie Provan, who seems to have it in for Scott Brown..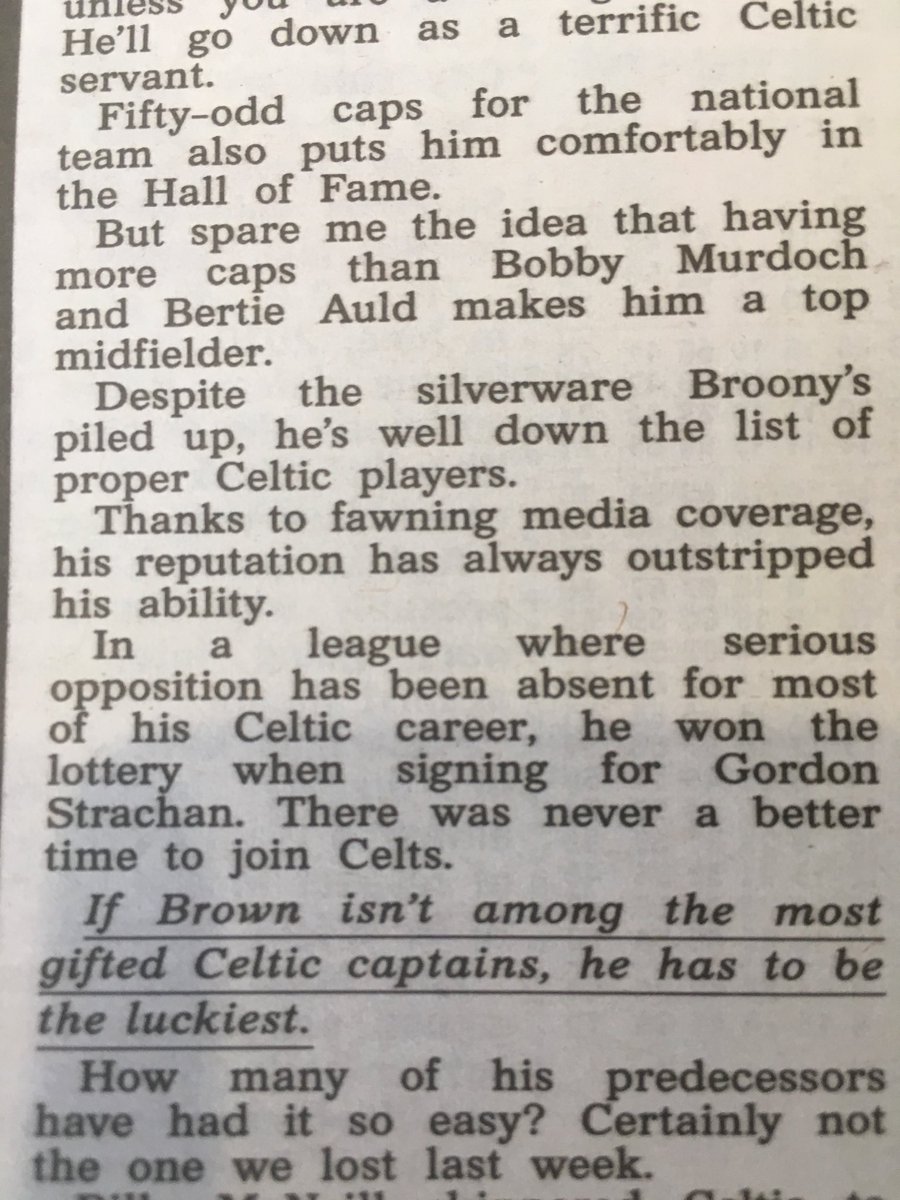 No one is comparing Brown to Auld or Murdoch.
Indeed, no one compared Provan in his hey day -and it was one day, a free kick in a cup final- to Johnstone or Lennox.
And I doubt that anyone would.
And serious opposition being absent ?
Oddly enough, no one regarded the Murray years at Ibrox as being any less of an achievement because their main rivals were seriously weakened by their own hand.
It appears a financial advantage isn't a sporting advantage , it seems, when it's entirely legal.
Whilst Celtic fans are rightfully enjoying the moment, and looking ahead to nine, ten and even more, the opposition support may be losing a little faith.
Or this one, from their own Nostradamus..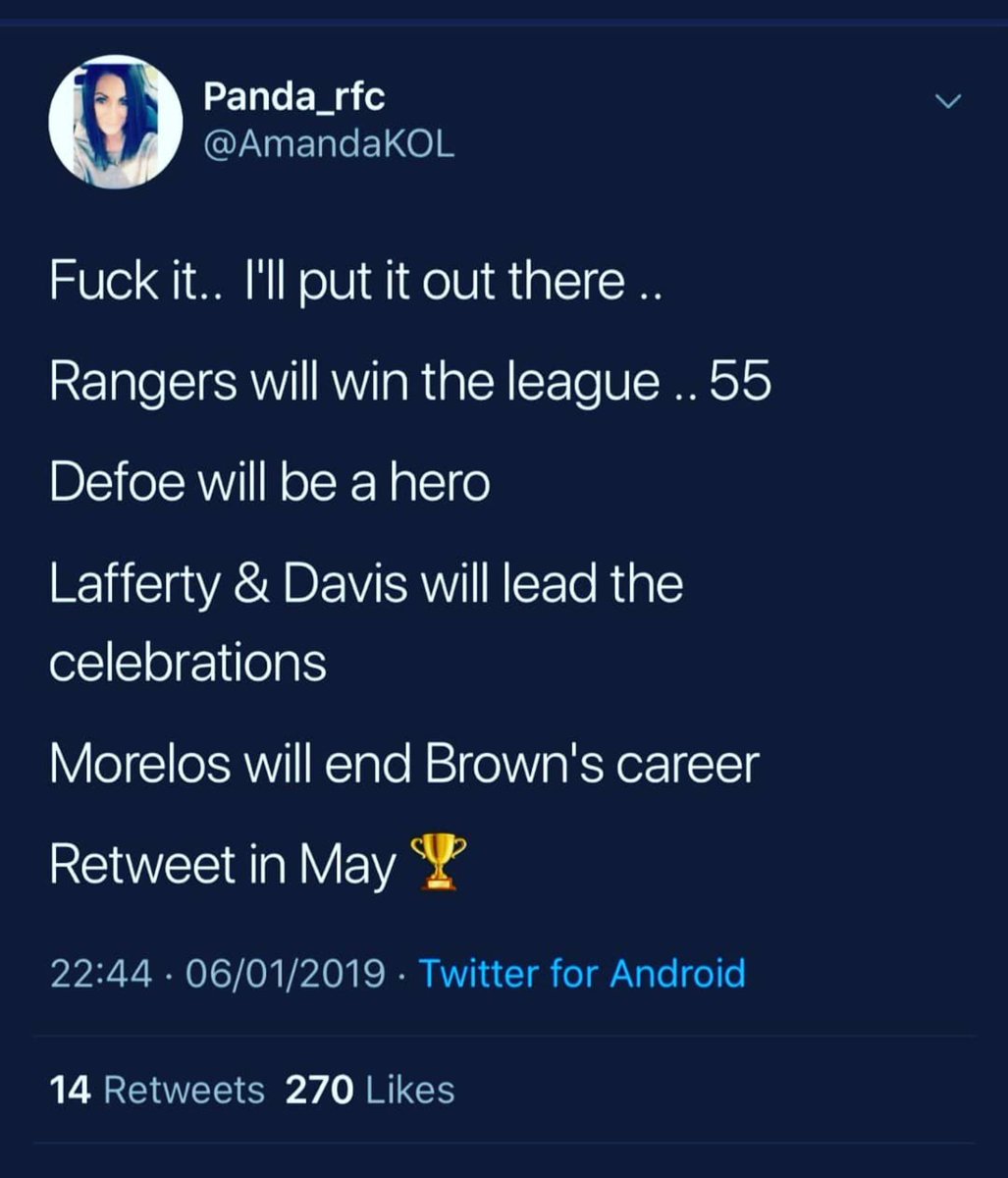 Oops..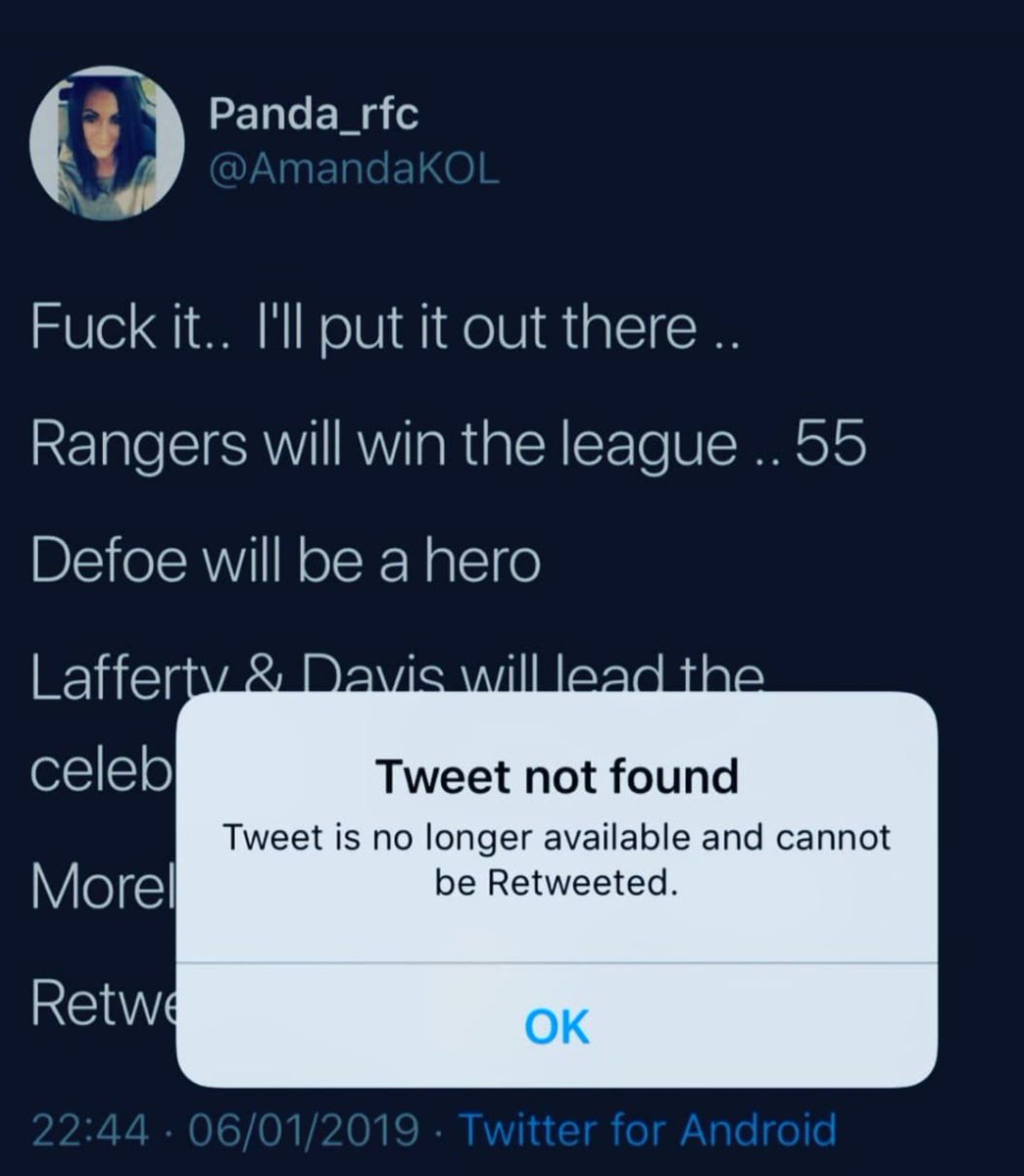 All over the media there is a bitterness.
I must have missed the eight in a row pull outs…the praise for Lennon. The admiration for Brown and Forrest who have pledged to stay in Scotland for their entire careers ?
Apparently, as Provan claims, thats because they have no ambition.
Yet had they worn blue shirts, from a club in what was latterly revealed to operate in a tax havem they'd have been heroes, lauded for helping to improve our game…
There's no praise, no recognition of any sort of achievement.
It annoys them. It annoys them even more that one of our own has two trophies to display and a possible third.
After all, the signings of Gerrard and latterly Defoe and Davis were supposed to alter the balance of power. It was in all the papers.
The defeat at Ibrox had rocked the foundations of Lawwells empire. Rodgers leaving was another sign that the old times were coming back.
Like everything else in the papers, they were wrong.
And they'll be wrong again next season.
Meanwhile, enjoy this, it puts things into perspective..from Bill Leckie, who took time out to remove his tongue from David Murrays arse to type this..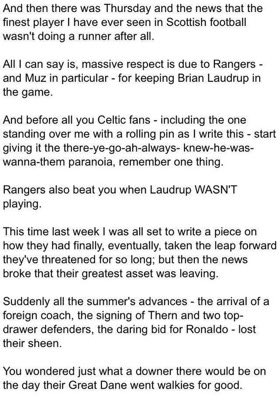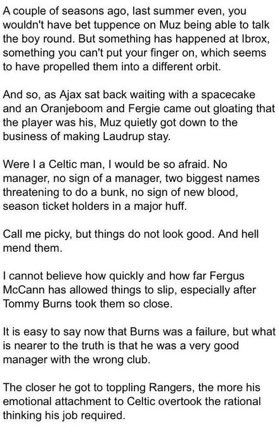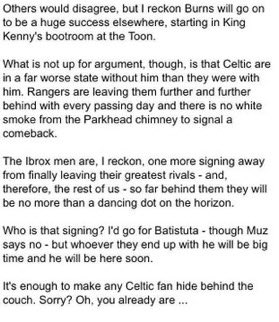 Well, we're back out now. And we have been for a while.
Here's why..
Today we celebrate eight in a row, a difficult season now looks as though it will be a glorious season.
Thanks to the manager, thanks to the captain and thanks to the senior players.
The bhoys done good, here's to the treble and beyond…