In yesterdays diary, a throwaway comment about New Balance, the firm who have the simple remit of producing green and white hooped shirts every season, has come back to haunt me..
The annual new kit launch is today. My guess is it'll be green and white hoops again, showing a distinct lack of imagination at New Balance. 
Incredibly, they have decided to bring out a white shirt with some green lines on it.
When the PLC speak about Celtic being a world recognised brand, the one thing that sets us apart from every other "brand " in the football industry are the green and white hooped shirts.
One thing that makes us instantly recognisable is the shirt.
New Balance somehow have been allowed to ignore that, and its hard to decide who is at fault.
Even Nike, with their revolutionary home kit
that turned into the away kit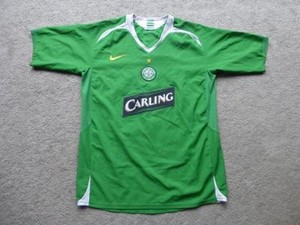 after just a few washes at least caused a ripple of amusement aongst the support, once they'd realised that the two for one deal wasn't so bad.
In a week where two Celtic legends passed away, its perhaps even more offensive to expect supporters to condone the removal of the one thing that is associated with Celtic.
Or perhaps its part of a long term plan from the PLC to continue to strip away everything that we once were…
Anyway, Baz on twitter made a case for New Balance to get in touch with him before they bring out the away tops, which will presumably have a sash or a poppy on them, when he showed us that just a slight tweak to the design would have been perfectly acceptable.
Ah well, soon be time for the transfer window to open.
Timothy Castagne has been linked with Celtic again. The defender was touted for a move last January, but as we told you at the time, nothing would happen until the summer, and even then it wasn't certain.
Money will be available for Lennon to make such additions to the squad as he sees fit, although the amount has yet to be decided.
What we do know is that if Lennon doesn't take the job, then Lawwell has decided to pretend that he's forgotten the PIN for the debit card.
By the way, its not a PIN number, that would be tautology. It's a PIN. Personal identification number. You can mention that to your friends and that would make you just as much fun to be with as it is to be with me.
On the other side of the city, plans are underway to stop Celtic becoming the first Scottish side to do nine in a row twice.
Jake Hastie will "undoubtedly" improve Rangers, said manager Steven Gerrard after the club confirmed the summer signing of the Motherwell winger.
The 20-year-old, who has made just 17 first-team appearances for Motherwell, has agreed a four-year contract.
Hastie broke into the first-team at Fir Park after returning in January from his loan spell with Alloa Athletic.
"He is a talented young player who has performed well in the second half of this season," Gerrard said.
"We are always looking to add individuals to our group of players who will improve us and Jake will undoubtedly do that." 
Er, this Jake Hastie ?
We believe that the chief scout at ibrox has been called in for a chat..
Should Celtic win the league at Pittodrie, one wonders if they will receive a guard of honour from the home players when they visit ibrox the following week…after all, it would be the dignified thing to do..
Meanwhile, the funeral of Billy McNeill takes place tomorrow, and thousands are expected to line the streets to bid a fond farewell and say thank you to the man who showed us not only how to lead a football team but how to lead a life.
A number of road closures have been announced for the funeral of Celtic legend Billy McNeill.
The service of the leader of Jock Stein's Lisbon Lions will take place at St Aloysius Church in Garnethill at 11.30am.
Fans will line the streets to pay their respects to the former captain and manager as his cortege passes Celtic Park at around 1.30pm on Friday.
The council said: "Due to the expectation of large crowds paying their respect, the following roads will be restricted for the safety of those attending the funeral of Billy McNeill."
Road closures – between 10am and 2pm
Hill Street, between Cambridge Street and Scott Street
Dalhousie Street, between Renfrew Street and Buccleuch Street
Renfrew Street, between Dalhousie Street and Rose Street
Rose Street, between Renfrew Street and Buccleuch Street
London Road, between Springfield Road and Clyde Gateway
Revocation of one-way   – between 10am and 2pm
Garnet Street, between Sauchiehall Street and Renfrew Street 
yesterday , we had this…
today…