As this weekends games draw to a close, the situation is simple.
One point secures another title, meaning Celtic will be the first Scottish club to do eight in a row twice.
Concluding an emotional occasion on Saturday, it was Jozo Simunovic, wearing the number 5 shirt, with 67 minutes on the clock, who rose to head home the winning goal against Kilmarnock which more or less secures the title.
Some have argued that as it said 67 minutes on the clock,
it was actually in the 68th minute that the goal was scored, but then again, you could argue that 1967 was the 68th year of the 20th century, but then i would argue that I don't give a toss what anyone else thinks…
History is always written by the winners, so not only did number 5 score on 67 minutes, he also scored in 38 minutes, 53 minutes and 88 minutes.
And Bobby Lennox had two chalked off for offside.
Sometimes, the story of this club does pass into something resembling a fairy story, to paraphrase the man himself..
Before the game, Jo5o said..
In fairness, a goal had to come from a corner sooner or later, and although it wasn;t directly from the kick, he hung around long enough to get his header on target.
After the game, Simunovic gave his shirt to the McNeill family, to round off a day when the support must have made her proud of her man.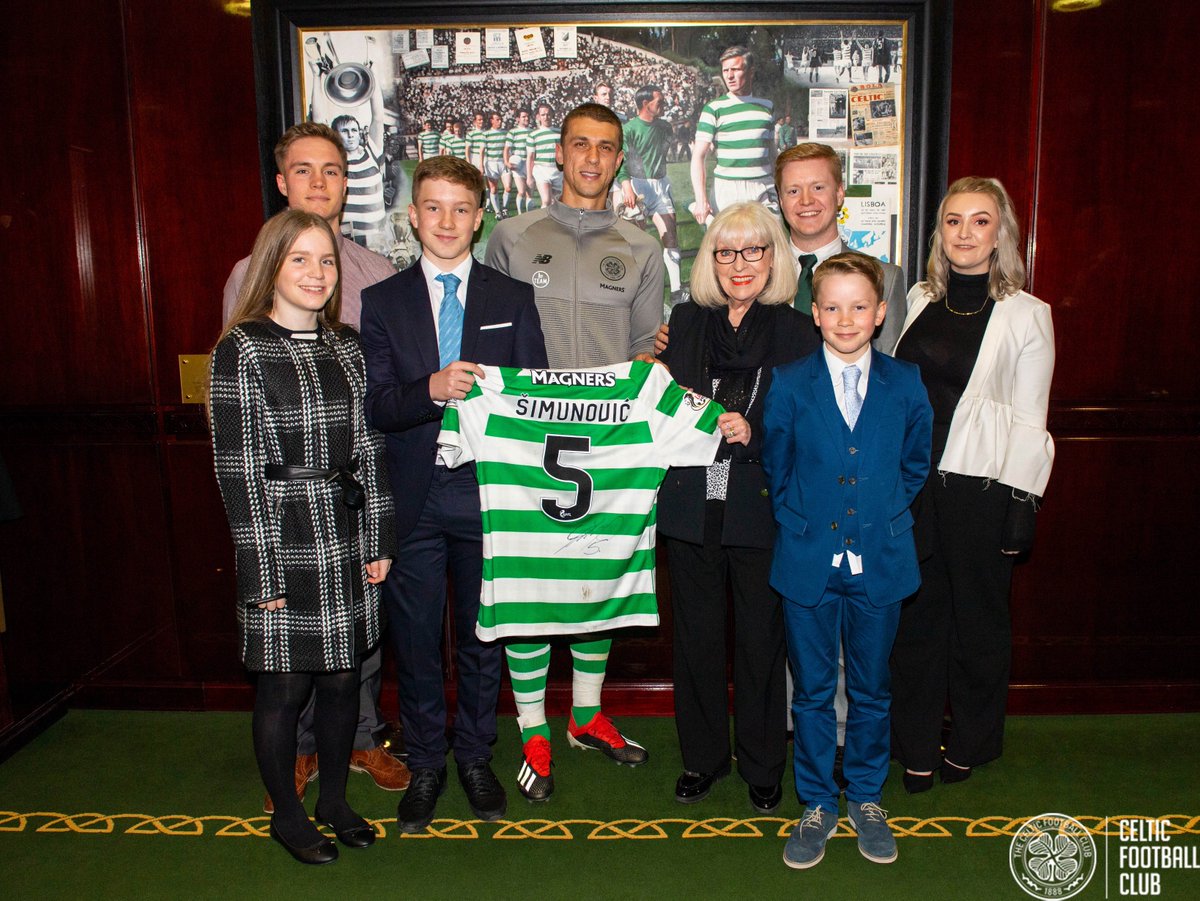 After all, we were proud of him…
Scottish football also paid tribute, with applause at the grounds as the family requested, and now we offer them our prayers as they continue to mourn their loss in private.
The win means that Celtic are within a point of the title, and it kind of grates a bit that there is still criticism of the manager and the players.
Lennon responded, with an air of bewilderment..
"The supporters were getting a bit nervous but that's understandable. Listen, at this stage of the season, unless you have real momentum, there is always going to be anxiety and nerves around the place. 
We are comfortable in the league position but there is so much expectation on these players at the minute for what they've created and achieved – and there is so much asked of them all the time.
"They are human beings and they can't always play scintillating football. Right now, we are grinding. I get that. But we are grinding in the right way. We are winning games and keeping clean sheets.
"And before anyone says it…it's not my fault either."
Lets look at the stats since he took over from whatsisname… to me thats since the defeat at Ibrox, which was when Rodgers more or less finally chucked it.

19 Domestic Matches

P19 W16 D3 L0

39 Scored

3 Conceded

16 Clean Sheets

0 Mins we've been behind


2 Managers

1 more point for 8IAR

1 further win for T3
Thats not bad going, considering the upheaval and constant tittle tattle in the media. Add to that the less than supportive nature of the support, and I'd venture that the squad and the staff have done very well indeed.
There was a chance that the title could have been secured this afternoon, but "rangers " beat Aberdeen 2-0 with Tavernier-Pen grabbing a brace to secure the highest ever league finish for the fledgling club.
They will finish second, and pocket a couple of million quid towards keeping the wolves away from the door, which judging by the performance of the referee in todays game, was his remit for the afternoon.
Next Saturday lunchtime Celtic travel to Pittodrie, where a draw will suffice.
Having conceded a goal roughly every six weeks in 2019, there is every chance that Celtic won't concede again, and therefore the trip home for the travelling support could well be a merry one.
In a weekend full of omens and portents, perhaps there is another one worth mentioning.
Ben Quinn, described as an Irish wonderkid in some sections of the media-not the mainstream Scottish one, obviously,  has joined Celtic after turning down offers from Wolves and Manchester City.
If you know the history, you'll know thats a very famous name from yesteryear, and the lad has a lot to live up to.
but he has our best wishes..
(Yeah, that'll help-Ed )
Yesterday, we had this..