Bobby Madden, a noted former season book holder at Ibrox, will referee this Sundays New Glasgow Derby.
Already there is the perception of bias in this appointment, and a fear that he will influence the game in such a way that he'll be singing along with the rest of them in the Crown Bar after the game.
Yet there is no need to worry.
The Dallation influence at the SFA goes deep, indeed if you're not a friend of Dallas then you won;t reach the top level of officiating. Thats been well documented elsewhere, and even on here.
Should the unthinkable happen and "rangers " record a historic first win at Celtic Park, it will make little or no difference to the outcome of the title race.
It might liven it up a bit, generate a few extra quid, but in the end, the title trophy will be dusted down, taken out of the cupboard, paraded around Celtic Park and then put away again until 2020.
Referees only influence a game when there is a point to it.
Though keep an eye on Mulvanney, we hear that he's rated to be even less competent than Andrew Dallas, which is a remarkable achievement. A veritable fuckwit, would be one way of putting it. Promoted way, way beyond his capabilities.
As for interference..its the Cup games we need to be wary of. These are a one off and can be open to interference, but there's nothing to be gained for Madden,or any of his chums, by risking death threats and having to have a police guard for a meaningless match such as the one this Sunday.
They will save that for Hampden.
When Beaton played ball, it kept "rangers " optimistic over the break, so it served a purpose.
By the way, did those guys who got arrested over the text threats ever get charged ?
Or even named ?
As usual though, the hype continues. Its what keeps them hoping.
Its the usual guff, mainly from ex players on both sides, with the opinions that are least based on reality coming from the darkside, thus encouraging people to buy the papers, whilst the one that is closest to the facts is from John Hartson.. he considers the effects of the  Beaton inspired win in December
"Rangers got carried away by that result. If you look at the results since that win at Ibrox, I don't know if they took their eye off the ball.
"I don't know if they put so much into that game and got the result, then went away on the winter break and felt they had Celtic's number.
The gap in quality between the sides meant that Celtic would have to have an extremely poor day, and that "rangers " would have to play above themselves.
That's pretty much what happened.
"Steven Gerrard must wonder what happened. Something's gone wrong.
"They were almost challenging after that win, but they have fallen back and gone out of the Scottish Cup too.
The hype surrounding the win generated hope, almost to the point of belief , that this was to be their year.
In fact, all they had was a good day at the office.
One guy who has plenty of good days at the office but struggles outside it in the wider world, again largely due to Scottish media hype, is Alfredo Morelas.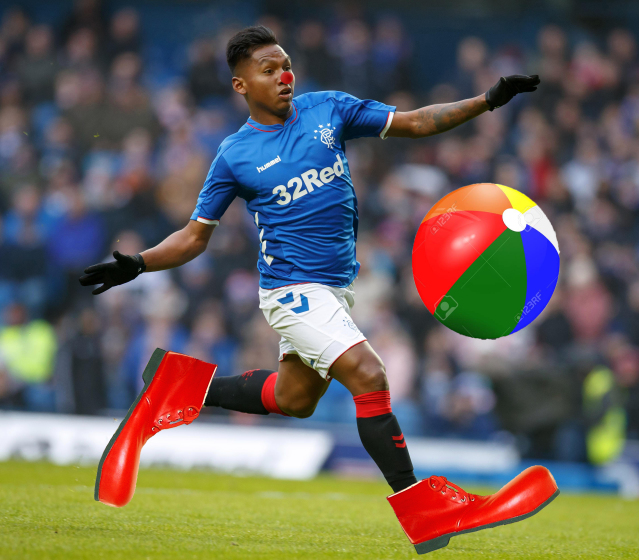 The  youngster has been hailed as the future of Colombian football by one or two team mates, although presumably something got lost in translation, as he recently got three minutes at the end of one game for his country, and was pulled off at half time during his second.
Remarkable, although in Scotland there are plenty of journalists who I assume would perform that particular process for him.
He simply isn't an international striker. Not quick enough, and not clever enough.
But he's still the best chance of a few quid coming in the door over the summer, so the propaganda has to continue..
Meanwhile, Celtic continue to supply the Scottish national team, and yet none of their experienced Champions League and international players are touted as anything other than transfer targets for englsh clubs when the media wants to unsettle them.
Funny, that.
Then again, we don't need the money.
They do, they need it urgently, and another example of how its affecting them surfaced earlier in the week..
And their fans should be demanding an explanation..
This is Broxi Bear, the Ibrox mascot, back at the start of the season..
The pressure of the job must be getting to him. This was him a couple of weeks ago…
I've seen a similar degeneration happen to those fond of crack cocaine…look at those eyes..
Another example of cost cutting..just bearly scraping by ?
Down to the bear necessities ?
And look at this…a rhythm and dance combi set up to rival the spice girls…or girls aloud…or the irish ones..little micks.
They are even considering opening a theme park for thoise who have bviews that can be considered, er, antiquated, maybe belonging to an environment long since rendered extinct.
But there are plans to try to revive this way of life..
And even plans to fund it..
Thats actually a call to arms for a crowd funding to fight whatever has upset them this time.
Note the comment about a desire for something to fight for..presumably they missed their club dying..
Due to laptop issues, we haven;t had a caption competition for a while, so here's one today..