A resolute and well organised Aberdeen ground out a 0-0 draw at Celtic Park yesterday, which put a bit of a dampener on everyones weekend.
Described as compact by "experts ", Derek McInnes parked the bus and set out to get a clean sheet.
He got one.
From Celtic's point of view, there were the usual claims that there was too much of the Brown -Biton side to side stuff, but if you can't see a pass to play, then don't give the ball away.
An impatient -and freezing cold-crowd showed their frustrations, and with Aberdeen clearly playing to hit Celtic on the break, it was important not to concede possession and try to capitalise on openings when they appeared.
however, not starting Oddsone Edoaurd seemed to be a mistake , as that left Celtic with no recognised strikers, which was always going to make it difficult to prise an opening goal, which would have altered the game considerably, but the longer it went on, the more Aberdeen were happy with their lot.
Does a goalless draw at home really justify the calls for Lennon not to be made full time manager in the summer?
In itself, no.
But how he deals with it will.
After the game, he defended his players, as a manager should;
"I'd have loved to have won the game and been 10 points clear," 
"But you can't have everything and they gave me everything today so I'm not going to whip them for that performance. It's totally understandable. I understand the psychology of a player – a long time ago I was a player myself.
"The performance was okay. We were a little bit flat, a little bit leggy but I understand that. I don't think we had time to adjust last week with two games back-to-back. There was always going to be a little bit of a lull and you could see that. I think it's more psychological than anything else. We just lacked that little bit of pizzazz in the final third.
"We had that adrenaline rush in the first couple of days and there was always going to be that lull afterwards. We had three really difficult games to negotiate in the last 10 days and we've come out of it unscathed. We take the point, still unbeaten since the turn of the year. It could have been better, there's no question about that but these players have given me everything." 
To be fair, whenever Celtic had possession in the final third, they were crowded out by what seemed to be dozens of Aberdeen players.
We could point to the omission of Edouard as a mistake, and with hindsight it probably was, but Edoaurd has done well from the bench, and maybe the plan was to bring him on when the Dons began to tire, as they would be expected to.
Whats more significant is the absence of MacGregor, Christie, Rogic and Ntcham. Lennon cannot be blamed for that, and it any one of those players involved yesterday would have made a difference to the style and shape if not the outcome.
Removing Scott Sinclair was also strange. The man has a superb record against Aberdeen, and often does-or appears to do -little in a game before popping up with a crucial goal .
Its easy to criticise Lennon for not having a plan , but his plan had to adapt to the personnel available.
As he noted afterward..
"Any team would miss the players we have out,"
"They're top-class midfield players but Broony and Bitton have done absolutely fine. We just lacked that little bit of creativity. Our final ball was a little bit lacking and our final cross wasn't there. You've got to give Aberdeen credit, they're a tough nut to crack sometimes.
"Some of them are running on fumes. The squad's decimated with injuries at the minute and hopefully we'll get a few more bodies back and some quality players to add to what we already have." 
There's work to be done, but I'd say there was little to worry about.
One thing that is a concern is the recent spate of attacks on players.
And stewards..
Look forward to the media reporting the stewards arm that was broken by Rangers fans in the away end last night……
…they tried to barge through the emergency exits and trampled a steward. My wife was working for St Andrews in their section. 
There is a real problem right now with supporter behaviour, and a conspiracist may be tempted to think its all part of a plan involving laissez faire policing to enable a new move in parliament to give police greater powers.
They're dying for a shot of the water cannon and practicing firing off the tear gas…
Perhaps it will die down, or , as Scott Brown ponders, will end in tragedy..
It is a disgrace," 
"You can't have fans run on the park and try to hit players or kick players or kick the ball.
"As Leeann Dempster says, it is not really a fan, it is a hooligan.
"Especially when someone is getting a bottle of Buckfast thrown at them.
"If that hits someone on the head, then the game ends up getting called off.
"You don't want to see people getting hurt.
"When someone runs up to you, you don't realise what is happening because it is last minute.
"Lucky enough, they don't have something to hit you with because that is going to be the next thing – someone is going to run on the park and hit someone with something.
"We have to make sure that doesn't happen. 
Between the lines, I'd say he's considered the awful prospect of someone coming onto the park with a knife or even worse.
Stewarding and policing has to improve now, and penalties for offenders, such as the fellow who confronted James Tavernier Pen must be given the maximum possible sentence for their offences.
If no suitable deterrent is in place ahead of the upcoming Derby games, including a possible Cup semi final, then we may find a life threatening incident will take place.
And that will destroy our game, and its reputation.
Over at Fir Park yesterday, however, there was perhaps a clue as to how inefficient policing really is, and a reason for someone to introduce a little bit of common sense into the way games are handled..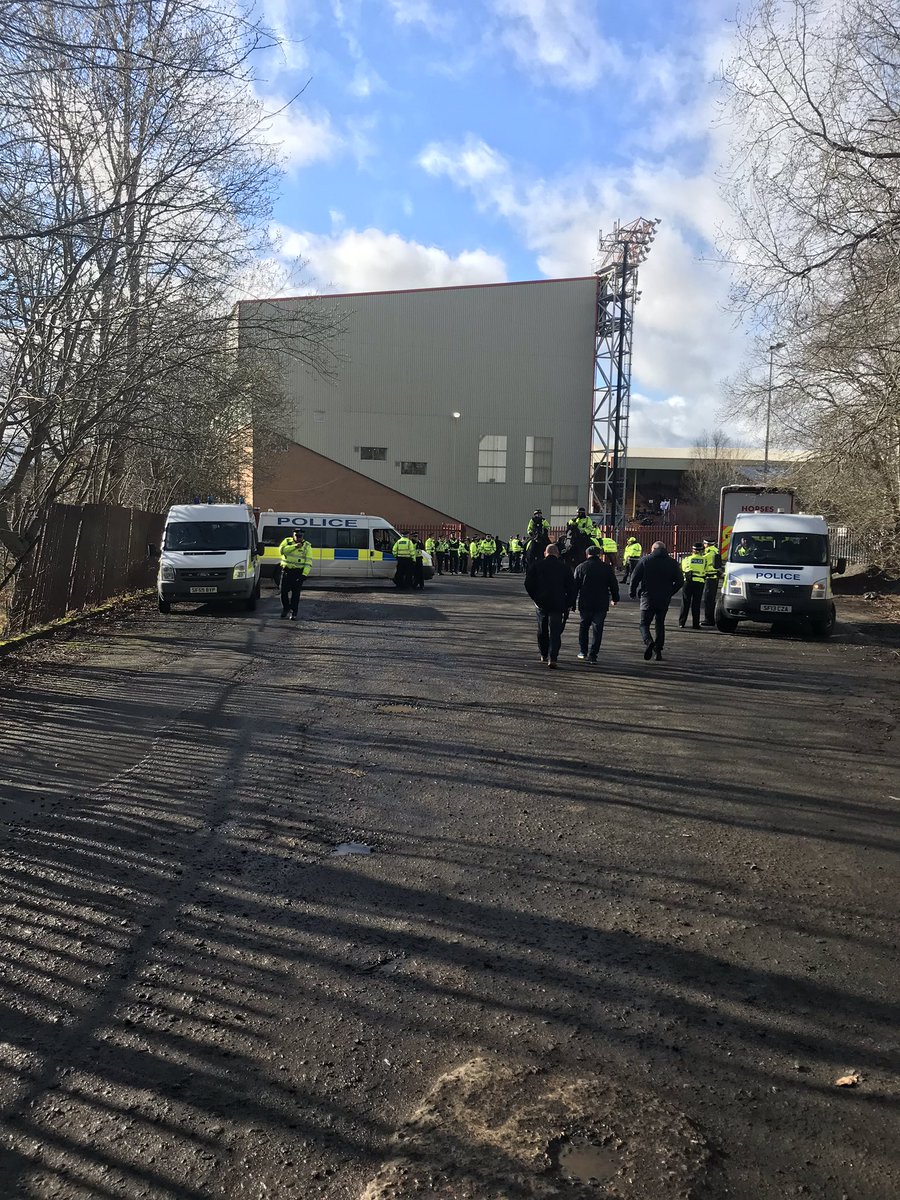 The Hamilton support for the game numbered 553. Alright, it was a Lanarkshire derby, and there could have been trouble, but to give supporters a police escort each may be regarded as a misuse of resources.
Sensible policing has been replaced with a heavy handed no tolerance approach which is inviting trouble rather than discouraging it..as one Accies fan remarked..
Last time I was there the police were threatening people with the cells if they stepped out the escort I jumped into a bus stop and explained that if they were going to be like that I'd like to get a bus to Hamilton instead of the train. 
They didn't take to kindly to that an put me in the van for the crime of chosing to take a different mode of transport home, refused to tell them my job and was branded a "junkie on the dole" before being released, Scotland's finest 
Yesterday, however, it was another example of how their tactics lead to a potentially life threatening crush..
Accies fans crushed against a fence in Motherwell today after being forced into a crush and threatened with police bats
There is a video available with this tweet, but I don't know how to load it.
Of course, last week, the police released a report they had done on policing at football matches, and it appeared to conclude it was the clubs who weren't doing things right.
Thats as may be, but there is an awful lot of anecdotal evidence that suggests the police have room for improvement as well.
Meanwhile, Clyde FC are in a bit of bother..
At a disciplinary hearing yesterday (Friday, 8 March) a sub-committee of the SPFL Board charged Clyde Football Club with playing an ineligible player (Declan Fitzpatrick) in two Ladbrokes League Two matches: 
Saturday, 16 February 2019 – Clyde v Albion Rovers (1-0)
Saturday, 23 February 2019 – Queen's Park v Clyde (1-1) 
Clyde FC admitted breaching SPFL Rules and were sanctioned as follows:
 
1. Club reprimanded, warned as to future conduct and fined £1500 (£1000 suspended until 30 June 2020)
2. The original match results were also annulled and the outcome of the matches recorded as follows:
 
16 February 2019 – Clyde v Albion Rovers (0-3)
23 February 2019 – Queen's Park v Clyde (3-0)
 
The three points for a win were awarded to Albion Rovers and Queen's Park respectively, and the points previously awarded to Clyde were withdrawn. 
Hearts , earlier this season, did the committed the same offence, and were deducted two points, which allowed them to progress to the knockout stages of the League cup.
Another Glasgow club, now defunct, committed the same offence for a number of years, and received no punishment or even condemnation.
If the rules apply to one club, then they must apply to all. 
Its why we have rules.
Clyde must appeal, citing the two cases mentioned above as a precedent.
They should take it as far as they can, UEFA if necessary, and perhaps that will finally force authorities to do something about the cheating that went on for over a decade in Scotland.
If funding is an issue, then i'm quite sure a crowdfund appeal will raise whats needed.
Perhaps one of the national newspapers will take up their case and highlight the injustice, although they have been given the proper punishment, perhaps one of them will highlight that other clubs appear not to have been held to account for similar offences.
Then again, maybe not.
After all, its not as though allowing people to flaunt one set of rules would make them think they could flaunt another.. for instance, those concerning the presence of supporters on the field of play..
Scottish football is unique, it still clings on to the magic that made football the game it is, and gave it the appeal it has, although these days its been targeted by multi national corporations and tv companies, and every now and again something happens that reminds us that its still our game, and its still being played our way..
Ugly scenes in the dugout as Cowdenbeath's manager has just told Johnny Harvey to "take his face for a sh*te" #BRFC
Now, why aren't games like this on the telly any more ?
Meanwhile, arseholes will be arseholes..
Paul Gascoigne threw horse's head at penguins while trying to feed tigers at zoo
 PAUL Gascoigne once begged a zoo to let him feed a horse's head to hungry tigers – but messed up and threw it to penguins instead. 
It happened when he was out in china, with his drinking buddy, cockney funster Danny Baker.
Danny is his name, incidentally, and not cockney rhyming slang.
Danny said;
 "It wasn't a very big zoo and doesn't sound a very competent zoo to be fair, but he said, 'They would feed the tigers and I would try and say to the fella, what's he got there – he said it was horse meat and things that they would throw to the tigers. 
It's the zoo's fault ?
"'And one day I was sitting there and he had a horse's head, like the Godfather scene. And I said can I throw it in there? "'I got this horse's head and there were bars and everything and I was teasing the tigers'.
"He said: 'I went to hoy it right to the back of the enclosure but as it's gone over my shoulder it's slipped out of my hands.
'It went into the penguin pool behind me'." 
Perhaps if Gascoigne had only been allowed out with adult supervision he wouldn;t be in the condition he's in now.
Caption competiton time…yesterday..
today..
Finally, here's a wee appeal, something we don't often do on here, but this one caught my eye..
Hi Everyone  xx 
I hate to ask but I really need your help  ❤️ Rory is urgently requiring a wheelchair accessible van so after trying everything I could think of I have set up this go fund me for " Rory's Wheels " for anyone who would like to support – I am asking you to please help me provide this vital piece of mobility equipment for my little boy Rory.  Rory is 6 years old & he has cerebral palsy quadriplegia . Rory is a full time wheelchair user.Rory's van will be fully adapted & kitted out to suit Rory's needs. I have tired many routes to try and provide this van for Rory but unfortunately I cant secure the finances its been refusal after refusal so after meeting with the bank manager & after a tough few days of waiting for the answer she rang this morning to say they wouldn't loan me the funds to buy Rory the wheelchair accessible vehicle as they don't consider my carers allowances as income ! So that's it – it's a firm no and I am absolutely gutted !!!! Rory has needed this wheelchair accessible van for about 3 years , he's now a fully dependent wheelchair user ! I had the van chosen for him ….. my heart is just so low right now. To top things off my car was officially scrapped & crushed last week as it was gone past repair. So I am going to put it out there and ask for help  – would anyone out there like to help get RORY his Wheels ?????
Would any company like to sponsor Rory a Ford transit custom ????? I would welcome any help !!! If you think you can do a charity night , a fight night , a white collar night, anything atal PLEASE come to me with your ideas  as I would be just delighted ❤️ I don't want to do this alone ( I don't have the energy ) if my friends could help me it would mean the world ❤️❤️❤️ " Rory's wheels " Rory's van needs to be large enough to transport his wheelchair, his toileting system ( same size as wheelchair ) his rabbit stander & his therapy tricycle, it must also have a wheelchair ramp and a swivel seat so that he can access the van. Anyone that can help out with any support please do as I will be forever grateful . Please share ………get talking with your friends
Please get everyone involved and help us get our wee man Rory his own wheels ❤️
PLEASE SHARE & PLEASE GIVE what you can to help me get Rory back on the road for his specialist apts , hospital apts, ot , physiotherapy apts etc ….. It's so difficult to ask for help , but I must as  I am Rory's Mammy & I love Rory so much , I hate to see him struggling or suffering , he's the strongest bravest little boy I know and if anyone deserves his own wheels it's him ❤️ so please support Rory's wheels xx All my love Shauna 
Thanks.