It would concern anyone , except obviously the previous manager.
For all the time he was here there were always a number of players on the sidelines, prompting calls for an independent review of his methods.
Mostly from me, I'd guess, but thats only because I kept hearing things.
Lennon said, somewhat diplomatically…
"I'm just a little bit concerned with the level of injuries we have at the moment, we have 11 out,"
 "There's a lot of good players on the treatment table so the sooner that I can get them back in the better."
  "It could be the volume of games that the players have had over the last three or four seasons. Not only European ties but they've won every domestic competition so they have been involved in every game possible and some of them have been away with their counties.
"Eventually that takes it's toll on players, it might be a bit of that or it might just be a bit of bad luck having a run of injuries at the same time." 
Perhaps he'll consider asking those who have already offered to conduct a review a chance to have a look at the place.
For too long now, players have picked up knocks and even long term injuries on the field, and there was a suspicion that some players were reluctant to risk injury by training, and so made one up, or exaggerated an existing complaint.
It seem that Lennon is aware of it, and whilst he has praised the set up at Lennoxtown, there may be a few minor changes.
"The organisational side of things is tremendous and preparation is key," 
"We have some great professionals in the backroom staff who set a really high standard in terms of their professionalism and that emanates down to the players as well.
"Everything is there for the players, everything is there for the staff. Obviously I will have my own look at things in the analysis side of things because I know most of the teams quite well.
"But I haven't wanted to change anything really. Obviously you have your own opinion on things, you try to get your points across, but not too many. The team has been going well, we have had two great results so far."
We believe the midnight forced marches will be quietly dropped, as will the one legged mountain climbing and the cross Atlantic swim.
Lennon has also taken time out to talk to some of his players. one of whom is Dedryck Boyata, out of contract at the end of the season.
If there's any way he can salvage something from this issue, which has cost the club £9m after the previous manager refused to allow him to go to Fulham, which would have cost Boyata millions of pounds, then he truly is the new Messiah.
But its a tough ask. Boyata can walk for nothing and there is crazy money available out there. But Lennon will try to convince him its not always about money…
Aberdeen are in Glasgow tomorrow, and may rest a few key players ahead of their Scottish cup replay next midweek.
For a change, lets see how they are looking forward to the game, through the eyes of one of their players, Dom Ball..
"I think we've taken confidence from our performance against Rangers on Sunday and just like the gaffer we're disappointed not to get into the semi-final. We've got another chance to do that on Tuesday but today in training, tomorrow in training, our focus is solely on the game at Parkhead."
What will it take to get a result at Celtic?
"I think we've come very close, when we played there earlier this season and when we played in the final of the league cup I think most of the lads would've said we deserved something out of at least one of those games.
"That's why they're top of the league, that's why they've won so many trophies in the last three years, they have that quality that their players have. I do think we've been very close and if we get chances and we take them and keep a clean sheet we've got a good chance of the three points on Saturday." 
They usually put up a fight, but tend to lose their way when things don;t go for them, so its important to break their spirit early on.
Graeme Shinnie and Scott Brown seem to relish playing against each other, and that always adds an edge to things.
Since the change of management, Brown has adopted a more hands on approach to things, as along with john Kennedy, he has played a vital role in keeping things on track.
According to Kennedy..
This last week, it's difficult to manage some situations,"
"But when you've got a character like Scott, who is in the dressing room and controls the players the way he does when the coach's eyes are not on it, he is pretty much a coach in the dressing room.
"He deals with things that don't always have to come in the manager's direction and he leads by example.
"In the last five, six years, I've never seen him have a bad session, so he sets an example that a lot of other players then follow on from. 
Hang on, I remember one particularly bad session, though arguably you could say it was a good one.
There is a feelgood factor in the camp right now, largely down to Brown, Kennedy and of course Lennon.
Its suddenly dawned on those who promoted the idea of thingybob heading back down south have suddenly realised that there is a real danger that one element of society will be even less pleased if Neil Lennon raises the tenth title a few years down the line.
More pressingly, however, there is a very realistic possibility of the treble treble, and should "rangers " beat Aberdeen in a few days time, a potentially explosive semi final between Glasgows most successful club, and the one yet to win a single major trophy.
But the police are on standby. like when they stood by and watched a bottle hurl through the air towards Scott sinclair, at Easter Road, Or the one that hurled from a Celtic fan, as detailed in a statement from a Celtic fan, as Hibernian went all Traynoresque with their post match statement.
It seems that their CCTV isn't up to scratch and therefore they cannot identify the culprit in the Sinclair incident, prompting claims that it was chairman Rod Petrie who did it, from people who should really know better.
And the Celtic fan who reciprocated ? No evidence, no apology and no sign of one.
A report into policing at football by the er, police , was released earlier this week.
They're always good for a laugh.
Though we may not be laughing if they get their way…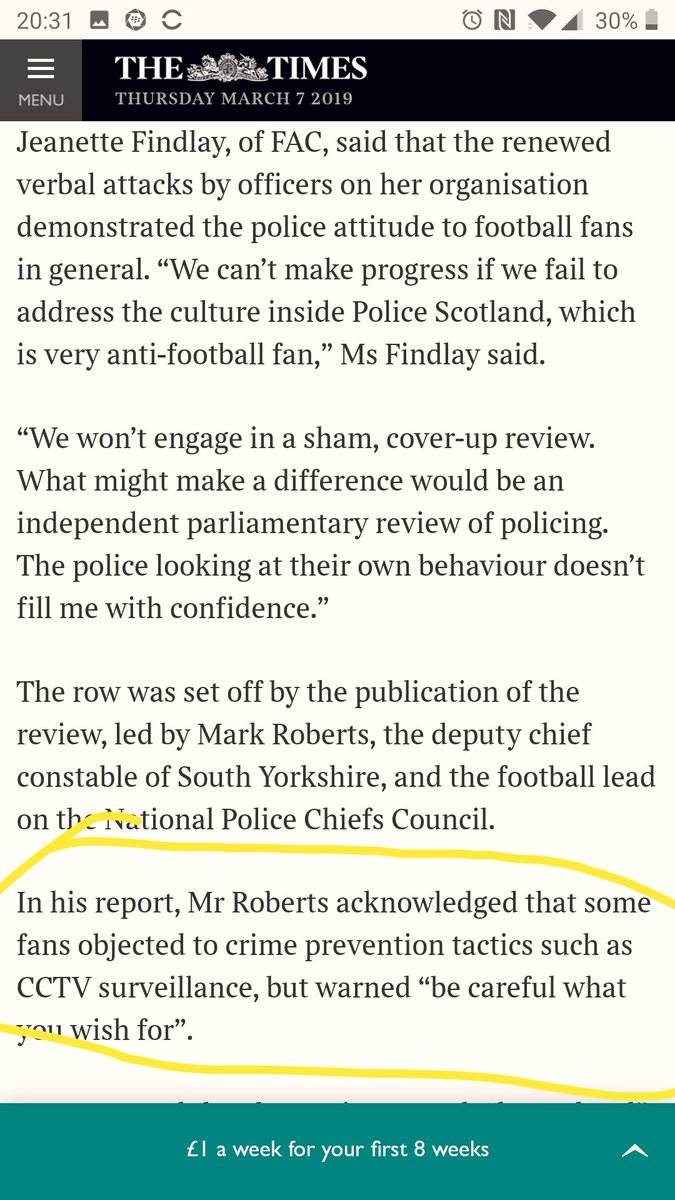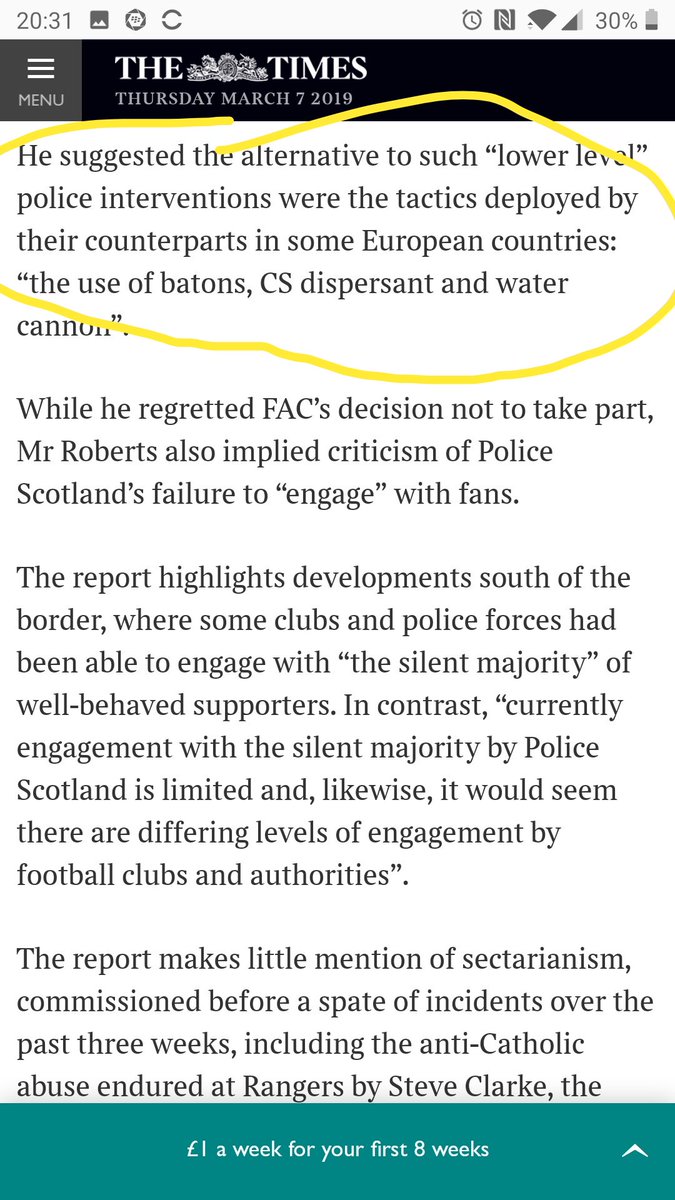 The report also claimed that there were a number of safety issues at grounds, presumably the smaller one who erected temporary stands and oversold tickets as the "rangers 2 worked their way through the leagues, a shocking example of clubs not giving a toss about what is effectively their core financial base.
One club, it was claimed, hasn't had a proper safety certificate for nineteen years, ruling out the seven year old entity that most of us would have assumed would be the first to cut corners, especially as we've seen bits fall off their place over the last few years.
Having paid next to nothing for the ground and other club assets, one might also be tempted to deduce that part of the reason he got it so cheap was because it wasn't in any fit state for purpose.
The BBC, and its intrepid reporter Chris MacLaughlin are fully aware of this risk to life and limb, but have chosen to keep it a secret so that they can have a heads up on where the next football tragedy will occur and they'll be able to have their camera crews on standby.
For a publicly funded broadcaster not to reveal a public safety issue is tantamount to criminality.
For the rest of the media not to demand he reveals the name of the club is equally shocking, but then again, they will all know who it is.
And lets face it, they don't give a fuck about the fans either.
Celtic moved to disassociate themselves from it, as they're conducting an independent review into the Janefield Crush..
"Celtic Football Club notes the release of yesterday's report covering the policing of football in Scotland. 
 "Contrary to certain media reports, this study was not commissioned in response to any incident at Celtic Park and it covers a range of issues surrounding policing, safety and the licensing of football across the whole of Scotland.
"It is well-known that Celtic has commissioned its own report into the events at Celtic Park last year, an incident which the club has treated with the utmost seriousness. The outcome of this comprehensive and thorough investigation will be released shortly." 
Still no notice of when.
Still no idea why its taking so long, and still no signs of it being published…except for "shortly "..
The delay tends to suggest that Celtic don;t give a fuck about their fans either, as safety issues should be first and foremost in any clubs thinking, and it seems to me that its taking a rather longer than necessary time to conclude that the police made an arse of it and the stewards are clueless lumps.
I could have told them that before they even so much as looked at a video.
The media has been in a massive deflection mode over the ;last week or o, it usually does this when things at Ibrox need hiding, such as secured loans or bad results on the park.
Stage two of that process usually involves the over exposure of any player likely to raise a few quid for them on the transfer market.
Alfredo Morelas has seen his value rocket from the original £11m offer from a Chinese club -since revealed to be fake- to interest from Leicester city ( since revealed as fake ) and Borussia Dortmund, (about to be revealed as fake ).
Sums of around £20m are being mentioned, but not by anyone willing to spend that money on a raw talent who has scored plenty of goals this season in Scotland.
Some are putting him on a level with Moussa Dembele, who had aglittering couple of years at Celtic, after doing well at Fulham.
Dembele is now settled in France with Lyon, and will kve on one day further up the ladder for millions of pounds.
Morelas …he's going to be mighty pissed off with his agent who apparently stuck a £10m release clause in his contract, because there ain't nobody going to pay that for him, and he'll be stuck where he is.
England ? Will he get a work permit ?
What are the criteria which will be used?
Until 2015, football players needed to have played in at least 75% of their country's senior international matches over the previous two years to play in the UK. Eligibility for a GBE now depends on a national team's FIFA ranking, as follows:
| | |
| --- | --- |
| Official FIFA Ranking | Required % of international matches in past 2 yrs |
| FIFA 1-10 | 30% and above |
| FIFA 11-20 | 45% and above |
| FIFA 21-30 | 60% and above |
| FIFA 31-50 | 75% and above |
In the case of players aged 21 or under at the time of application, the period is reduced to one year. The aim is to make it easier for young, outstanding talent to grow their game in the UK.
If a club's application is rejected, there is an appeals process. The Exceptions Panel is the appeals body which will consider, on a points based system, the player's experience and value before deciding whether the player can join the club, regardless of their failed application. A stricter assessment of relevant objective criteria will now be applied in an appeal.
Interestingly, the onus is on the player to apply…although the club purchasing can do it as well..
Technically, it is the player's responsibly but invariably it is the club wishing to sign a player who will apply for a work permit, and it must agree to sponsor that player to be in the UK. The club will issue a certificate of sponsorship which must then be submitted to the relevant FA for it to consider a GBE. If it is refused, the club can appeal (see above). If a GBE is issued, an application for a work permit can then be made.
No one has submitted a bid, thats obvious, and it may well be that he won't get a work permit. Perhaps he has Spanish ancestory that would enable him to have EU connections….but then again, there's Brexit to consider.
The doubt will not encourage potential suitors to bid for him. He's simply not good enough.
But again, we see his valuation rise just when the club-or company-needs to get a secured loan. Its almost as though they are claiming him as an asset.
All joking aside, if he thinks he's being used in this way, it might explain his tantrums on the pitch.
The former manager of Celtic has had his house burgled, a shocking incident which has been loosely linked in the media to irate Celtic fans.
Burglars are burglars , and it may be that some of them are Celtic fans, but that is irrelevant, as all they would have noted is that the homeowner is down in Leicester, and thus the house would be empty.
It wasn't , and his wife and daughter endured a terrifying time, as anyone would, when finding intruders in their bedroom.
If anyone knows who it was, do the decent thing.
There was further trauma for the manager when he approached the insurance company.
He listed all the items stolen, including all his Celtic memorabilia which he'd lovingly kept in a box, and he was told they didn't believe a word he said, which is quite surprising given his sincerity and honesty.
"Any valuables in the house?"
Rodgers: "Well…the ticket stub from Lisbon, my childhood collection of Celtic programmes…"
"Sorry, this policy only covers actual losses, not made-up stuff."  
It's Friday, and that means its time for the Etims
Knob of the Week 
to be revealed.
After declaring that crimes committed by security forces in the north of Ireland weren't crimes at all, the Secretary of State Karen Bradley has backtracked and apologised.
The Irish Times said..
Speaking last nigh after a day of heavy criticism, she said she was "factually wrong" and "not what I believe".
"It was a heat of the moment, slip of the tongue, whatever you want to call it, there is no excuses for it," she said.
On Wednesday, Ms Bradley told the House of Commons that "over 90 per cent of the killings during the Troubles were at the hands of terrorists, every single one of those was a crime".
She added: "The fewer than 10 per cent that were at the hands of the military and police were not crimes. They were people acting under orders and under instruction and fulfilling their duty in a dignified and appropriate way." 
Perhaps she would care to reveal which particular order included shooting civilians dead.
Knob is perhaps not a strong enough word for someone who has repeatedly failed to understand the job which she has been given.
But it'll do for today, and every other day that vile woman is in office.
Caption competition from Wednesday..
Keep an eye out for it.